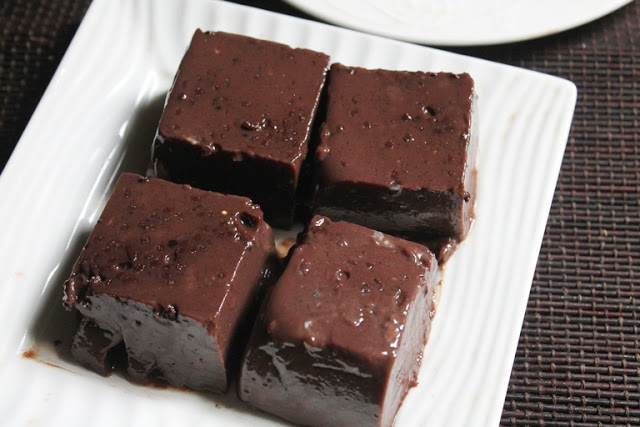 I love playing with puddings, they are so much to make and eat.Specially when you are having kids around they make a perfect dish to enjoy. I am doing quite a bit of pudding recipe for the past few days, i have one more pudding recipes coming up as well..
Similar Recipes,
Mango Pudding
Sago Pudding
Apple Pudding
Finger Jello
Broken Glass Pudding
Rose Pudding
Layered Finger Jello
Jelly Rollups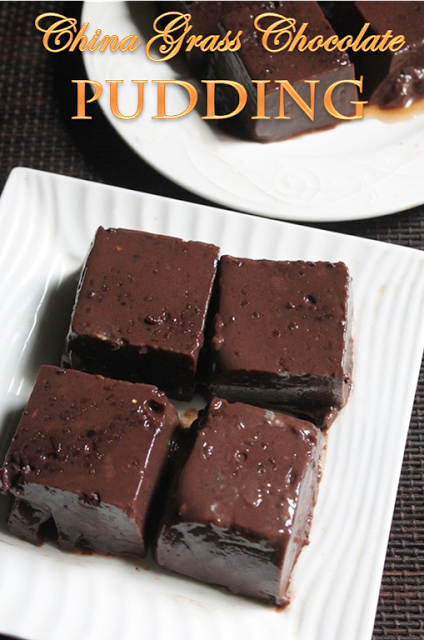 This is such a easy recipe to make, you just need few ingredients to make this..It has pure chocolate taste and flavour, so silky and delicious..Hope you will give this a try and let me know how it turns out for you..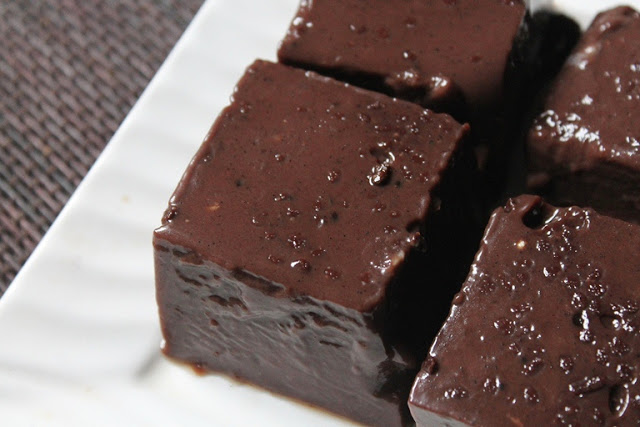 Preparation Time : 20 mins
Setting Time : 4 to 6 hours
Makes : 9 pieces


Ingredients:
Milk – 2 1/4 cup
China Grass / Agar Agar – 15 grams
Water – 1/2 cup
Cocoa Powder – 2 tblspn
Sugar – 3/4 cup
Dark Chocolate Chips – 1/2 cup
Vanilla Essence – 1 tsp


Method:
Break china grass or agar agar in a sauce pan, add in 1/2 cup and mix well with your hands. Set aside and soak for 15 mins till you get ready with other stuffs.
Take 1/4 cup of milk in a bowl, add in cocoa and mix well. Set aside.
Take 2 cups of milk and sugar in a sauce pan, Heat till the milk comes to a boil.
Now add in cocoa mix, chocolate chips and heat till the chocolate is melted. Add in vanilla and mix well.
Heat china grass sauce pan on low heat till it is melted.
Add in china grass mix and whisk well.
Grease a square pan with little oil and pour the chocolate mix in and let this cool for couple of hours. Pop this in fridge and set it for 4 to 6 hours.
Unmould it and cut into squares. Serve.
Pictorial: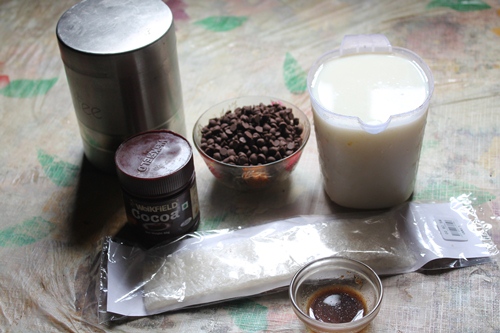 Take all your ingredients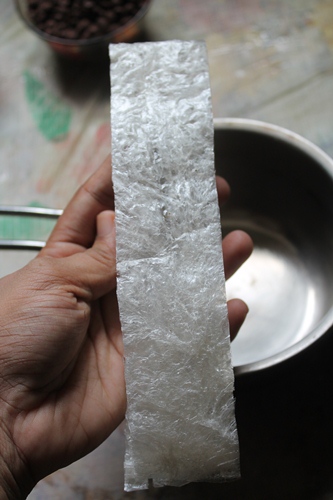 You need some china grass or agar agar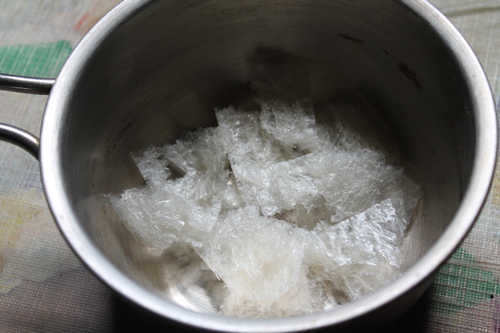 break it into small pieces in a sauce pan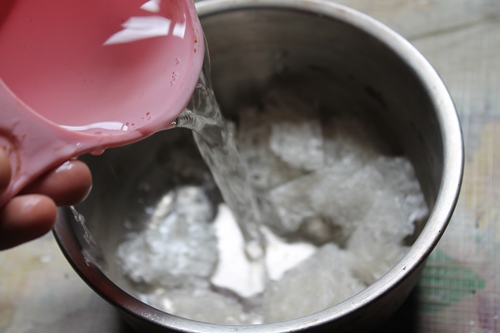 add in 1/2 cup of water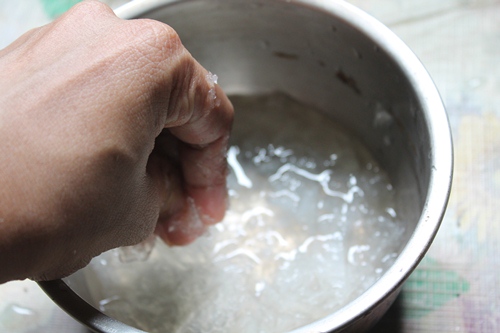 mix well using your hands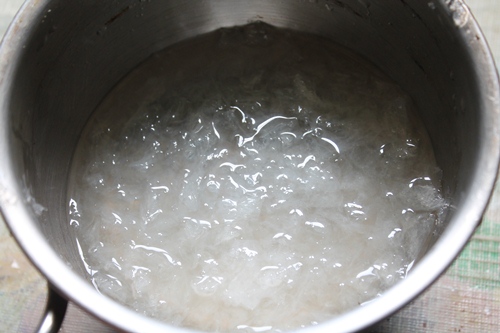 soak it for 10 mins..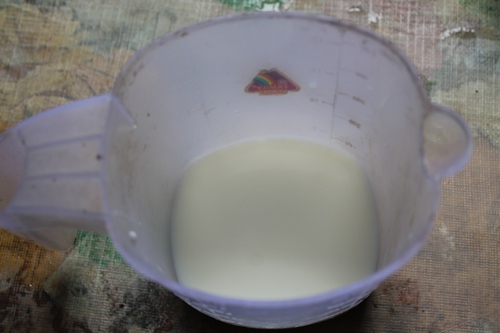 Now take 1/4 cup of milk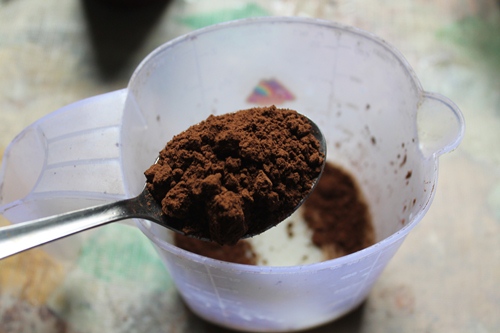 add in cocoa powder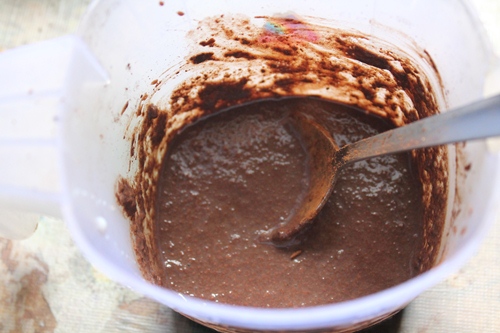 mix well so it is mixed up..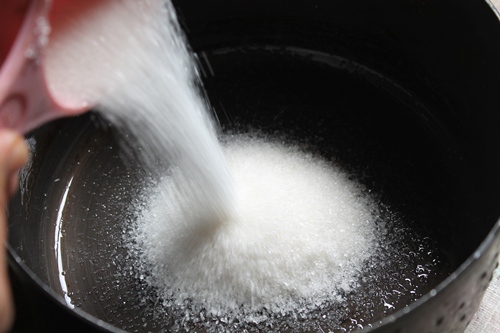 Now take sugar in a sauce pan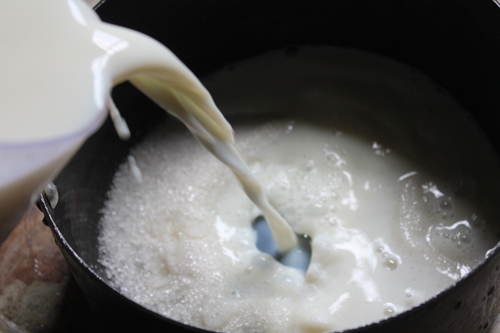 add in milk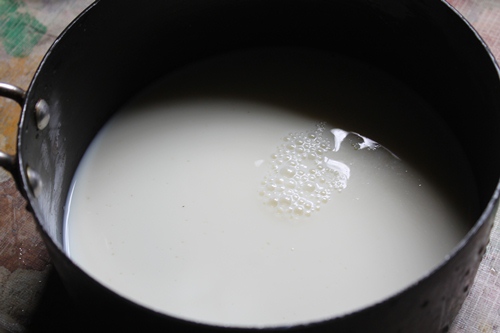 mix well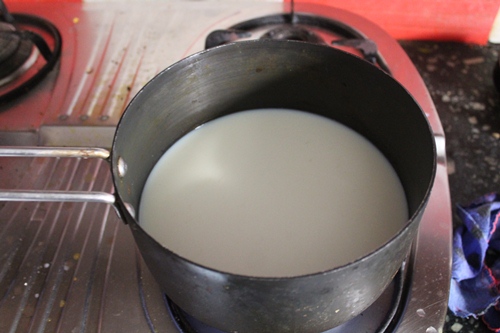 heat it and cook till it comes to a boil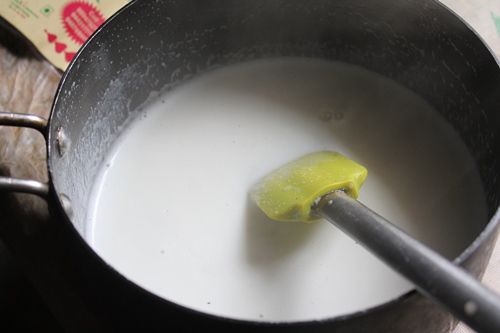 now it has reached a boil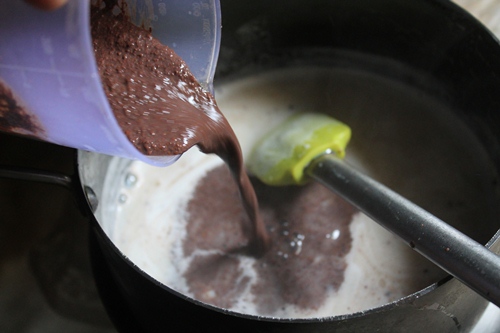 add in the cocoa mix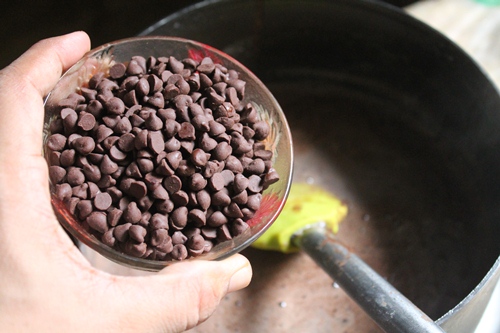 and the chocolate chips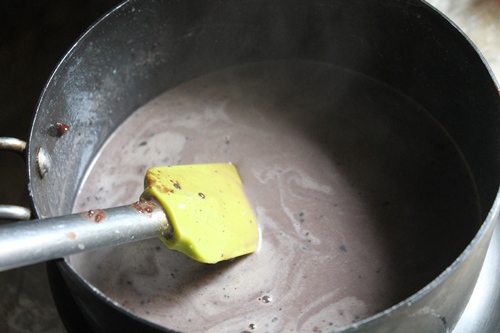 mix well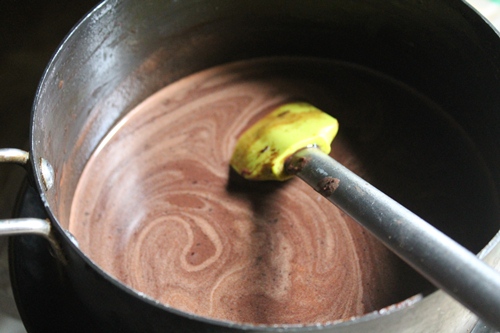 cook on a low heat till the chocolate is melted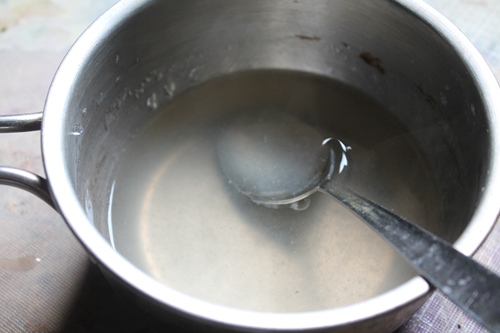 Now heat the china grass on low heat till it is melted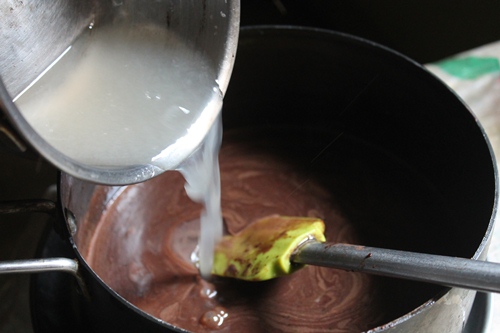 add in the agar agar mix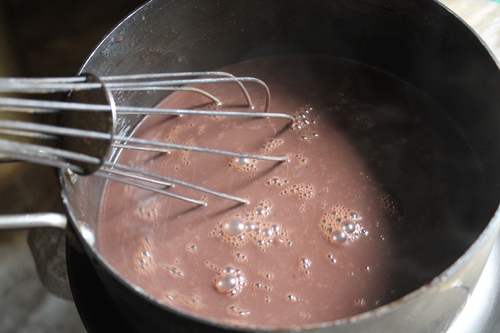 whisk well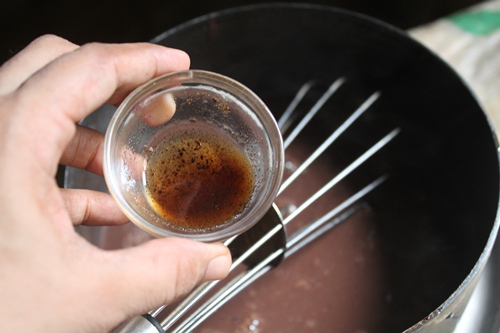 add in a dash of vanilla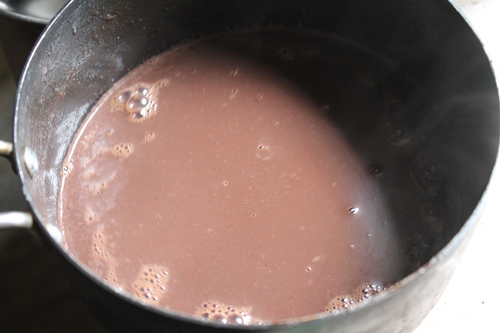 mix well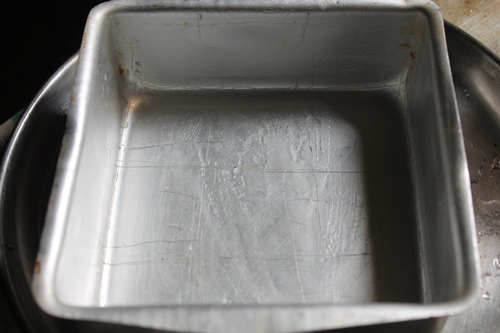 Now grease a tray with oil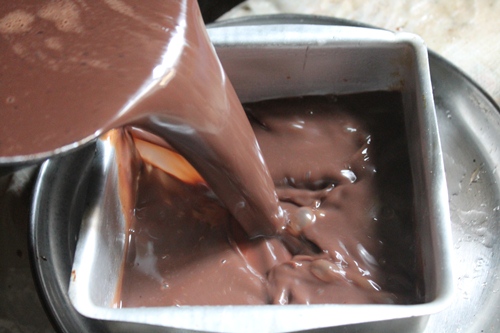 pour the mix in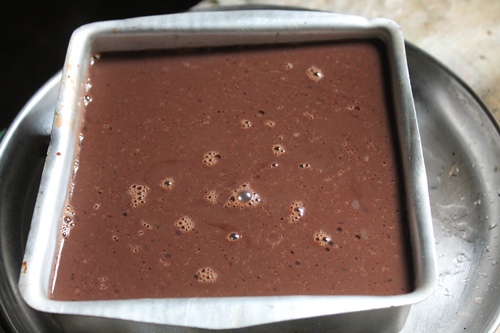 let it cool down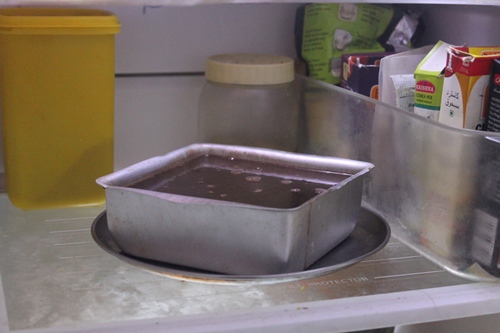 put this in fridge and let it set for 3 to 4 hours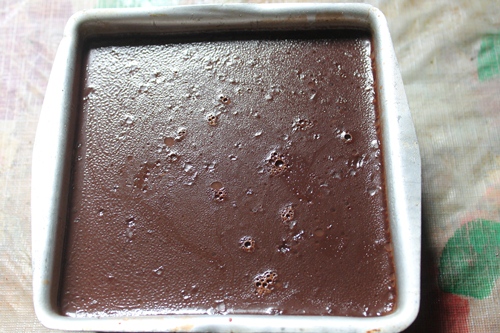 now it is set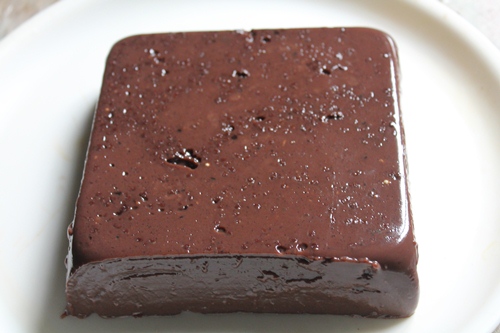 invert it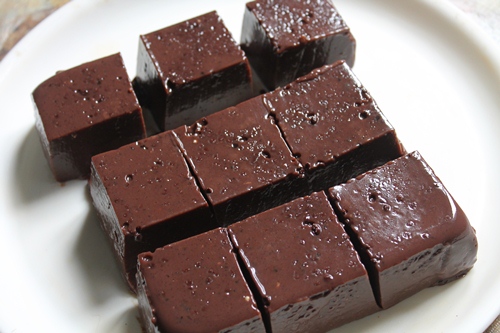 cut into pieces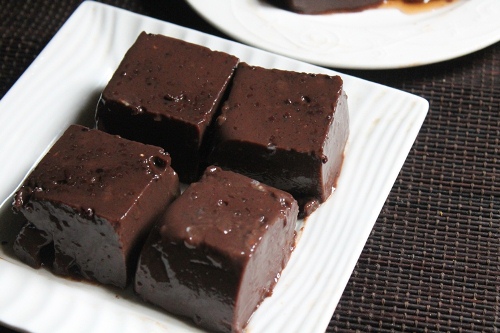 serve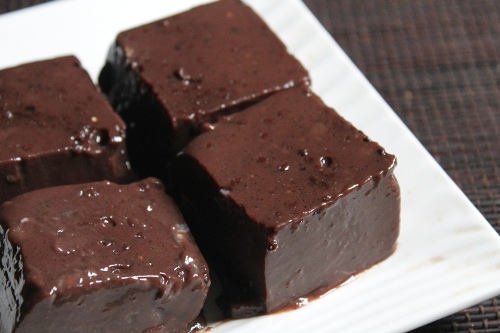 I am Aarthi, a happy homemaker, mom of two beautiful girls, married to my high school sweet heart. My goal is to teach people that cooking can be way more easier and joyful than they think. Yummy Tummy features recipes all over the world with step wise pictures which surely shows the ease of cooking.