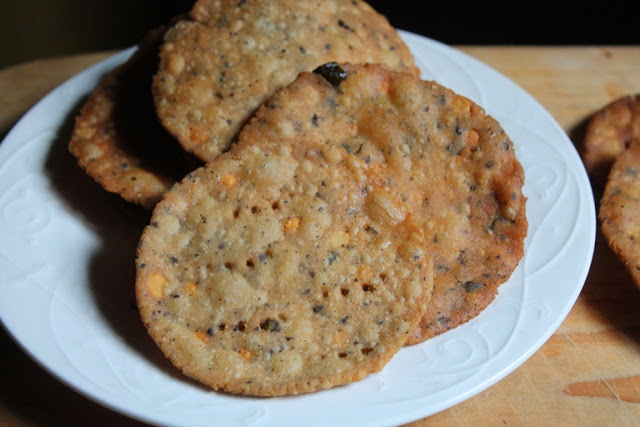 Thattai is one snack which i was planning to make for quite a while, since krishna jayathy is around the corner i thought it is the perfect time to share it. So i made it today and here is the recipe. I made another version which is spicy and different to this, will share that soon.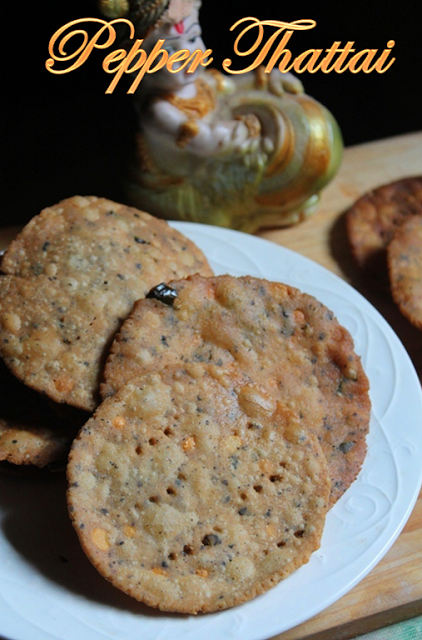 Hope you will give this a try and let me know how it turns out for you..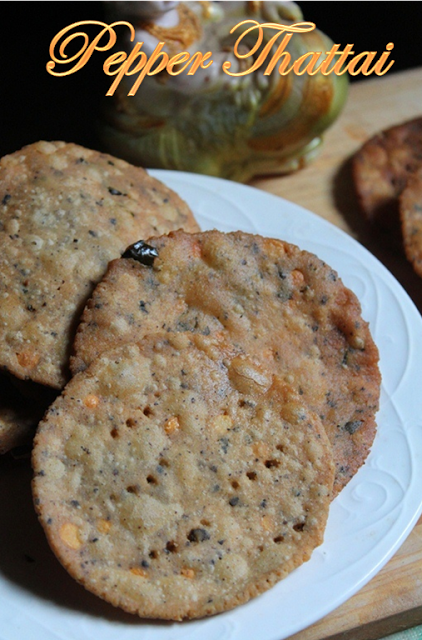 Preparation Time : 10 mins
Cooking Time : 2 min per batch
Makes : 10 thattai


Ingredients:
Rice Flour – 1 cup (HOMEMADE)
Urad Dal Flour – 1/4 cup (HOMEMADE)
Chana Dal / Kadalai paruppu – 1 tblspn
Asafoetida / Hing / Kaya Podi – 1/4 tsp
Black Pepper – 2 tsp coarsely ground
Curry Leaves – 10 to 12 leaves torn
Salt to taste
Baking Soda / Cooking Soda a pinch
Oil – 1 tblspn + for deep frying
Water – 1/4 cup to 1/2 cup


Method:
Take rice flour in a dry pan and roast it little, Remove to a bowl.
Take urad dal flour in the same pan and roast it little. Remove to the same bowl.
Add in salt, pepper, soaked chana dal, baking soda, curry leaves, asafoetida and water to make a smooth dough.
Heat oil for deep frying. Once the oil is hot, the 1 tblspn of oil and add it to the dough.
Divide it into 10 equal balls. Spread a plastic sheet, place a ball in the center, cover with plastic wrap and press the top with another flat bowl.
Prick the top with fork, drop in hot oil and fry for 30 sec or so, now reduce the heat and cook on low heat for a min or so till it gets crispy.
Drain it and cool it down completely.
Store it in air tight container and set aside.
This keeps well for more than 10 days.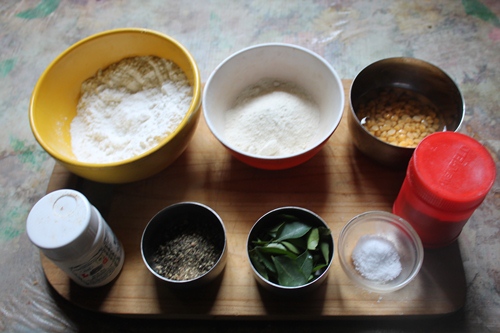 Take all your ingredients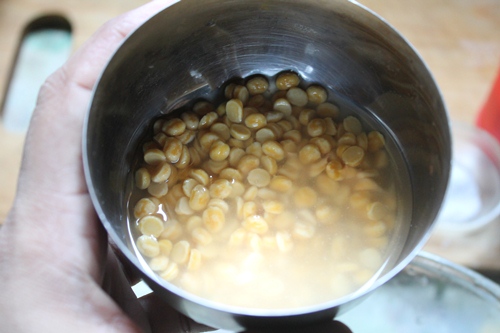 Start by soaking chana dal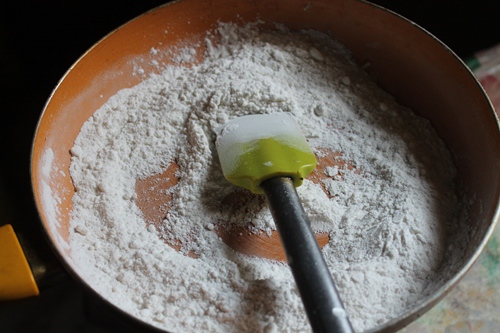 roast it little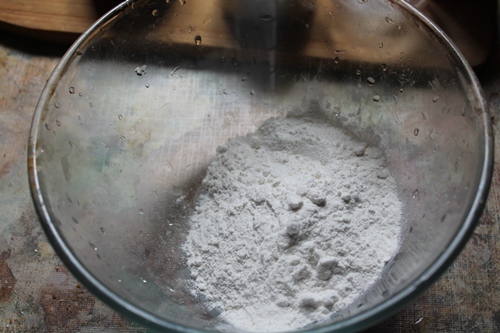 remove to a bowl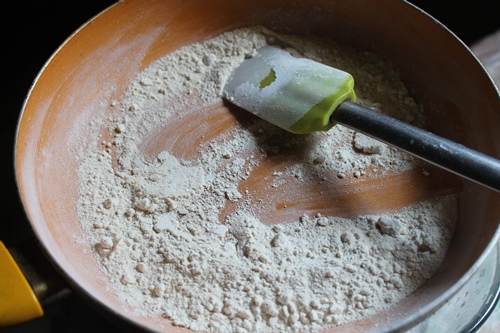 roast it lightly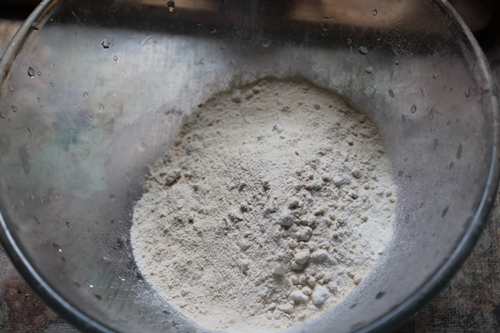 take it in the same bowl
add in torn curry leaves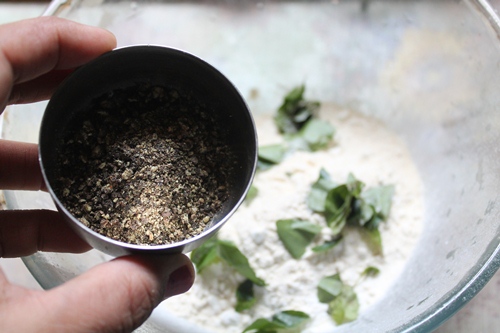 add in coarsely ground pepper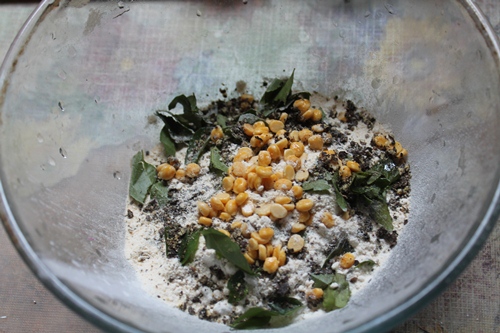 add soaked chana dal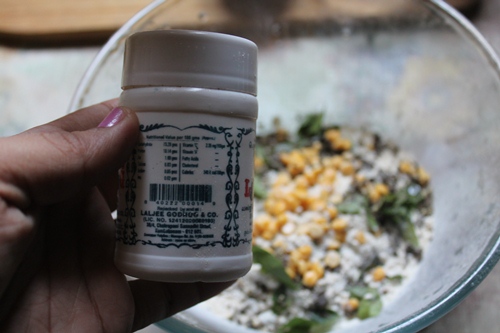 add in little asafoetida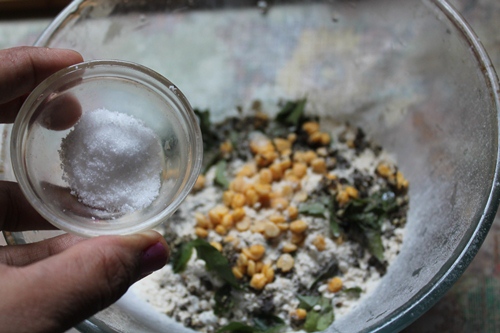 add in little salt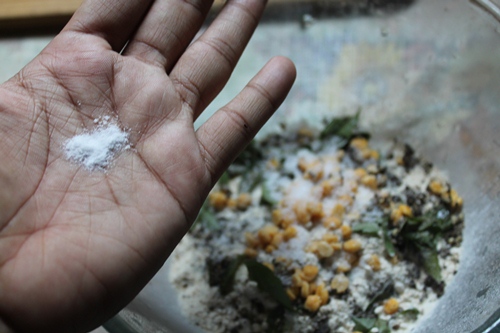 add little baking soda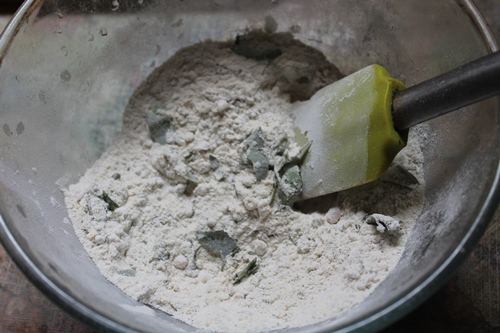 mix well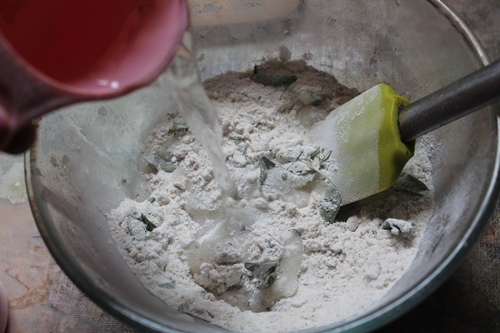 add water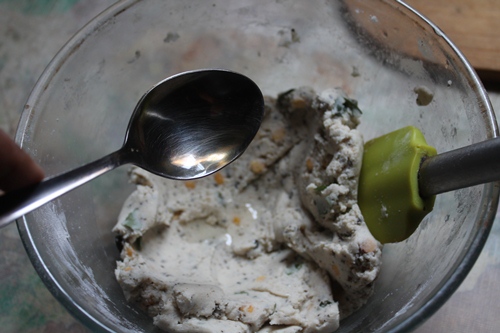 and hot oil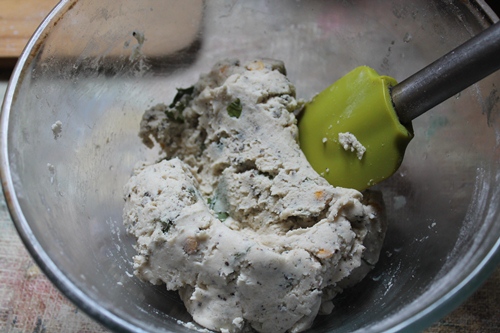 mix well to a smooth dough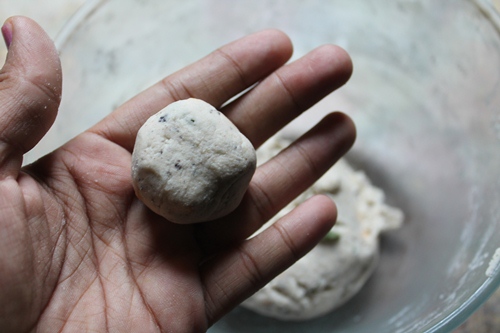 divide it into small portion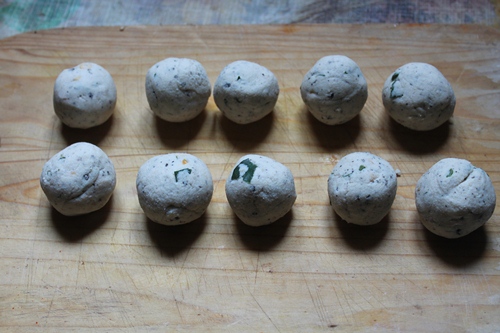 like this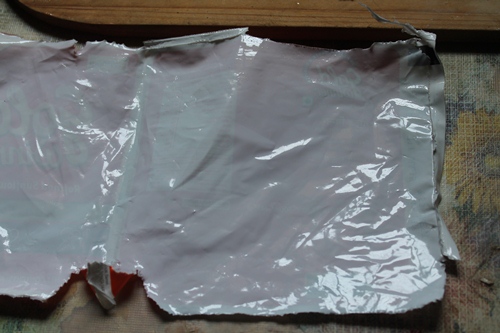 take a plastic sheet, i used my oil cover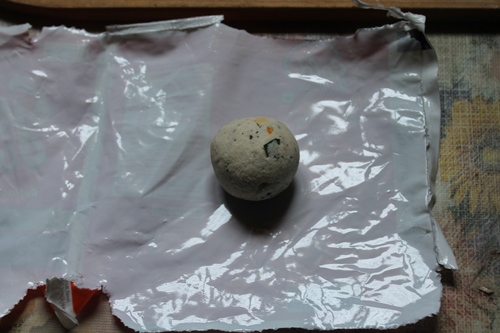 place the ball in the center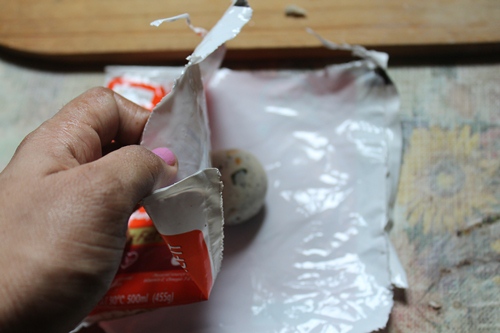 cover it up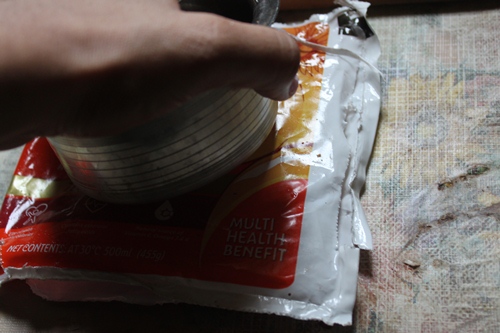 press the top using a bowl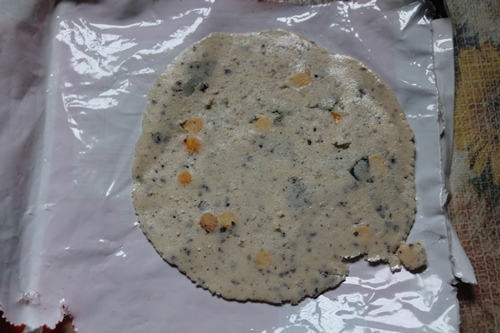 like this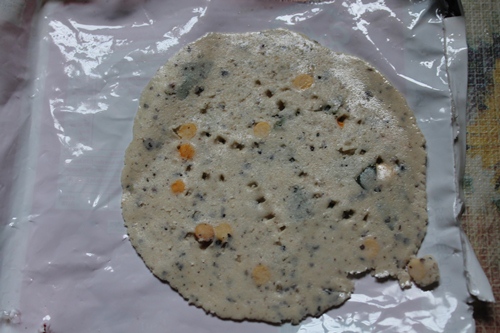 prick top with fork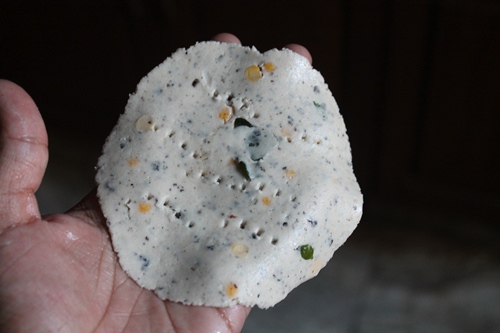 remove it carefully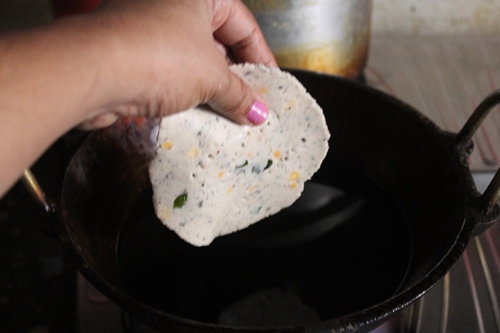 drop in hot oil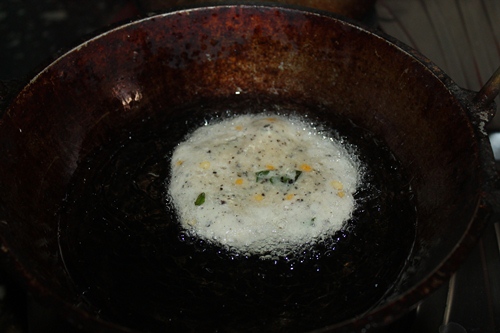 let it fry for few mins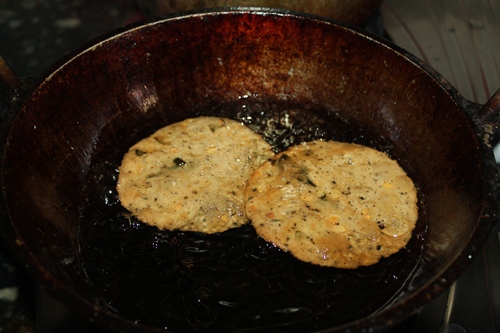 now reduce the flame and cook for few more mins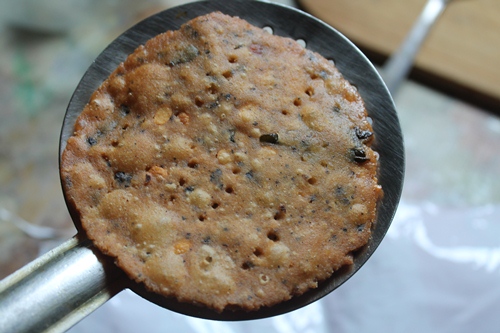 drain them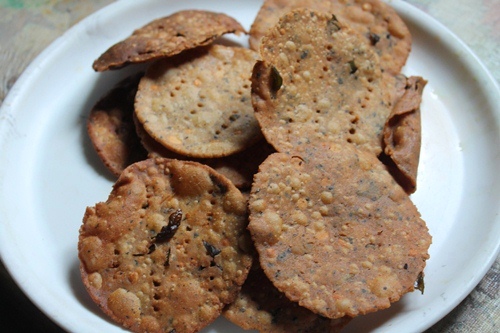 serve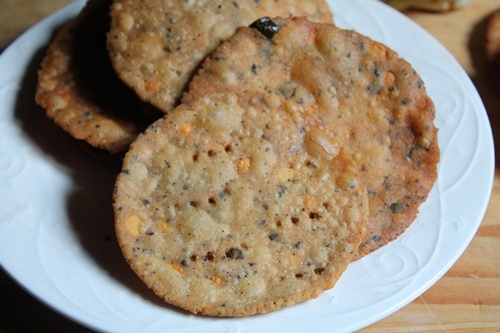 store it in a air tight container for more than 10 days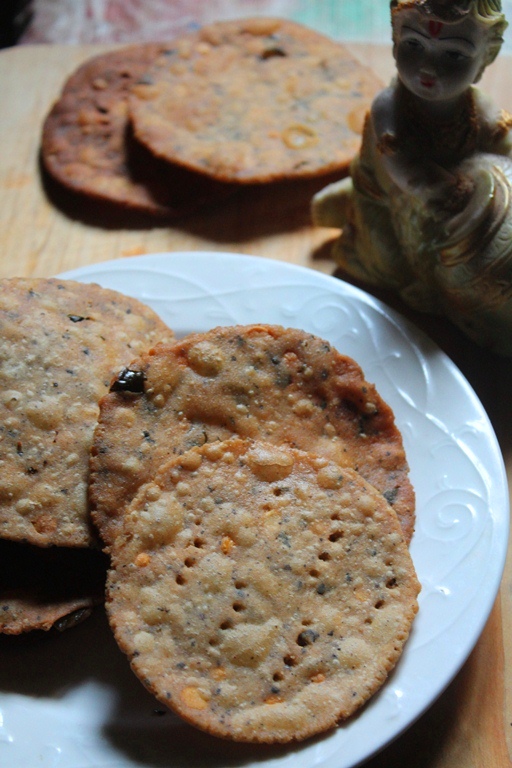 I am Aarthi, a happy homemaker, mom of two beautiful girls, married to my high school sweet heart. My goal is to teach people that cooking can be way more easier and joyful than they think. Yummy Tummy features recipes all over the world with step wise pictures which surely shows the ease of cooking.