I have never gone to Bombay...I don't even know how to go there..The only thing I know is about its cuisine..I know that Bombay is famous for its street food..I came across these street foods dishes from one of Tarla Dalal Cookbook namely "Mumbai's Road Side Snacks"..I have bookmarked so many recipes from that book to try out..
Similar Recipe
Whole Wheat Pav Buns
Traditional Pav Buns

I love to eat street food dishes..The place where I live don't have that many street food shops..It does have a few portable ones and I have tried their food couple of times..They don't use best quality ingrediants..They never touch expensive stuffs..They don't even serve in fancy bowls and saucers..But I don't know how those dishes taste great than many huge restaurants..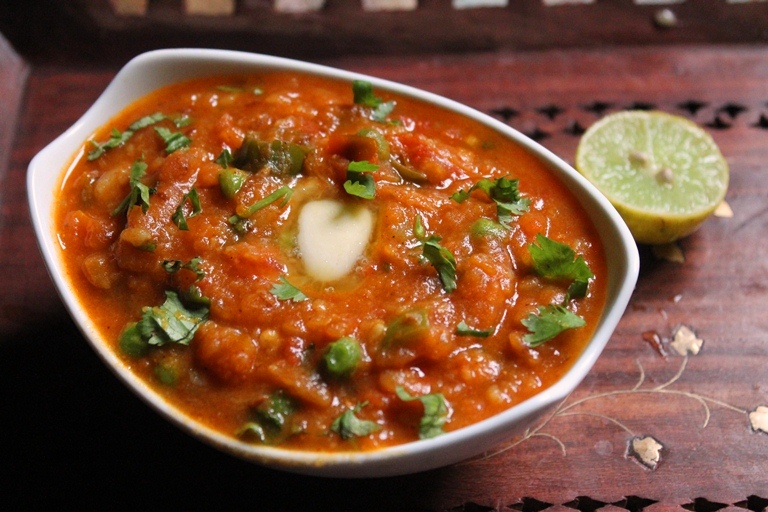 Pin
I think its all from the flavours they add in their dishes and serving them as fresh as possible..I know that they serve dishes piping hot right from the stove..This is one of mumbai's top street food recipe..My recipe is made right from scratch,It doesn't require the store bought pav bhaji masala powder..
So I hope you can try it ASAP..Here you go for the step by step recipe with pictures..
Preparation Time : 10 mins
Cooking Time : 45 mins to 1 hour
Serves : 6


Ingredients:
Butter-2 tblspn
Lemon Slices to serve
For Bhaji:
Potato - 3 medium size peeled and cubed
Cauliflower - 1 cup cut into big pieces
Beetroot - 1 small peeled and cubed
Beans - 6 chopped
Carrot - 1 large chopped
Frozen Peas - ½ cup
Onion - 1 medium size finely chopped
Capsicum / Bell Pepper - 1 cup chopped finely
Tomato - 4 large chopped finely
Green Chilli - 3 chopped finely
Ginger Garlic Paste - 1 tblspn
Chilli powder - 2 tsp
Garam masala powder - 2 tsp
Cumin Seeds / Jeerakam - 1 tsp
Turmeric Powder / Manjal Podi - 1 tsp
Salt to taste
Sugar - 2 tsp
Coriander leaves / Cilantro for garnishing
Butter-5 tblspn
Lemon Juice - 2 tsp or to taste
Method:
Take potato, cauliflower, beans, beetroot and carrot in a pressure cooker and cover it with water. Pressure cook for 4 whistle, simmer for 10 mins. Turn off the heat and let them steam go all by itself. Open the cooker and mash the veggies roughly with a masher, Set aside.
Melt butter in a kadai and add in cumin seeds and let them sizzle.
Now add in onions and capsicum. cook till golden brown.
Add in green chilli and ginger garlic paste and saute for a min.
Add in all spice powders and mix well.Add in chopped tomatoes and mix well.
Add in salt and sugar.Cook till the tomatoes turn mushy and become saucy.
Add in water and peas. Bring it to a boil.
Now add in all the mashed vegetables and mix well.
Cover it and simmer for 10-15 mins..
Add in lemon juice and coriander leaves. Mix well. Bhaji done.
To serve pav bhaji..Heat a tblspn of butter and add a cut open pav bun and toast for 1 min till golden. Remove to a plate.
Add a tblspn of butter in the same tawa and add some bhaji on top of it..Cook till it is thick and bubbly. Transfer this to the plate.
Dollop a spoonful of butter on top and add some onions too..Squeeze some lemon juice and serve..
Pictorial:
Start by cooking your veggies
Wash them, Chop them and add it to pressure cooker
I added some peeled cubed beets as well
use a masher to mash the veggies
it wont be difficult, if the veggies are cooked properly
Lovely..i like the veggies to be little chunky
Now take your other ingredients
Start by heating some butter
add in onions and capsicum
saute till onions turns golden
now add in chilli powder, garam masala powder
and turmeric powder
cook till the tomatoes turn mushy
look how saucy it has turned
add in the mashed veggies
mix well and simmer this for 10 mins
squeeze in some lemon juice
add in lots of chopped coriander leaves
add a dollop of butter in a pan
toast till golden on both sides
melt some more butter in the same pan
till the bhaji thickens and is piping hot
add a dollop of butter over it and serve with the toasted pav and lemon slices