Hot Chocolate Sauce | Homemade Hot Chocolate Sauce Recipe is a versatile sauce. This delicious sauce can be served with pudding, ice cream, cakes or anything.
This sauce is so versatile, you can drizzle it over cakes, cupcakes, puddings, pancakes, waffles or anything you prefer.
Similar Recipe,
Salted caramel sauce
Vanilla Custard Sauce
Dulce De Leche
Chocolate Dipping Sauce
For making the most delicious ice cream chocolate sundae, take some vanilla ice cream scoops in a glass, top with this sauce and sprinkle over some chopped nuts and stick a chocolate cigar in it. Totally YUM.
How to Make Chocolate Sauce
Take golden syrup, cream, vanilla and chocolate chips in a sauce pan.
Heat it gently so it melts.
Now cool it down and serve with ice cream or pudding.
Hope you will give this a try and let me know how it turns out for you..
I served it with some chocolate pudding.
📖 Recipe Card
Chocolate Sauce Step by Step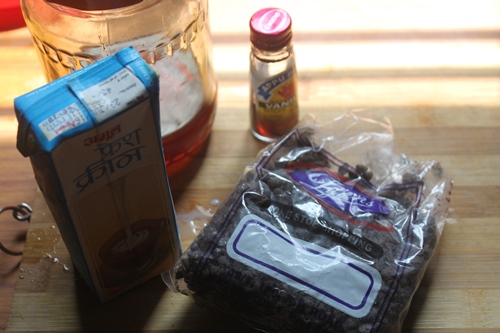 take all your ingredients
Related Recipes