Italian Baked Eggs Recipe with step by step pictures. This is made with Eggs and Parmesan Cheese.
Baked eggs are my favorite. I have tried this recipe so many times and it has never failed me. It is perfect for breakfast or for brunch.
About this Recipe
The key for this recipe is to get the marinara sauce perfect. It has to be acidic and sweet at the same time. My recipe for marinara sauce is perfect and it has a little kick from the chili flakes as well. And the topping of the parmesan cheese which turns little crispy when baked is just delicious. If you don't have parmesan cheese you can use cheddar cheese as well.
Make sure you have few slices of toasted buttered bread to dip into that eggy tomato juice. And the baking time depends on you, if you really want the eggs to be runny then 10 mins is perfect, for soft boiled kind of eggs 12 mins is best, for a fully cooked egg, bake it for 15 mins or more.
More Egg Recipes,
Breakfast Burrito
Korean Egg Rolls
Veg Omelette
Fluffy Egg Omelette with Sausage filling
Cheese Omelette
Spicy Egg Omelette for Rice
📖 Recipe Card

Italian Baked Eggs Recipe step by step picture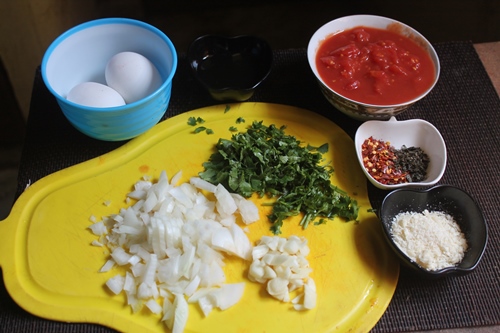 Take all your ingredients