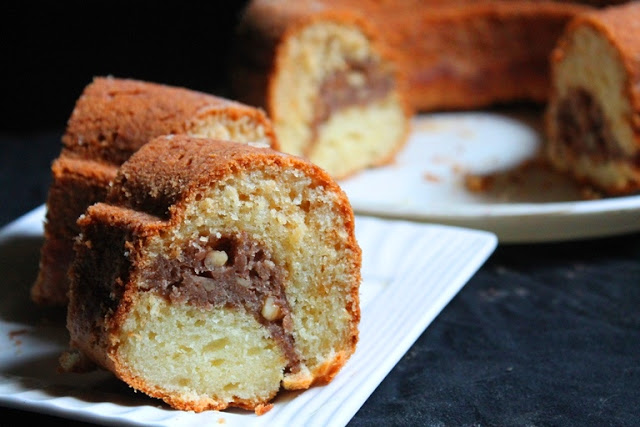 I love reading cookbooks on my leisure time..I have quite a few collections on my shelves. One of my favourite book to read is nigella lawson's books. I have all her cookbooks on my hand. I read it and do cook from it too..I have made quite a lot of recipes of hers in my blog and this is another addition to it.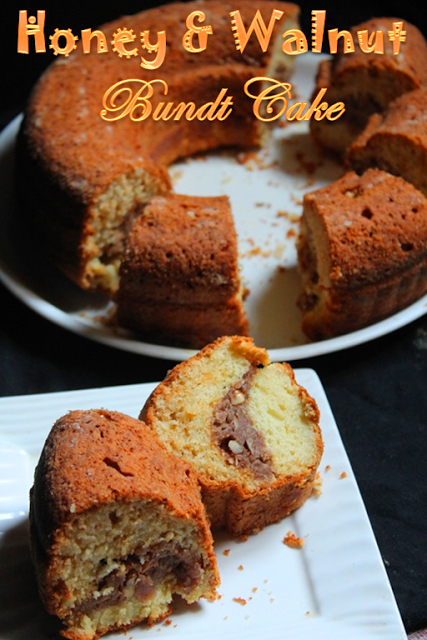 The cake may look complicated, but it is actually pretty simple to make. There are two parts in this recipe, a honey walnut filling and a cake batter..I love the nutty honey filling which is surrounded by a vanilla pound cake..Delicious..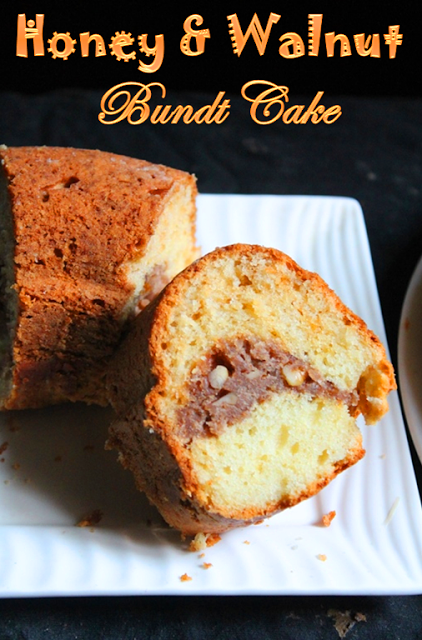 This cake is so easy to handle and will give you a clean slice when you cut them. So delicious with a cup of chai..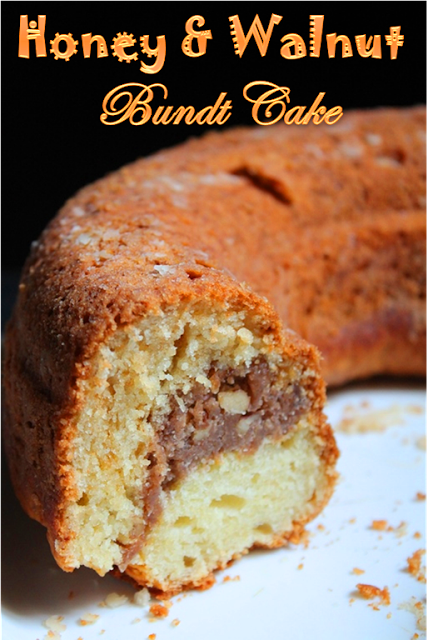 Hope you will give this a try and let me know how it turns out for you..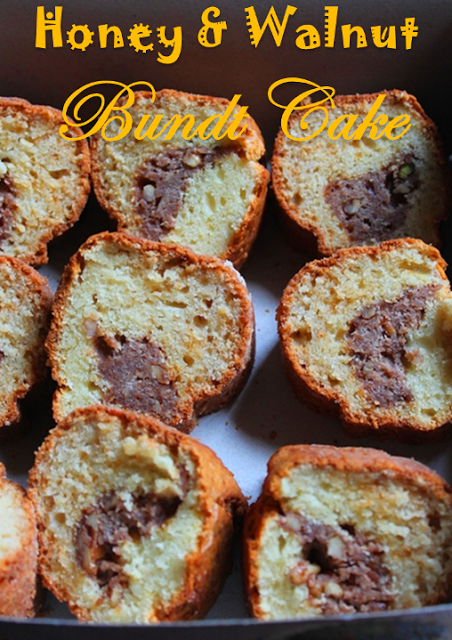 Preparation Time : 20 mins
Baking Time : 35 to 40 mins
Serves : 8 to 10
Recipe Source : Nigella Lawson
Ingredients:
For Honey Walnut Filling:
All Purpose Flour / Maida – 1/2 cup heaped (around 75 grams)
Unsalted Butter – 30 grams
Cinnamon Powder – 1 tsp
Walnuts – 150 grams Chopped
Honey – 1/2 cup / 120 ml
For Cake:
All Purpose Flour / Maida – 2 1/2 cup / 300 grams
Baking Soda / Cooking Soda – 1 tsp
Baking Powder – 1 tsp
Vanilla Essence – 1 tsp
Unsalted Soft Butter – 125 grams
Sugar – 3/4 cup
Eggs – 2
Yogurt / Curd – 1 cup / 240 ml
Method:
Preheat oven to 180 degree C. Grease a 23 cm bundt cake pan with oil and dust it with flour. Tap off the excess and set aside.
First make the filling, take flour, butter in a bowl. Use a fork to mix it well so it resembles coarse breadcrumbs. Add in cinnamon, walnuts and honey. Mix well. So it forms a sticky mixture.
Take flour, baking soda and baking powder in a bowl and mix well. Set aside.
Now take butter, sugar, vanilla in a bowl and use a beater to whip this till creamy.
Now add in eggs one at a time and whip till creamy.
Add in half of the flour mix and half of the yogurt. Fold gently, Now add in remaining flour mix and remaining yogurt. Fold again gently.
Spoon 3/4th of the mix into the pan and use a spoon which is dipped in some oil to create a hollow in the center. Spread the mixture up the sides a little and around the funnel of the tin to create a rim. You don't want the sticky filling to leak out to the sides of the tin.
Dollop the honey filling carefully into the dent in the cake batter, then cover the filling with the remaining batter. Smooth the top and put the tin into the oven for 30 to 40 minutes.
Now remove the cake tin from oven, let it cool down for 30 mins. Ease the sides with a butterknife. Invert the cake over a plate. Let it cool completely, now slice and serve.
Pictorial: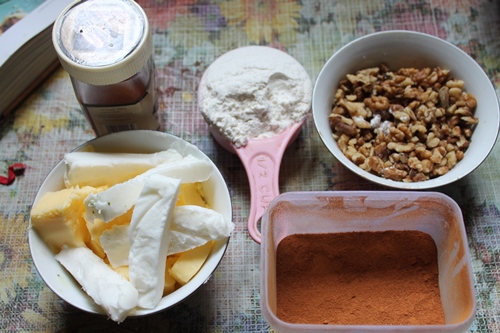 First lets make the honey walnut filling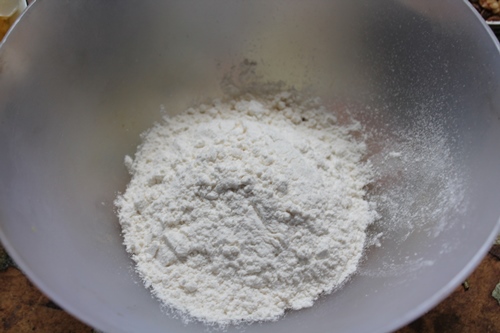 Take flour in a bowl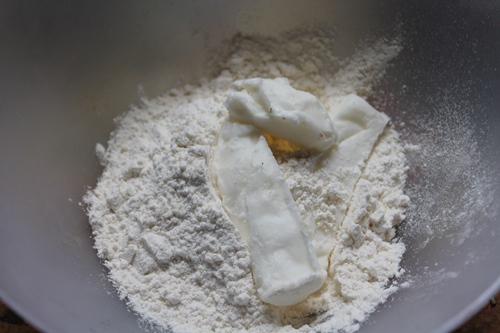 add in butter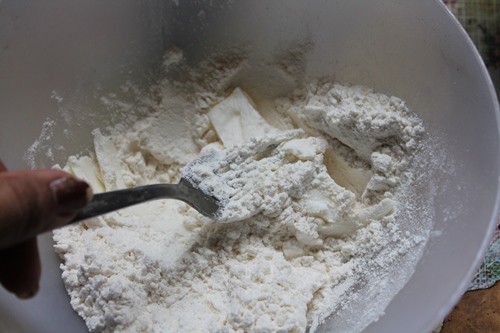 use a fork to mix the butter with the flour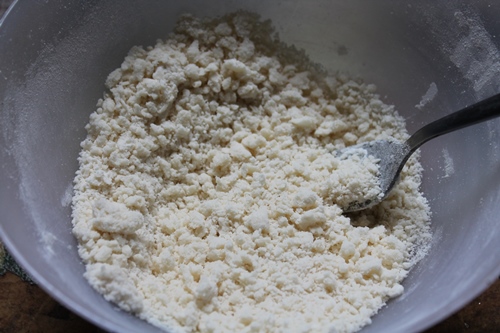 it will resemble crumbs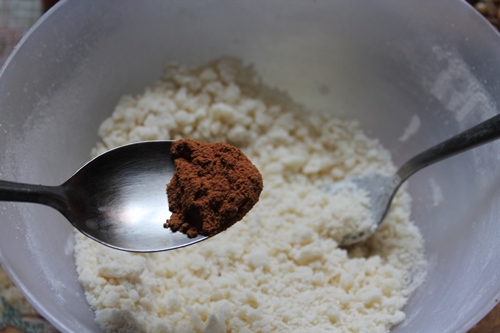 add in a good amount of cinnamon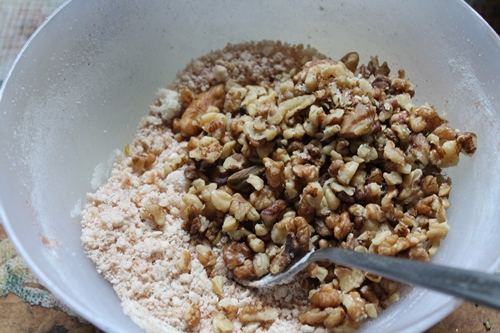 add in walnuts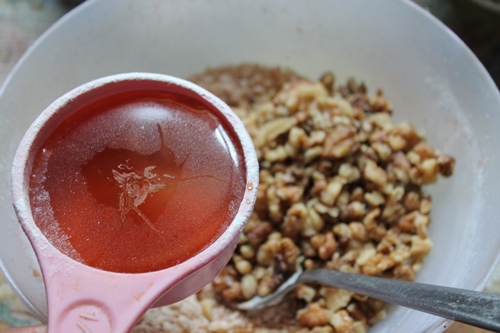 pour in honey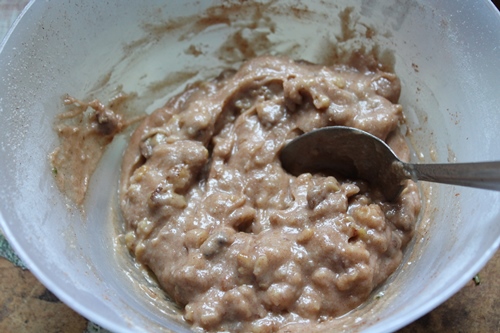 mix well..It will be like a sticky paste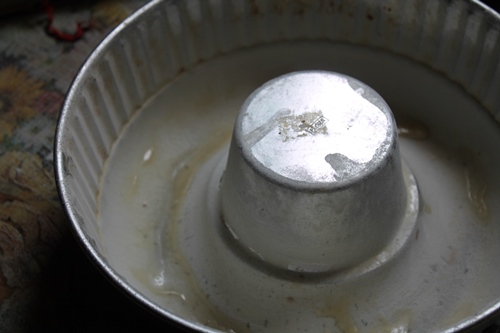 Now prepare your baking pan by greasing it with oil and dusting with flour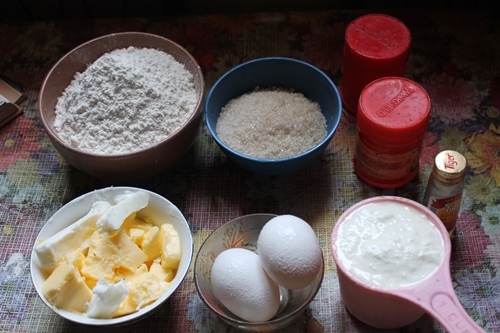 Take your ingredients for batter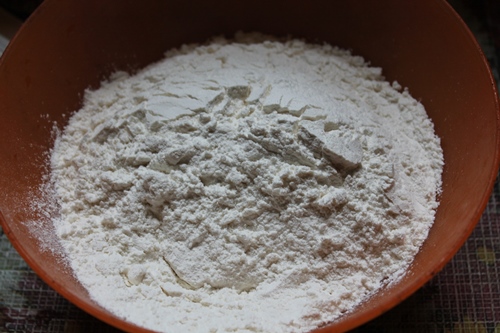 First take flour in a bowl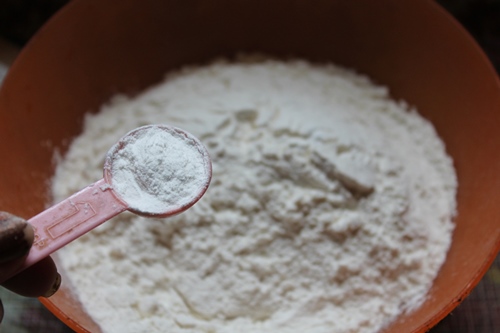 Add in baking powder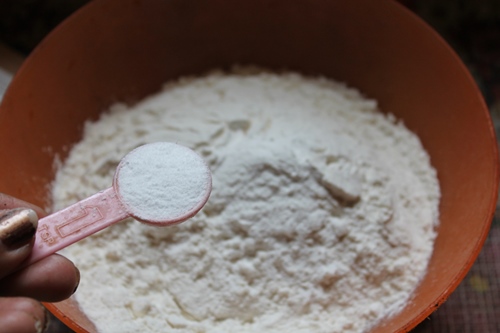 Add in baking soda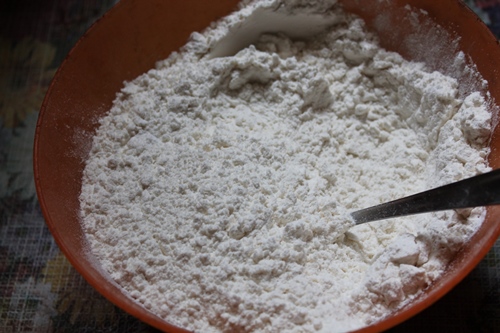 mix well and set aside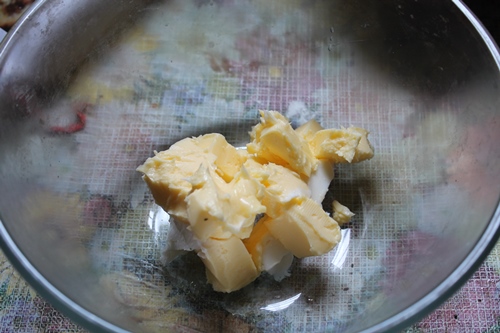 Take butter in a bowl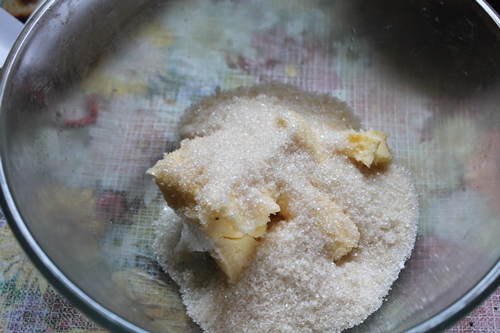 add in sugar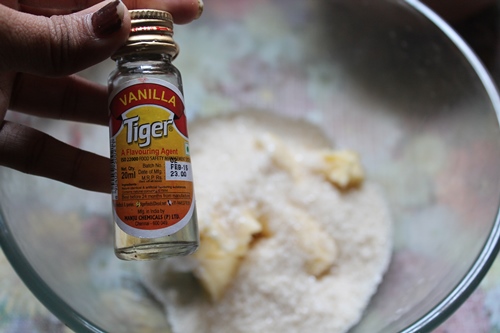 add in vanilla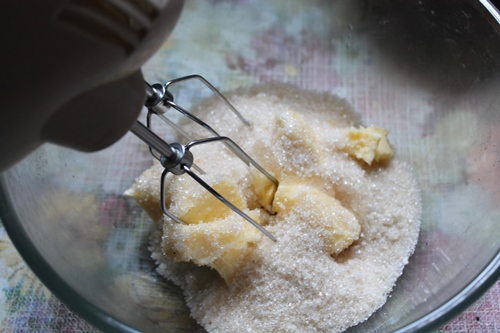 use a beater to cream this up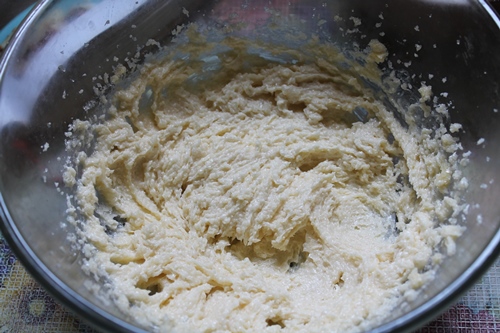 now it is all creamy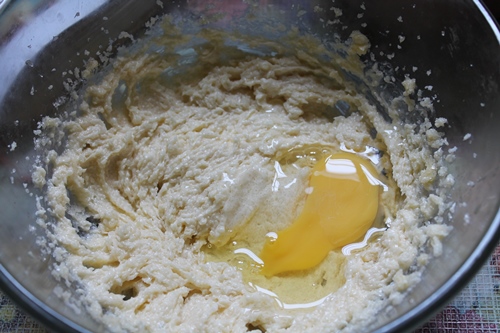 Add in one egg at a time and beat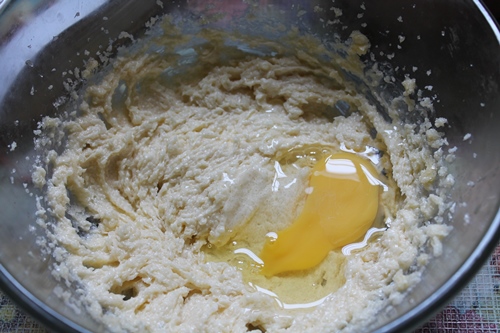 Add in another egg and whip it up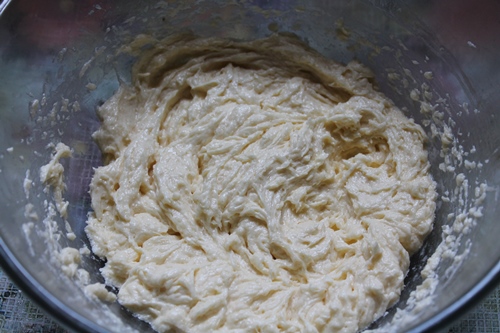 Now it is all creamy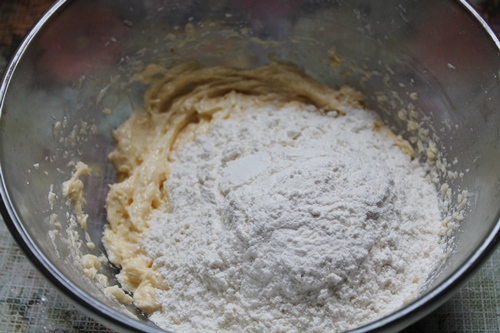 add in half of the flour mix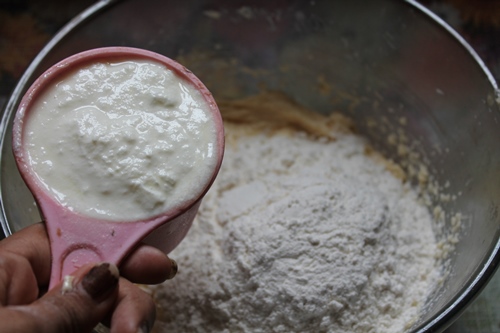 Add in half of the yogurt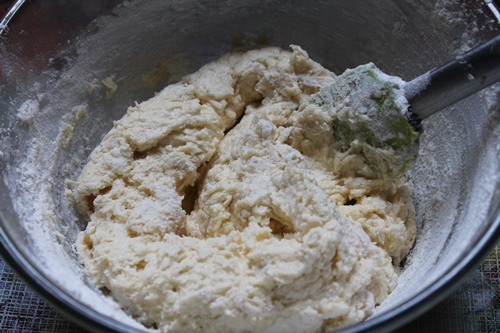 fold lightly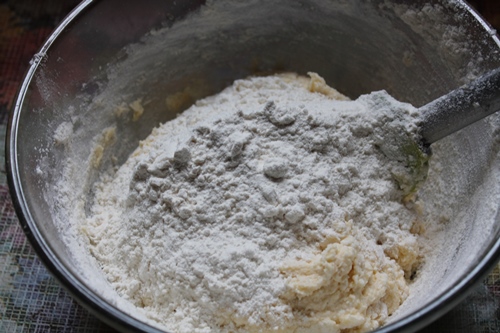 Add in remaining flour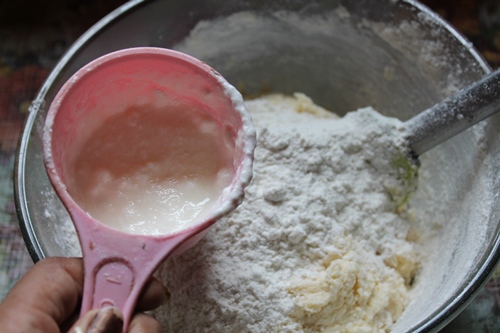 and the remaining yogurt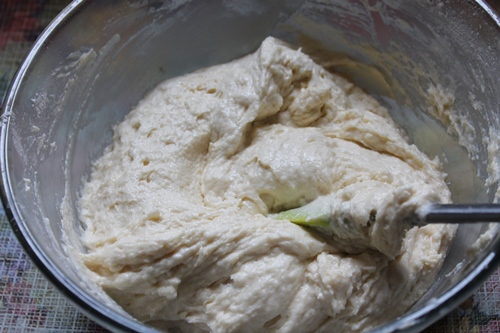 fold everything really well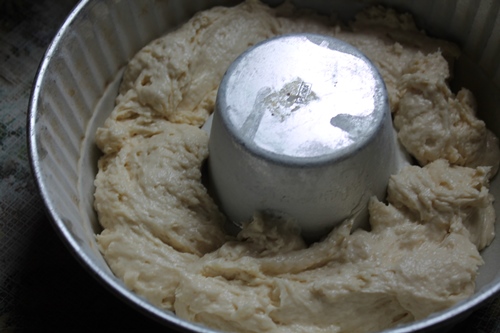 Now spoon 3/4th of batter in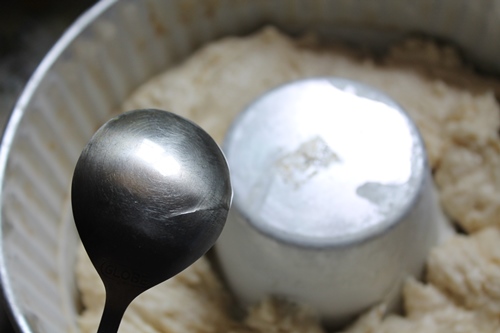 dip a spoon in some oil for easy spreading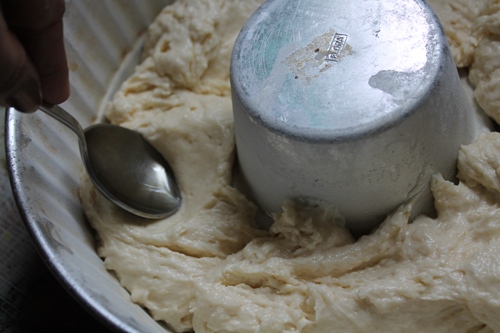 make a hollow in the center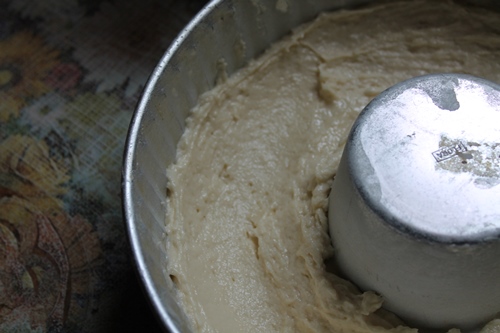 LIke this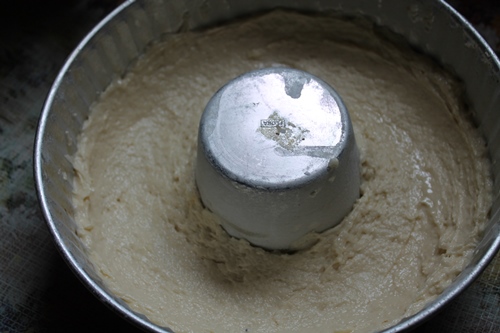 You need a hollow thing in the center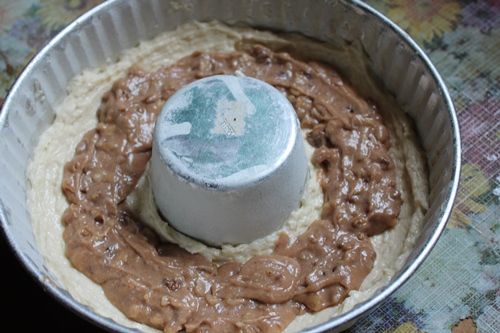 spoon your honey walnut filling in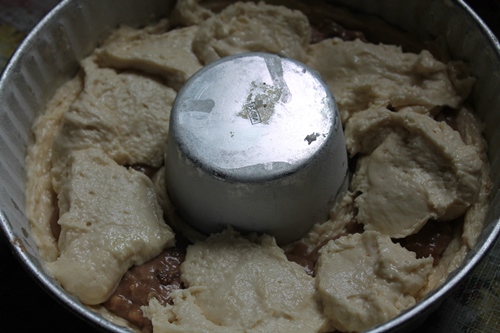 Now dollop the remaining batter all over it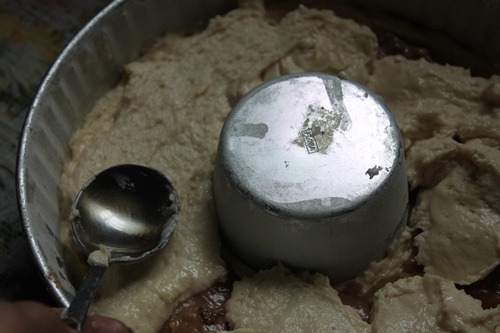 smoothen it out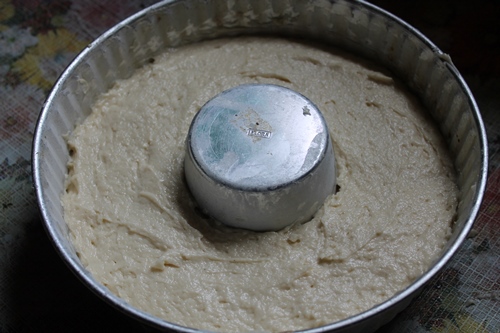 Tap this few times on the counter so everything settles in beautifully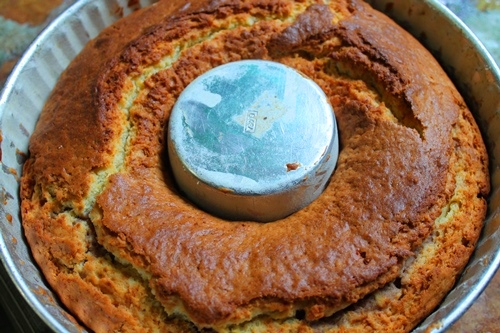 Bake them..Let them cool down, then invert them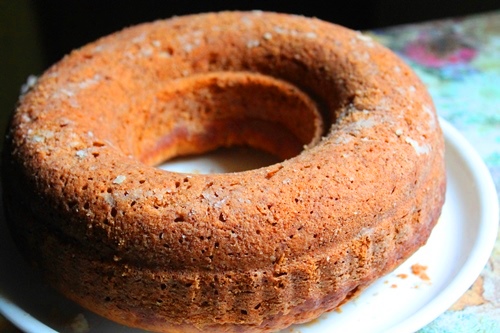 TA DA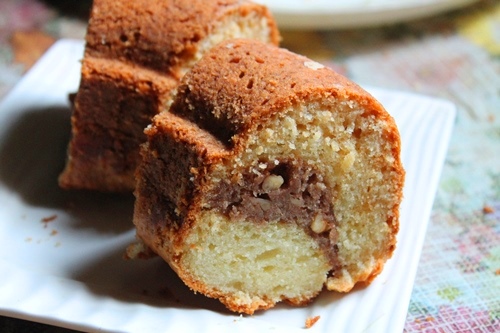 Slice and serve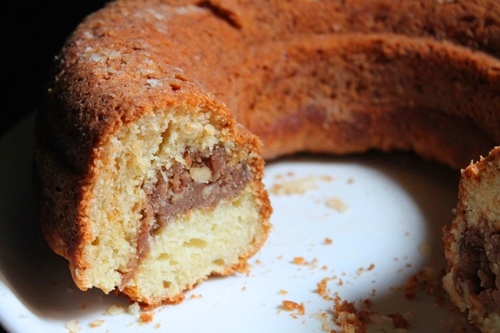 Taste great with a glass of milk of coffee..