Refreshing Mango mint sorbet which needs no ice cream machine to make. Super easy to make and taste delicious.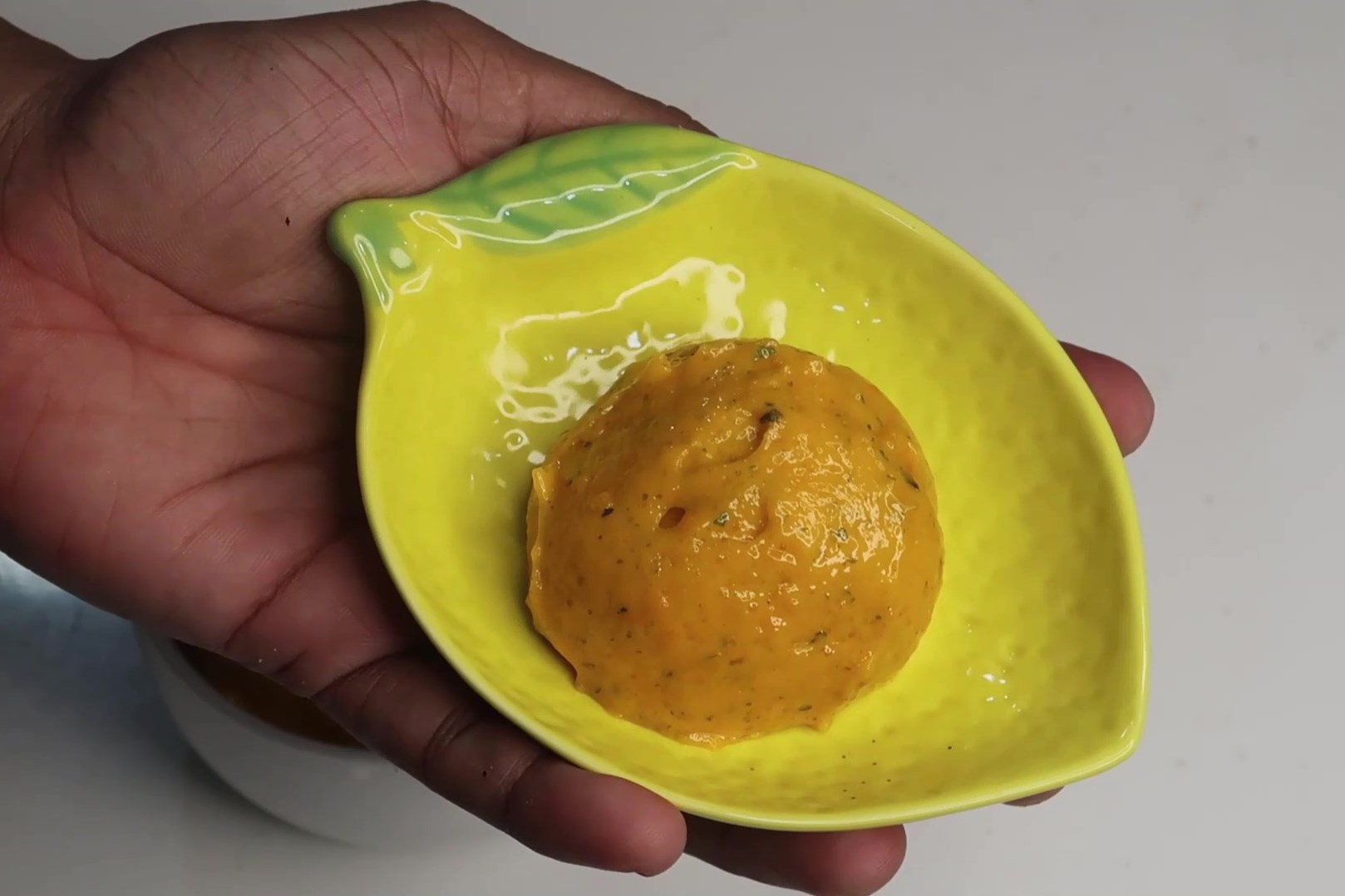 I thought that there is no more cool desert to make using mangoes, after I posted my Mango Icecream & Mango Froyo. But my experiment yesterday gave me this delicious instant sorbet. YES IT IS A DELICIOUS EXPERIMENT.
Mango season is here, I bought bunch of mangoes few days back, peeled, cubed and freezed them in ziploc bags. I thought they would come handy someday. 
Yesterday my sister came to my house and we were just chatting, suddenly she asked me to make something cool to drink, so I went to the fridge and found this bags of frozen mangoes. I had some mint on hand too, since she loves mint. I decided to put them together and make a slushy kind of drink for her.
So I put everything in a blender and crushed them. The end product was so thick that you can scoop them and have it as it is.. When I tasted, it was amazing just like a instant mango and mint sorbet. I gave this to my sister she told me that it is so delicious. We dropped our plan of making slushy and had the yummy sorbet. So you try this out and let me know how it turned out for you.
Similar Recipes,
Mango Froyo
Similar Recipes,
Custard Apple Icecream
Banana Nutella Icecream
Chocolate Icecream
Vanilla Icecream
Eggless Strawberry Icecream
No Churn Mango Icecream
Casatta Icecream
Falooda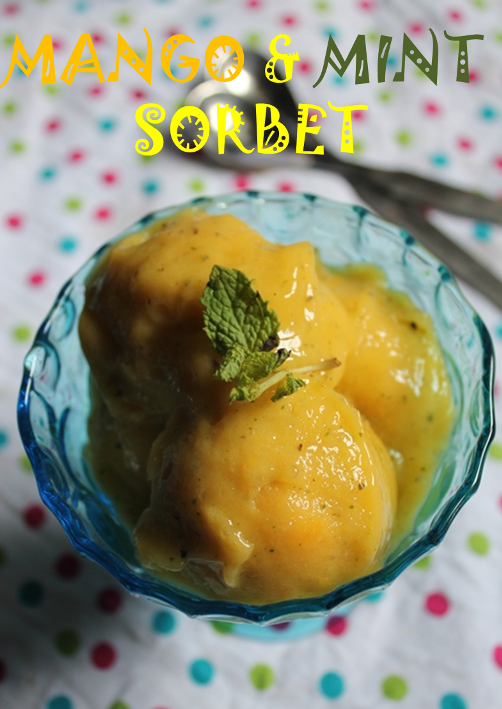 I made this sorbet in my hamilton beach JMG. I have been using it for the past 21/2 years and absolutely loved using it. Use them to grind all my spice powders, batters. It can even grind turmeric to super fine powder. I have done a dedicated video on my youtube channel about the product.
About the Product
Hamilton Beach Professional Juicer Mixer Grinder 58770-IN, 1400 Watt Rated Motor, Triple Overload Protection, 3 Stainless Steel Leakproof Jars, Triple Safety Protection, Intelligent Controls, Black
Superior Performance, Hassle-Free Experience and Safe Usage.
Say Hello to perfection with a Commercial Grade , 1400 Watt motor that can grind the toughest  ingredients like Haldi/ Idli Batter/ Dry Coconut and several other tough spices
*Your Wish, Your Command*: Get the desired results based on the 13 preset menu options to choose the kind of output you desire. From Fine to Semi Coarse and Coarse , the machine understands your needs and accordingly with Intelligent Program cycle gives you the desired results to make your experience completely hassle free.
*Leak Proof Technology*- We know how any kind of leakage or spillage can make the process messy but our shatterproof Tritan lids with robust gaskets & locking tabs make the product 100% leak proof.
Chef Approved -Hamilton Beach products are approved and used by over 10 millions chefs all around the world . Hamilton Beach Pro JMG is also the choice of some  renowned chefs in India  like - Kunal Kapur, Kelvin Cheung (Former Head Chef Bastion), Anahita Dhondey (Soda Bottle Opener), Chef Meghna, Chef Chinu and many more. They have shared their experience with the product on their social media channels as well.
 Universal Blade: No more  hassle of changing blades and frequent blade breakage as our robust blade is casted from a single unit of stainless steel and works universally for all kinds of ingredients.
All Metal Drive (No more wear and tear of couplers)
Stainless Steel Square Jars with Flow Breakers- As plastic is not the best choice when it comes to food , hence we use high grade stainless steel keeping in mind the health concerns .We even use Square jars with flow breakers to give a consistent and superior blend.
 5 Years Total Product Warranty- We give on-site warranty to keep you away from the hassle of taking the product to any service center . As the consumer can reach out over call 1800 572 8766 or mail us at: [email protected] and our technician will be at your doorstep.
Your Safety is our utmost priority- We have a Double Safety Interlock System. The jar and lid must be secured in place else the blade or coupler will not spin . Further, the Automatic Braking System stops the blade in less than 2 seconds if the jar is disturbed.
Carrying forward the legacy of America's no.1 small kitchen appliance brand, the Hamilton beach professional juicer mixer grinder is developed for the Indian Market,  with culinary expertise to deliver superior performance, durability and safety to offer Pro-Results at Home.
About the Brand
With over 100 years of experience and a rich commercial heritage, Hamilton Beach has been the choice of millions of chefs across the globe. The trusted American kitchen appliances brand entered the Indian market to create a product best suited to the Indian kitchen. After five years of extensive research, here we are, with a professional juicer mixer grinder that will enhance your kitchen experience with superior performance. Let's just say it , we blend the best!
About the Product and Brand
Hamilton Beach, the No.1 small kitchen appliance brand in the USA, is now in India to empower the pro in you. After crafting mixing, grinding, and blending products for commercial kitchens for years, Hamilton Beach Professional brings to you the Juicer Mixer Grinder that sets a new benchmark with superior performance, durability, and safety. We collaborated with the best Indian engineers and culinary experts to develop a product that will make your life easy and hassle-free. Say hello to a better experience, Say hello to Perfection.
superior performance, durability and safety; worry less and create more

Ultimate control and hands-free perfection; variable speed 3000-18000 rpms; intelligent speed sensor; 13 program settings for grinding dry; wet hard and wet soft recipes; hot soup and cold blending

5 year total product warranty covers both motor and entire product.

Commercial-grade durability performs even in harsh conditions; runs with wet ingredients for 400 hours; blades endure 4000 cycles ice crushing and fatigue testing; jar and lid locks minimum 6000 uses

Tackle toughest ingredients with ease; 1400 watt rated commercial-grade motor grinds everything to perfection with triple motor overload protection for continuous operation

Safety ensured; double interlock requires jar and lid in place for the blade to spin plus auto braking system stops blade within 2 seconds if lid is disturbed; handle secure minimum 48,000 cycles

Power to juice anything with ease; retain nutrients and boost immunity by juicing whole foods into healthy drinks; you can blend it all - be it coconut, beetroot, carrot, smoothies or greens
Includes 1.5 and 1.0-litre multi-purpose jars; 0.5-litre dry jar; tamper; scraper; 2 filler caps and base; 1400 watt rated motor at 220-240 volts and 50-60 hertz; meets global standards for safety

Keep kitchen mess free; shatterproof tritan lids with robust sealing gaskets and locking tabs prevent leakage from top of jar while double ball bearing cutter assemblies prevent leakage from bottom
📖 Recipe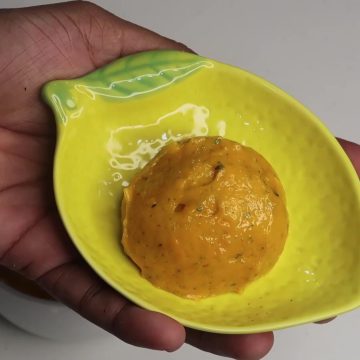 Mango Mint Sorbet Recipe
Refreshing Mango mint sorbet which needs no ice cream machine to make. Super easy to make and taste delicious.
Print
Pin
Rate
Ingredients
Ripe Sweet Mangoes - 3 cups peeled and cubed

Lemon Juice - 1 tblspn

Sugar - ⅓ cup or adjust

Mint Leaves - a handful
Instructions
Chop mangoes and put them in a ziploc bag and freeze them till they are frozen hard.

Now take them in a blender and add in lemon juice, mint, sugar.

Grind them till they are pureed, they would be thick and creamy like a icecream.

You can scoop them into bowls and serve immediately or just transfer them to a container and freeze them for 30 mins before serving.

Enjoy cold.
Video
Notes
1)The Mangoes should be frozen hard, this way you will get perfect creamy sorbet.
2)When mangoes are in season, you can freeze them in individual ziploc covers. They last in the freezer for months..
3)Adjust the mint and sugar to your taste.
4)You can store this sorbet in freezer for weeks, Just remove them from the freezer 10 mins before serving, this way they will scoop easily.
5)If you already have mangoes frozen, then this desert can be made in minutes.
Join us on Facebook
Follow us on Facebook
Share by Email
Share on Facebook
Mango Mint Sorbet Step by Step
1)Take some ripe mangoes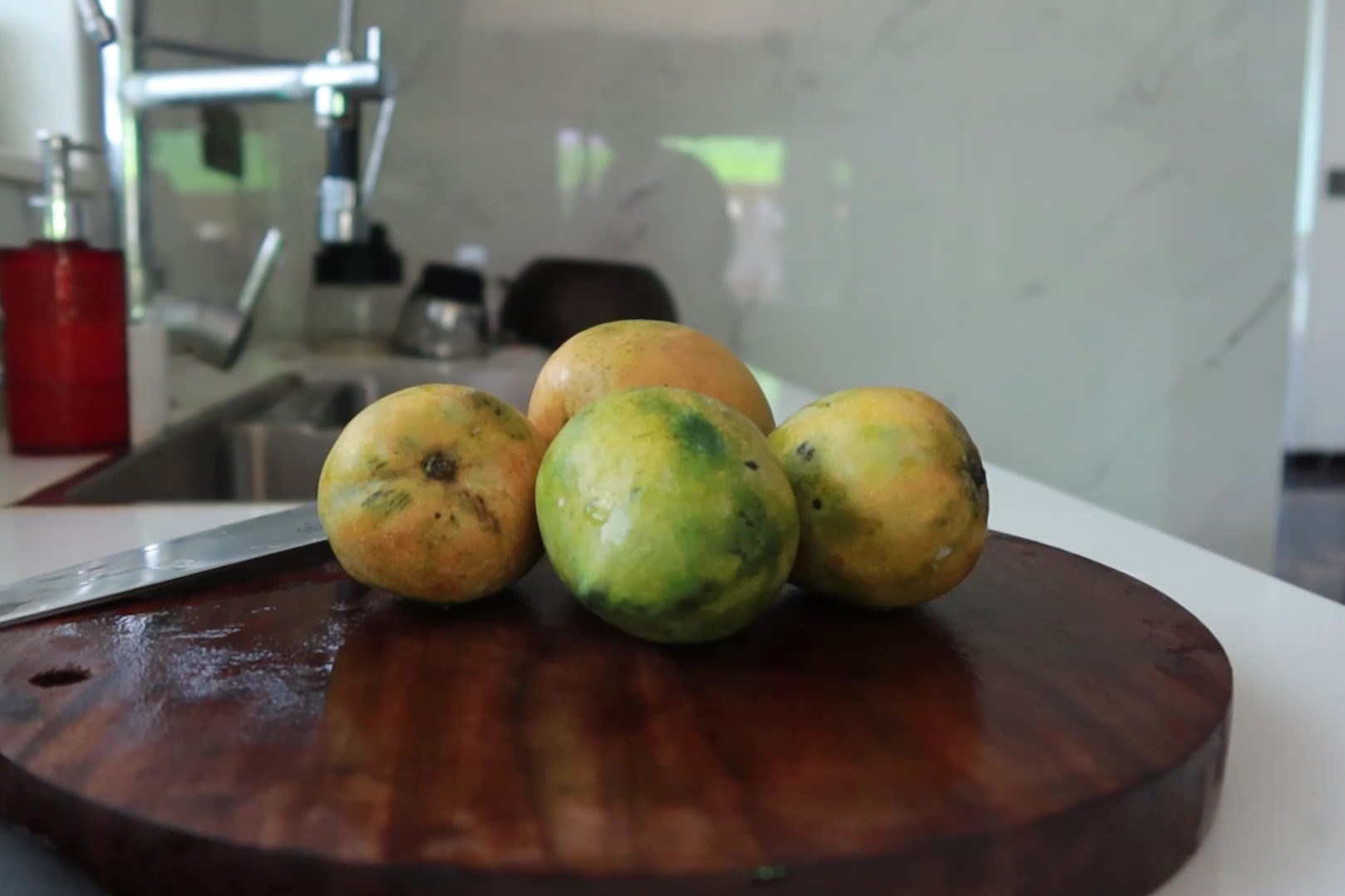 2) Peel them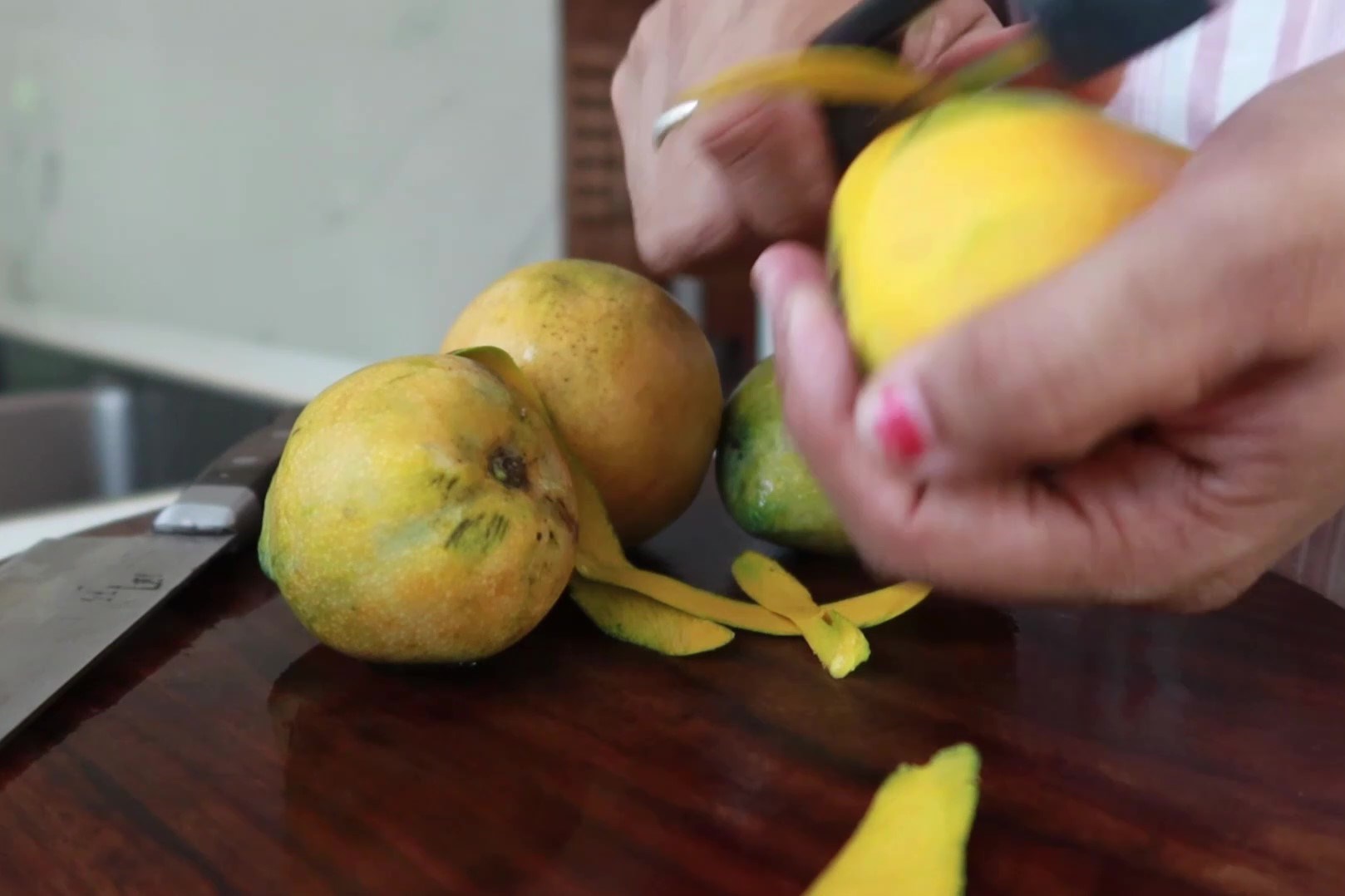 3)Cube them and freeze for few hours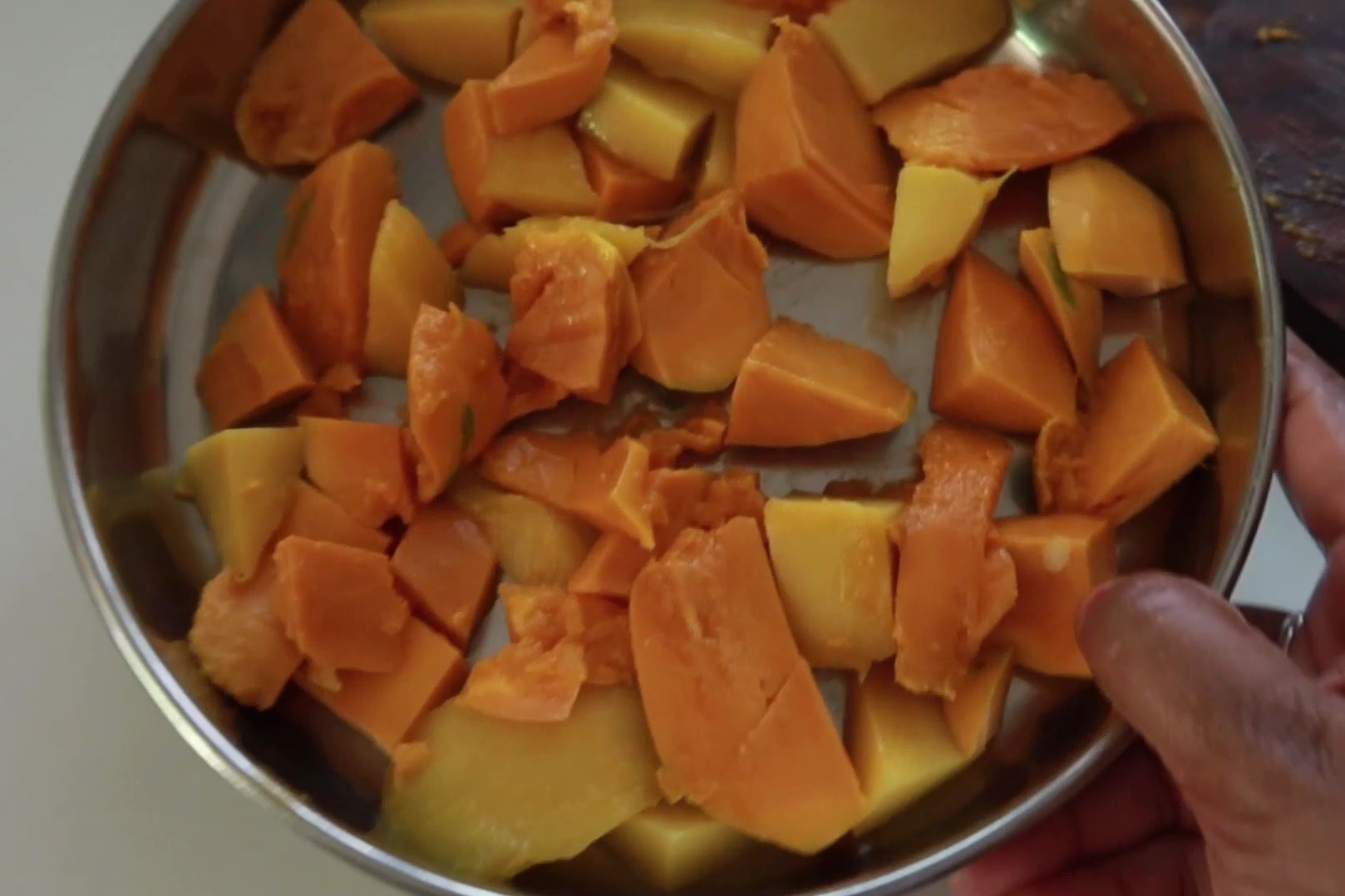 4)Your ingredients for sorbet
5) Take your blender jar
6) Add a handful of mint leaves and lemon juice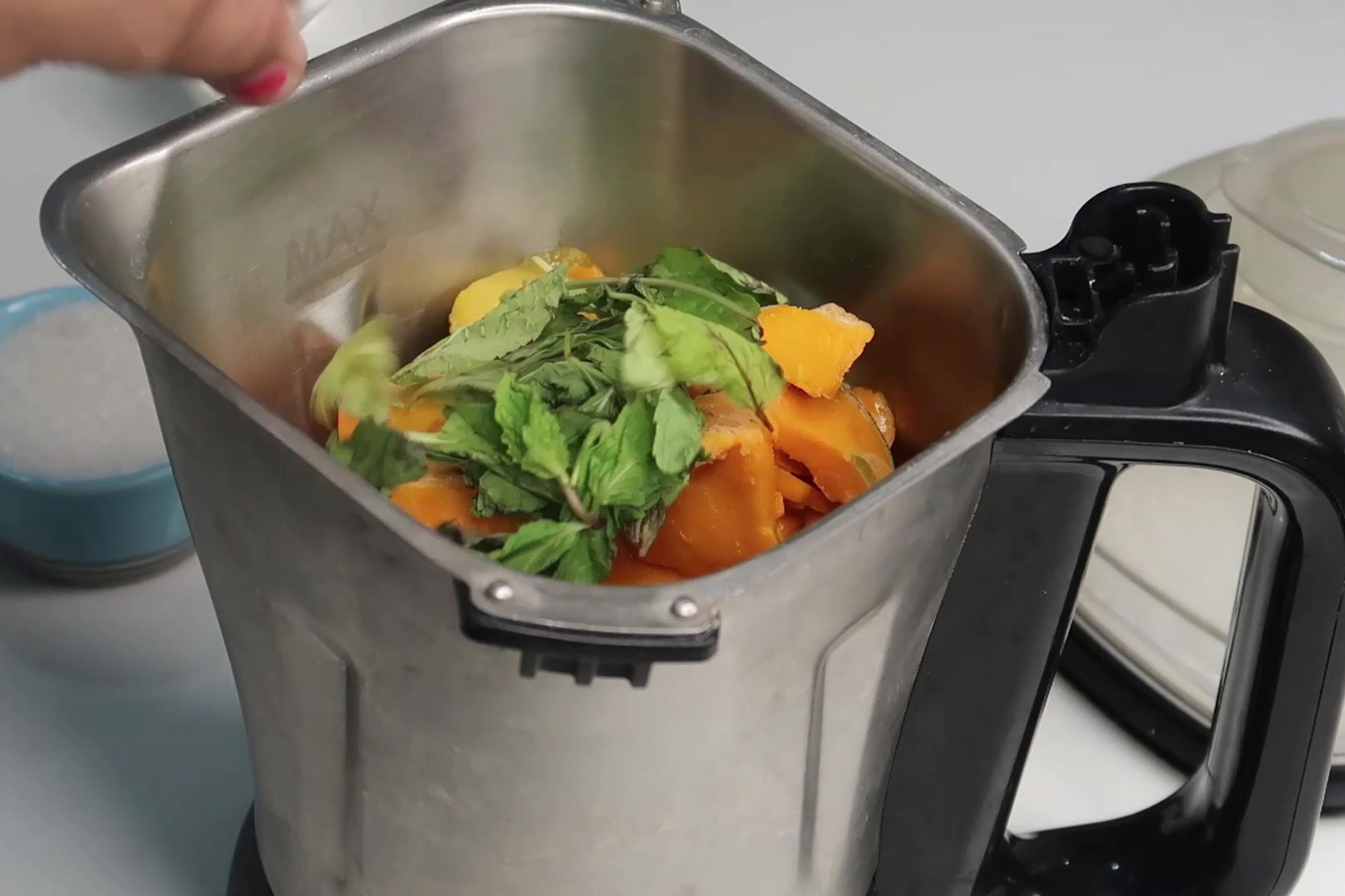 7)Add in sugar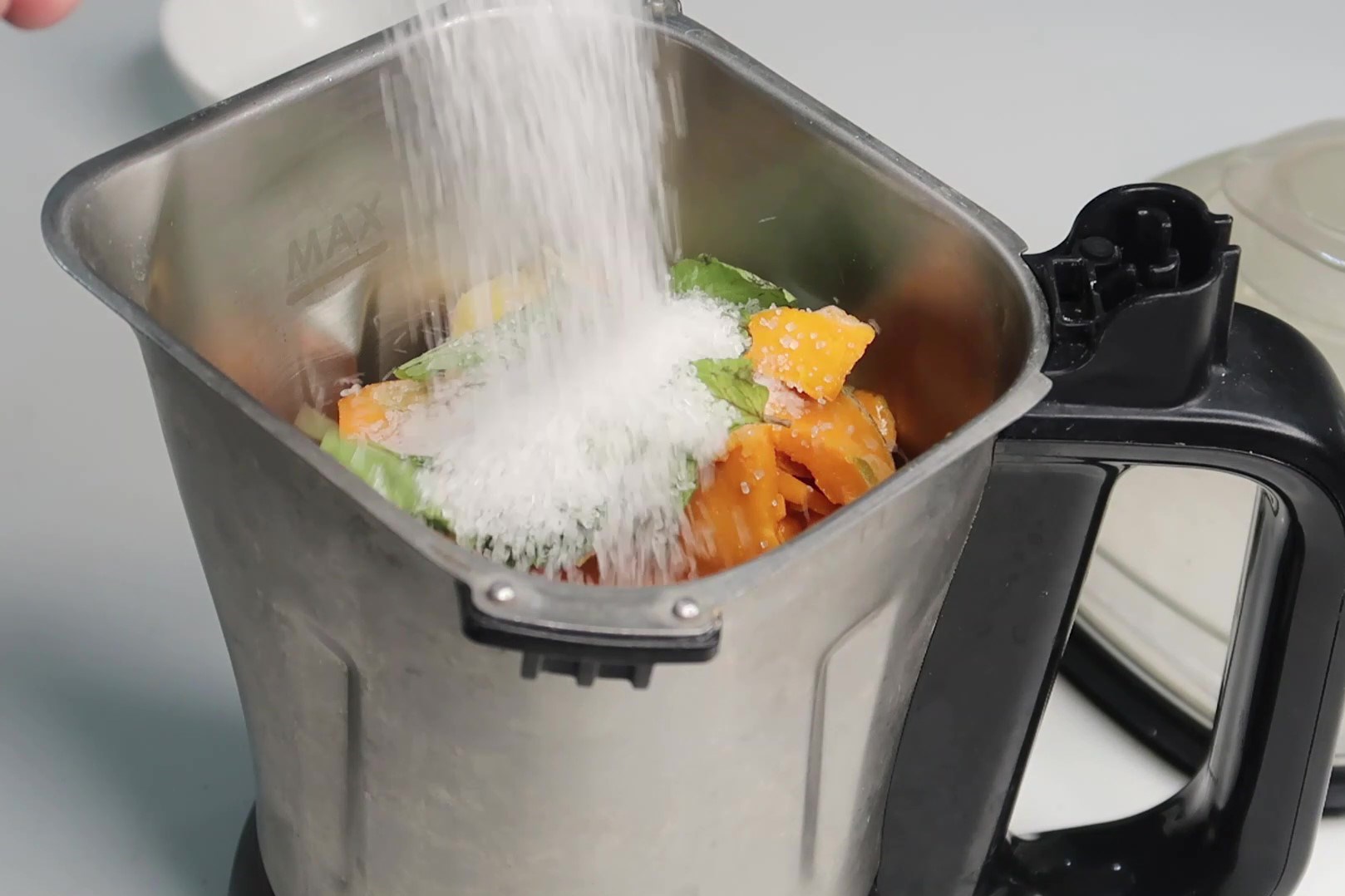 8) Blend till creamy
9) I used my hamilton beach blender. I loved how powerful the motor was.
10) Your mango sorbet is done.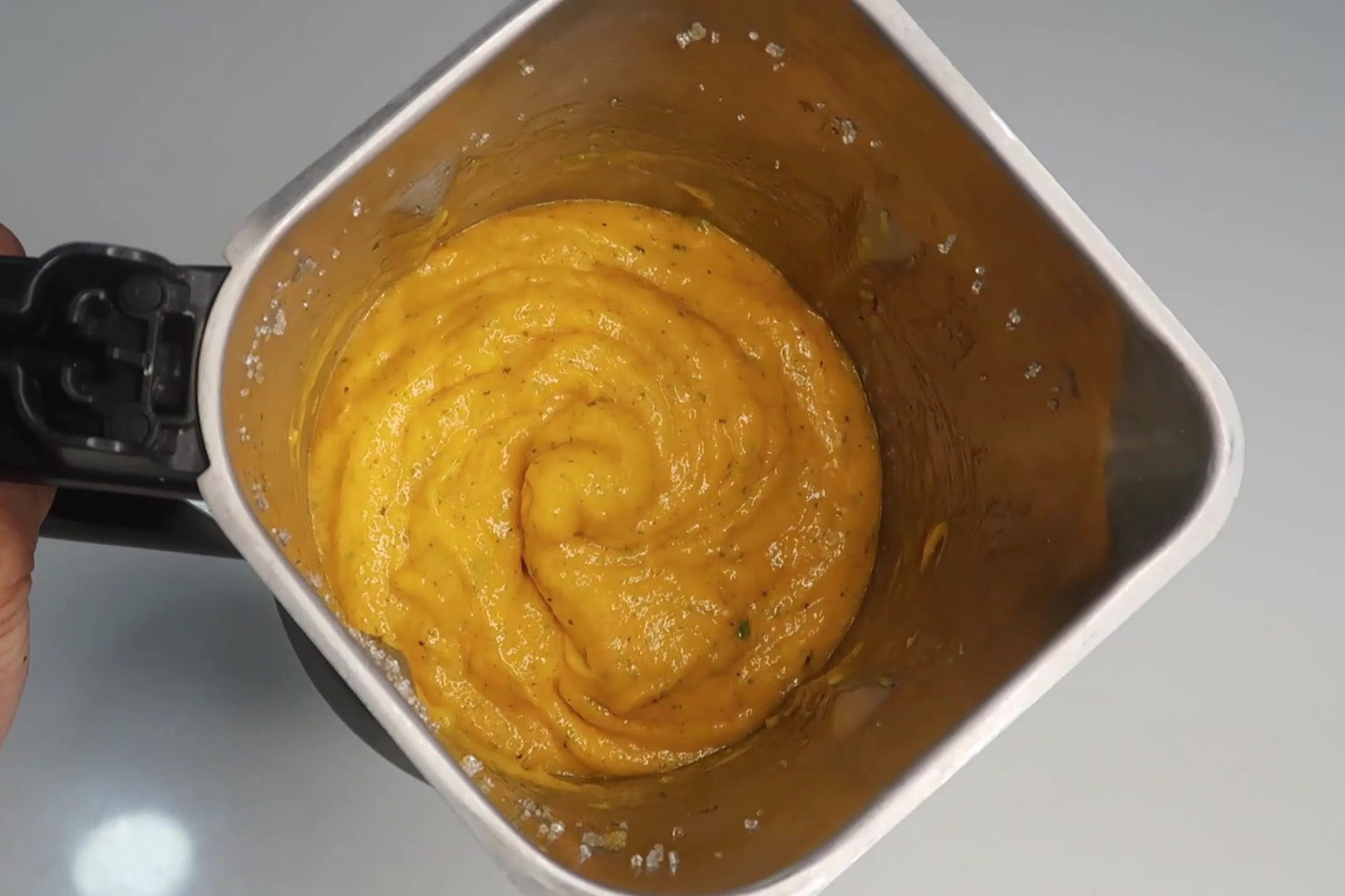 11)Serve