Lemon blueberry cupcakes is an eggless cupcakes which has blueberries added in them and has a lemon sugar icing on top.
How to Make Lemon Blueberry Cupcakes
Preheat oven to 170 degree C.
Start by mixing 1 tblspn of lemon juice in 1.5 cup of milk. 
Take a bowl and add in oil, sugar and mix well. Add in milk and mix till the sugar is dissolved completely in the milk.
Now add in flour, baking soda and baking powder. Mix well till it is completely mixed.
Add in lemon juice and blueberries. Fold gently. 
Now take your muffin tray. Line them with muffin cases.  Spray it with some oil.
Spoon the batter evenly between them.
Bake them for 35 to 40 mins till the cupcakes are done. Insert a tooth pick to see whether it is baked. If the toothpick comes out clean then the cakes are done.
Remove it and let them cool a  bit.
Serve warm with a glass of milk.
Lemon Blueberry Cupcakes Pictures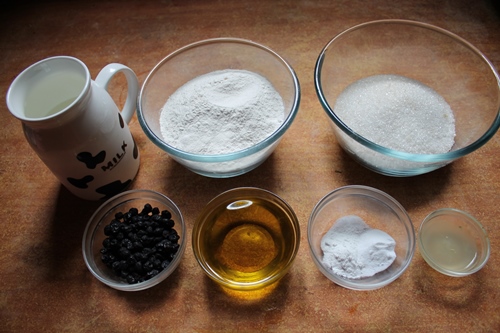 Take all your ingredients