Zebra Cake with Step by Step Pictures. Vanilla and chocolate cake batter layered in a round cake pan and baked which creates zebra like pattern.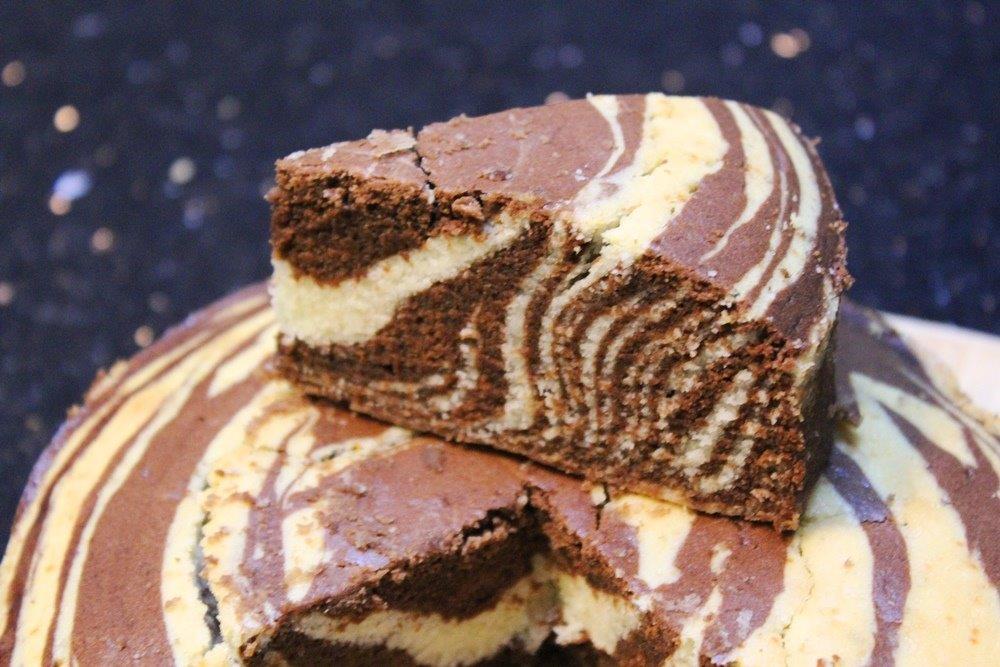 Pin
I made this cake last weekend for my sister's friends, they all loved it. I suggest you all to try this once. After you finish making the batter if the batter is so thick you could add some more milk to it. The consistency of the batter should be like a dosa batter. It is very important. Don't make the batter too runny.
About Zebra Cake
This cake is a special recipe which has vanilla and chocolate batter layered in a pan which creates a beautiful zebra cake.Making zebra cake can be very therapeutic. But slicing them gives immense pleasure. Slicing and looking at those gorgeous patterns is so beautiful.
Zebra cake is a pretty cake to look at. Because it has lovely black and white lines running along. The cake may look so complicated, but it is not a big deal to make. If I can make it everyone can make it.
Cake pan size for Zebra cake is Baking Pan Size - 9" Round Cake Pan / 23 Cm Round Cake Pan
Similar Recipe
Banana Cinnamon Muffins
Banana Cornflakes Muffins
Citrus Mango Muffins
Banana Chocolate Muffins
Eggless Banana Nuts Muffins
Eggless Banana Oats & Dates Muffins
Oats Bran Muffins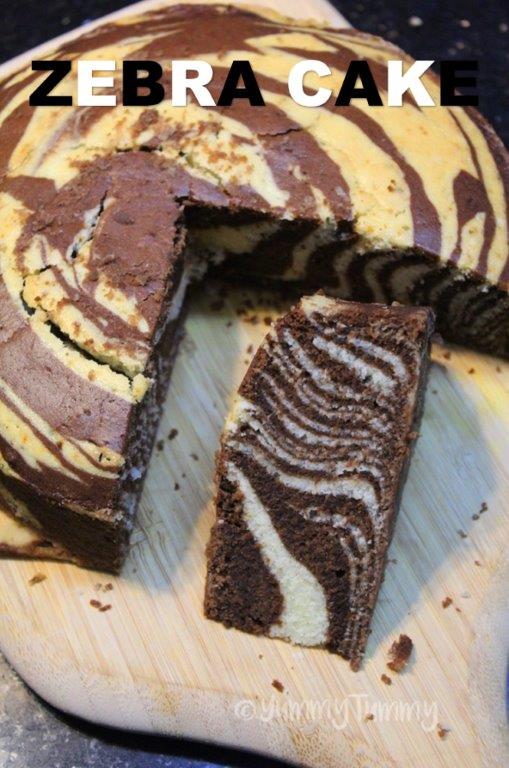 Pin
How to Prepare a Cake Pan
Mix together a tsp of cocoa and a tsp of flour together. Prepare a tin by applying Butter on all sides and dusting with flour and cocoa mixture.
How to Make Zebra Cake
Preheat the oven to 180° C. Prepare a baking pan.
In a separate bowl mix together flour and baking powder together.Set this aside.
In a mixing bowl beat together eggs, sugar and vanilla essence till pale and light. Don't make it fluffy.
Add in milk, salt, oil and mix well.Fold in flour mixture slowly.
Take half of the batter in to another bowl and mix in cocoa.
Now take the tin and pour 2 tbsp of white batter, next in with cocoa batter and repeat this step till the batter is finished.
Bake it in the oven for 45-50 min or until the cake is cooked.To check whether the cake is cooked,Insert a skewer in, if the skewer comes out clean then the cake is done.
Let the cake cool completely before removing it from the tin and slice it into wedge and serve.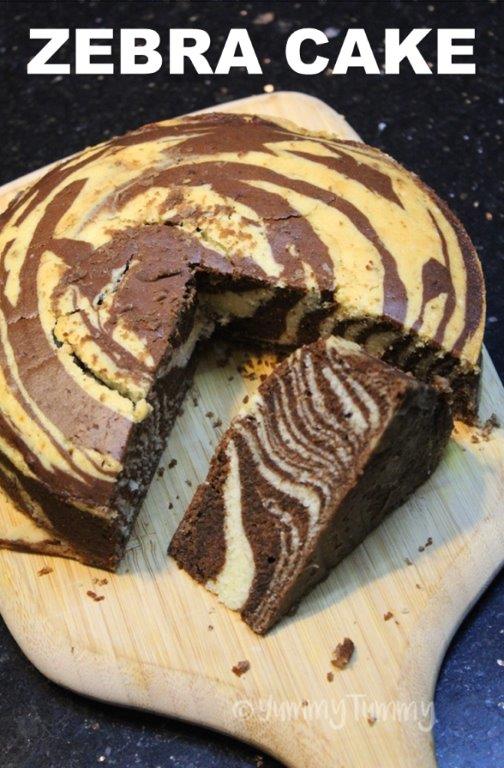 Pin
If you have any questions not covered in this post and if you need help, leave me a comment or mail me @[email protected] and I'll help as soon as I can.
Follow me on Instagram, Facebook, Pinterest ,Youtube and Twitter for more Yummy Tummy inspiration.
IF YOU MAKE THIS RECIPE OR ANYTHING FROM YUMMY TUMMY, MAKE SURE TO POST IT AND TAG ME SO I CAN SEE ALL OF YOUR CREATIONS!! #YUMMYTUMMYAARTHI AND @YUMMYTUMMYAARTHI ON INSTAGRAM!
📖 Recipe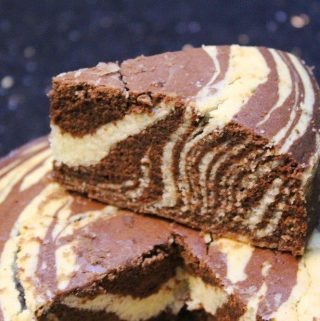 Zebra Cake | Zebra Cake Recipe
Delicious marble patterned zebra cake which taste so delicious and is super easy to make. This cake is perfect with a cup of tea or coffee.
Print
Pin
Rate
Ingredients
Maida / All purpose flour - 1 ½ cup

180 grams

Sugar - ½ cup

100 grms

Baking Powder - 1 tsp

Milk - ¾ cup

180 ml

Egg - 2

Cocoa powder - 2 tblsp

Vanilla extract - 1 tsp

Butter - 100 grams

Salt a pinch
Instructions
Preheat oven to 180 degree C.

Mix flour, baking powder and salt.

Mix eggs with vanilla and set aside.

Take butter and sugar in a bowl and beat till fluffy.

Add eggs and beat till fluffy.

Add in half of the flour mix and milk and fold gently.

Add in remaining flour and fold again.

Now remove half of the batter into a bowl. To one bowl add cocoa and fold gently.

Take a cake pan, line with parchment paper. Spoon some vanilla batter, then chocolate batter. repeat this way till it is completely done.

Now tap the pan in counter few times to remove air bubble.

Now pop it into the oven and bake for 35 to 40 mins.

Remove and cool completely.

Slice and serve
Video
Join us on Facebook
Follow us on Facebook
Share by Email
Share on Facebook
Zebra Cake with Step by Step pictures.
1)Take all your ingredients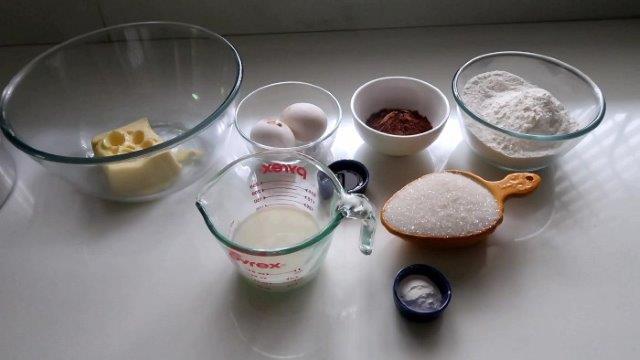 Pin
2)Line a pan with parchment paper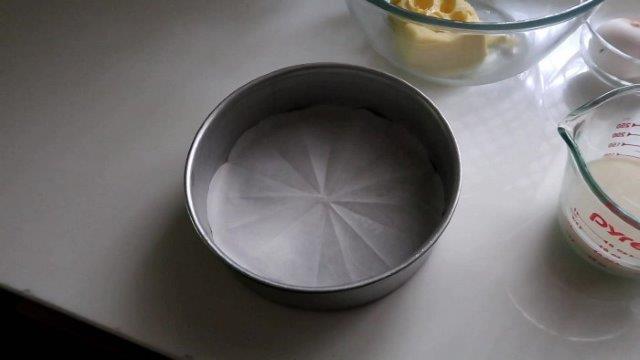 Pin
3)Take flour in a bowl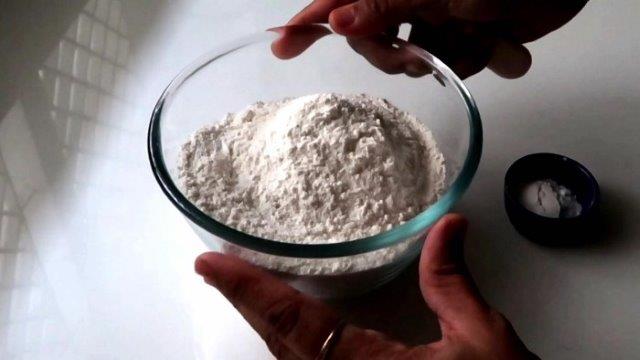 Pin
4)Add in baking powder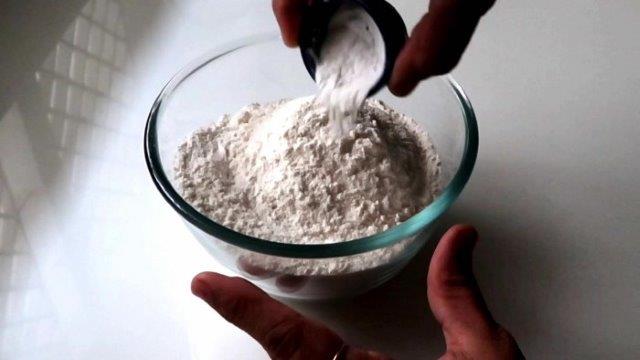 Pin
5)Add salt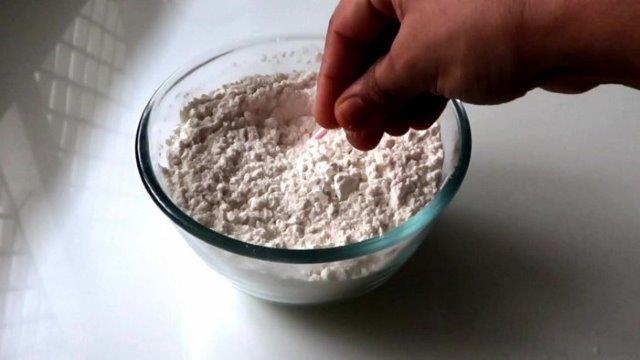 Pin
6)Mix well and set aside.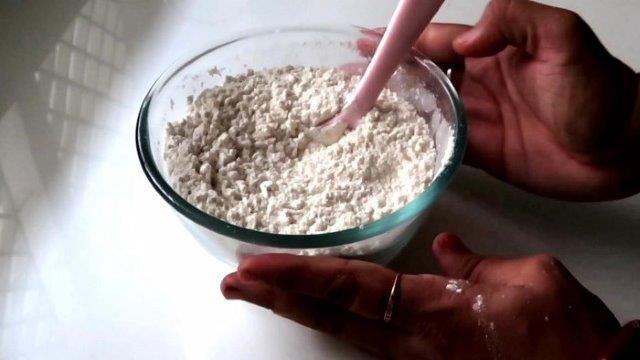 Pin
7)Take egg in a bowl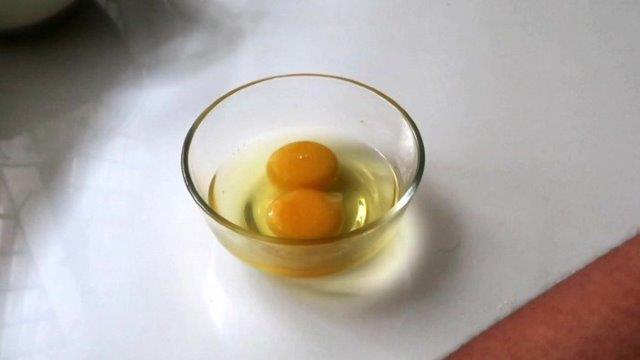 Pin
8)Add in vanilla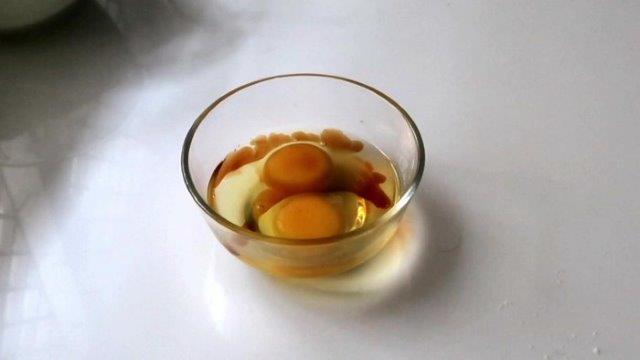 Pin
9)Mix well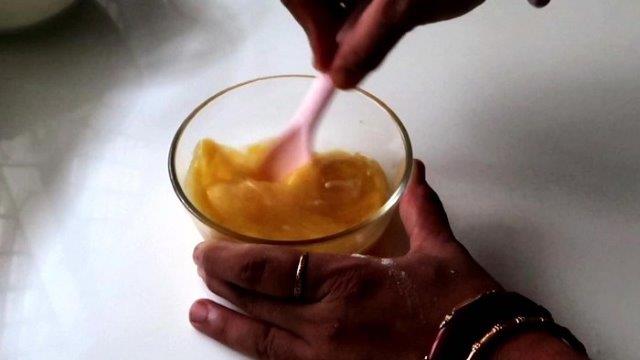 Pin
10)Take butter in a bowl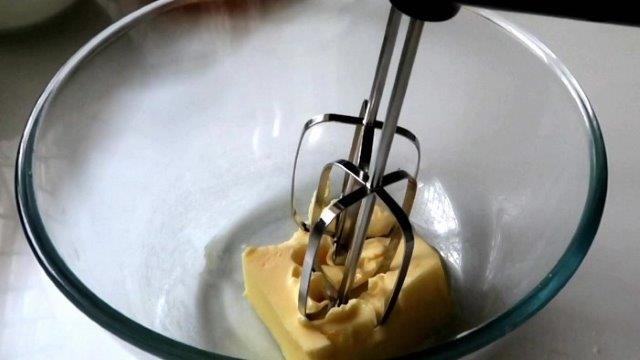 Pin
11)Add in sugar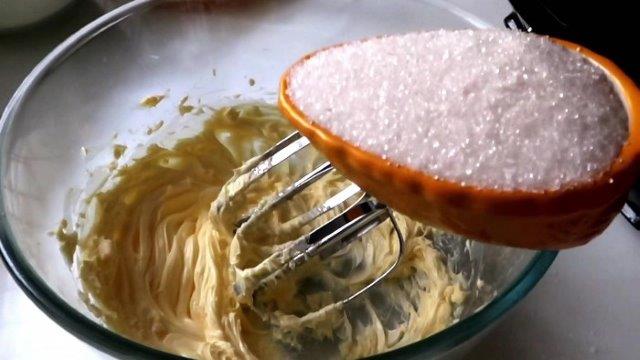 Pin
12)Add in egg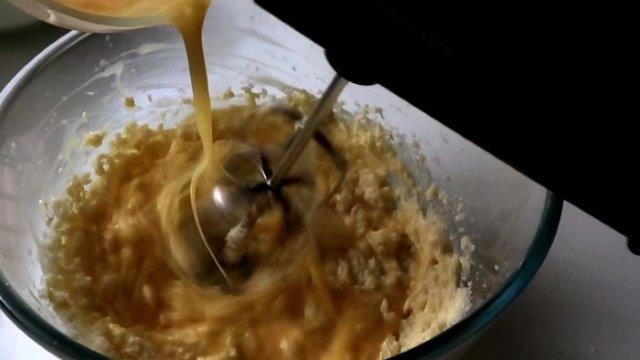 Pin
13)Fold gently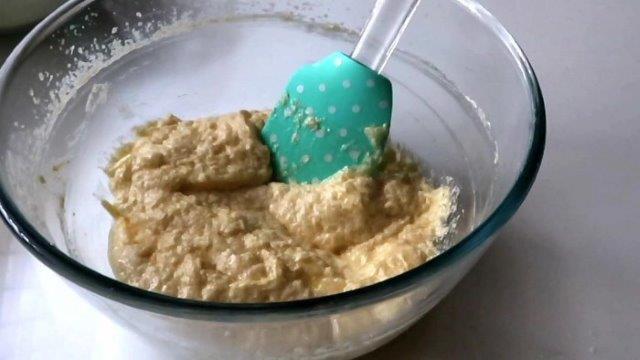 Pin
14)Add in half of the flour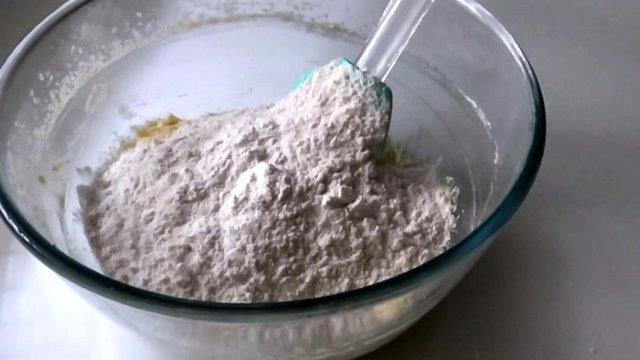 Pin
15)Add in milk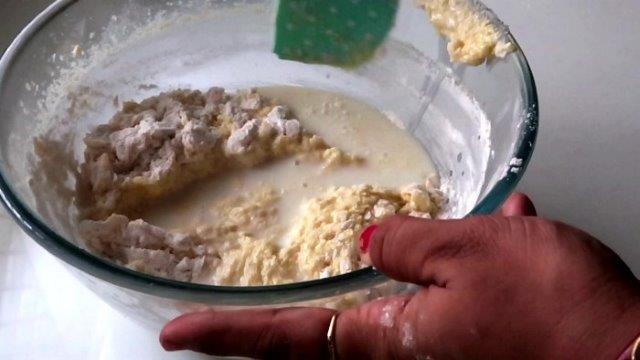 Pin
16)Fold gently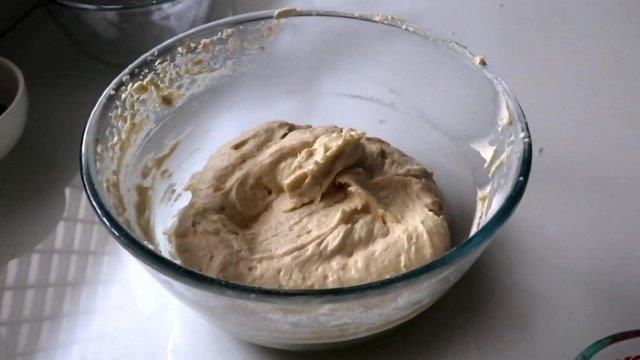 Pin
17)Remove half of the batter into a bowl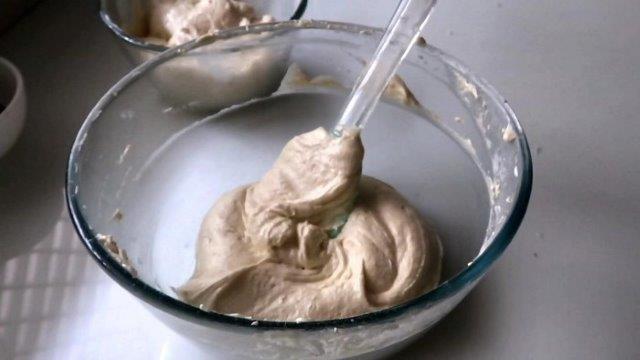 Pin
18)Add in cocoa powder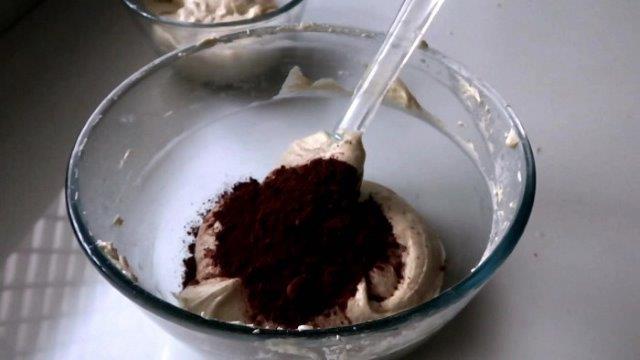 Pin
19)Fold gently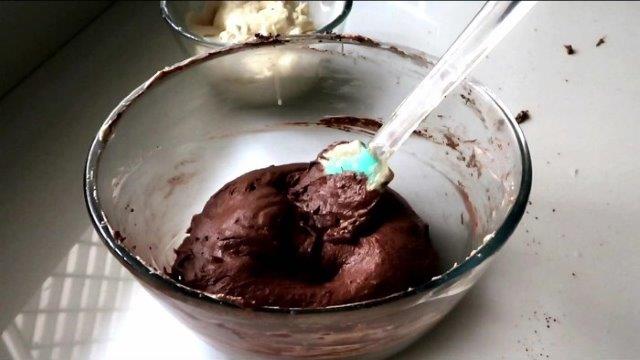 Pin
20)Batter done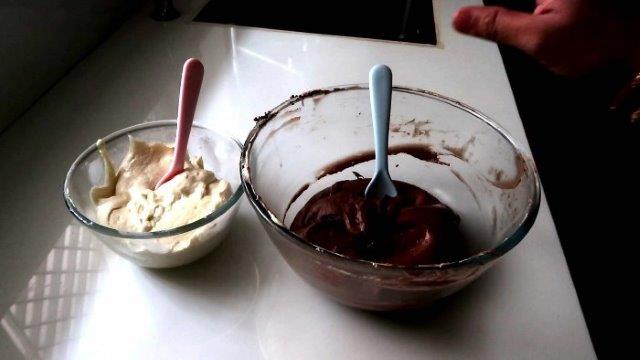 Pin
21)Spoon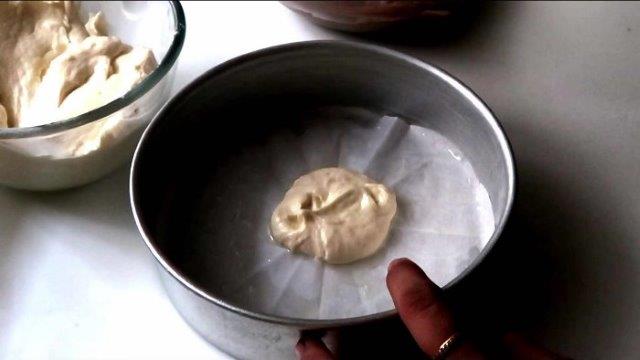 Pin
22)Spoon cocoa batter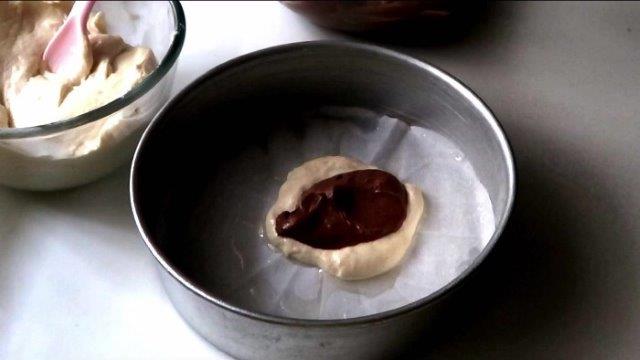 Pin
23)Alternate batter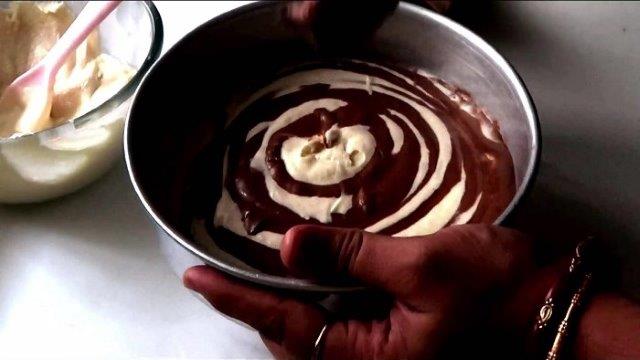 Pin
24)Bake till done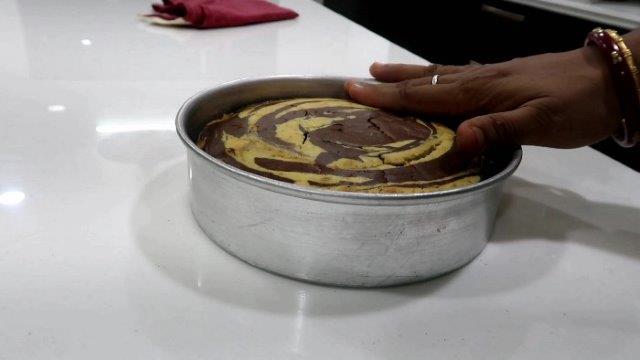 Pin
25)Serve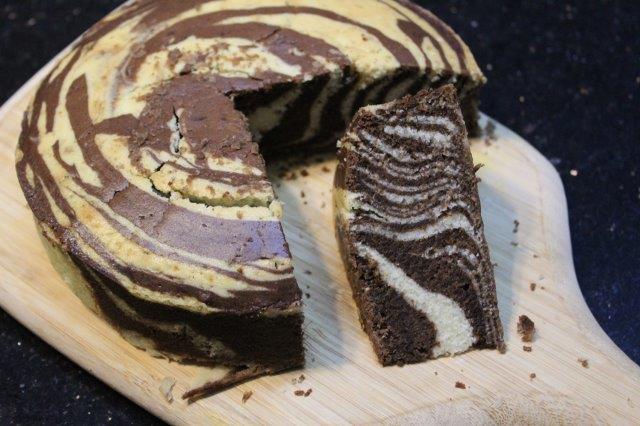 Pin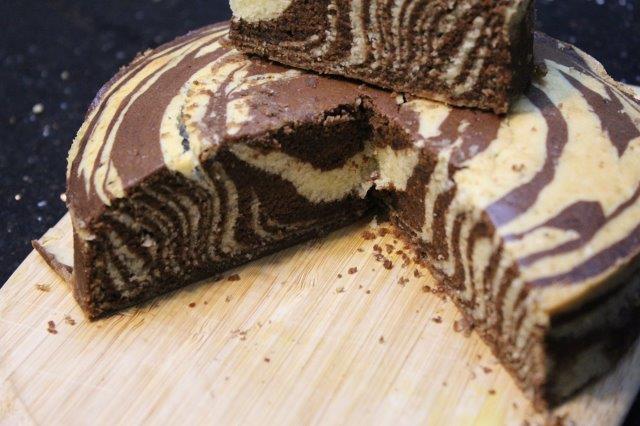 Pin
This is cake which I made another day. Look at the layers.