We are starting this summer season off with a bang by making this cool refreshing Antioxidant salad.All the fruits used in here are rich in antioxidant properties.Antioxidant helps in preventing heart diseases and cancer.If our body lacks in Antioxidant properties it makes a gateway for all the diseases to get into our body.And do you know Dark chocolate have high amount of antooxidant than Redwine or Green Tea. So have a bite of dark chocolate everyday and you will stay healthy and if you want to stay double healthy have dark chocolate with this Salad.Dont forget to check
Vegetable cutlet
recipe that i posted today.So please try this and let me know what you think.
Ingrediants:
Mango-1
Pomegranate-1
Black seedless Grapes-1 cup ( You can use blueberries)
Lemon Juice-2 tsp
Honey/Sugar or any Sweetner-1 tblspn
Method:
Chop the mango into golden cubes.Open the pomegranate and get the lovely seeds out of them.
In a Bowl add mangoes,Pomegranate seeds,Grapes and mix well.
Mix in the lemon juice and Honey.Serve immediately or refrigerate.
Pictorial: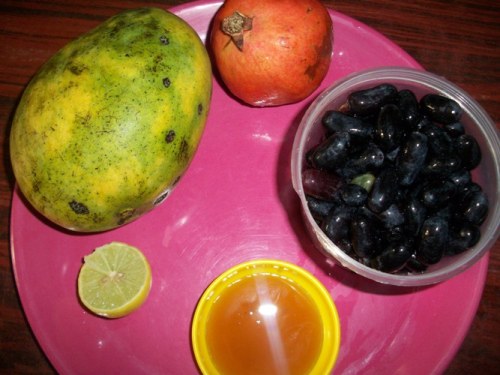 Ur ingrediants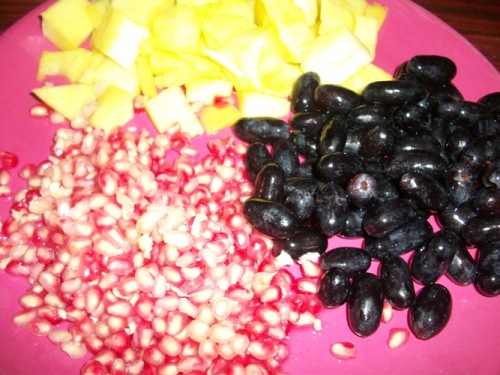 fruits chopped and prepared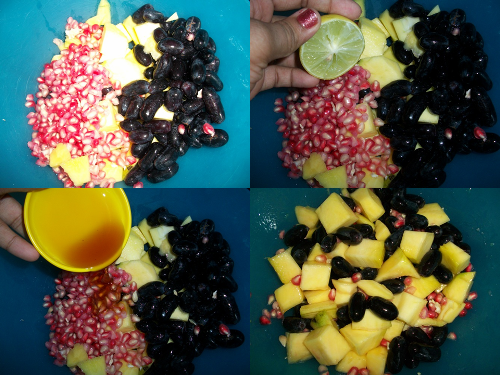 toss everthing together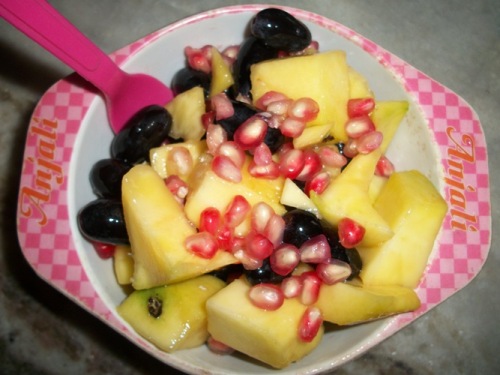 SERVE
I am Aarthi, a happy homemaker, mom of two beautiful girls, married to my high school sweet heart. My goal is to teach people that cooking can be way more easier and joyful than they think. Yummy Tummy features recipes all over the world with step wise pictures which surely shows the ease of cooking.