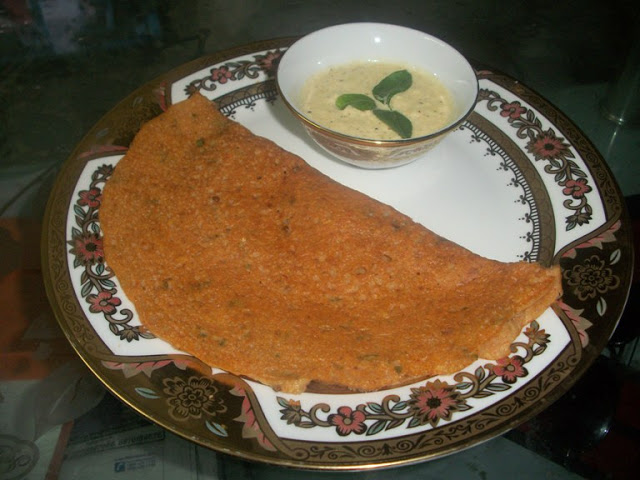 Few of my collegues have created a awesome music band in the name "ELUZAIZZ"..They have made a couple of videos till now and are in the process of making more videos..Please check their youtube channel over here.. I hope you will love it..
Now coming back to today's recipe..We are going to make ADAI DOSA. This is one of my favorite breakfast of all time..Not only breakfast, I love it any time of the day..I have my
mother's adai recipe already here
..But this one is little special because it is multigrain adai recipe..It has different types of lentils in it..You can use whatever lentil you have, but I used my favorite ones..This is best served with coconut chutney..
I hope you will love this as much I do..Tell me if you try it..
Ingrediants:
Rice – 1 cup ( I used normal cooking rice)
Green Gram Dal / pacha pataru – 1/2 cup
Masoor Dal / Red Lentil – 1/2 cup
Toor Dal / Tuvaram Paruppu – 1/2 cup
Urad Dal / Ulundu – 1/2 cup
Other Ingrediants:
Onion – 1 large
Green Chilli – 5
Ginger – 2 inch piece
Curry leaves a handful
Chilli powder – 2 tblspn or to taste
Asafoetida / Hing / Kaya Podi – 1/2 tsp
Salt to taste
Oil for making dosa
Method:
Take all the dals and rice and wash them well in lots of water.
Now soak them in water for 5 hours.
Now drain them and take it in a blender and make into a fine paste by adding some water.
Transfer this to a bowl and mix well.
Now take onions, green chilli, ginger and curry leaves in a food processor and chop them finely.
Add it to the batter and mix well.
Add asafoetida, salt, chilli powder to the batter and mix well. Batter is done.
Heat a tawa. Take a ladleful of batter and make into a thin dosa.
Drizzle oil on all sides and cook for a min on one side.
Flip over and cook for 30 seconds on other side too.
Remove from tawa and serve with coconut chutney.
Pictorial:
MULTI GRAINS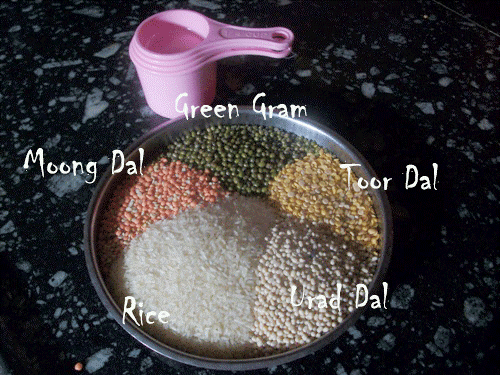 You can add any dals you like
Wash them well
Soak them for 5 hours
After 5 hours they will be plumped up
add it to the blender
and make into a fine paste
Transfer that into a bowl
You will need some onions, ginger, curry leaves,green chillies to add into the batter
I took them in a food processor
and chopped them up
Add that into the batter
add in salt and asafoetida
I added some chilli powder to make it spicy
Mix all of them
Now make adai dosa
drizzle some oil to make it crispy
Flip em
and serve