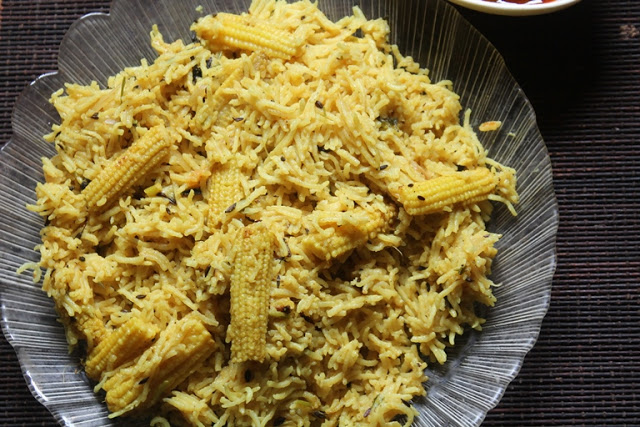 I love making pulao. This is a really easy pulao to prepare and it makes a great lunch box for your kids.. This taste so yummy with some raita or any curries..
Similar Recipes,
Jeera Pulao
Soya Pulao
Shahi Pulao
Jeera Veg Pulao
Beetroot Pulao
I made this for my lunch oneday. I also made a delicious babycorn in hot garlic sauce, will share it soon. Both of them went really well together and i enjoyed it so much.
Hope you will give this a try and let me know how it turns out for you..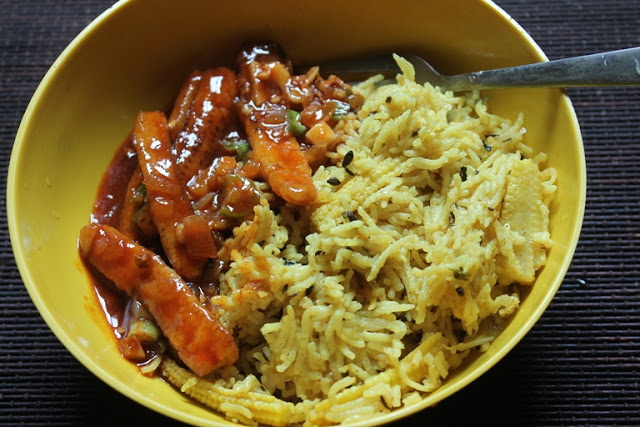 Preparation Time : 10 mins
Cooking Time : 35 to 40 mins
Serves: 3 to 4


Ingredients:
Basmati Rice – 1 cup
Baby Corn – 2 cups cut lengthwise
Ghee – 1 tblspn
Oil – 1 tblspn
Fennel Seeds / Sombu / Saunf – 1tsp
Cumin Seeds / Jeerakam – 1 tsp
Cinnamon / Pattai – 3 cm piece
Bay Leaf – 1
Onion – 1 large sliced thinly
Green Chilli – 3 to 4 slit
Ginger Garlic Paste – 1 tblspn
Turmeric Powder – 1 tsp
Sat to taste
Coriander leaves a handful finely chopped
Milk – 1 cup
Water – 1/2 cup
Method:
Wash and soak rice for 30 mins. Drain it and set aside.
Heat ghee and oil in a pressure cooker, add in whole garam masala and let them sizzle.
Add in onion, chillies and saute till golden brown.
Add in ginger garlic paste and saute for a min.
Add in babycorn and saute for 5 mins or so.
Add in all turmeric and salt and mix well.
Now add in water, milk, coriander leaves and rice and mix well.
Bring it to a boil and cover and pressure cook for 1 whistle, simmer for 5 mins. Turn off the heat and let the steam go all by itself.
Now open the lid and fluff the rice with fork.
Cover again and set aside for 10 mins.
Now serve.
Pictorial: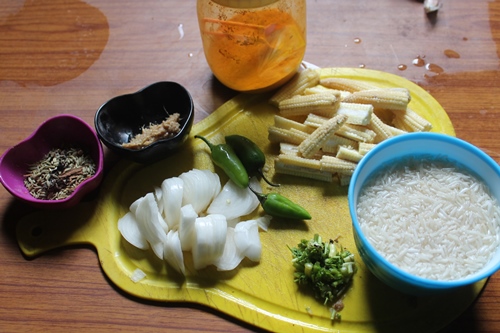 take all your ingredients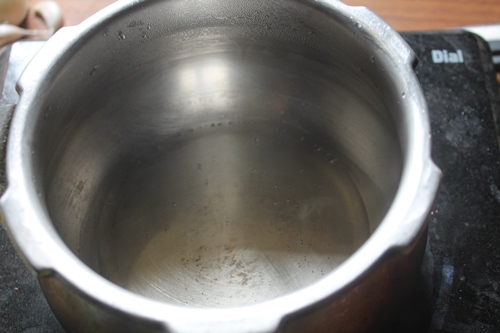 Heat oil and ghee in a pressure cooker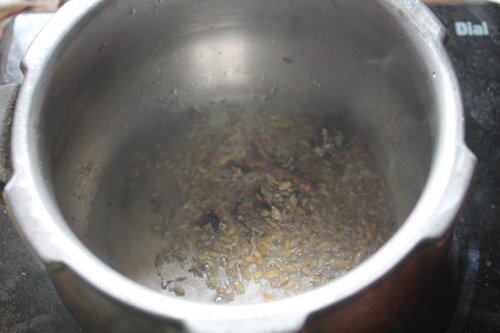 add whole spices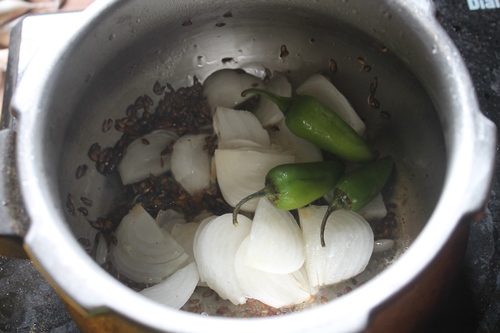 add onions and green chillies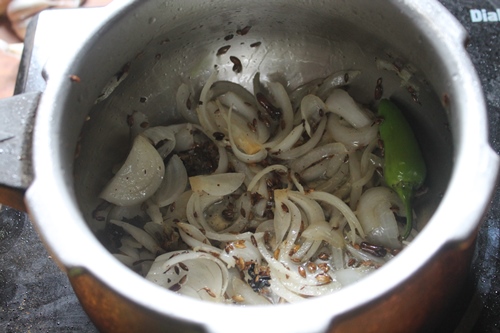 mix well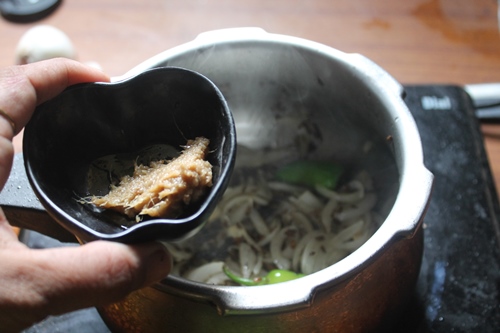 add in ginger garlic paste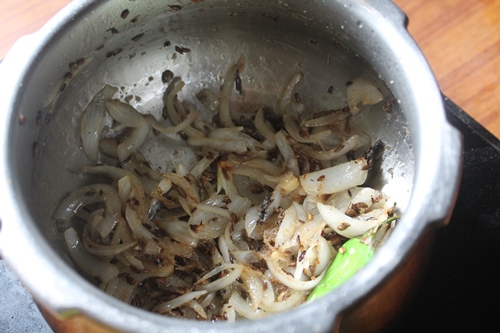 Mix well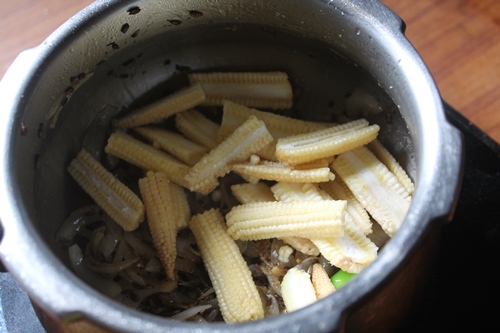 add baby corn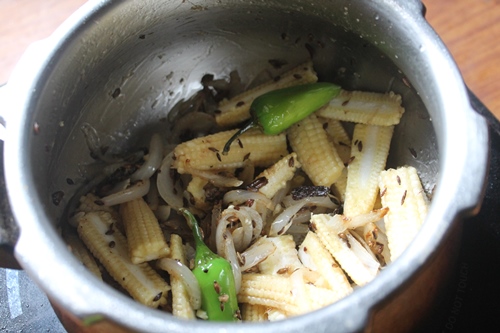 toss through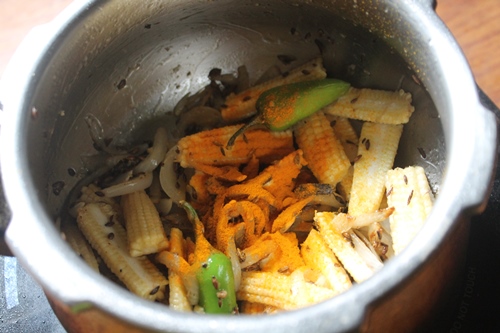 add turmeric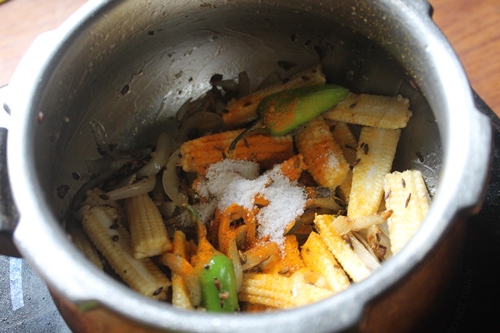 add salt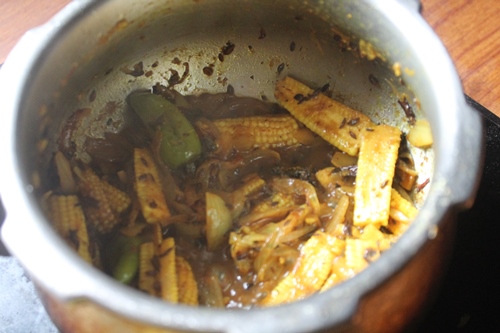 mix well and saute for few mins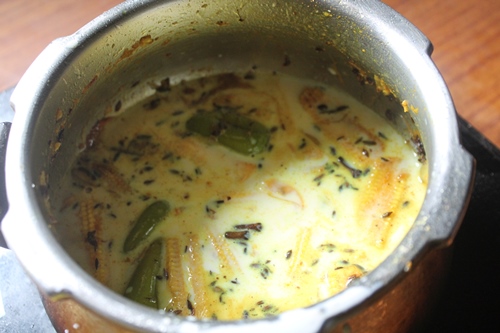 add milk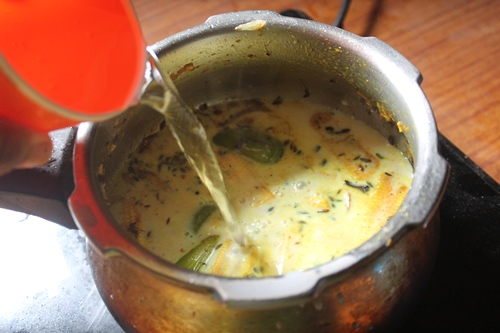 add water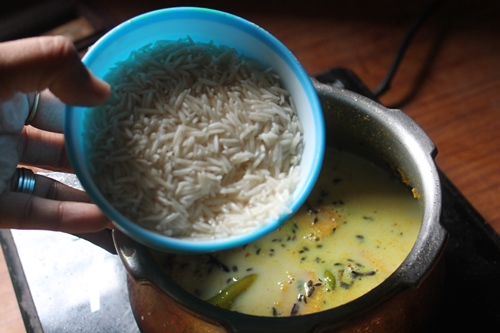 add rice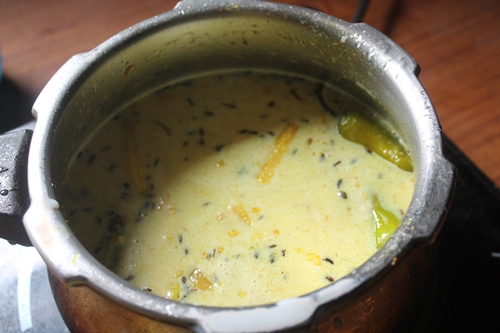 mix well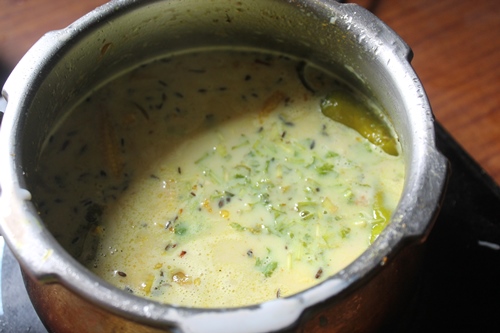 add coriander leaves..cover and cook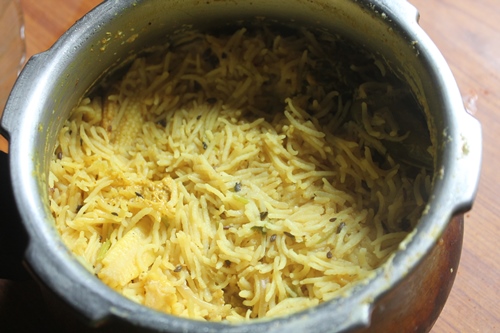 now it is done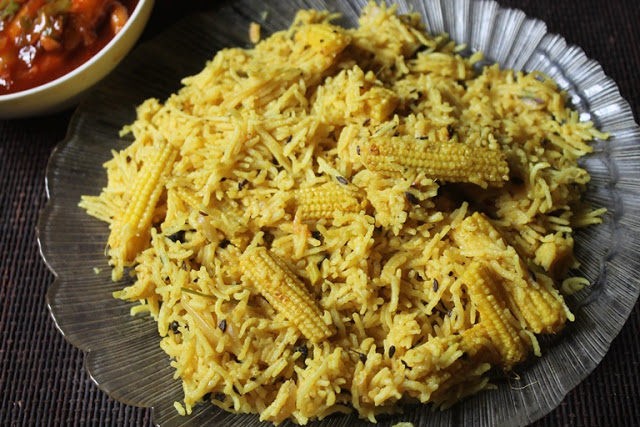 Serve
I am Aarthi, a happy homemaker, mom of two beautiful girls, married to my high school sweet heart. My goal is to teach people that cooking can be way more easier and joyful than they think. Yummy Tummy features recipes all over the world with step wise pictures which surely shows the ease of cooking.