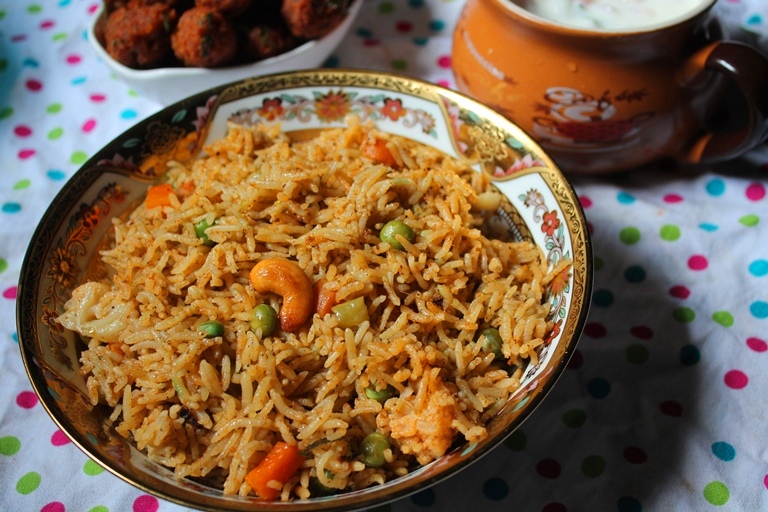 I can proudly say that this is one of the best veg biryani i ever made. I have posted so many version of biryani in this blog like capsicum biryani, babycorn biryani, paneer biryani, brinji rice and etc..You can check all of them here..Infact i have a veg biryani recipe too, but not so satisfied with the image.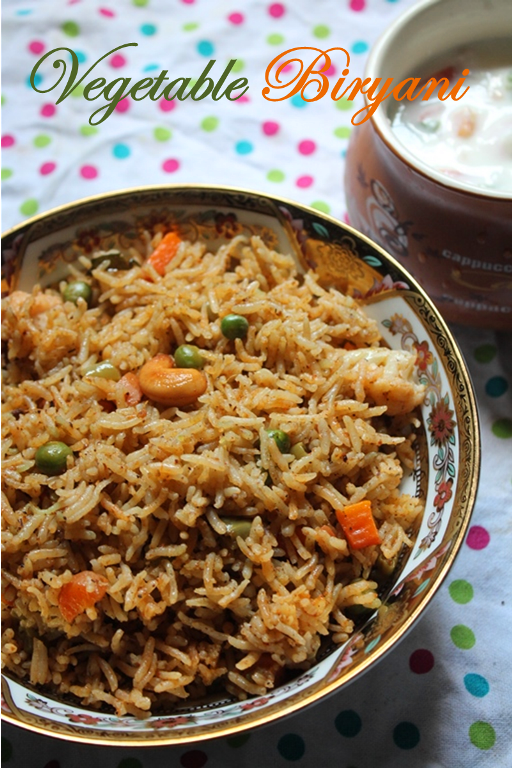 I wanted to post another version of the best biryani and the biryani like they do in restuarants..I was hunting for the recipe and finally got it, the secret for their biryani is the spice mix. So far i have never add biryani masala in my biryani, i just add normal spice powders. So yesterday i made
a amazing homemade biryani masala powder
and it turned out great..I used that powder and made biryani and it was simply amazing..So i am sharing that recipe with you all..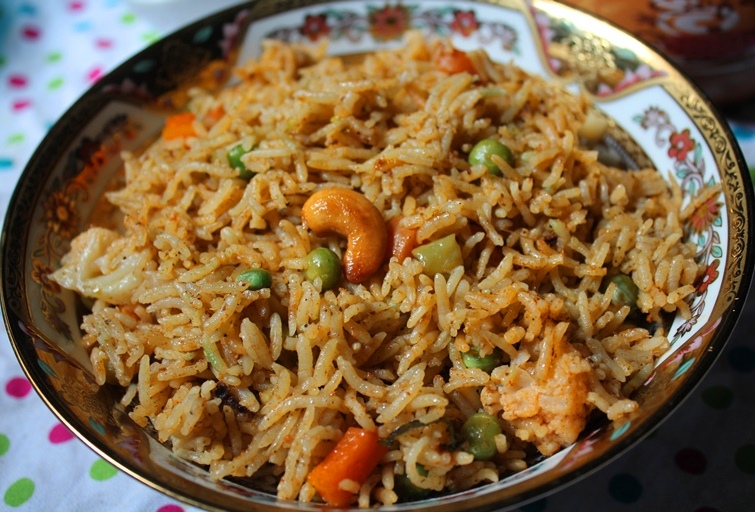 So give this a try and let me know how it turned out for you..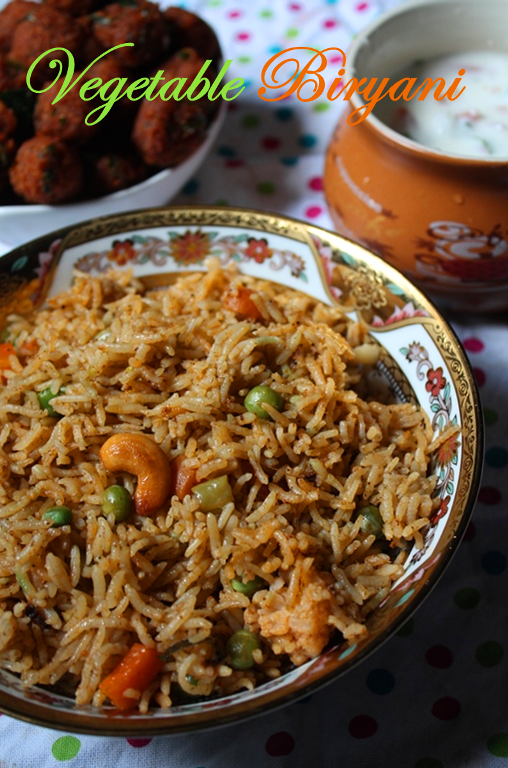 Preparation Time : 10 mins
Soaking Time : 30 mins
Cooking Time : 30 mins
Serves : 4 to 5
Ingredients:
Basmati Rice – 2 cups
Oil – 1 tblspn
Ghee – 1 tblspn + 1 tblspn
Pandan Leaves / Ramba Ilai / Biryani leaf – 3 piece
Onions – 1 large sliced thinly
Green Chillies – 2 slit
Tomatoes – 1 large chopped finely
Biryani Masala Powder – 3 tblspn or to taste
Salt to taste
Carrots – 1 medium size chopped into small piece
Cauliflower – 1/2 cup chopped into bite size florets
Beans – 6 chopped
Green Peas – 1/2 cup ( I used fresh peas)
Sugar – 1 tsp
Cashewnuts – 10
Water – 3 cups


To Grind:
Coriander Leaves – 1/2 cup chopped
Mint Leaves – 1/2 cup chopped
Ginger – 3 cm piece
Garlic – 4 cloves peeled


Method:
Wash and soak rice in lots of water for 30 mins. Take the grinding ingredients in a blender and make it into a smooth paste.
Heat oil and 1 tblspn of ghee in a pressure cooker. Add in pandan leaf and fry for 30 sec.
Add in sliced onions and saute till it is brown.
Add in green chillies and ground masala and saute for 2 mins till raw smell leaves from it.
Add in tomatoes and cook for 2 mins or so.
Add in biryani spice mix and salt. Mix well.
Add in chopped veggies and toss well in the masala. Add in soaked drained rice and mix well.
Pour in water and some sugar. Taste and adjust for seasoning.
Bring this to boil, simmer the stove and pressure cook for 15 mins.
Switch off the heat and let the steam go all by itself. Open the cooker.
Now heat 1 tblspn of ghee and fry cashews till it golden, pour this ghee and cashews over the rice and mix well.
Serve.
CHECK OUT THIS QUICK VIDEO: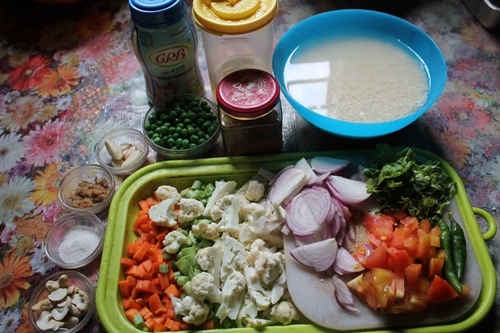 Take all your ingredients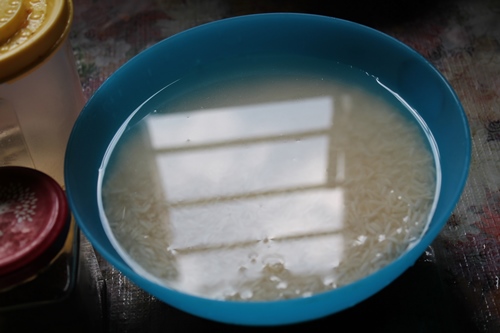 Soak basmati rice for 30 mins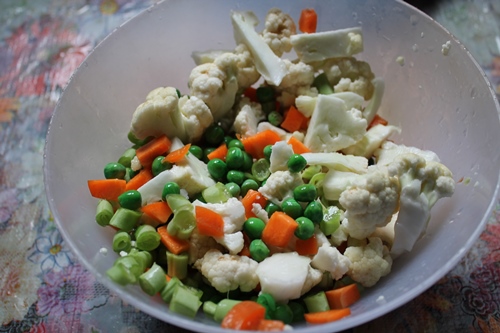 wash and chop your veggies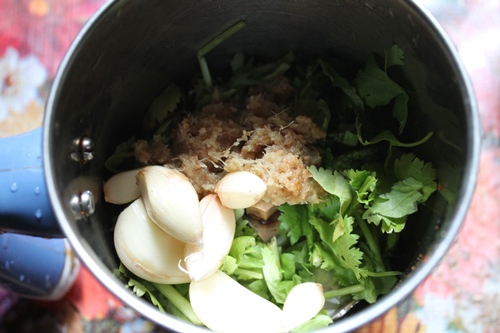 take garlic, ginger, coriander leaves and mint leaves in a blender
make it into a fine puree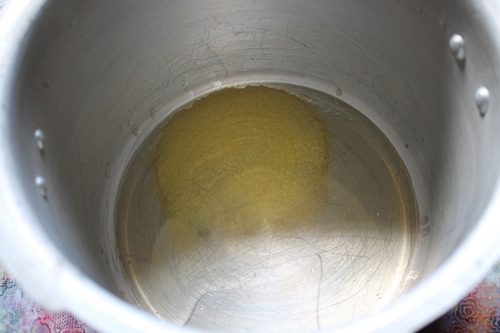 Heat ghee and oil in a pressure cooker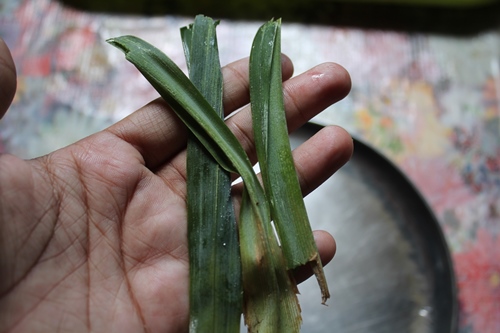 Add in cut up pandan leaves or we call it as ramba ilai / biryani ilai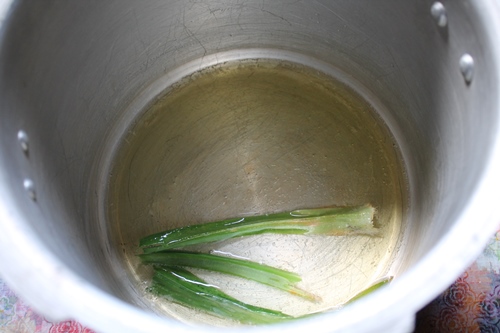 let it fry for few sec..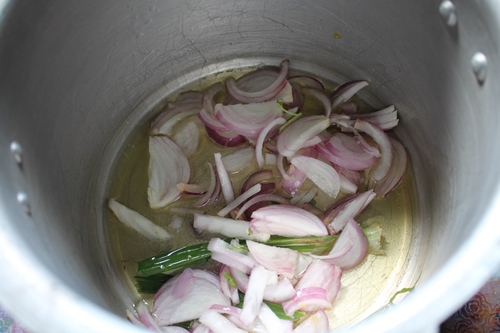 Add in sliced onions and saute till golden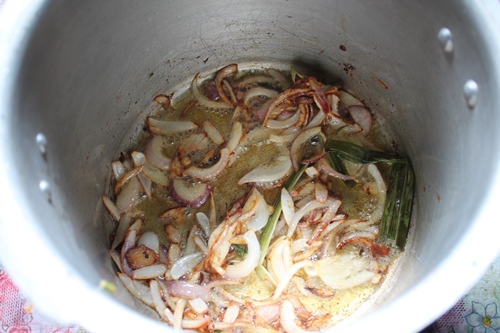 Now it is golden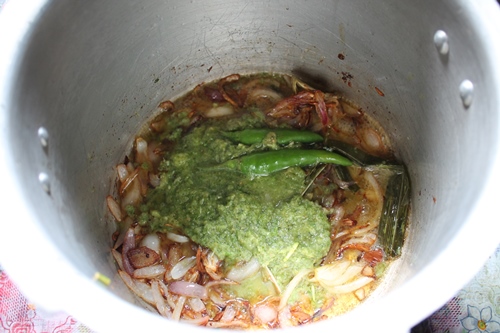 Add in ground masala and green chillies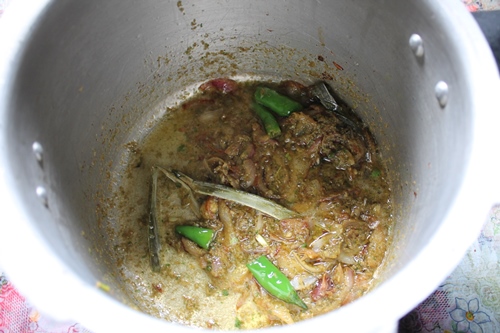 saute for a min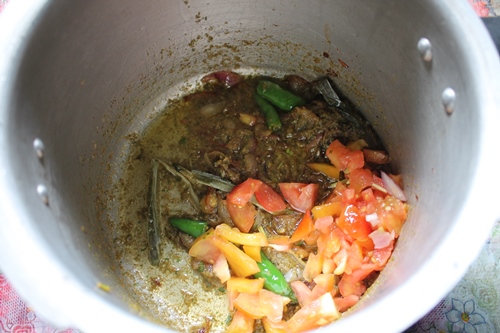 add in tomatoes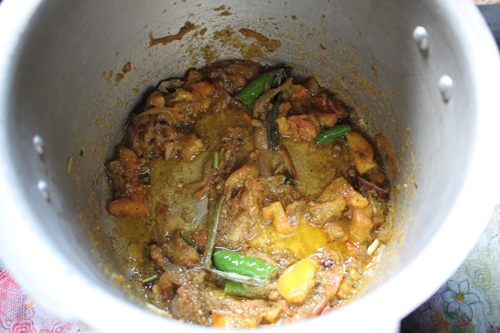 cook for couple of mins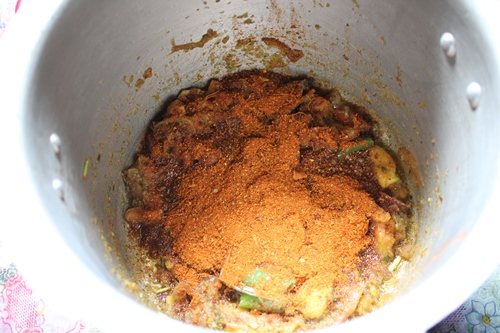 add some in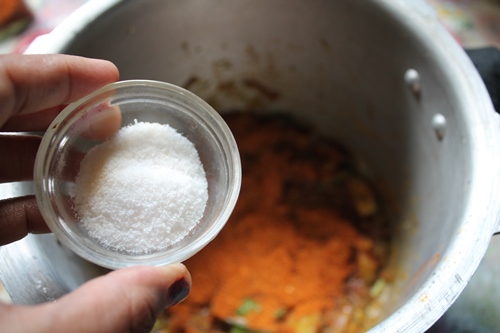 add in some salt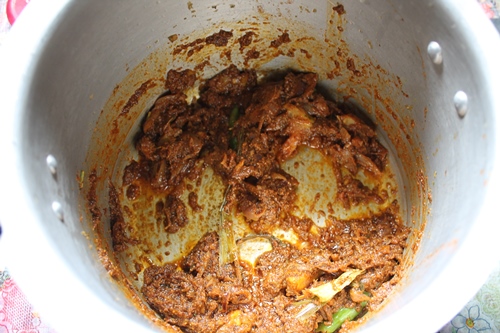 mix that well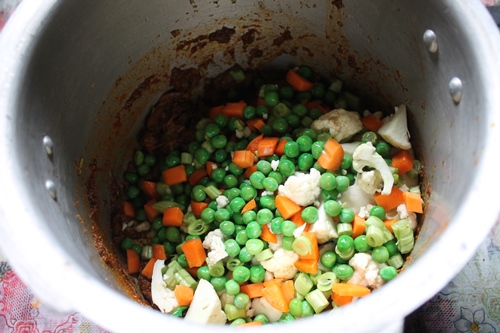 add in all veggies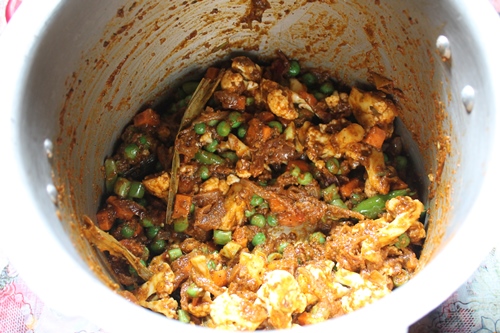 toss well in the masala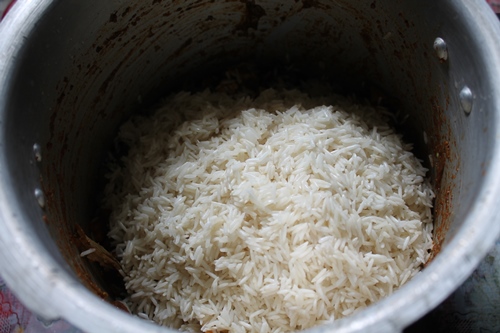 add in soaked rice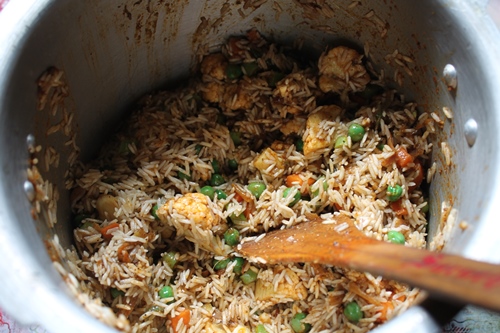 mix well with the masala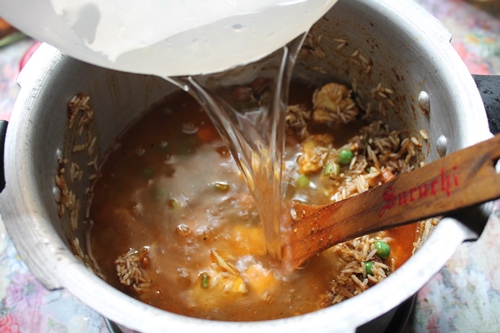 add in water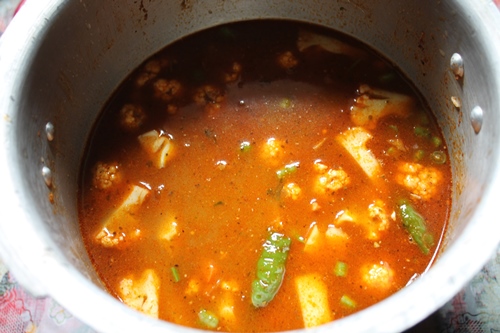 mix well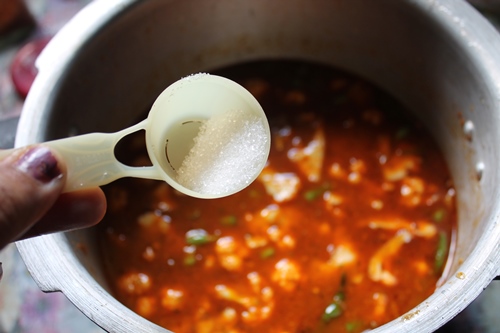 add in some sugar, this is my secret touch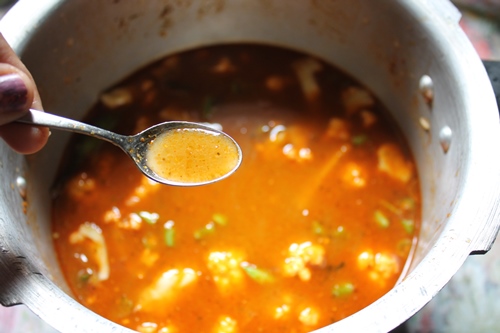 now taste some water and check for seasoning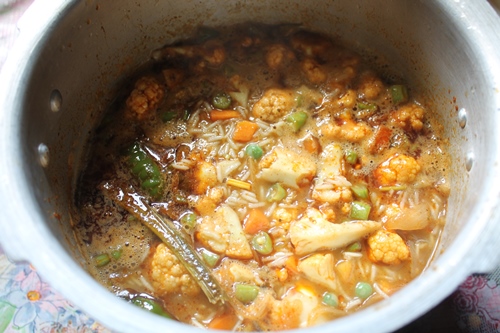 bring everything to a good boil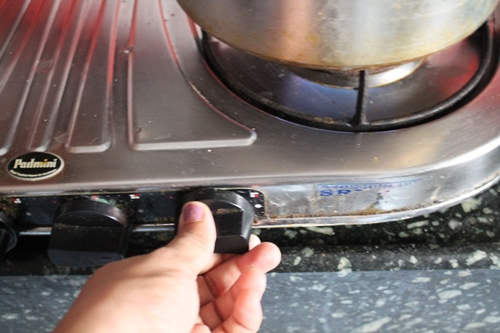 simmer the flame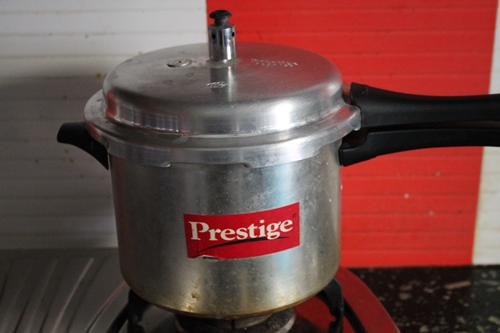 cover and pressure cook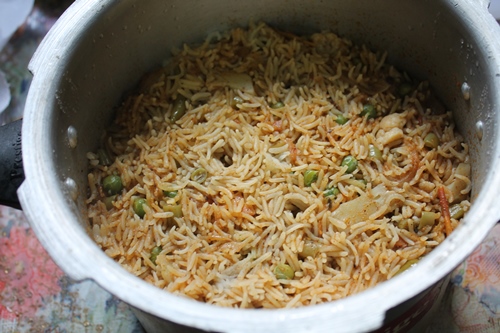 now rice is done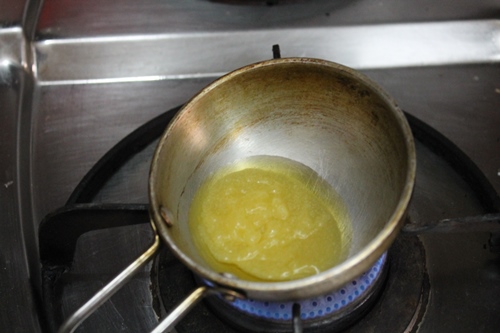 heat ghee in a small pan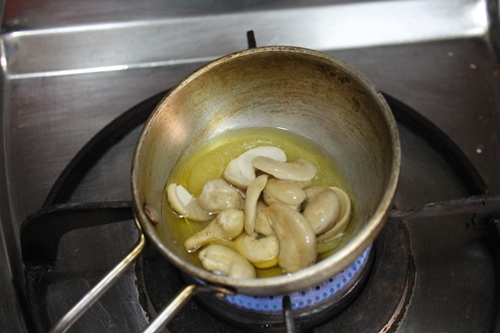 add in cashews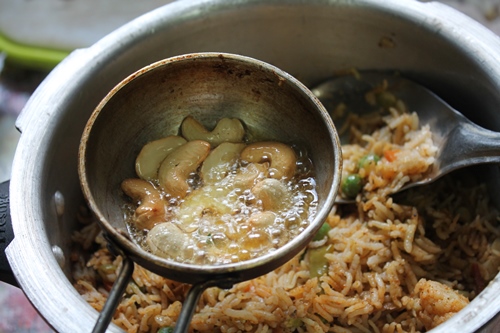 fry till golden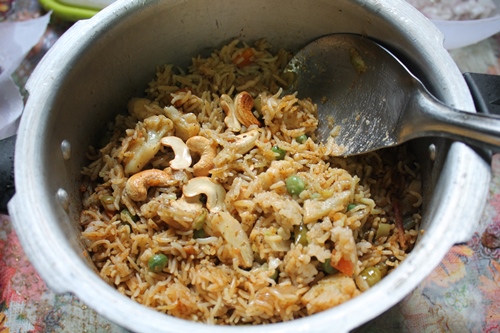 pour this over the biryani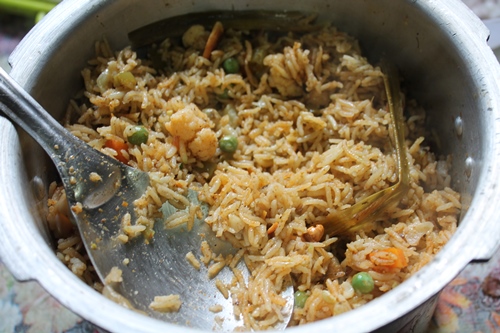 mix well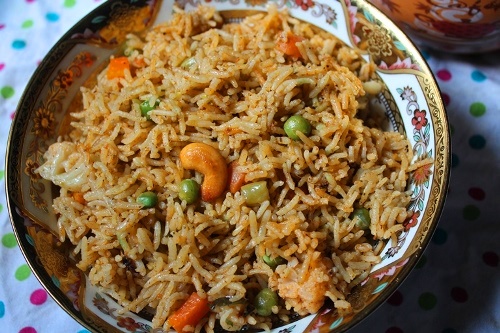 serve