Delicious refreshing layered popsicles made using fresh fruits. This is a fun to look and yummy to enjoy popsicles for summer days.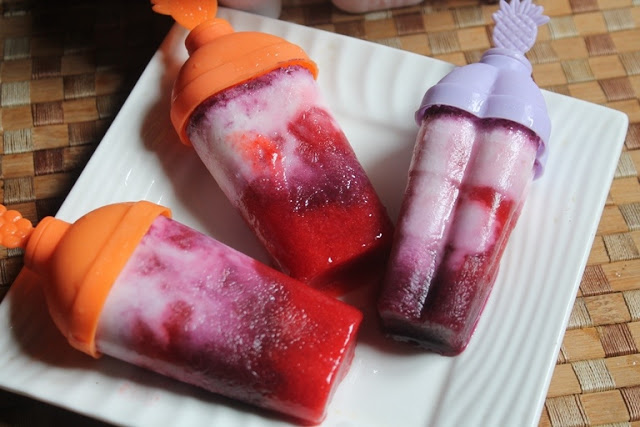 You know how much i love popsicles, they have become my latest favorite and addiction too. I am making quite a lot of popsicles these days not only for my blog but also to enjoy on this hot summer days..This is one popsicles which i made for this summer, i will be sharing many more version of popsicles soon. So stay tuned.
About this Recipe
Popsicles were originally marketed as "a frozen drink on a stick". Popsicles originally came in seven flavors thought to be root beer, cherry, lemon, orange, banana, grape, and watermelon, but there is no official record of Eppersons original flavors. The most
popular Popsicle flavor is Cherry.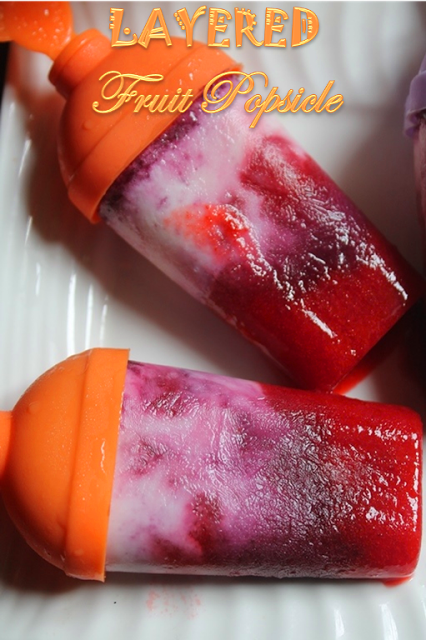 First my vision was to make this three separately layered popsicles. but to my impatient i poured the layers before the first layer was set properly so it kind of merged. But i didn't care about it much because it tasted delicious..Specially my little one is loving it..I feel happy that somehow the fruits are getting into her..
Where did popsicles originate?
Frank Epperson, a San Francisco Bay Area kid, inadvertently invented the summertime treat in 1905. He'd combined sugary soda powder and water and left it out overnight. The mixture froze because it was a cold night.
Why is it called a popsicle?
While running a lemonade stand at an amusement park in Oakland, California in 1923, Epperson realised he could profit from his invention. Epperson renamed his treat  Popsicle after his children always asked for Popsicle, and filed for a patent.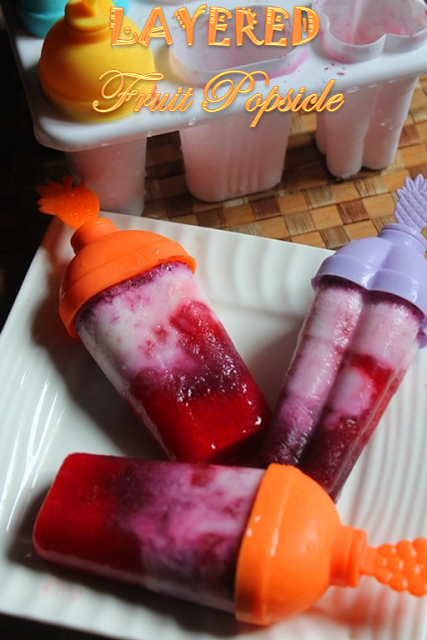 I used strawberries and grapes in this, to separate it and give a creamy layer i used a yogurt mix in the center which really worked wonders..
Ingredients for Fresh Fruit Layered Popsicles Recipe :
Strawberries :
Strawberries in season and at their peak ripeness are fruity, sweet, and juicy, with a hint of acidity. When you bite into one of these plump and juicy red berries, you'll get a sweet burst in your mouth. or fragrance Frozen strawberries have an added crunch that, for some reason, enhances their flavour.
Yogurt :
Yogurt is a dairy product fermented by bacteria. Cultures are the bacteria that are used to make yoghurt.
Grapes :
Grapes has a sweet, tart flavour and a lovely light-red skin. It has crisp, firm flesh, giving it a longer shelf life.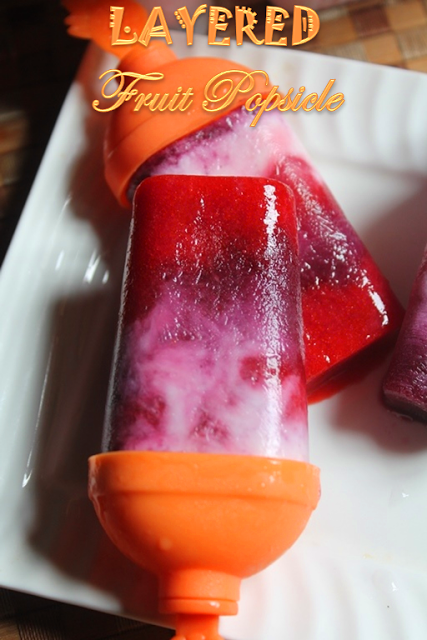 Hope you will give this a try and let me know how it turns out for you..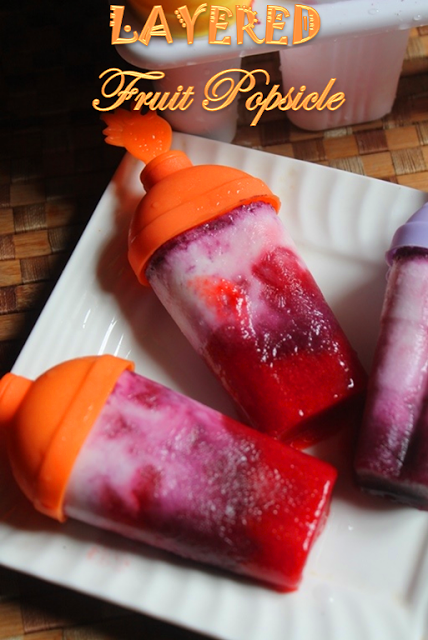 If you have any questions not covered in this post and if you need help, leave me a comment or mail me @[email protected] and I'll help as soon as I can.
Follow me on Instagram, Facebook,Pinterest ,Youtube and Twitter for more Yummy Tummy inspiration.
IF YOU MAKE THIS RECIPE OR ANYTHING FROM YUMMY TUMMY, MAKE SURE TO POST IT AND TAG ME SO I CAN SEE ALL OF YOUR CREATIONS!! #YUMMYTUMMYAARTHI AND @YUMMYTUMMYAARTHI ON INSTAGRAM!
📖 Recipe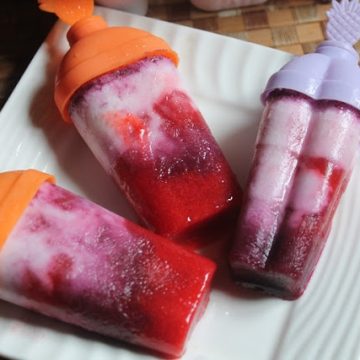 Fresh Fruit Layered Popsicles Recipe
Delicious refreshing layered popsicles made using fresh fruits. This is a fun to look and yummy to enjoy popsicles for summer days.
Print
Pin
Rate
Ingredients
Layer 1:

Strawberries - 1 cup

i used frozen

Sugar - 2 tblspn

Lemon Juice - ½ tsp or to taste

Layer 2:

Yogurt / Curd - 1 cup

Cream - 2 tblspn

Sugar - 3 tblspn

Lemon Juice - ½ tsp or to taste

Layer 3:

Grapes - 1 cup

Sugar - 2 tblspn

Lemon Juice - ½ tsp or to taste
Instructions
Take layer 1 ingredients in a blender and puree till smooth.

Pour this into popsicle mould untill it is ⅓rd full and freeze for 1 to 2 hours.

Now take layer 2 ingredients in a blender and puree till smooth.

Pour this over the set strawberry popsicle till it is another ⅓rd full  and set this in freezer for 2 hours or so.

Now take layer 3 ingredients in a blender and puree till smooth. Strain this mix and pour it over the popsicle mould till it is full and insert the popsicle stick in and pop it in freezer overnight.

Now run the mould in water and unmould it.

Serve
Join us on Facebook
Follow us on Facebook
Share by Email
Share on Facebook
Step by Step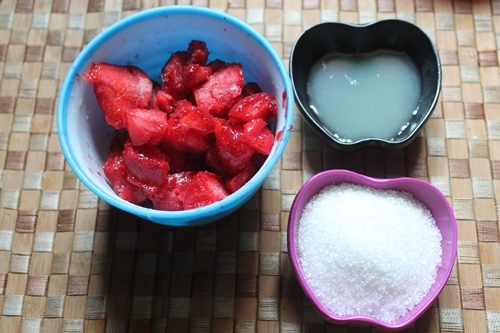 For first layer, take your ingredients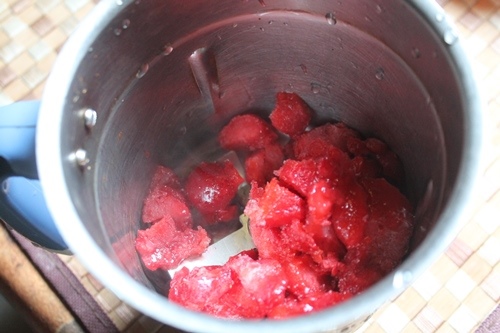 take strawberries in a blender, i used frozen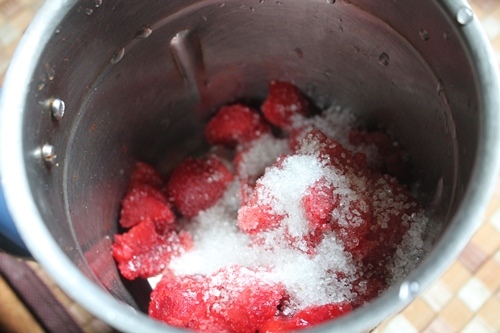 add sugar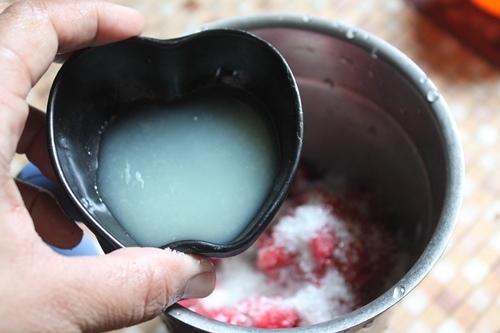 add lemon juice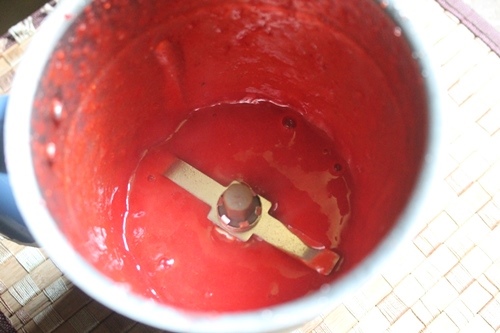 puree till smooth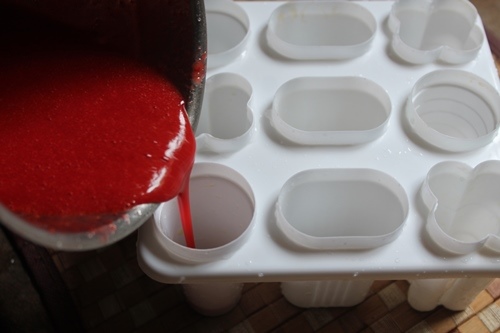 pour it into moulds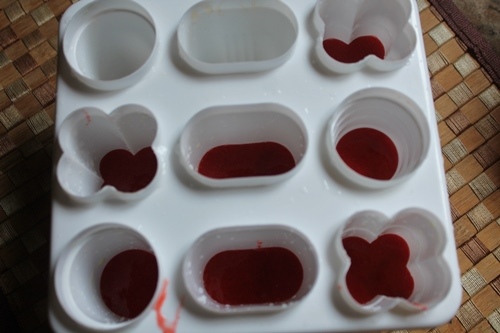 fill till it is ⅓rd full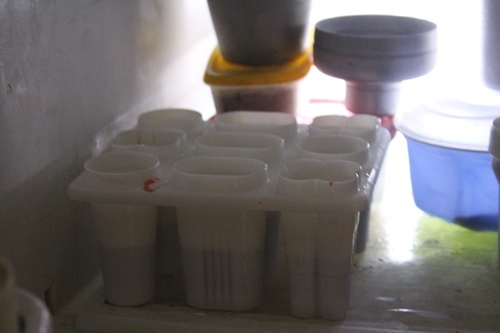 pop it in freezer for few hours till it is set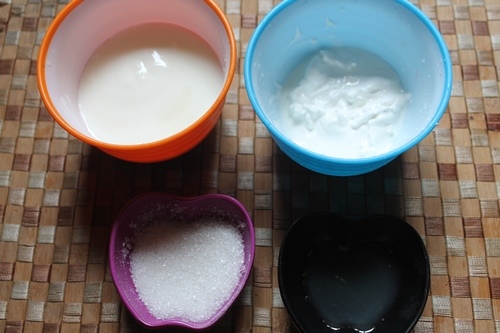 now take your second layer ingredients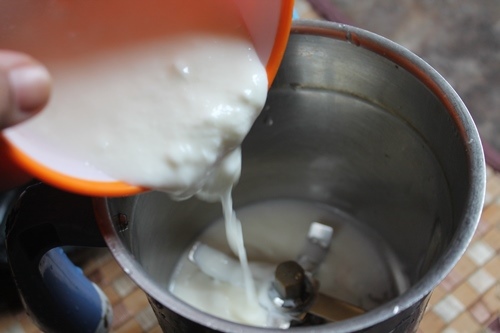 take yogurt in a blender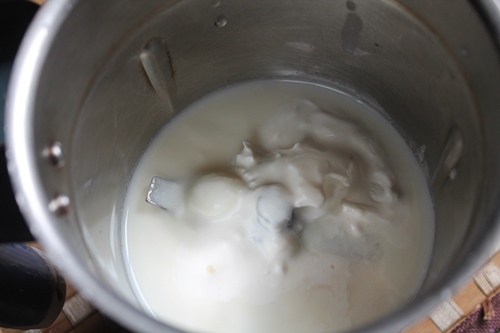 add cream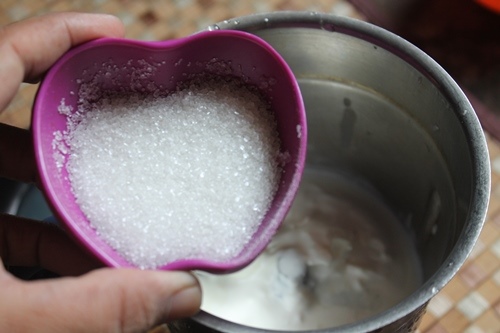 add sugar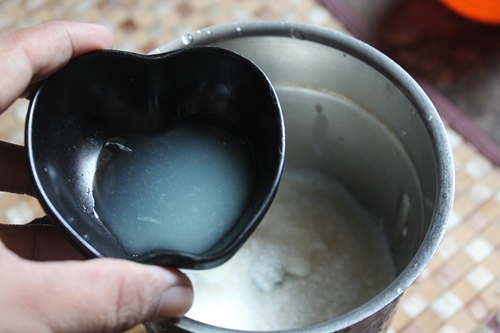 little lemon juice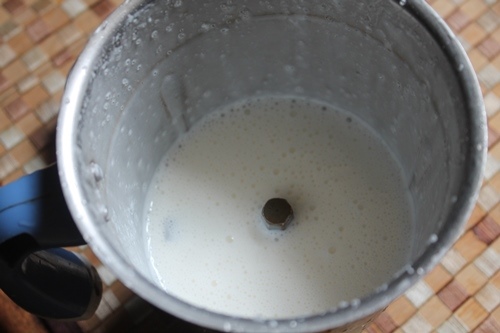 puree till smooth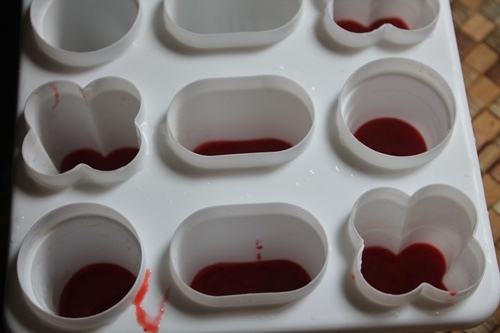 now take the set strawberry mould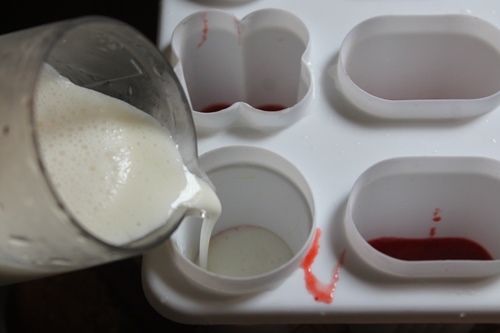 pour the yogurt mix in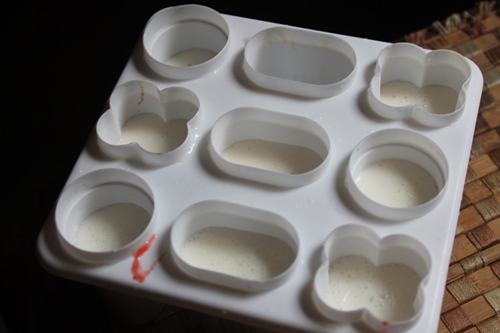 fill another ⅓rd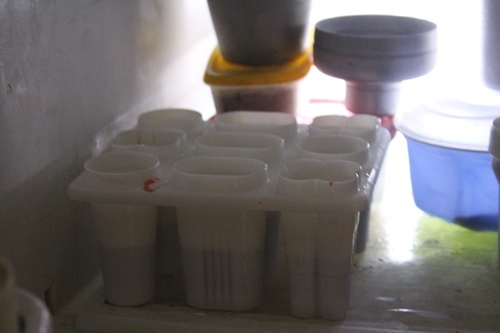 freeze until firm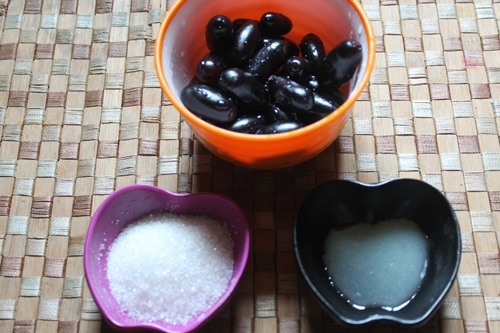 take ingredients for the final layer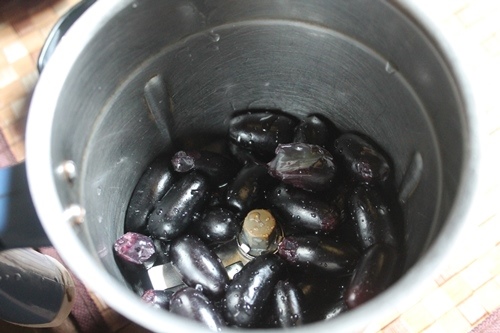 take seedless grapes in a blender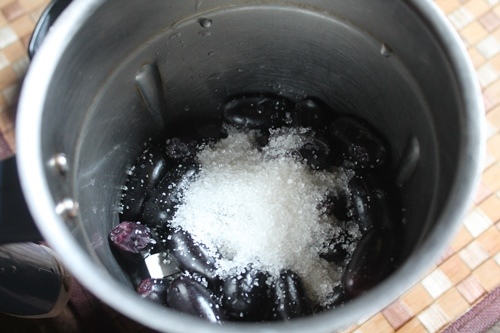 add sugar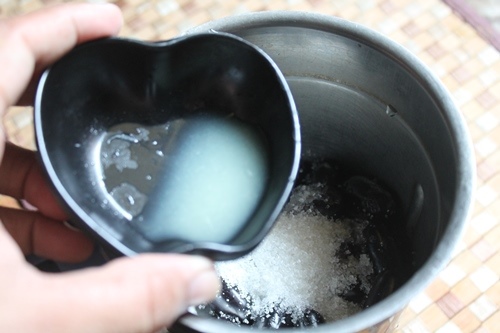 add in lemon juice
puree till smooth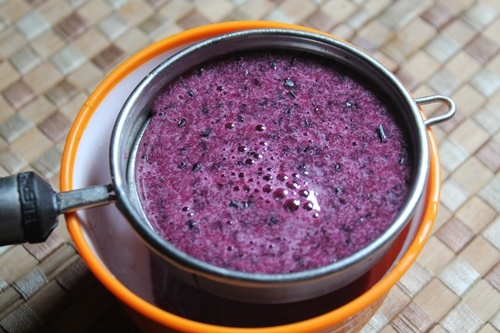 strain it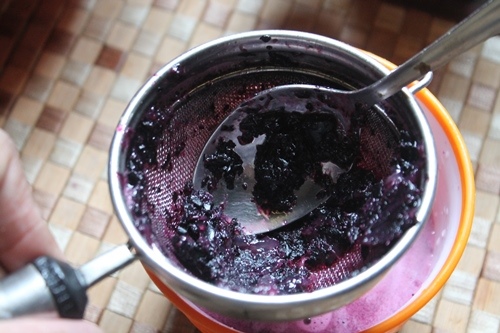 squeeze and get as much juice as possible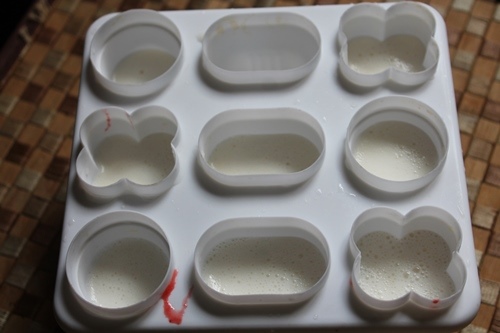 take the set popsicle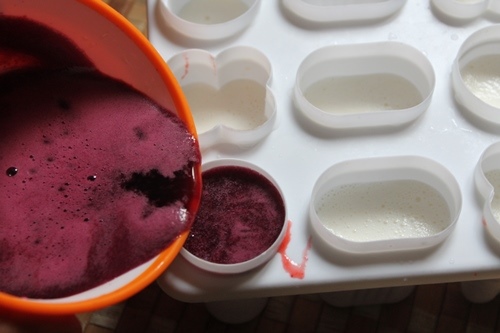 pour the grape layer over it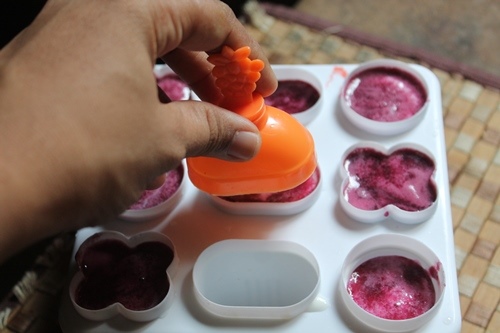 put the lid on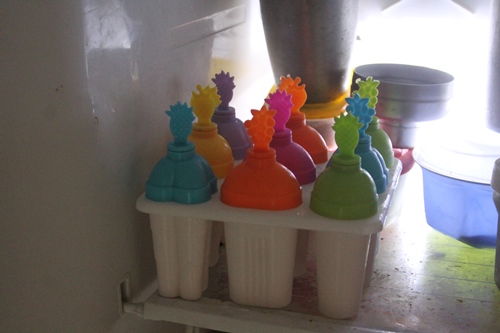 freeze overnight