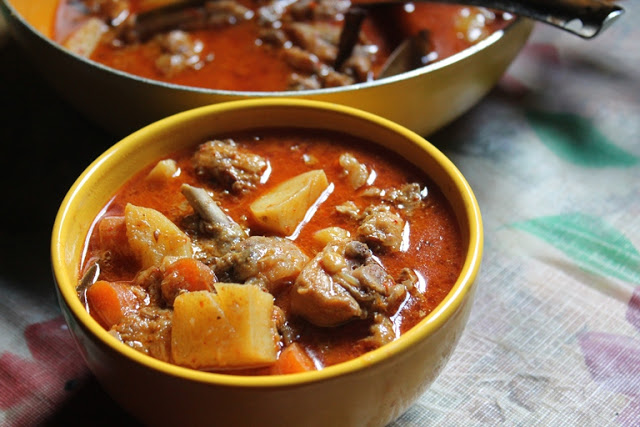 Chicken stew is a flavourful chicken curry, which is a little runny but it is packed with flavours. Normally few vegetables are added into it to make it even more tasty.Stews are made differently each time, they are normally less spicy and white in colour. But i made it extra spicy by adding some chilli garlic paste.
Similar Recipes,
Andhra Chicken Curry
Chicken Salna
Easy Chicken Curry
Traditional Chicken Curry
No Coconut Chicken Curry
Roasted Chicken Curry
Chettinad Chicken Curry
Chicken Masala
Aloo Chicken Curry
Andhra Butter Chicken Curry
and Many More..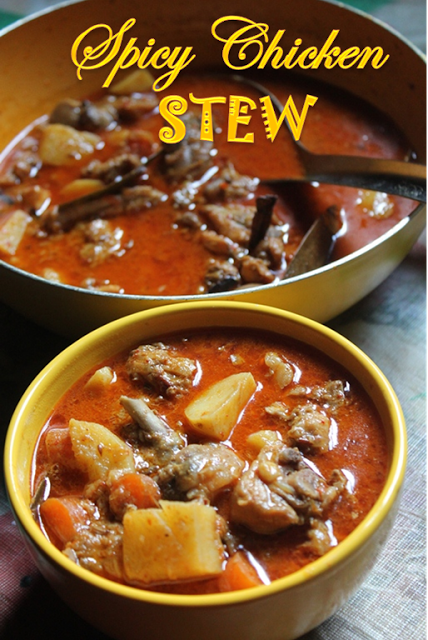 Hope you will give this a try and let me know how it turns out for you..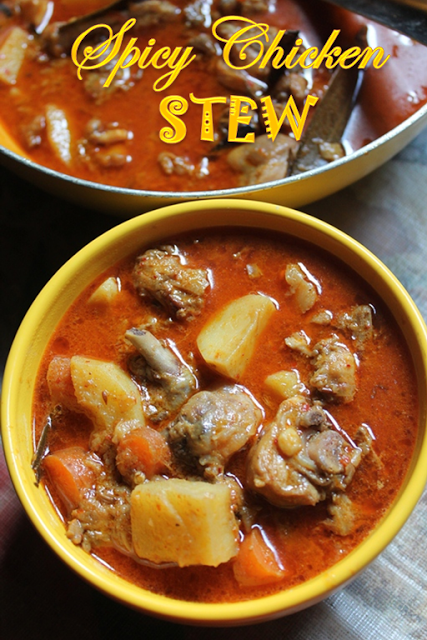 Preparation Time: 10 mins
Cooking Time : 1 hour
Serves : 4 to 6


Ingredients:
Chicken – 500 grams with bone
Oil – 4 tblspn
Fennel Seeds / Sombu / Saunf – 1 tsp
Cumin Seeds / Jeerakam – 1 tsp
Cinnamon / Pattai – 2 cm piece
Cardamom / Yelakai – 4
Cloves / Krambu – 4
Bay Leaf – 1
Onion – 2 large sliced thinly
Chilli Garlic Paste – 2 to 3 tblspn (recipe here)
Coriander Powder / Malli Podi – 1.5 tblspn
Cumin Powder / Jeeraga Podi – 1.5 tsp
Turmeric Powder / Manjal Podi – 1 tsp
Garam Masala Powder – 1 tsp (recipe here)
Thick Coconut Milk – 1 cup (recipe here)
Potatoes – 2 peeled and cubed
Carrot – 2 chopped
Tomato – 1 chopped
Salt to taste
Method:
Heat oil in a kadai. Add in the whole spices, let it sizzle for few mins.
Add in onions and salt. Saute till golden.
Add in chilli garlic paste and saute for 2 to 3 mins.
Now add in spice powders and mix well.
Add in chicken and toss well in the masala for 5 mins till it gets seared.
Now add in carrots, potatoes and tomatoes. Pour in water, bring it to boil. Cover and simmer for 30 to 40 mins till chicken is cooked.
Now add in coconut milk and garam masala powder. Mix well, simmer for few more mins.
Serve with rice.
Pictorial: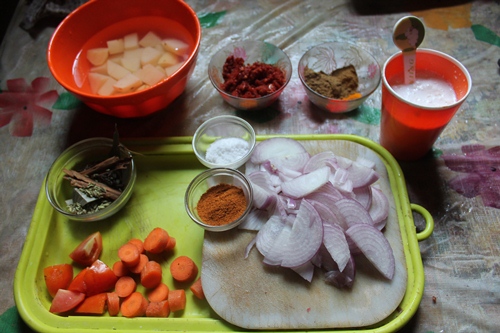 take all your ingredients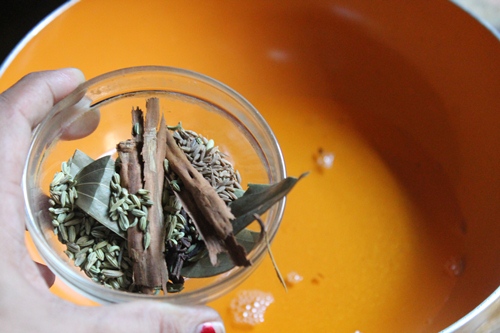 First crackle whole spices in oil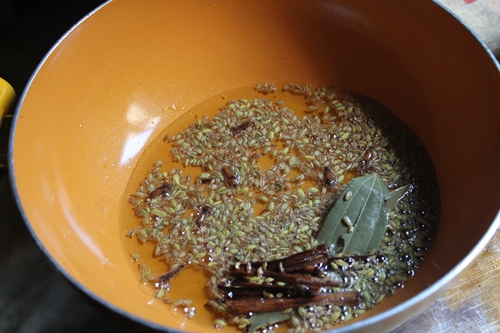 let it sizzle for a min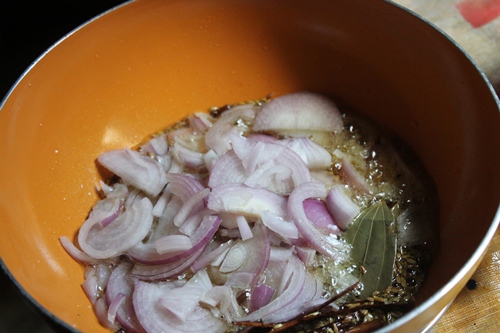 add in onions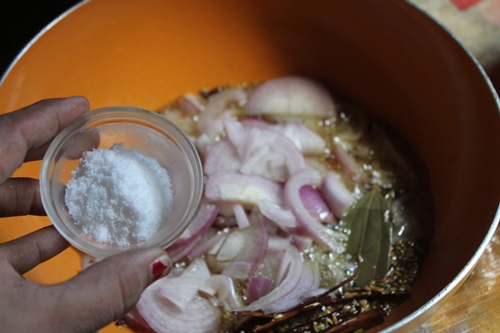 season with some salt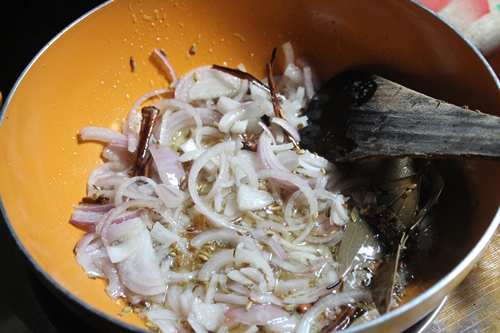 saute them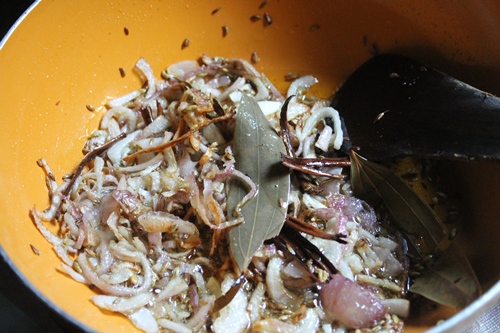 cook them till golden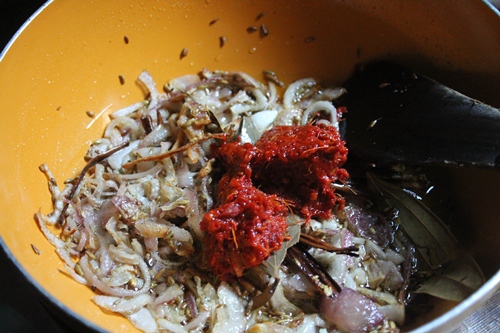 add in chilli garlic paste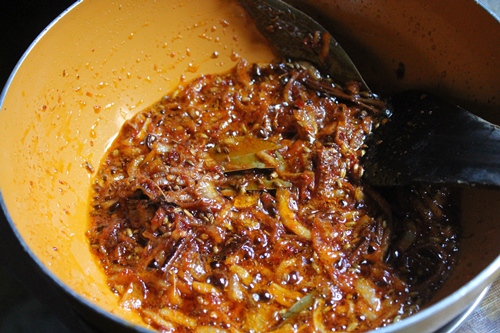 saute them for couple of mins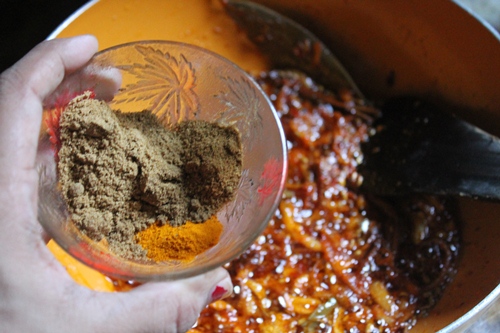 add in cumin powder, coriander and turmeric powder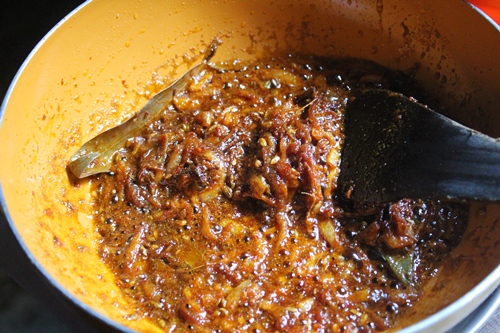 mix well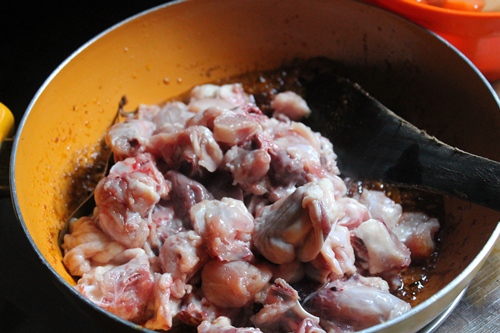 add in chicken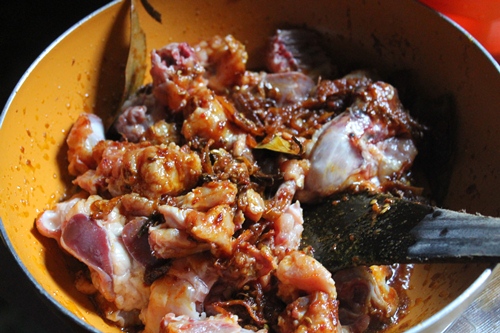 mix well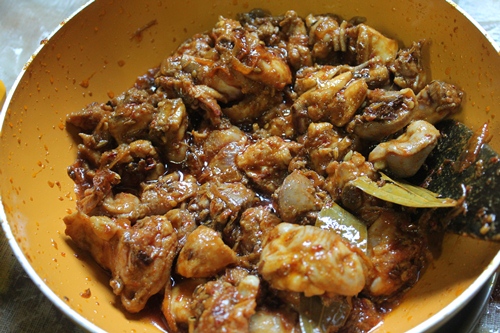 saute them for 5 mins till the chicken is well seared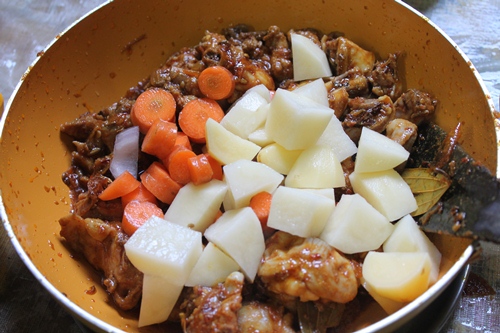 add in carrots and potatoes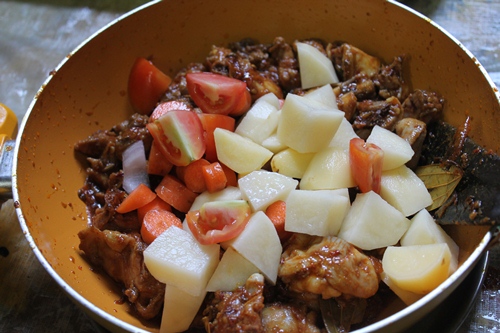 add in tomatoes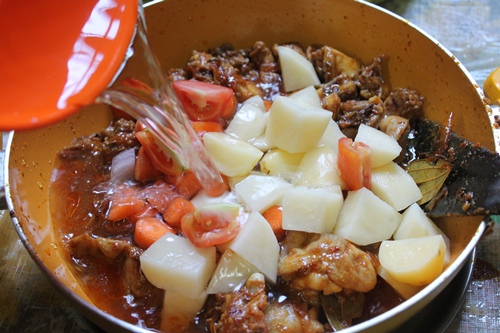 pour in some water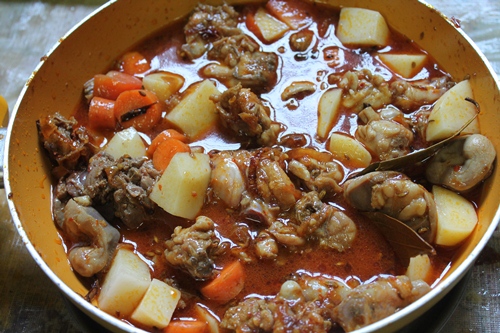 mix well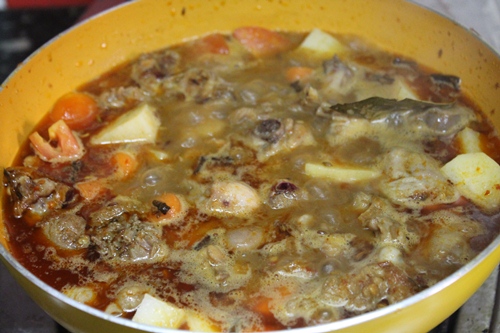 Bring it to a boil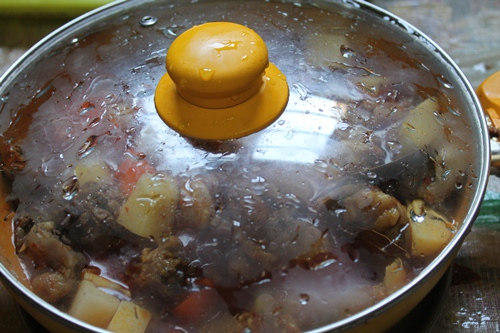 cover and simmer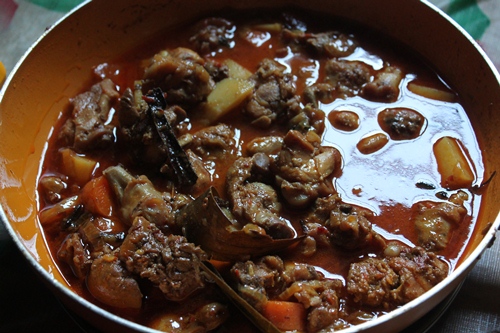 now the chicken is done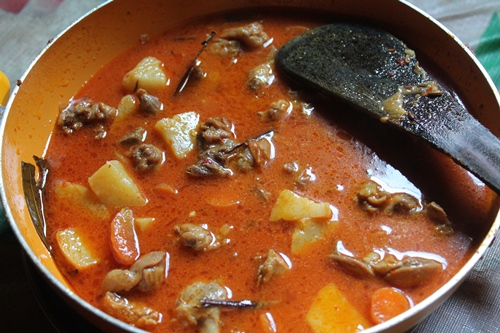 Simmer for few more mins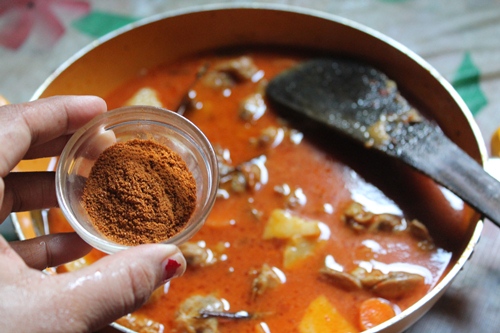 sprinkle garam masala powder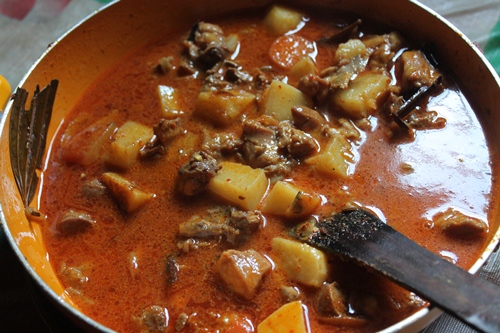 mix well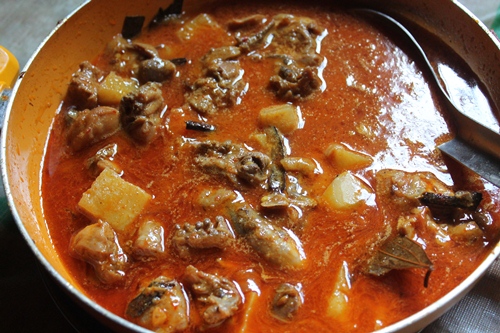 done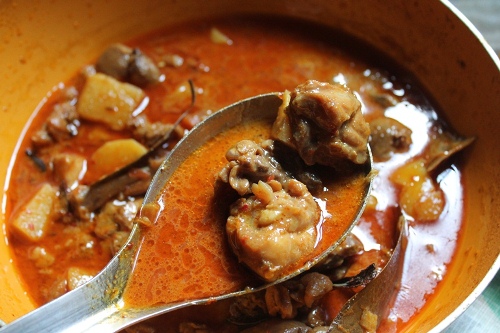 Serve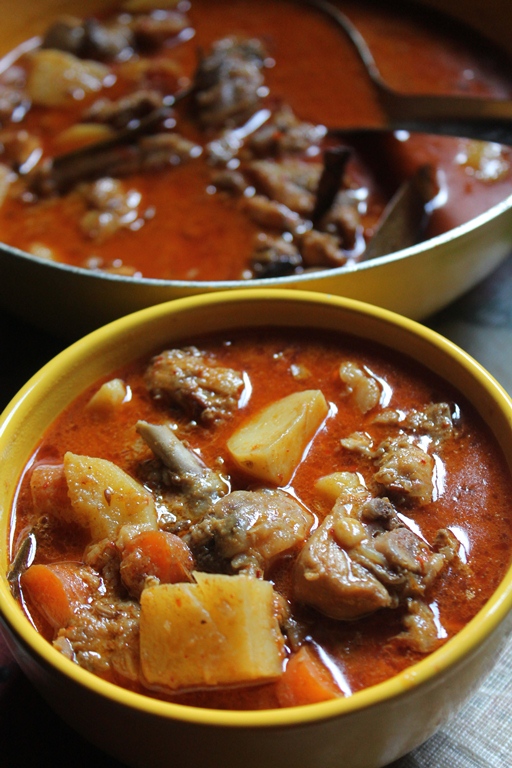 I am Aarthi, a happy homemaker, mom of two beautiful girls, married to my high school sweet heart. My goal is to teach people that cooking can be way more easier and joyful than they think. Yummy Tummy features recipes all over the world with step wise pictures which surely shows the ease of cooking.