Coconut French Toast Recipe with Step by Step Pictures. Delicious french toast made with a coconut crust and topped with juicy strawberries.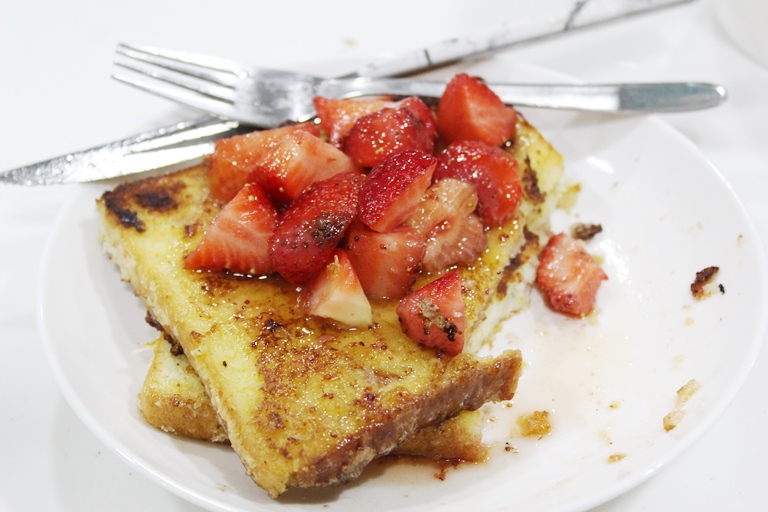 Pin
French toast which has a crusty coconut coating and served with some sweet strawberries which are tossed in some syrup is just amazing. I love this french toast mainly because of the crispy and coconut crust.
About Coconut French Toast Recipe
French toast is a dish made of sliced bread that has been soaked in beaten eggs and often milk or cream before being pan fried. Alternative and variant names and phrases include eggy bread; Bombay toast, gypsy toast, and poor knights (of Windsor).
When served as a dessert, sugar, vanilla, or cinnamon are often added before pan-frying, and it can then be topped with sugar (often powdered sugar), butter, fruit, or syrup. When its a savoury dish, it's usually fried with a pinch of salt or pepper and served with a sauce like ketchup or mayonnaise.
Similar Recipes,
Panettone French Toast
Doughnut French Toast
Eggless Sweet French Toast
Eggless Savoury French Toast
French Toast Roll Ups
Spicy French Toast
Eggy Bread with Strawberries
Jam French Toast
Cornflakes Crusted French Toast
Cheese Stuffed French Toast
Besan French Toast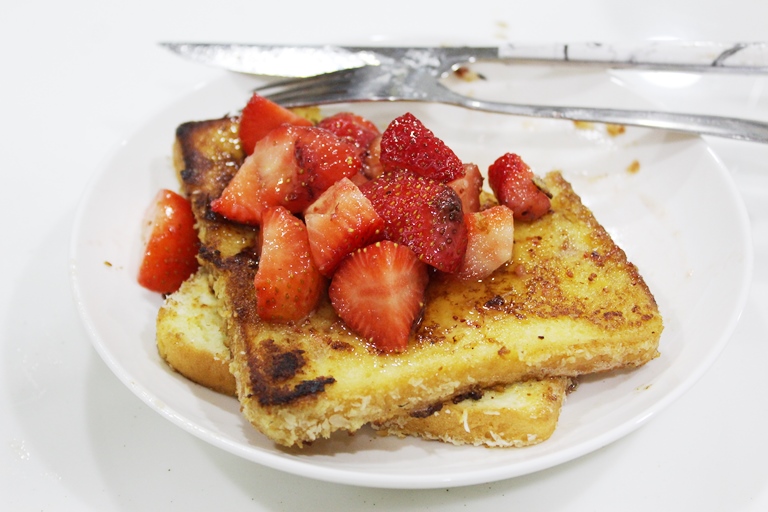 Pin
Ingredients for Coconut French Toast Recipe
Bread 
Day-old bread is traditionally used for French toast because it reduces waste and slightly stale slices absorb the custard-like mixture better than fresh slices.
Cardamom Powder 
Cardamom Powder is an all-natural spice that can be used to sweeten dishes as well as flavour coffee and tea. It is also used in traditional Indian and Middle Eastern cooking, as well as Scandinavian baking.
Milk 
French toast requires both liquid to soften the bread and something to bind the ingredients together. The milk is a component of the batter or custard used to soak the bread slices. The key ingredients for a rich custard are whole milk and eggs.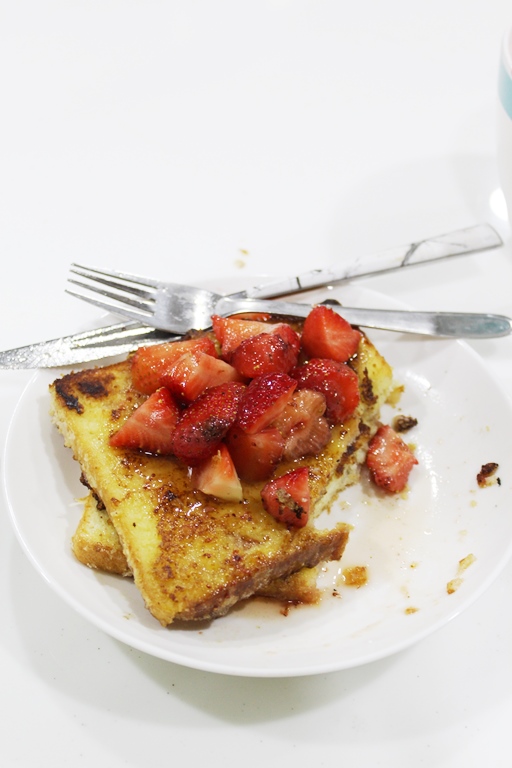 Pin
If you have any questions not covered in this post and if you need help, leave me a comment or mail me @[email protected] and I'll help as soon as I can.
Follow me on Instagram, Facebook, Pinterest ,Youtube and Twitter for more Yummy Tummy inspiration.
IF YOU MAKE THIS RECIPE OR ANYTHING FROM YUMMY TUMMY, MAKE SURE TO POST IT AND TAG ME SO I CAN SEE ALL OF YOUR CREATIONS!! #YUMMYTUMMYAARTHI AND @YUMMYTUMMYAARTHI ON INSTAGRAM
📖 Recipe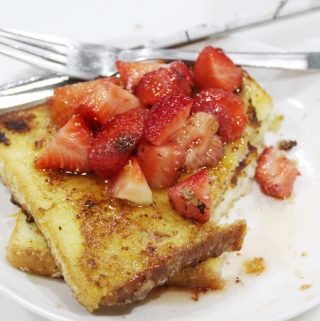 Coconut French Toast Recipe
This coconuty french toast is one of my all time favorite. The toast itself taste amazing but when served with some strawberries it taste amazing.
Ingredients
Bread - 2 slices

Egg - 1

Milk - ¼ cup

Sugar - 1 tblsp

Cardamom Powder - ½ tsp

Dessicated coconut - ½ cup

Butter as needed

Strawberries - 1 cup chopped

Maple Syrup / Honey as needed
Instructions
Take strawberries and maple syrup in a bowl and mix well.

Mix egg, milk, sugar and cardamom powder in a bowl.

Coat bread in this and coat with coconut.

Melt some butter in a pan, fry the bread till golden on both sides.

Serve with strawberries.
Coconut French Toast Recipe Step by Step Pictures
1)Take strawberries in a bowl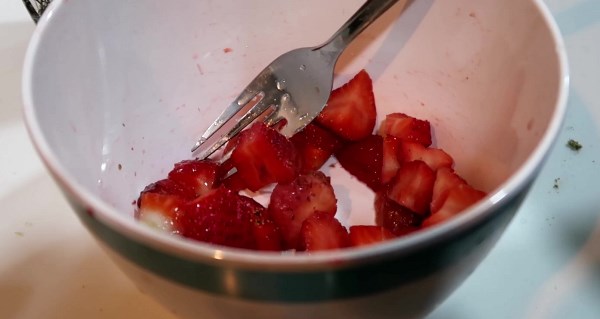 Pin
2)Add honey,maple syrup or sugar. Mix well and set aside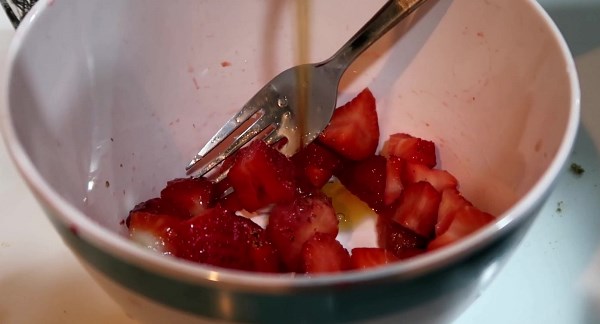 Pin
3)Take egg in a bowl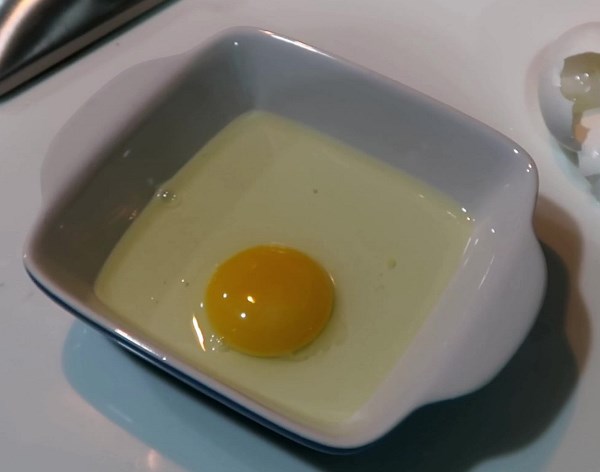 Pin
4)Add sugar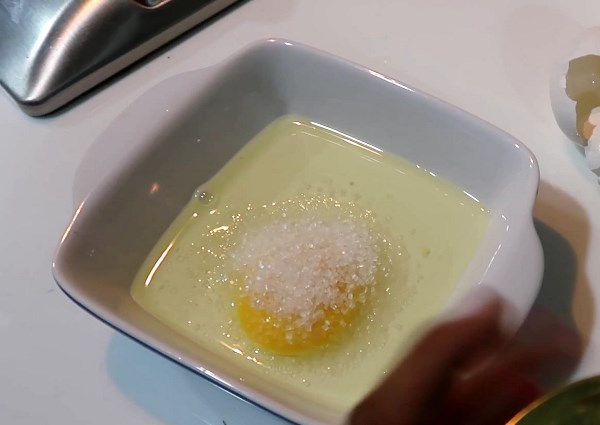 Pin
5)Add milk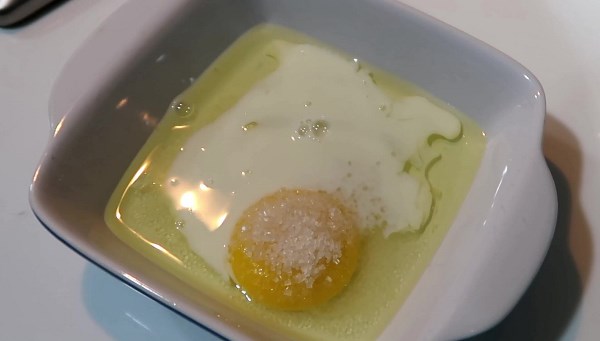 Pin
6)Add a touch of cardamom powder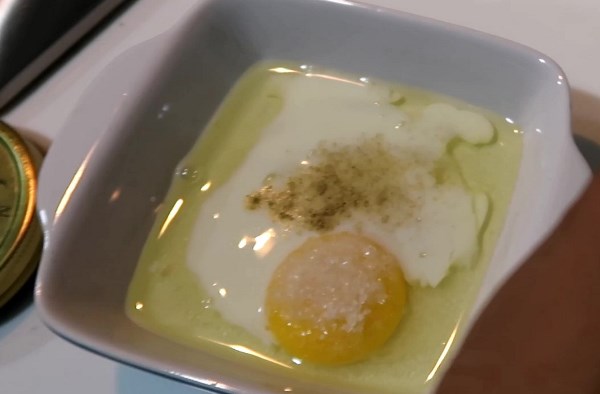 Pin
7)Whisk well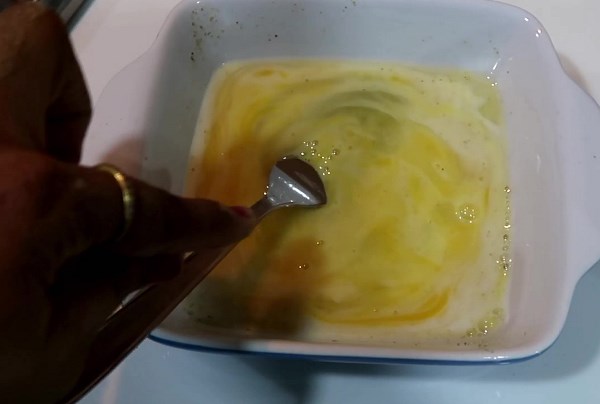 Pin
8)Take dessicated coconut in a plate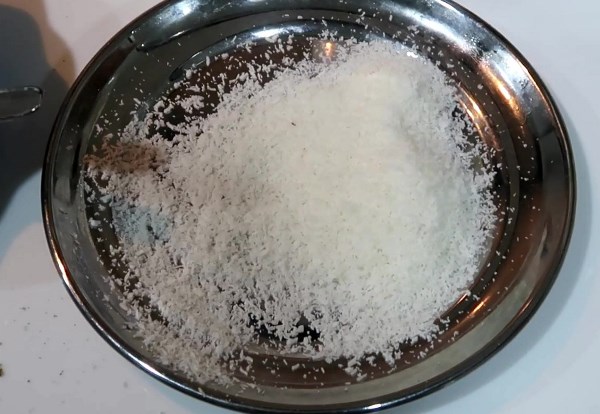 Pin
9)Dip bread in the eggy mix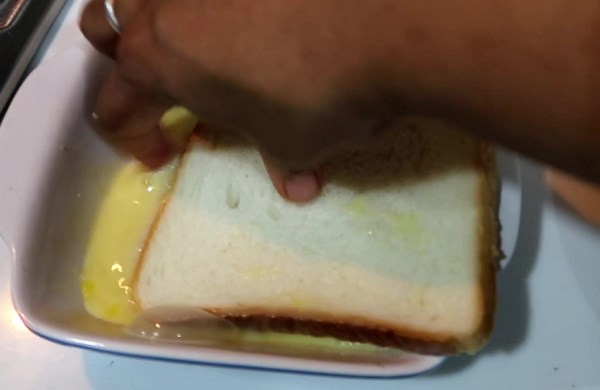 Pin
10)Coat it on both sides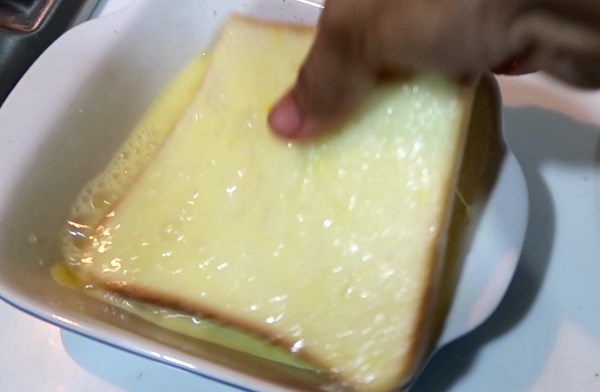 Pin
11)Now coat in coconut.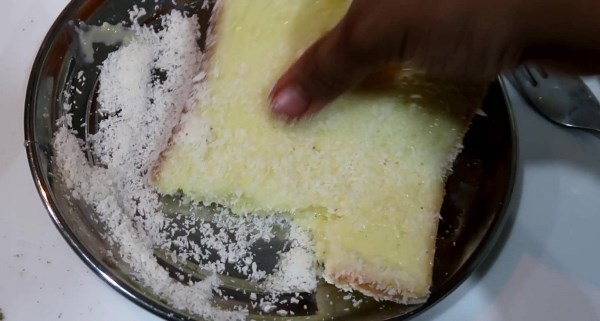 Pin
12)Melt some butter, pan fry the bread till golden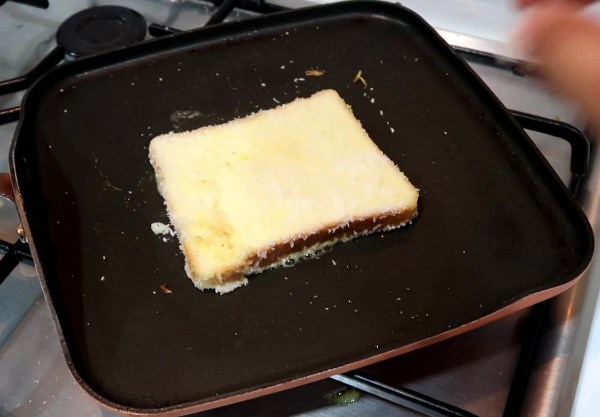 Pin
13)Flip and cook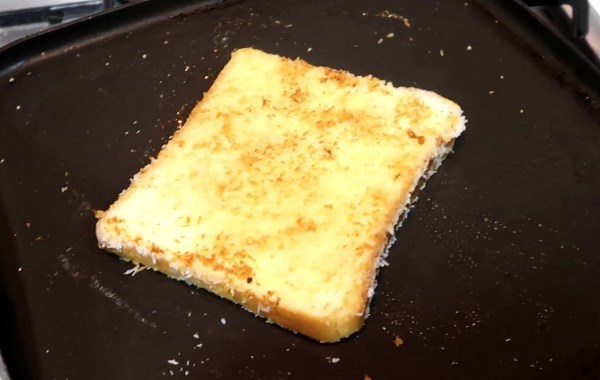 Pin
14)Remove to a plate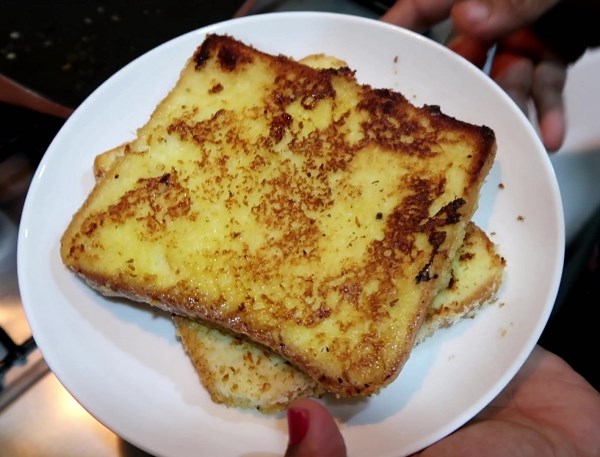 Pin
15)Top with strawberries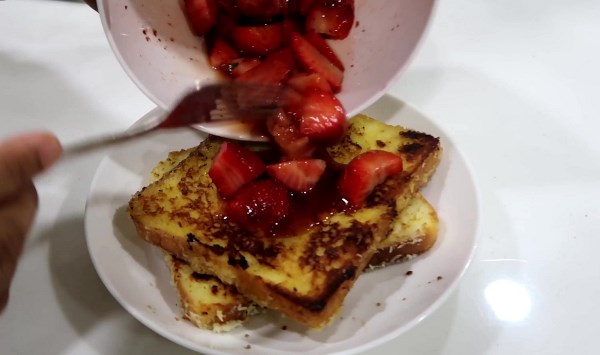 Pin
16)Serve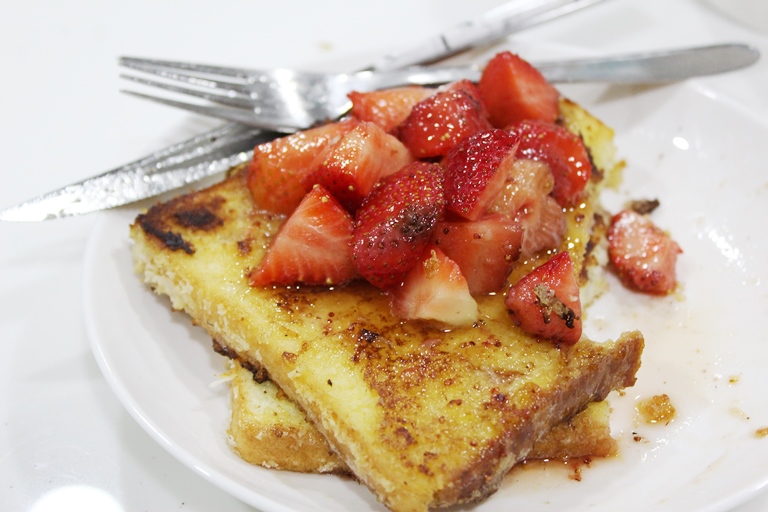 Pin
Frequently Asked Questions
Should French toast be crispy or soggy?
The ideal French toast has a browned and crispy exterior and a creamy interior. It is neither dry nor soggy.
Who invented the French toast?
It was a man named Joseph French, according to legend. He invented
the dish in 1724 and marketed it as "French Toast" because he was
illiterate and forgot the apostrophe.