Easy and delicious matar paneer recipe is made two ways. This curry taste delicious with roti or rice. Matar paneer recipe can be served with rice, pulao, lachha paratha, naan, roti or phulka.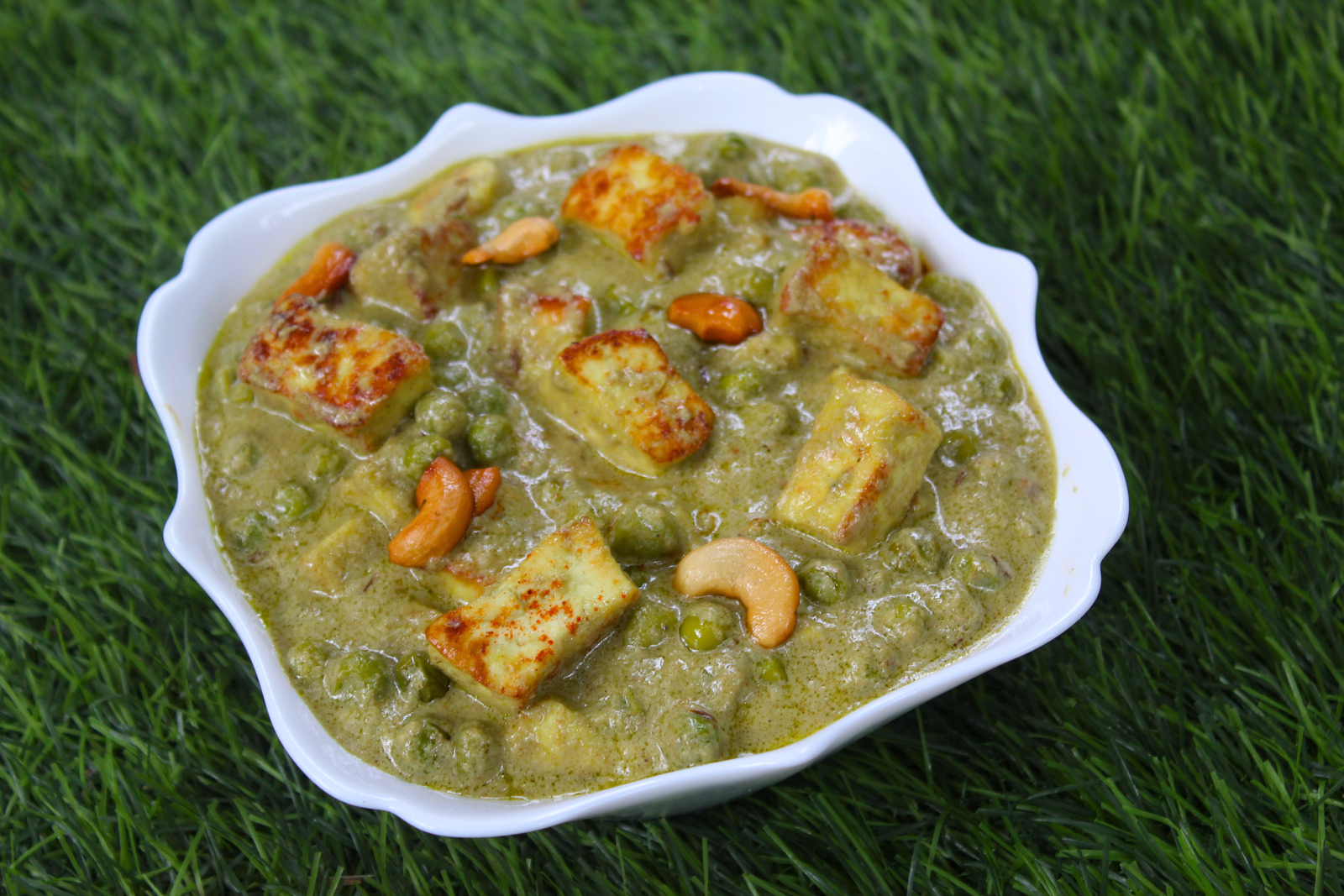 I love peas a lot. I always have a bag of frozen peas in my freezer. It is always nice to eat peas and paneer together. Paneer is an Indian cottage cheese that is soft and it wont melt down when it is fried. This recipe is a green creamy dish that goes well will anything. This dish is very mild one, I have another method of making this dish that version is little bit spicer which is added in version 2. 
About Matar Paneer Recipe
Matar paneer recipe is made with paneer and peas cooked in a sauce. Popular sauce is an onion tomato based sauce. I have shared an onion tomato sauce version and a creamy green sauce recipe.
This matar paneer recipe goes perfectly well with rice, pulao or roti.
Similar Recipes,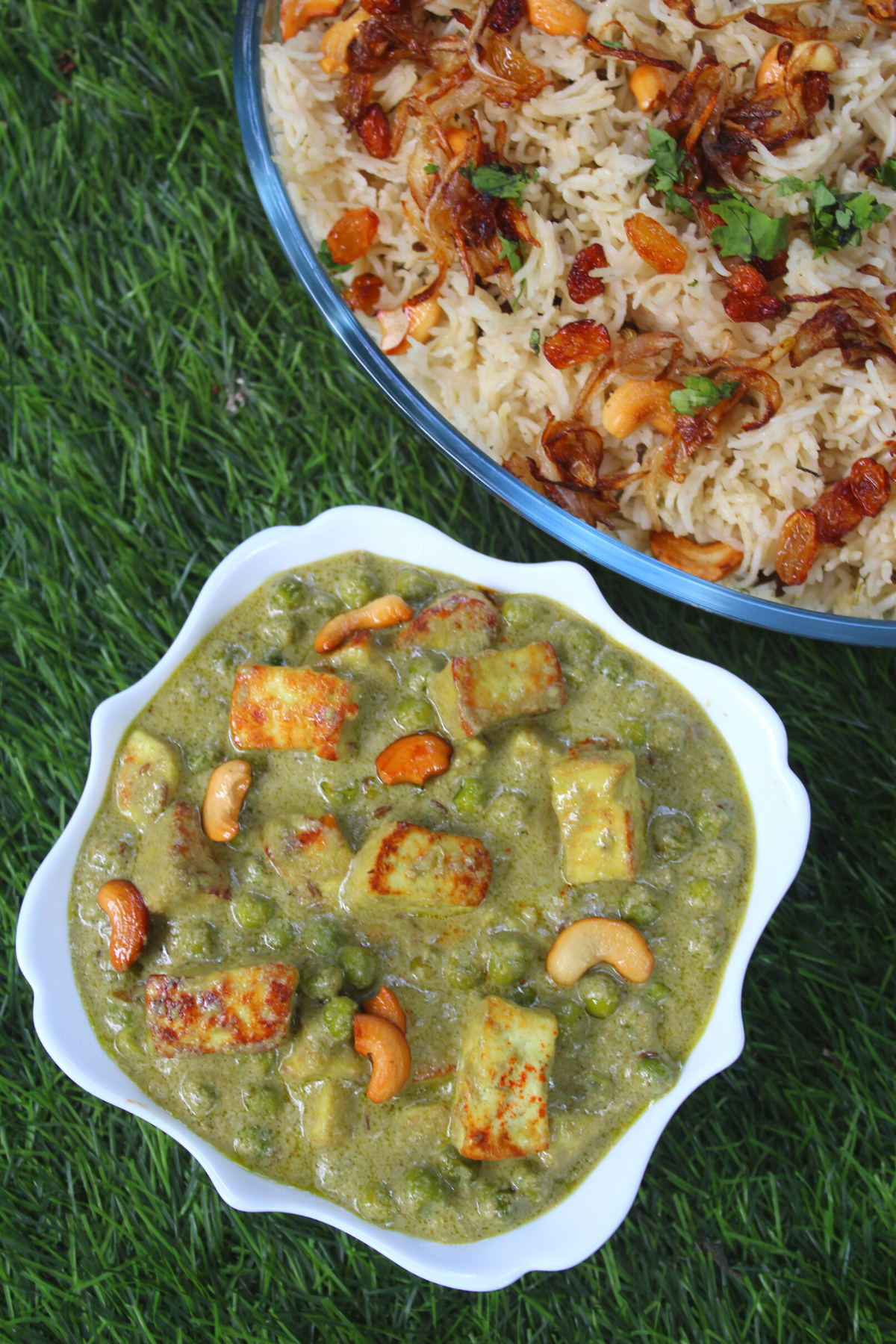 Pin
Ingredients for Matar Paneer Recipe
Paneer
Paneer is known as cottage cheese. It is one of the favorite ingredient for most of the people to cook with. It is a cubed milk. 
Green Peas
Fresh green peas in this curry add so much colour and taste. It adds a sweet bite to the curry.
Onions
Onions are fried till crispy and added in this curry to make it taste delicious. The onion adds the aroma and texture to the curry.
Tomato
Tomatoes are added for the colour, taste and texture. It adds a nice tangyness to the curry and taste delicious.
Cream
Cream is optional ingredient and is used in this first version to add a creamy texture.
Video for Matar Paneer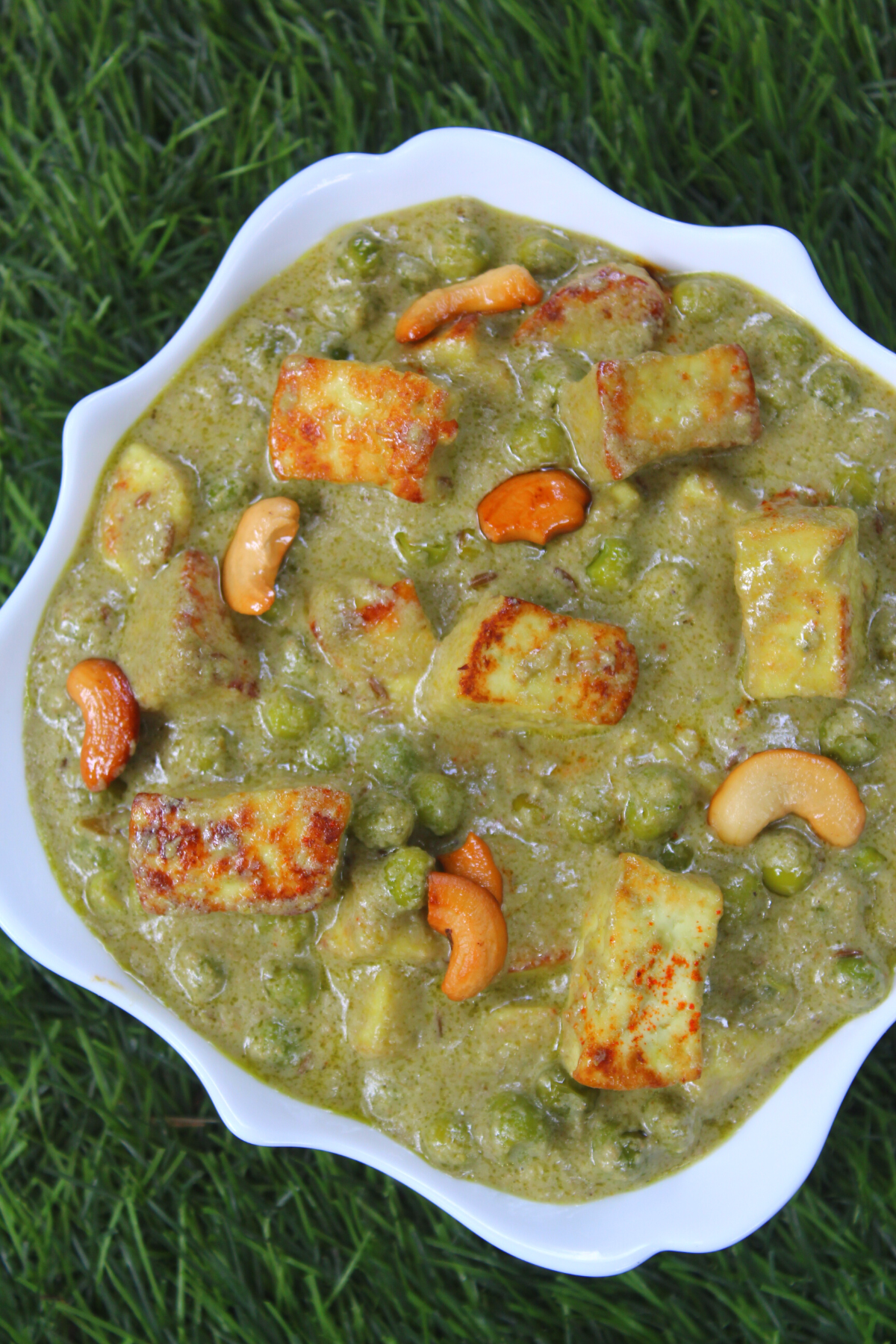 Pin
If you have any questions not covered in this post and if you need help, leave me a comment or mail me @[email protected] and I'll help as soon as I can.
Follow me on Instagram, Facebook,Pinterest ,Youtube and Twitter for more Yummy Tummy inspiration.
IF YOU MAKE THIS RECIPE OR ANYTHING FROM YUMMY TUMMY, MAKE SURE TO POST IT AND TAG ME SO I CAN SEE ALL OF YOUR CREATIONS!! #YUMMYTUMMYAARTHI AND @YUMMYTUMMYAARTHI ON INSTAGRAM!
📖 Recipe
Matar Paneer Recipe with Step by Step pictures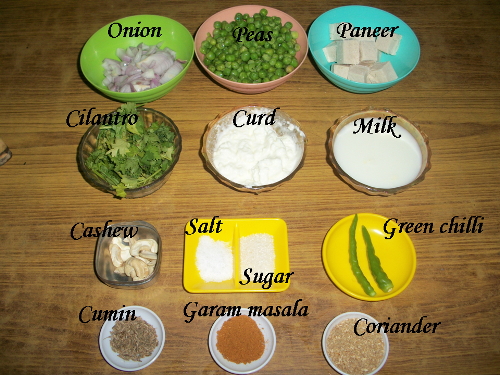 Grab your ingredients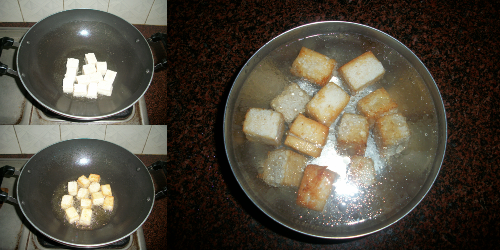 Fry paneer pieces and soak them in water till ready to use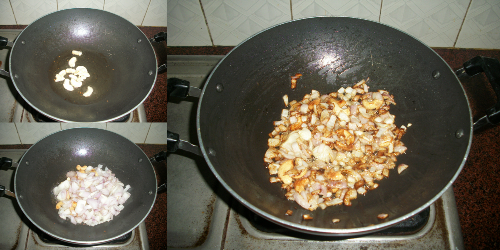 Fry onion and cashew in oil...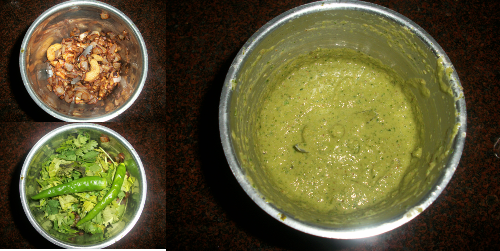 Grind that with coriander leaves and green chilli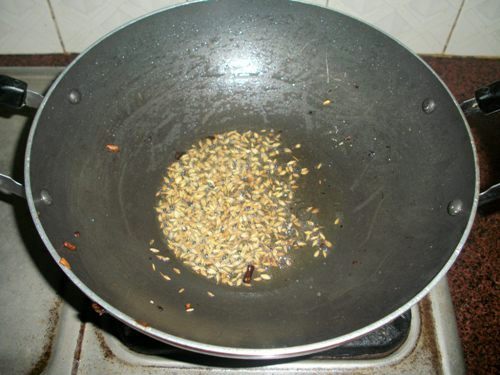 Saute cumin in oil...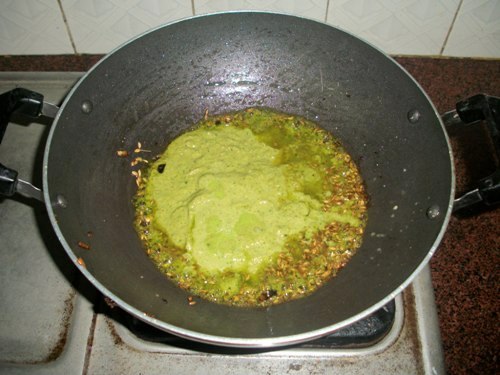 add in the green paste and mix well..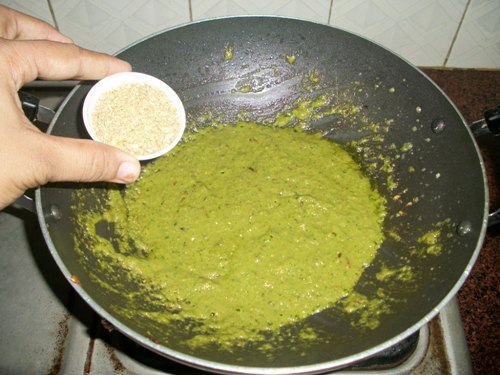 add in coriander powder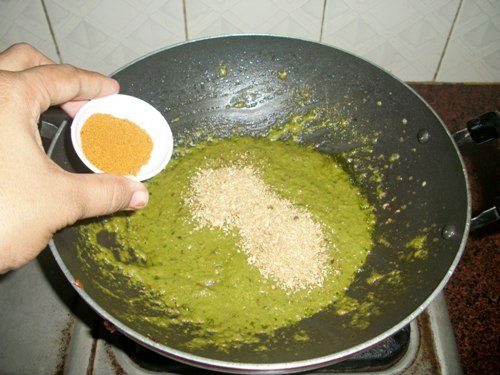 and some garam masala powder..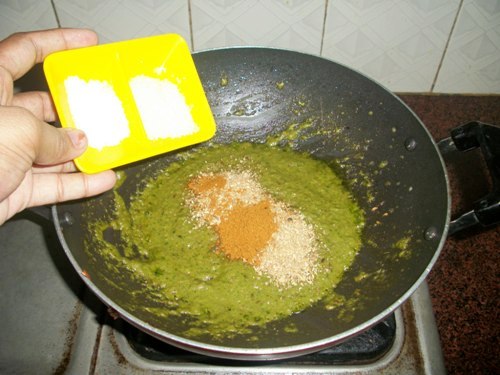 add in some salt and sugar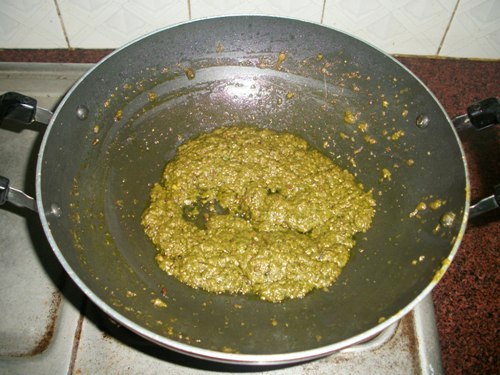 cook till oil separates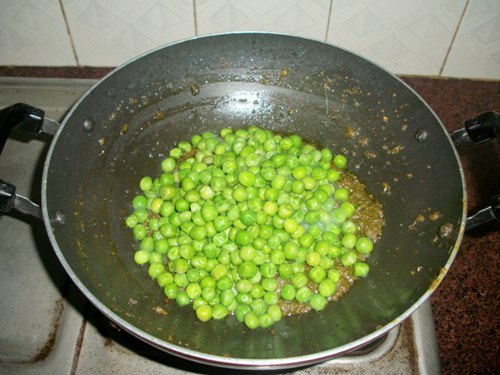 add in peas...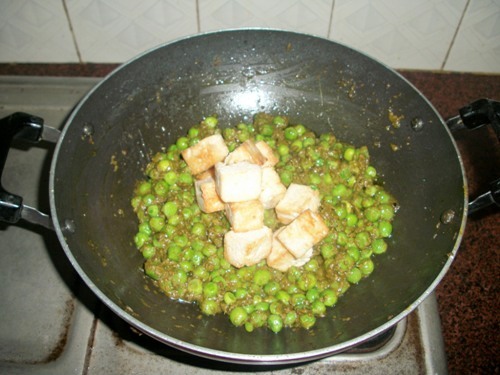 and fried paneer pieces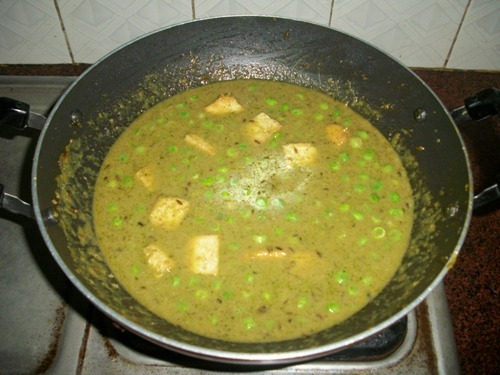 pour in some water and bring it to boil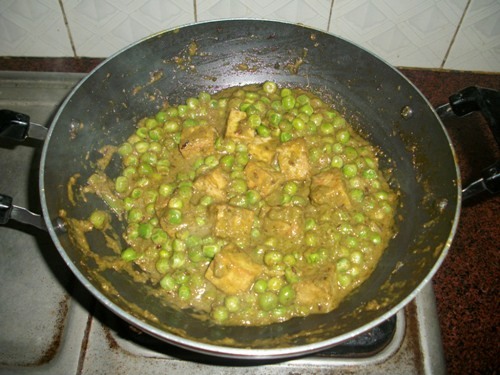 cook till the peas is cooked..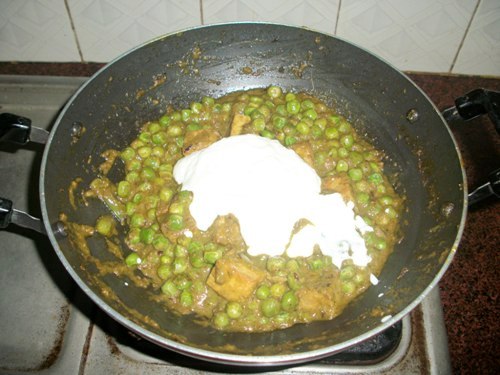 add in yoghurt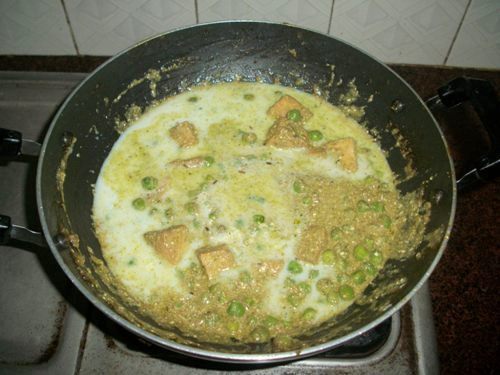 add in milk or cream...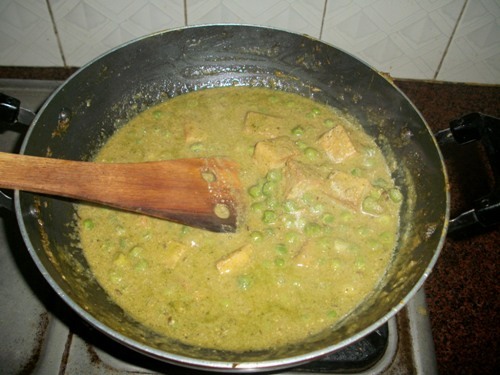 simmer it for 5 min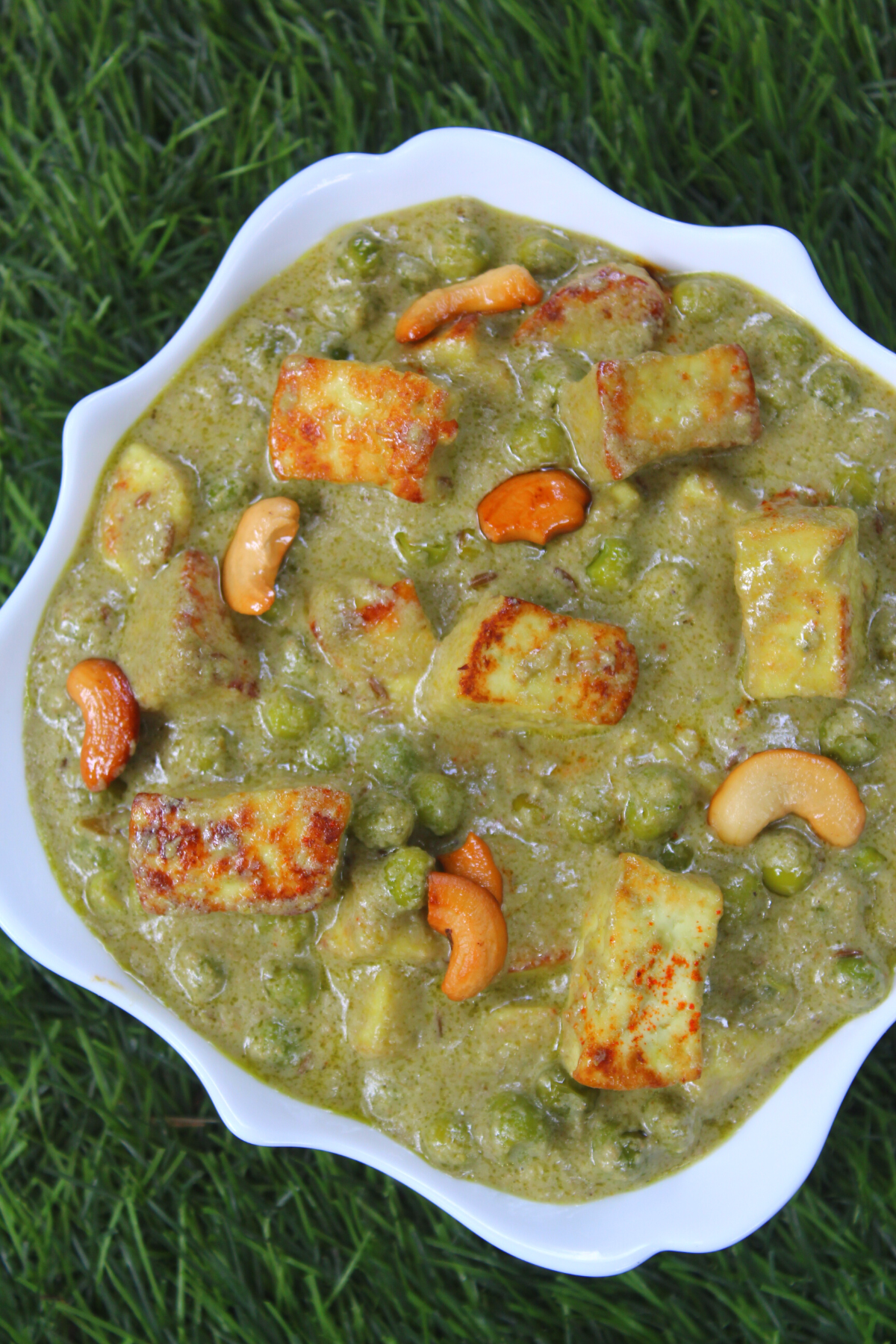 Pin
Version 2: Matar Paneer (Red Sauce)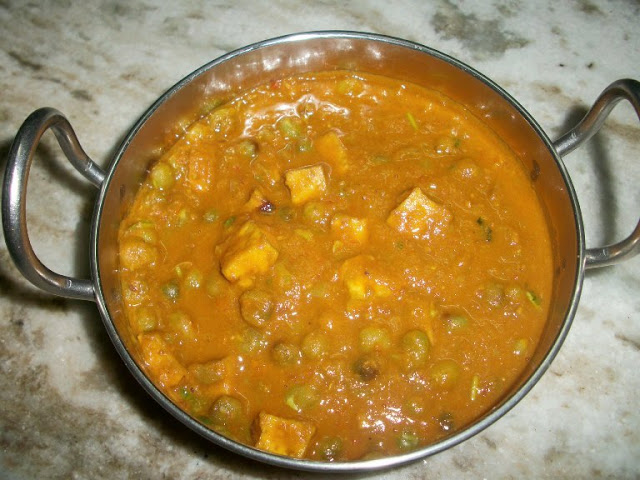 Pin
This is my second way of making this delicious dish. This one is a little spicy and a tangy mutter paneer. If you want to see my mild and creamy version of mutter paneer click here. I made this one in pressure cooker since I used fresh peas...If you are using frozen u can just cook it on the kadai. Since I cooked both paneer and peas in pressure cooker, the paneer got nice flavour inside too, because you know that paneer is pretty bland right. This can be served with roti or rice. I think I served that with my Aromatic Rice Pilaf. So go ahead and try it.
Ingredients for Matar Paneer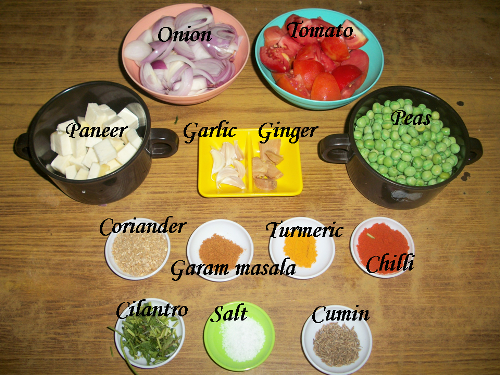 Take all your ingredients
Tips & Tricks
Use fresh peas for best taste. But if it is out of season you can substitute with frozen peas.
Homemade paneer taste delicious in matar paneer.
You can adjust the spicy level in matar paneer totally to your taste.
Matar paneer can be made and stored in fridge upto 2 to 4 days.
Serving Suggestions
Matar paneer recipe can be served with rice, pulao, lachha paratha, naan, roti or phulka.
Frequently Asked Questions
Is matar paneer healthy?
Matar paneer i made with paneer and peas which makes it relatively healthy dish.
Why matar paneer is famous?
The combination of peas and paneer makes it taste so delicious all around the world. So it is very popular.
Which is better matar paneer or paneer butter masala?
It is totally personal preference. Paneer butter masala is little sweet in taste but matar paneer can be made spicy as per your taste.
What does Matar mean Indian food?
Matar is green peas. it is a popular ingredient and is very healthy.
What is matar called in English?
Matar means green peas in english.