Rose Milk Ice cream Recipe with step by step pictures. Creamy ice cream made with cream, rose milk extract and sugar.
This is so simple to put together, just whip up some stuffs for few minutes and freeze it for few hours. Then you are set with a bowlful of goodness which make you drool. Glad you like it and let me know what you think. HAPPY SUMMER.
About Rose Milk Ice Cream Recipe
Rose milk is a non-alcoholic milk beverage with rose flavour. It is made with chilled milk, rose syrup, rose water, or essence, and is frequently coloured pink with food colouring. Rose milk has anti- inflammatory, analgesic, bronchodilator, anti-convulsant, anti- microbial, laxative, anti-depressive, and anti-allergy properties. Rose milk helps with skin care, eye care, brain function, indigestion relief, digestive health, and infection-fighting.
Ingredients for Rose Milk Ice cream
Fresh Cream :
Fresh cream is a dairy product derived from milk. It is created by processing and sterilising milk at high temperatures before packaging it. Because it contains only 18-25% milk fat, it cannot be used as whipping cream (which contains almost 35 percent milk fat).
Rose Milk Essence:
Rose Milk Essence has analgesic, bronchodilator, anti-convulsant, anti-microbial, laxative, antidepressant, antiallergenic, and anti-inflammatory properties. milk helps with skincare, eye care, nbrain function, indigestion, digestive health, and infection
prevention.
Rose Water :
Rose water has a primarily floral flavour that is neither particularly savoury nor particularly sweet. Any meal can benefit from the delicate floral aroma that rose water emits to enhance the sensory experience.
If you have any questions not covered in this post and if you need help, leave me a comment or mail me @[email protected] and I'll help as soon as I can.
Follow me on Instagram, Facebook,Pinterest ,Youtube and Twitter for more Yummy Tummy inspiration.
IF YOU MAKE THIS RECIPE OR ANYTHING FROM YUMMY TUMMY, MAKE SURE TO POST IT AND TAG ME SO I CAN SEE ALL OF YOUR CREATIONS!! #YUMMYTUMMYAARTHI AND @YUMMYTUMMYAARTHI ON INSTAGRAM!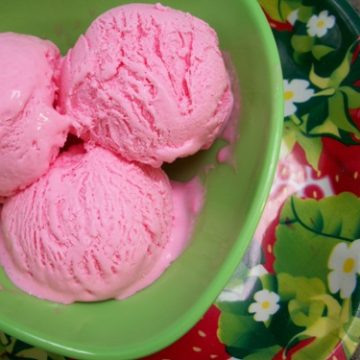 Rose Milk Ice Cream Recipe
Rose Milk Ice cream Recipe with step by step pictures. Creamy ice cream made with cream, rose milk extract and sugar.
Ingredients
Heavy Cream / Whipping Cream – 1 liter

I used Amul Fresh Cream

Sugar – 250 gms / 1 ¼ cup

Rose Milk Essence – 1 tblspn

Rose Water – 2 tblspn
Instructions
Take whipping cream and sugar in a large mixing bowl and start beating it with a electric blender.

When it starts to thicken. Add rose milk essence and rose water and whip again.

Whip till it gets thick and creamy.

Transfer it to a freezer container and freeze over night.

Scoop it and serve cold..

Enjoy summer with this cold flavourful icecream.
Rose Milk Ice cream recipe step by step picture
Take all your ingredients
Open up a packet of fresh cream in a large bowl
and start whipping them
add sugar slowly
and whip until they are thick
add in rose essence
and some rose water
and whip again
till it is creamy and thick
pour it in a freezer container
and freeze it
Once frozen scoop and serve
Enjoy guys..
Frequently Asked Questions
Where did rose milk originate from?
Putting aside my nostalgia for the 1990s, rose milk is a great vehicle for the falooda, which frequently appears to be an absurd preparation. It is thought to have its roots in Persia as the faloodeh and combines vermicelli noodles with a sorbet-like rose water and sugar mixture.
Which milk is best for ice cream?
Because milk's proteins are better than fat at retaining air than fat is, milk makes ice cream lighter (though not as good at holding it). By the way, this is the reason why skim milk foams up better in cappuccinos than whole milk.
Where does ice cream come from originally?

The earliest evidence of anything approaching ice cream being made was in China in the Tang period (A.D. 618-907). Buffalo, cows' and goats' milk was heated and allowed to ferment. This 'yoghurt' was then mixed with flour for thickening, camphor (yes camphor!) for flavour and 'refrigerated' before being served.