"Dinner Roll Recipe. If making your own bread intimidates you, fear not! This recipe for homemade dinner rolls or buttery milk rolls is super easy and very straight forward and in cool shapes"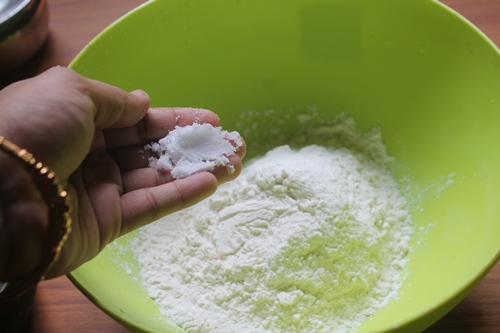 add salt
Version 2: Dinner Rolls (with Eggs)
Pin
Pin
Pictorial - Dinner Rolls with Eggs
1)Take dry yeast in a jug
Pin
2)Add little sugar
Pin
3)Add warm milk and set aside for 5 mins
Pin
4)Now the yeast is activated
Pin
5)Add little more sugar
Pin
6)Add egg and mix well
Pin
7)take flour in a bowl
Pin
8)Add salt
Pin
9)Add yeast mix
Pin
10)Add butter. the butter has to be soft.
Pin
11)now knead this really well so the dough gets soft and smooth
Pin
12)Keep kneading for 10 mins
Pin
13)The dough gets more elastic and soft
Pin
14)Like this
Pin
15)Set the dough aside for 2 hours till it doubles in size.
Pin
16)Once the dough is risen. punch out the air.
Pin
17)Now let's shape. Here i am showing different shapes of how the dough can be shaped.
How to Make Different Shapes in Dinner Rolls
Pin
Pin
Pin
Pin
Pin
Pin
Pin
Pin
Pin
Pin
Pin
18)Place it in a baking sheet and leave to rise for 1 hour or so
Pin
19)Once risen. Brush top with egg wash. Egg wash is nothing but just egg and milk mixed together
Pin
20)Brush all over the rolls
Pin
21)Bake till done
Pin
22)Remove from oven and brush top with butter
Pin
23)serve
Pin
Frequently Asked Questions.
Can i make bread and buns without oven?
Yes you can. check my recipe for "How to make buns without oven"
Why are my dinner rolls hard?
Here are some of the reasons rolls can come out hard and flat. if your yeast is not activated, then dough wont rise and the bread will be hard. Over baking can make your rolls hard. Also not letting the dough rise enough also makes it hard.
Why are dinner rolls called rolls?
A bread roll is a piece of bread, usually small and round and is usually a side dish. ... These were named depending on how the dough was made and how the roll was cooked.
Can you over knead dough?
If you think you've over-kneaded the dough, try letting it rise a little longer before shaping it.
What happens if I don't knead my dough enough?
If you don't knead your dough enough by hand or if you don't allow it enough time in your mixer, the dough will lack strength. Once baked, an under-kneaded bread loaf will be flat and dense in texture
Why is my bread so heavy and dense?
you did not knead it or leave it to prove for long enough or you could have killed the yeast by leaving the dough to rise in a place that was too hot.
Can you let bread rise too long?
Letting the dough rise for too long makes the structure of the bread weak, so it can't support itself.
What can I eat with dinner rolls?
You can serve it with just soups. You can even serve it with sabzi, kheema, bhurji, omelette or any curries to soak the rolls in.
Garlic Soup Sticks
Masala Buns
Butter Buns
Pav Buns
Pizza Bites
Submarine Buns
If you have any questions not covered in this post and if you need help, leave me a comment or mail me @[email protected] and I'll help as soon as I can.
Follow me on Instagram, Facebook,Pinterest ,Youtube and Twitter for more Yummy Tummy inspiration.
IF YOU MAKE THIS RECIPE OR ANYTHING FROM YUMMY TUMMY, MAKE SURE TO POST IT AND TAG ME SO I CAN SEE ALL OF YOUR CREATIONS!! #YUMMYTUMMYAARTHI AND @YUMMYTUMMYAARTHI ON INSTAGRAM!