"Vietnamese Summer Rolls with Peanut Dipping Sauce. Refreshing and colourful rice paper rolls which makes any party special."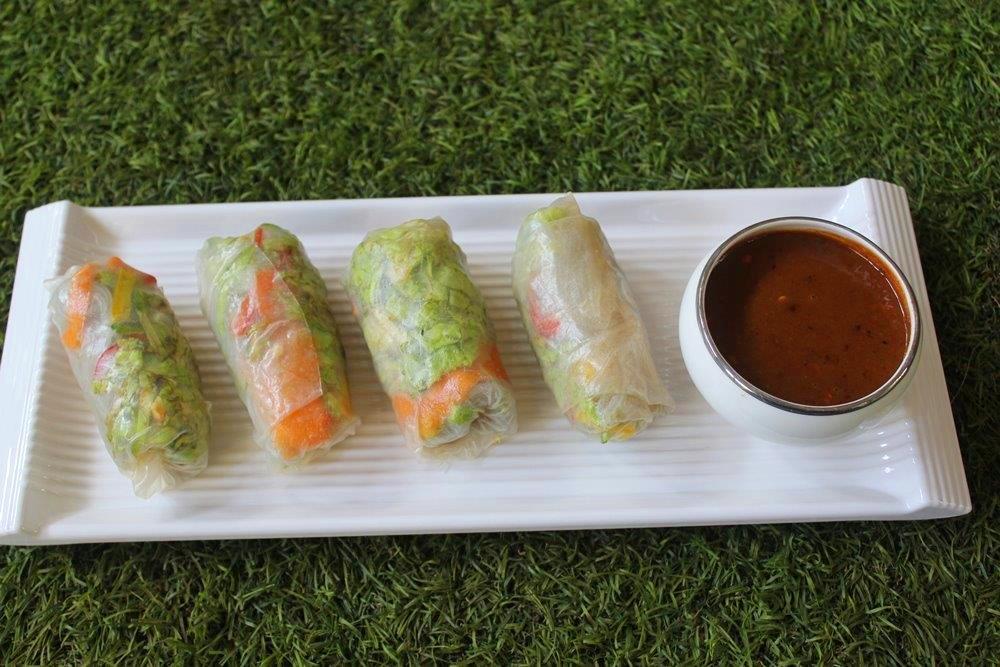 Pin
I wanted to make this recipe for quite sometime now. Few months back I bought a pack of rice paper from amazon to make this summer rolls. But i started using them for whole lot of other recipes except this one.
Did you know that you could fry those rice papers in hot oil to make some crunchy crackers. Later sprinkle them with some chilli powder and salt for a crunchy late night snack. Try this if you haven't already.
Making korean rice cakes (garaeddeok) using these rice papers have become a recent trend. But my actual plan was to use these to make summer rolls. Finally got into action today and made the most delicious and healthy summer rolls.
I used the things which I had in my fridge. Last night leftover salad to fill these rolls. I sliced them thinly and used them in this.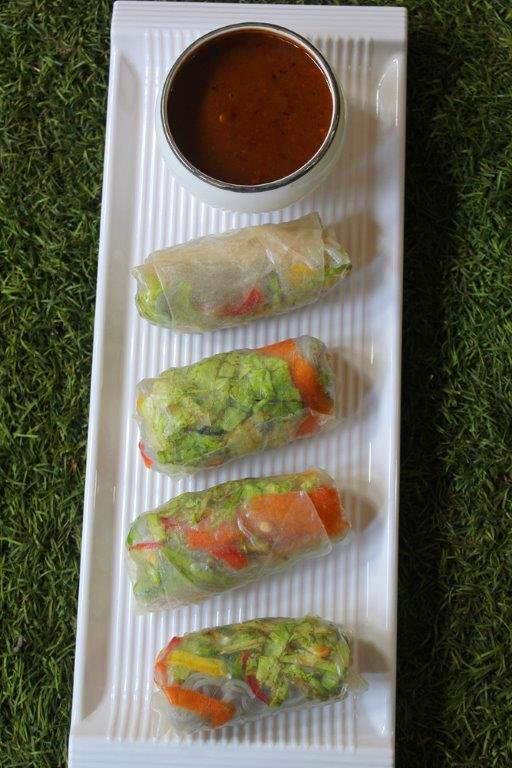 Pin
Summer Rolls Ingredients
These spring rolls are easy, colorful and fun to make. These filling ingredients depends upon your taste. You can customise it as per your liking and taste. Here are few options which you can use.
Thin rice noodles (any variety)
cabbage
cucumber
cooked prawns
spinach
green onions
sliced jalapenos
fried tofu
cooked chicken
You'll need basic pantry ingredients to make the peanut sauce: peanuts, vinegar, soy sauce, sugar, honey or maple syrup, fresh garlic and ginger.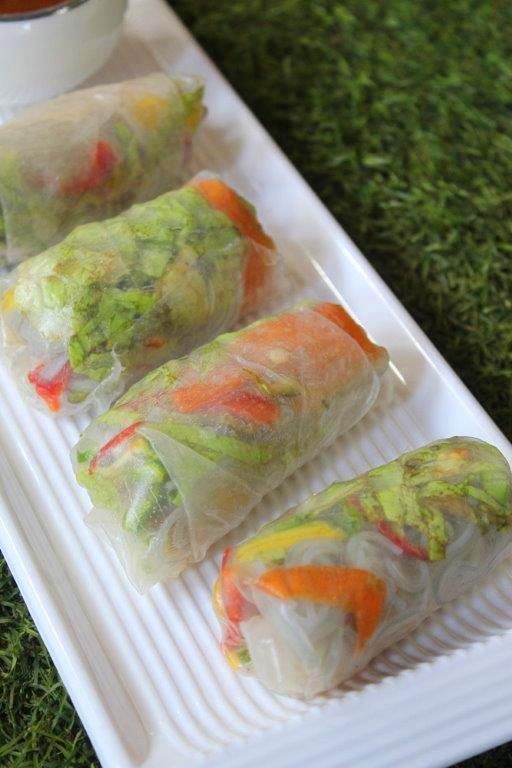 Pin
How to Wrap a Fresh Spring Roll Perfectly
Fresh spring rolls, Summer rolls or Rice paper rolls is so much fun to make. But it can seem intimidating. Your first spring roll will not be perfect, but don't lose confident. As you keep on practicing you will get the hang of it. Here are few tips for perfect summer rolls.
1)Use a kitchen towel:
Start by spreading a kitchen towel or a wet napkin on your work surface. This way your rice paper wont stick to your plates or work surface and it is pretty easy to work with.
2)Go easy on the dipping:
Take a large shallow bowl. Fill it with room temperature water. Never over dip the rice paper in water. Just 3 seconds is more than enough. Once you remove the rice paper from water, place it on the damp kitchen towel.
3)Pile up your ingredients:
The summer rolls are quite transparent. So you can pile your ingredients accordingly. If you are using cooked prawns, lay them in the bottom so once the spring rolls are rolled it will look pretty.
4)Roll them tight but gently:
Once you have piled your ingredients. fold them from both the sides so it is secured. Then roll the carefully but tight. The rice paper will stick on to themselves.
5)Serve them right:
These summer rolls are little sticky. So Arrange them in a greased plate. You might need to oil the serving plate so it doesn't stick to the base of the plate as it rest.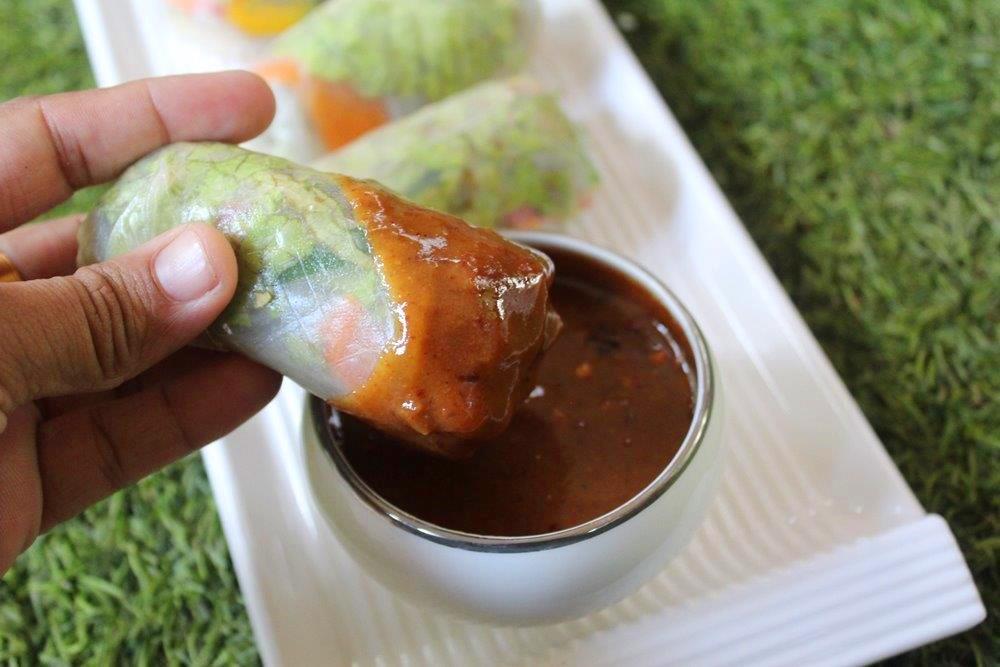 Pin
This peanut dipping sauce is so good, you can serve it with literally anything and everything. I would love to dip my fried spring rolls, momos, chips or anything in this. But it goes well with grilled chicken and vegetables.
Try this Spicy Grilled Chicken and Chicken Satay
If you loved this fresh summer rolls, then check my other summer recipes too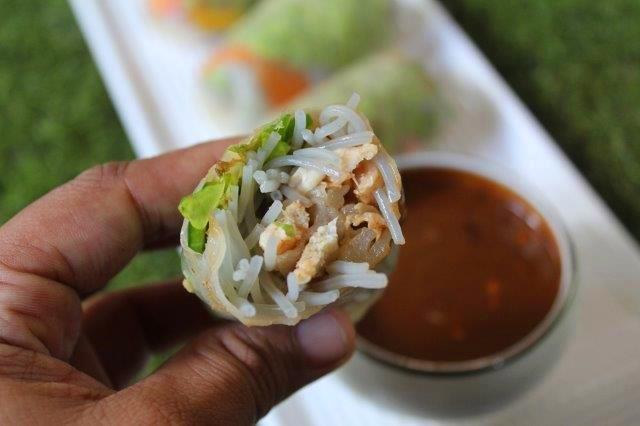 PinPin
If you have any questions not covered in this post and if you need help, leave me a comment or mail me @[email protected] and I'll help as soon as I can.
Follow me on Instagram, Facebook, Pinterest ,Youtube and Twitter for more Yummy Tummy inspiration.
IF YOU MAKE THIS RECIPE OR ANYTHING FROM YUMMY TUMMY, MAKE SURE TO POST IT AND TAG ME SO I CAN SEE ALL OF YOUR CREATIONS!! #YUMMYTUMMYAARTHI AND @YUMMYTUMMYAARTHI ON INSTAGRAM!
Delicious crispy noodles spring rolls recipe which is super easy to make and taste absolutely yummy. These spring rolls are made from scratch and taste amazing with any dipping sauce of your choice.
Check out this recipe
Vietnamese Summer Rolls with Peanut Dipping Sauce
Vietnamese Summer Rolls made with fresh ingredients which makes a great dish for parties or summer barbeque.
Ingredients  
For Summer Rolls
10

sheets

Rice paper

3

cups

Lettuce

1

large

Carrot

1

large

Bell Pepper

2

large

Chicken Breast

100

grams

Rice Vermicelli

1

tsp

Soy Sauce
For Peanut Dipping Sauce
½

cup

Raw Peanuts

1

tbsp

Olive Oil

2

tbsp

Garlic

1

tbsp

Ginger

1

cup

Water

1

tbsp

Soy Sauce

2

tbsp

Red Chilli Sauce

2

tbsp

Jaggery

1

tsp

Vinegar

1

tsp

Red Chilli Flakes
Instructions 
Preparation (Mise en place)
Take chicken breast in a sauce pan. Cover them with water, season with salt. Bring this to a boil. Lower the flame and cook till chicken is completely cooked. It will take around 10 mins or so. Remove the chicken and let it rest for 10 mins. Now shred the chicken into thin shreds. Add little soy sauce to the chicken and mix well. So the chicken has some flavour. Set aside till needed.

Take rice vermicelli noodles in a bowl. Cover with boiling water. Set aside for 5 to 10 mins until noodles get soft. Drain and take it in a bowl. Use a pair of scissor to cut the noodles into smaller pieces.

Shred lettuce thinly. Slice them into thin shreds.

Use a peeler to prepare carrot into thin shavings.

Slice bell peppers in thin strips. You can keep them in long strips or cut them in half and make them shorter.

Finely mince garlic and ginger for the dipping sauce.

Take a large shallow bowl and fill with water for dipping the rice paper.

Spread a kitchen towel on work surface for summer rolls.
Make Dipping Sauce
Take a frying pan. Add raw peanuts and roast them for 5 mins on medium heat till it is toasted. Take it in a blender and make it into a fine powder.

Heat oil in a frying pan. Add in minced ginger and garlic and fry for 30 seconds or so.

Add in peanut powder and water. Mix well so it gets creamy.

Add in soy sauce, red chilli sauce, vinegar and sugar. Mix and simmer this for 2 mins or so.

Add in red chilli flakes and mix well.

Dipping sauce is done.
Make Summer Rolls
Take rice paper, dip it in the water just for 3 seconds. Remove it and place it on kitchen towel.

Now pile the rice paper with the ingredients to your liking in the centre.

Once the ingredients are placed. Fold from both the sides. The roll it from one end little tighter. The rolls will stick onto itself.

Once rolled place the summer rolls in a greased plate till serving.
Serving
Keep the rice paper rolls covered with damp cloth till serving.

Serve summer rolls with peanut dipping sauce.
Notes
Notes for Making Summer Rolls
Don't dip the rice paper in water for too long, else it may get too soft and tear.
Use a kitchen towel to place the rice paper. So it absorbs the excess moisture.
Don't pile the rice paper too much with filling else it may look bulky and break apart.
When you are making the sauce, make it little runny. Because as it cools the sauce thickens considerably.
Use whatever vegetables or filling you prefer.
Storage Suggestions
Summer rolls are best served fresh. If you are planning to store it for longer, cover it with damp towel until serving.
Summer rolls can be stored in fridge, the rice paper will harden when stored.
You can prepare the vegetables, make the sauce, cook the chicken, cook the noodles a day in advance. But rolling has to be done just before serving.
Serving Suggestions
Serve summer rolls cold or at room temperature as soon as it is done. Enjoy with dipping sauce.
Nutrition Facts
Vietnamese Summer Rolls with Peanut Dipping Sauce
Amount Per Serving (1 servings)
Calories 211
Calories from Fat 63
% Daily Value*
Fat 7g11%
Cholesterol 30mg10%
Sodium 320mg14%
Potassium 373mg11%
Carbohydrates 24g8%
Protein 14g28%
Vitamin A 2374IU47%
Vitamin C 23mg28%
Calcium 36mg4%
Iron 2mg11%
* Percent Daily Values are based on a 2000 calorie diet.
Pictorial:
1)Start by making the dipping sauce. This peanut dipping sauce is one of my favourite. I can literally have it with anything and everything. Some recipes calls for peanut butter. But I like roasting my own peanuts and using that. If you have roasted peanuts you can skip this step.
Take a small frying pan. Add raw peanut and roast them on low heat till the skin darken and the peanuts gets toasty. If you don't feel like roasting it in a pan. You can stick the peanuts in 180 degree C oven for 10 mins.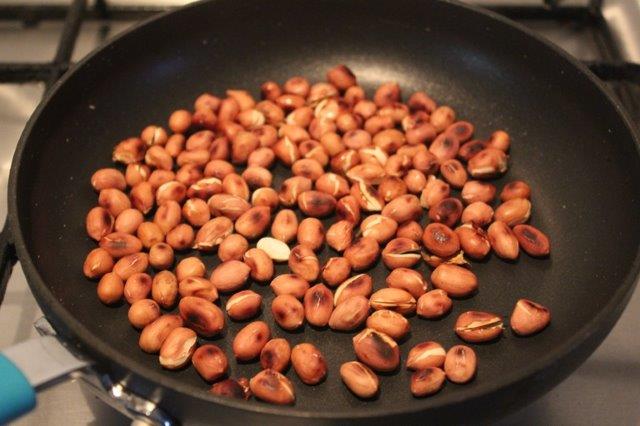 Pin
2)Once the roasted peanuts is cooled. Take it in a blender and make it into a fine powder. If you keep blending this, you will end up making peanut butter. If that is what you want. Then here is the recipe for homemade peanut butter.
Even if the peanut clumps and gets pasty it is not an issue you can still use it.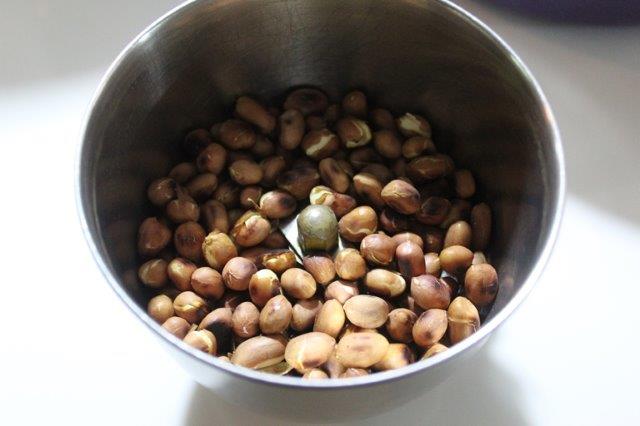 Pin
3)You can see the peanuts are powdered. You will get a very nutty aroma at this moment. You can store this roasted peanut powder in a container in fridge. I like to add this in my smoothie for a extra protein.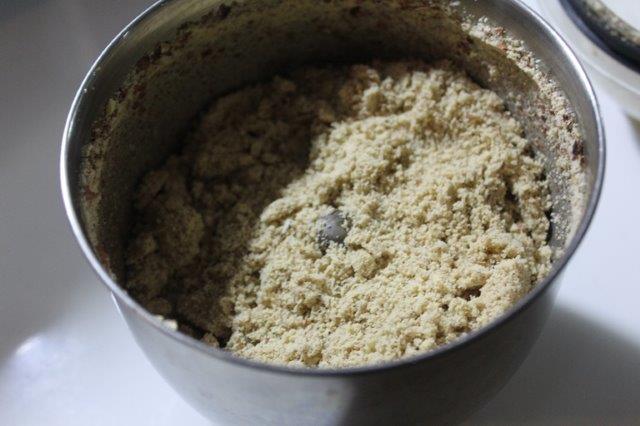 Pin
4)Now lets make the sauce. This sauce is easy from this point. You can literally make this in 5 mins.
Heat oil in a small frying pan. I used normal cooking oil. You can use sesame oil or olive oil too.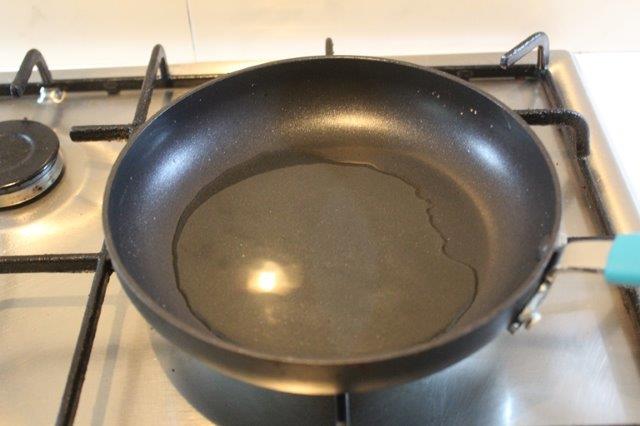 Pin
5)Add in minced garlic and ginger. I used 1 tbsp of ginger and 2 tbsp of garlic. I like to chop them very fine. Some recipe called from ground ginger and garlic but I like to keep it little chunky.
Saute the ginger, garlic on very low flame for 30 seconds to 45 seconds till it is fragrant.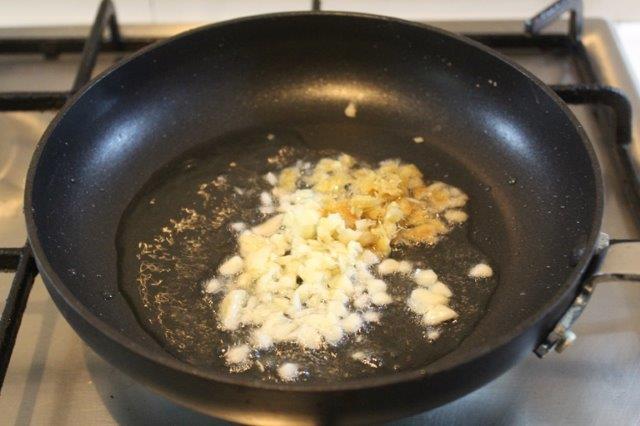 Pin
6)Add in roasted peanut powder. If you have peanut butter on hand, you can skip the entire step of roasting and grinding the peanuts. Add ½ cup of smooth or chunky peanut butter to this.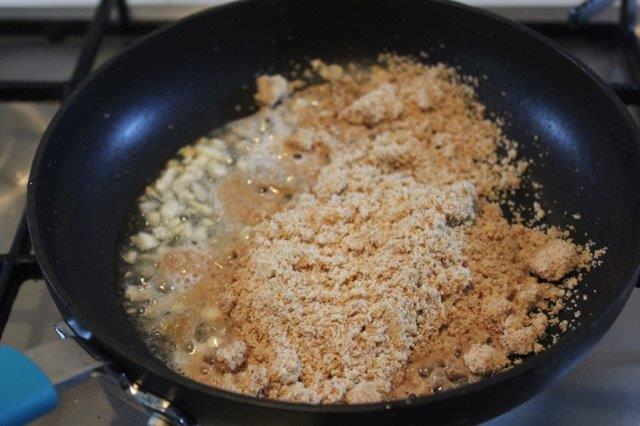 Pin
7)Add in water. Some recipe calls for coconut milk but I like to use water for lighter version of this sauce. I want the flavour of peanuts, ginger and garlic to be prominent in this recipe. But you can add coconut milk if you want.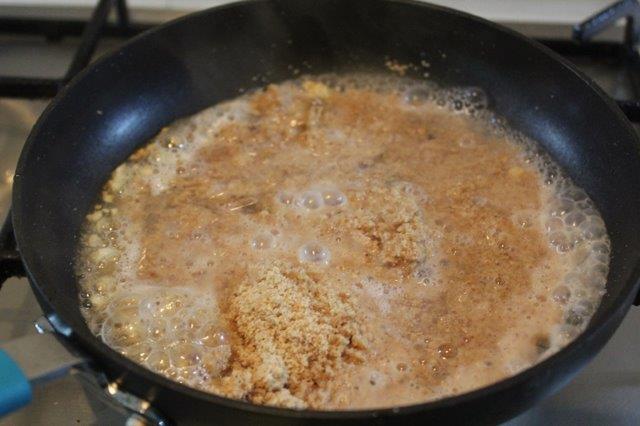 Pin
8)Mix the peanut powder into the water till it gets smooth and creamy. You can check and add more water if needed. The sauce will thicken a lot as it cools so adjust the consistency accordingly.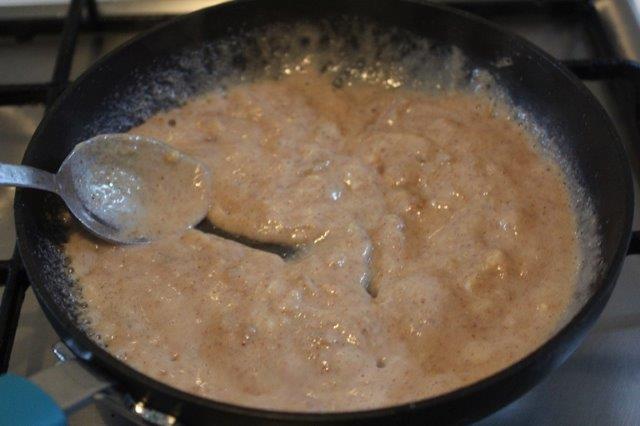 Pin
9)Add in soy sauce. I don't usually measure soy sauce. I adjust as I keep on tasting, because each brand of soy sauce has different salt level. So add accordingly. Usually 1 tbsp of soy sauce would do the trick.
If you only have dark soy sauce, add little at a time because it will darken the sauce too much.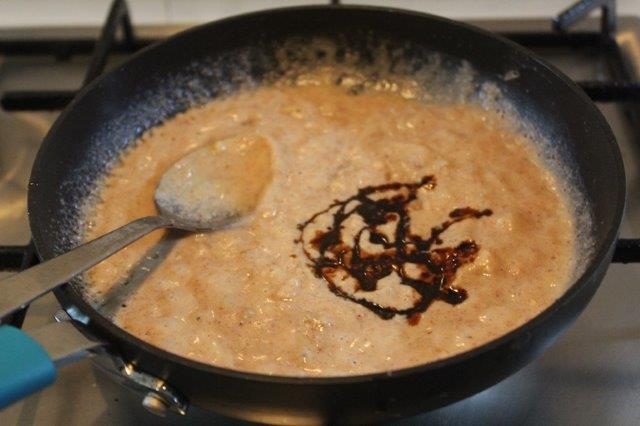 Pin
10)This is optional. But I like to add some red chilli sauce for some spicy kick. You could skip it completely. But I strongly suggest you to add some.
You could use any chilli sauce as you like. Sriracha, Sambal oelek or any sauce as you prefer.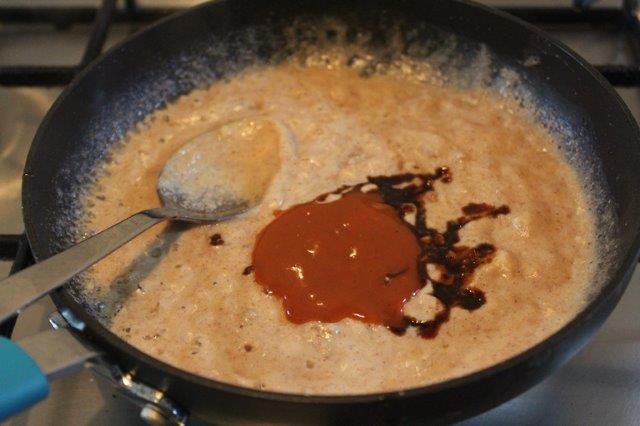 Pin
11)Add in brown sugar. If you don't have brown sugar on hand. You can add white sugar, honey or maple syrup too.
You need some kind of sweetener of your choice.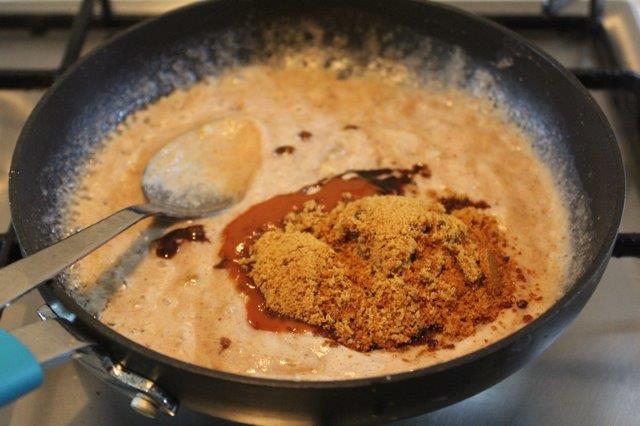 Pin
11)Mix this whole thing really well. Add more water if the sauce thickens too much. I would suggest you to keep a jug of hot water on hand to loosen the sauce accordingly.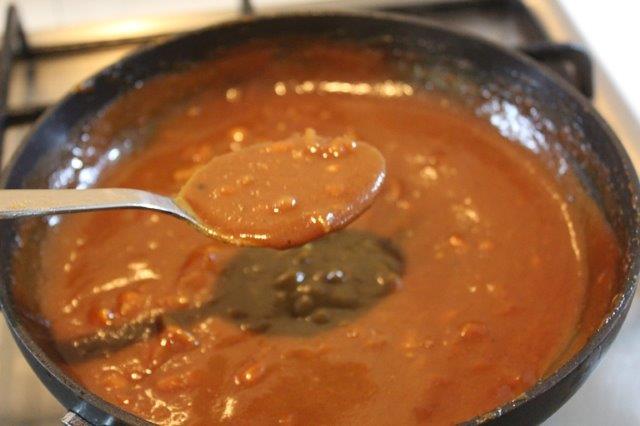 Pin
12)I literally forgot to add vinegar at this point. I thought the red chilli sauce might add the tang because most of the store bought red chilli sauce has some vinegar added to it. But this sauce needed some extra vinegar.
You can use normal vinegar, white vinegar. But if you have rice vinegar add some of that.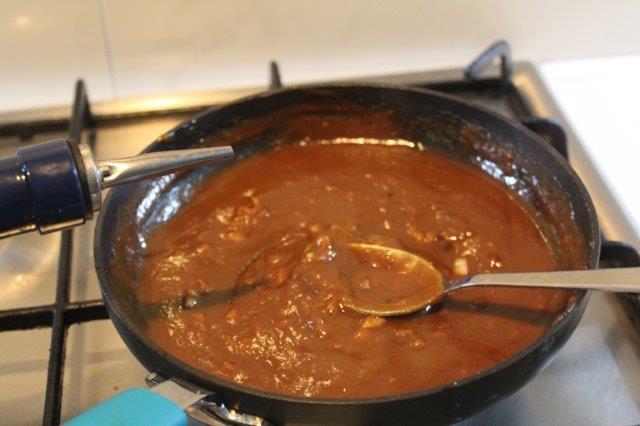 Pin
13)Add in some red chilli flakes. this is completely optional. The red chilli sauce will give the spiciness. But if you want some extra kick add some red chilli flakes.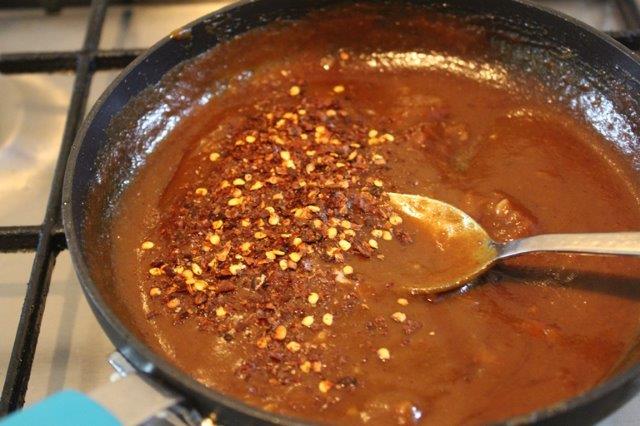 Pin
14)Mix all those up. Thats it, your peanut dipping sauce is done. I am telling you guys this peanut sauce is a must try recipe. I wanted to put this in a bottle and sell it. It is too good.
You can store this in a jar in fridge for upto 10 days, if it last that long.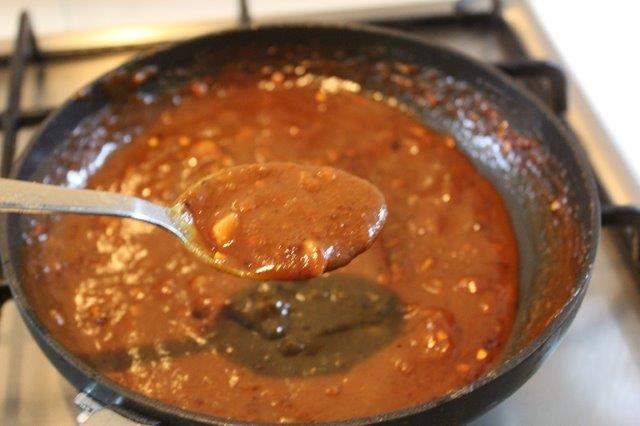 Pin
15)Now let's move on to the summer rolls. I almost prepared all the ingredients. You need some rice paper. I used real thai brand rice paper which I liked the most.
Lettuce, carrots, green bell pepper, red pepper and yellow pepper which I have sliced very thinly.Cook chicken breast in salted water till cooked. Cooled it and shredded it roughly.
The noodles which you see here is korean noodles which is made with sweet potato. Usually it is called as glass noodles. The rice noodles which you use to make japchae. Check out my veg japchae, glass noodles egg dumplings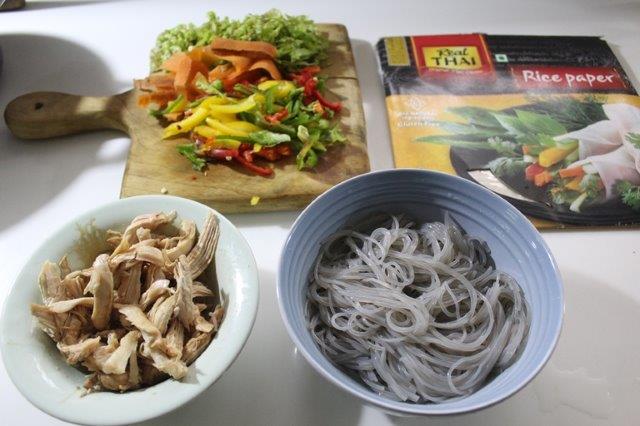 Pin
16)I used chicken breast here. I cooked it in water with some salt alone. I cooled it completely and shredded it.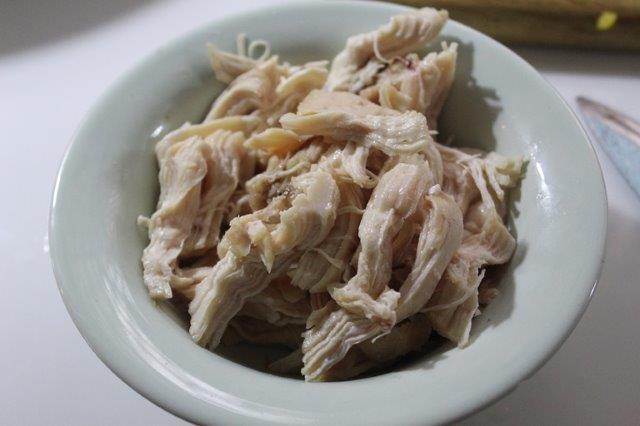 Pin
17)I drizzled the cooked chicken with some soy sauce for flavour. Because boiled chicken has no flavour on its own. You can add some vinegar, salt, pepper if you want too. It is totally upto you.
I used chicken because I want some kind of protein in the summer rolls. You could use cooked prawns instead of chicken.
If you are vegetarian you can use fried tofu, mushrooms too.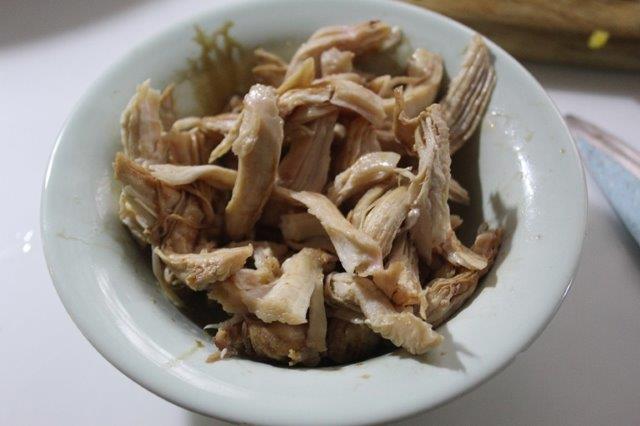 Pin
18)These are the colourful board of vegetables. The filling options for summer rolls are endless. You could use cucumbers, cabbage, cooked broccoli, mushrooms, corn, even beans too.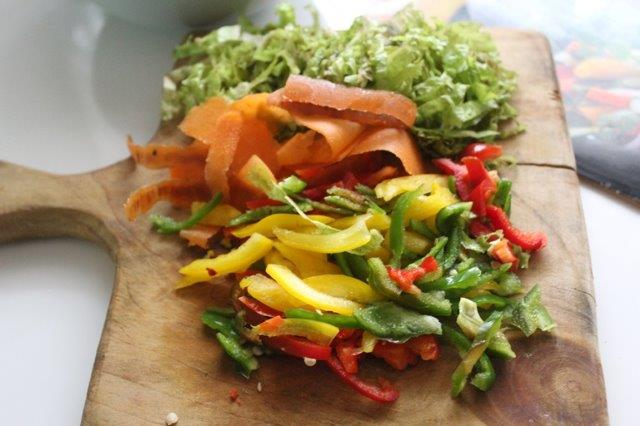 Pin
19)This is the glass noodles which i was talking about. Usually the noodles comes in a pack of 4 i think. it will be neatly bundled like this. I used two bundles for this recipe.
Take the noodles in a ceramic bowl. I used this variety of noodles. You can use plain white noodles too. I like this sweet potato noodles because it is more chewy.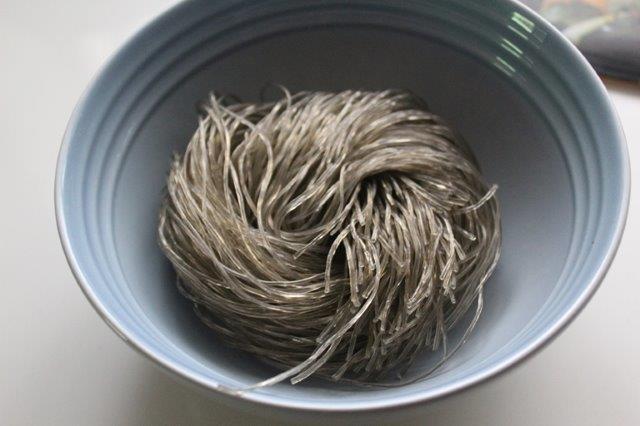 Pin
20) You don't need to boil the noodles. Just soaking it in boiling water for 5 to 10 mins is enough.
I covered the noodles with boiling hot water and left it for 10 mins or so till the noodles soften. Later drain it and set aside. You can chop the noodles using a scissors till it is little short.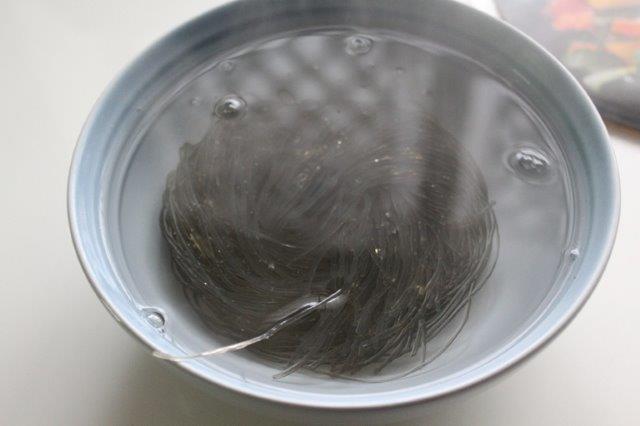 Pin
21)Take a large shallow bowl. Fill it with room temperature water. I really love this bowl. It is pretty.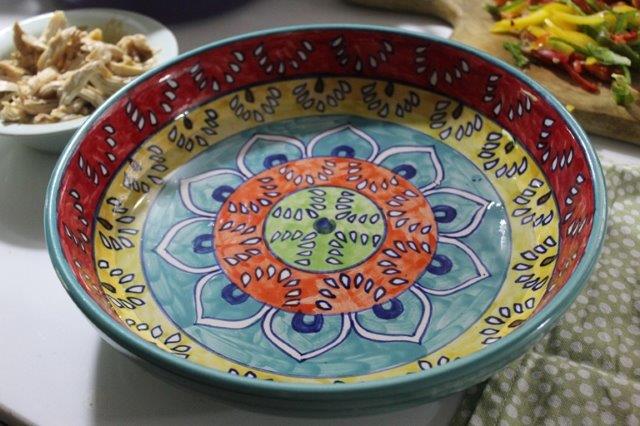 Pin
22)Now take your rice paper. This is how it looks. The dried form looks crisp and cardboard like. Once you dip it in water it becomes softer.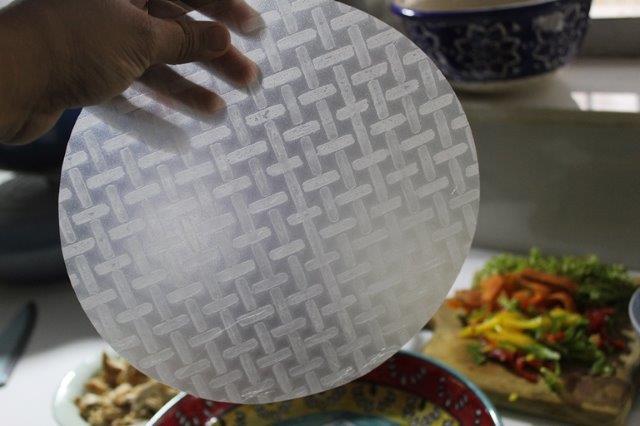 Pin
23)Dip the rice paper in water. Don't leave it too long in water. This is the main step.
Soak in water just for 2 to 3 seconds. Thats it. If you dip it too long then it is ruined.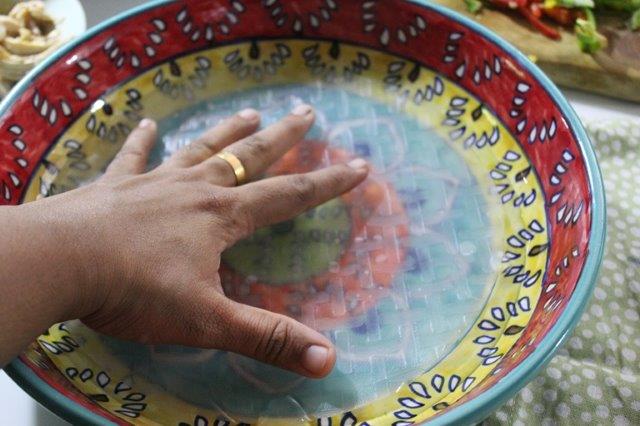 Pin
24)Remove it immediately. As you remove it from water, you will see that the paper is still hard. But trust me, as it sits it becomes more softer and pliable.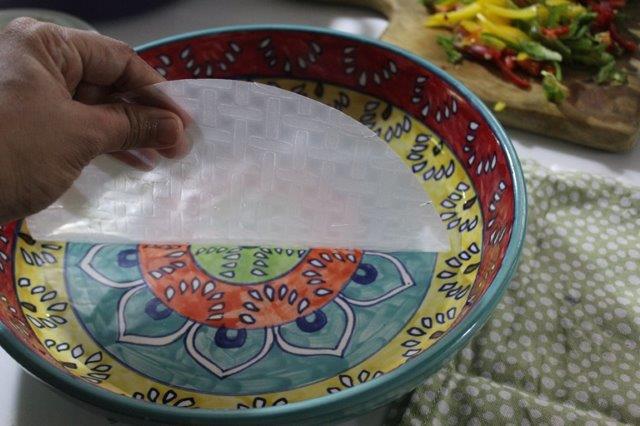 Pin
25)Make sure you have a clean kitchen towel lying in front of you. Place the rice paper over the kitchen towel.
The purpose of kitchen towel is to absorb the excess water from the rice paper and it will make the rice paper softer and easy to roll later on.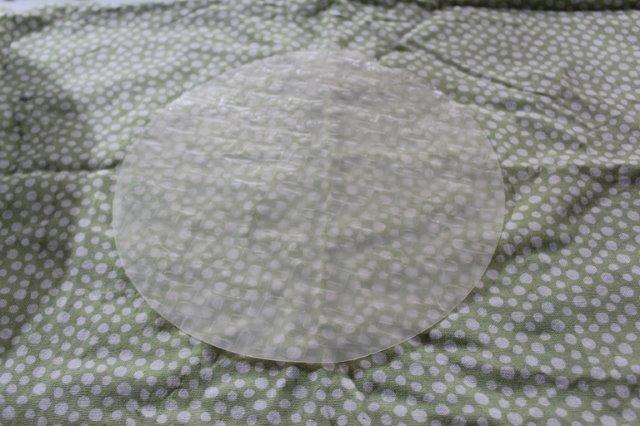 Pin
26)Now lets start assembling. I like to place my lettuce in the base for colour green colour. Instead of lettuce you can use cabbage too. Make sure you slice them very thinly.
If you have cooked prawns, I would recommend you to put it in the base, because it will look pretty as you roll them.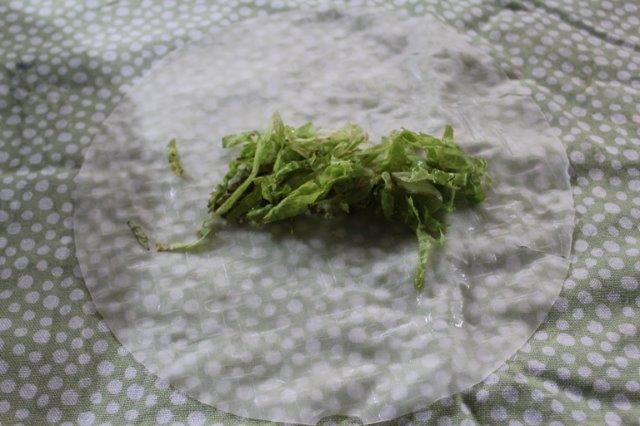 Pin
27)Spread some carrot. I had shaved carrots from last night salad. You can cut them in julienne.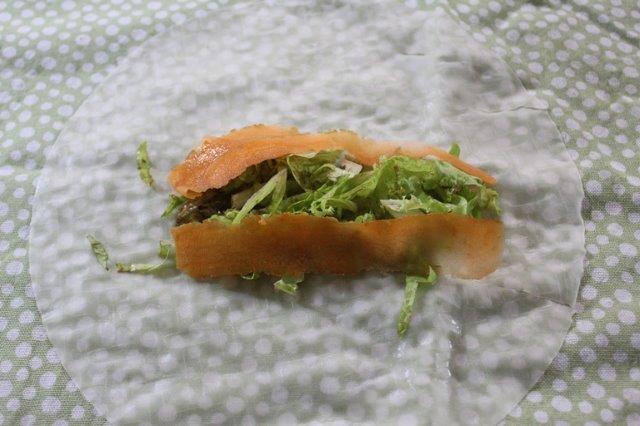 Pin
28)Now place your bell peppers. The colours are important in this recipe. Make sure you use different colour vegetables for more appealing look.
You can use come cut cucumber too.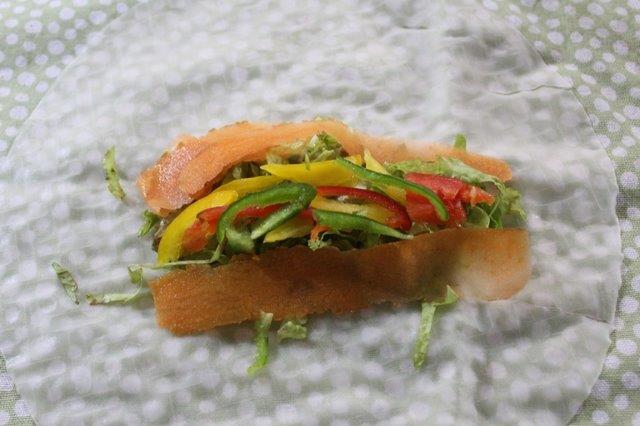 Pin
29)Now top with noodles. I just added the drained noodles. You can season your noodles lightly with soy sauce and toasted sesame oil if you want. It adds more flavour.
You can see the glass noodles is little grey in colour. If you use plain rice vermicelli it will be more white in colour.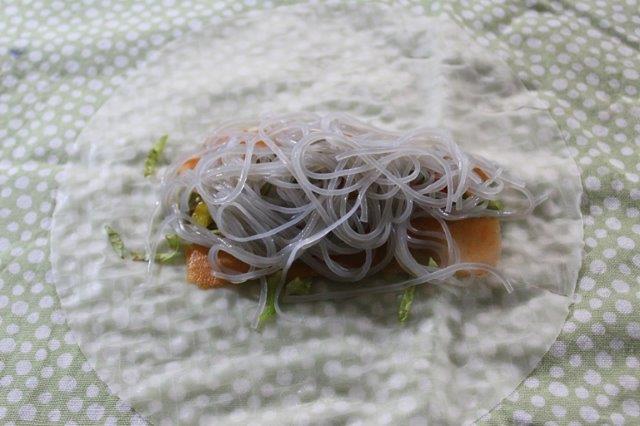 Pin
30)Top with cooked chicken. You can use fried tofu cubes if you are vegetarian. Or just skip the chicken part in this recipe.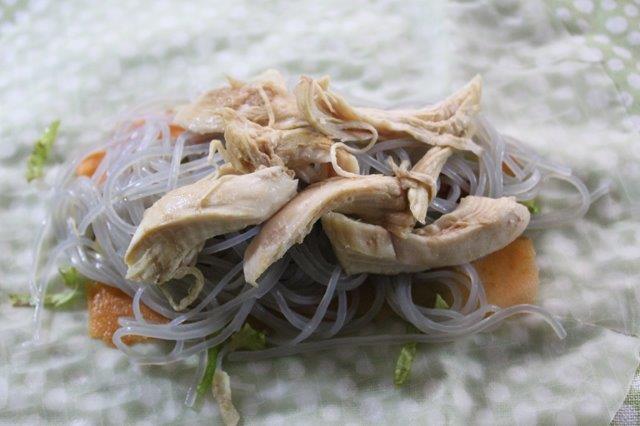 Pin
31)Now comes the rolling part. This step is important.
First you fold from both the sides. This seals the filling. Then you start rolling from one end. Roll it tight and firm. It is very easy to do.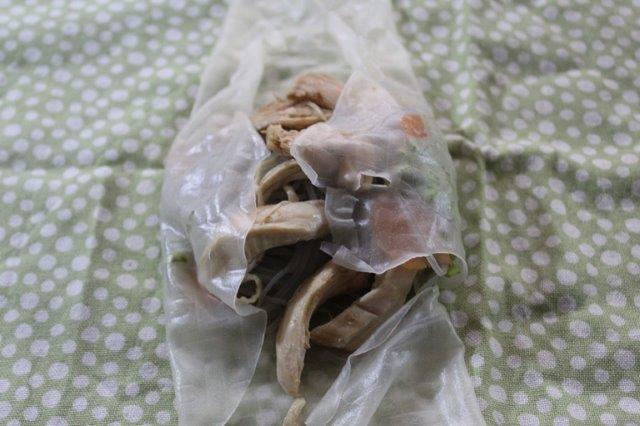 Pin
32)See it is neatly rolled. Look at those pretty colours. Thats it. Your summer rolls are ready. You can place them in a greased plate so it doesn't stick to the plate. Also make sure you keep them covered so it doesn't dry up.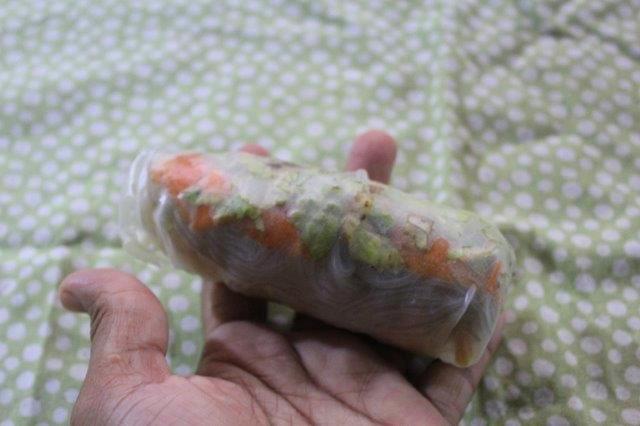 Pin
33)Serve the summer rolls with peanut dipping sauce.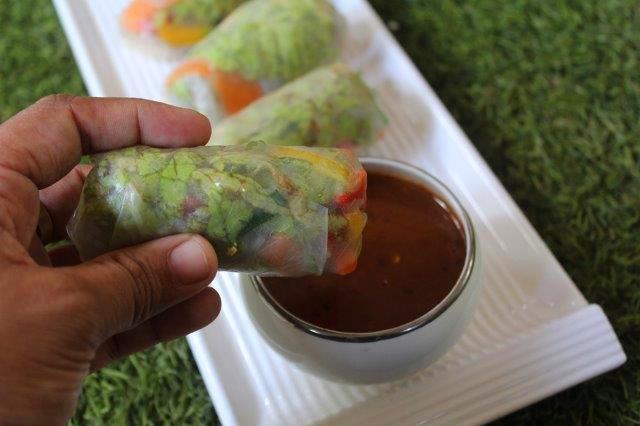 Pin
Yummy!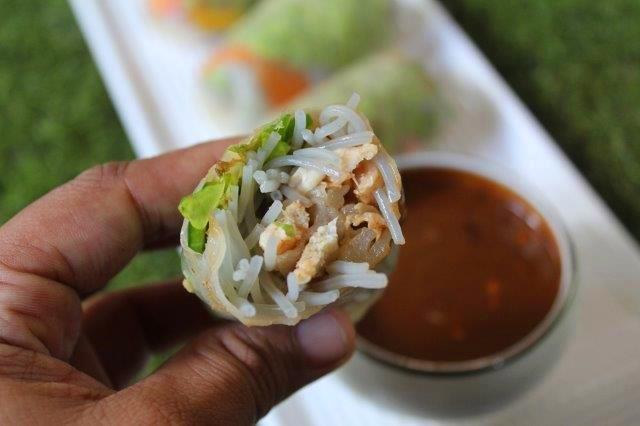 PinPin