A Exhibition was held in my place. Myself and mom went for a visit there. There we saw a stall which sold a yummy grape juice. That was the first time i tasted it and i fell in love with it instantly. It is made of grapes and there were the pulp of grapes which was left cold. It was so good. We asked them for the recipe, and this is what they replied. " Madam, it is so easy to make, you just need a machine, just put all the grapes in and the machine will do the rest" I was so curious and asked them " where is that machine, do you sell it and how much does it cost". They replied in a very cool manner " It is just 5 lakh". Me and my mom was staring at each other.
Similar Recipes,
Grape Juice
Apple Juice
Mango Juice
Amla Juice
Muskmelon Juice

Back home, i told mom that there must be a cheap way of doing this and i will find it for sure. The same day i did a lot of search and found this recipe in youtube. The trick in getting this pulpy grape juice is to cook seedless whole black grapes in pressure cooker. Immediately i asked hubby to get me whole seedless grapes. But for my luck they were out of season. But i stored the recipe in my mind and was thinking to try it when i see those grapes in the market.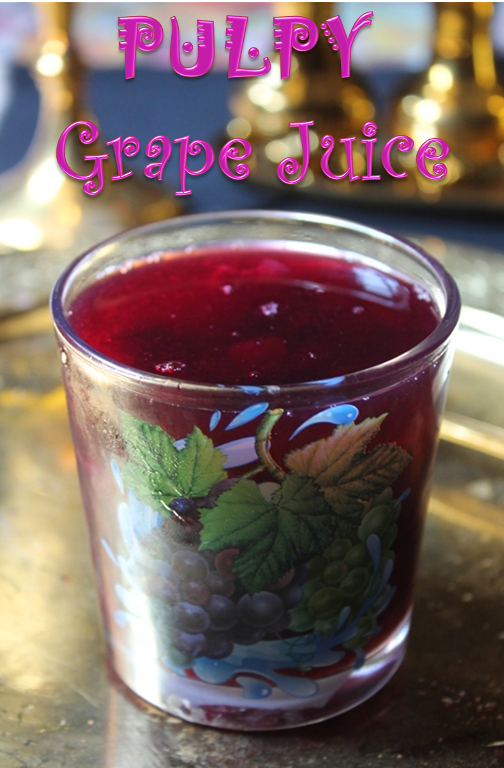 Few weeks back i was surprised to see those grapes in market and immediately picked a bunch of them. I tried the recipe and was surprised and excited seeing the result. Because it turned out exactly like them.
Pressure cooking the grapes made the skins to cook down and become transparent. It almost felt like the skin from the grapes just disappeared. You will be enjoying each mouthful of pulpy grapes for sure..I hope you will give this a try and let me know how it turns out for you.
Preparation Time : 10 mins
Cooking Time : 30 to 40 mins


Ingredients:
Seedless Black Grapes – 500 grams
Sugar – 1 cup
Lemon Juice – 1 to 2 tblspn or to taste
Rose Essence – few drops
Water as needed
Method:
Wash grapes really well.
Take it in a bowl which fits in a cooker, add sugar and mix well.
Take a large pressure cooker, fill the bottom with some water, place the bowl of grapes in and cover the cooker. Pressure cook this for 5 to 6 whistle. Simmer the flame and cook for 10 mins. Turn off the heat and let the steam go all by itself.
Now open the cooker, remove the bowl out carefully. Allow the mix to cool down.
Now add in lemon juice, rose essence and some more water. Mix well.
Chill well.
Serve cold.
Notes:
1)Try to use seedless grapes. I think you can use grapes with seeds as well. But you have to do one more step of mashing the cooked grapes and straining the seeds as well. So seedless grapes is the best option.
2)If you see the grapes is not cooked after the method i have mentioned, Put the bowl back inside the cooker and you can cook it longer.
3)This can be stored in the fridge for a week or even more than that.
4)Just add 2 to 3 drops of rose essence or it will over power the juice.


Pictorial: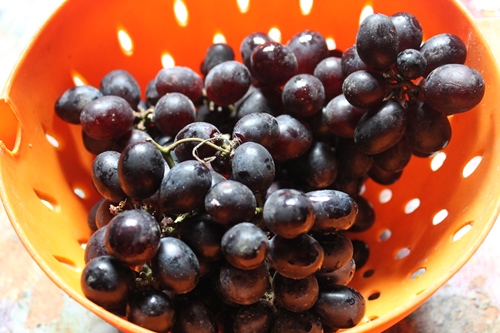 You need seedless black grapes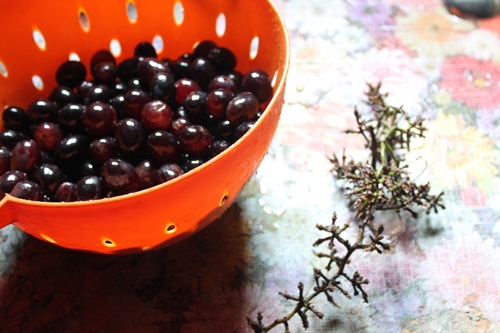 pick them off the stalks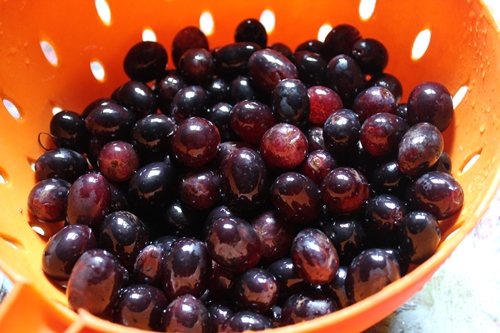 Take them in a colander and rinse them really well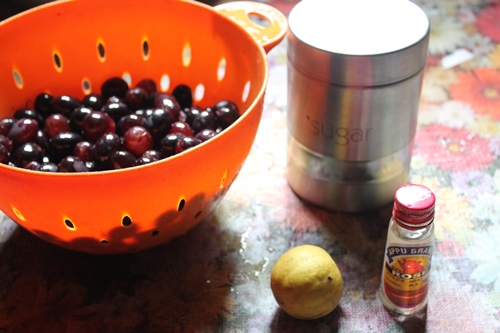 Now take your other stuffs..You need sugar, lemon and rose essence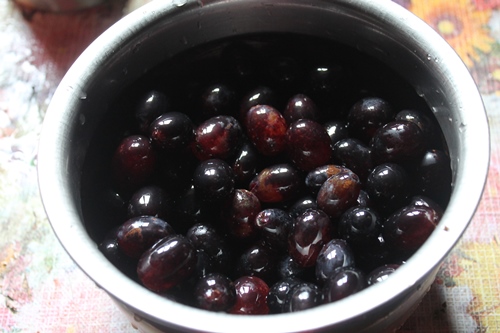 first take the grapes in steel bowl which can fit into a pressure cooker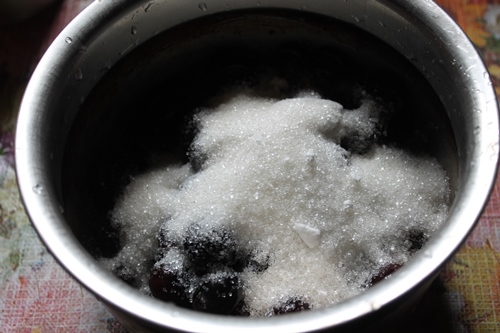 add some sugar to it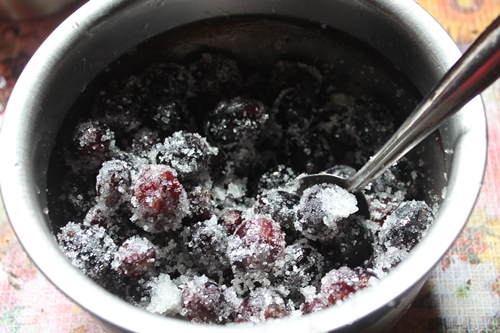 mix that well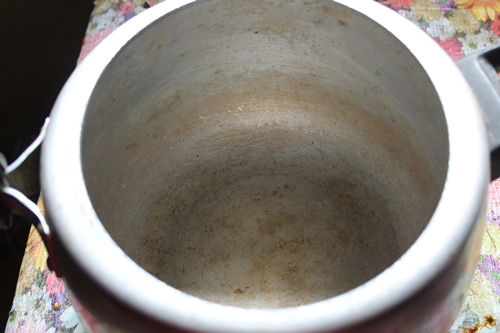 now take a large pressure cooker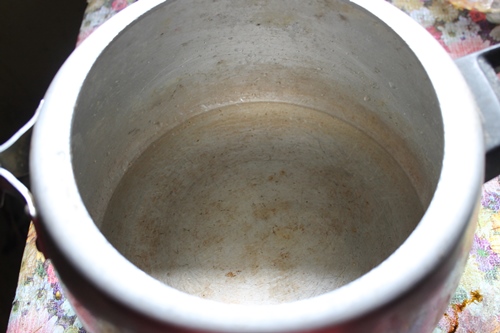 fill the bottom with little water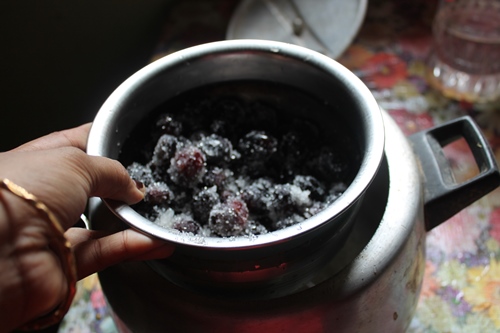 place the bowl of grapes into the cooker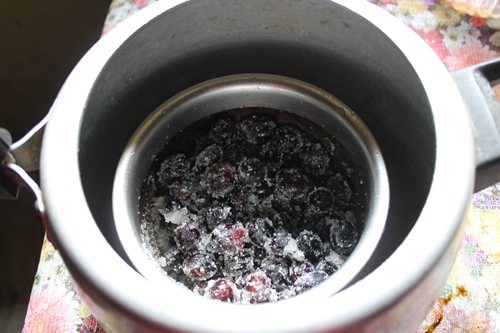 once it is inside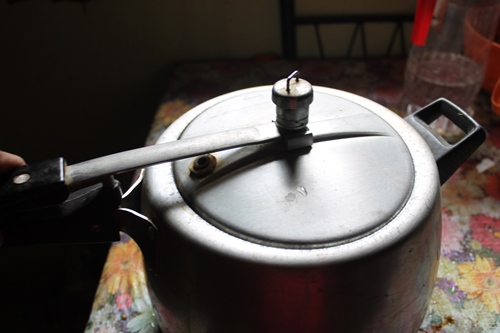 cover the cooker and cook
Pressure as mentioned in the recipe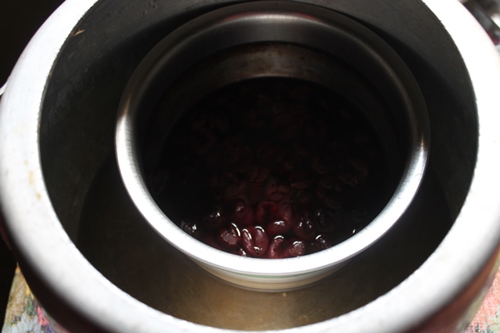 Once the pressure is released open the cooker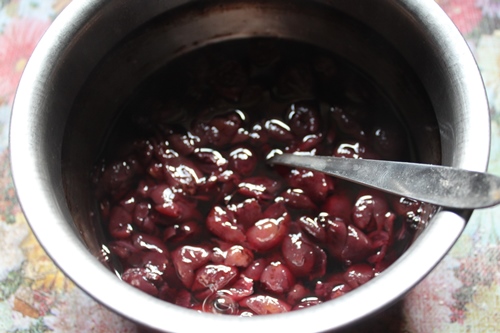 slowly remove the bowl out and let it chill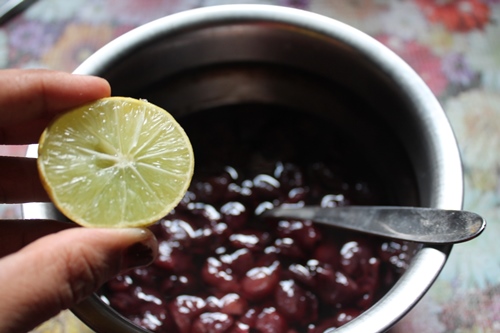 just before serving, squeeze in lemon juices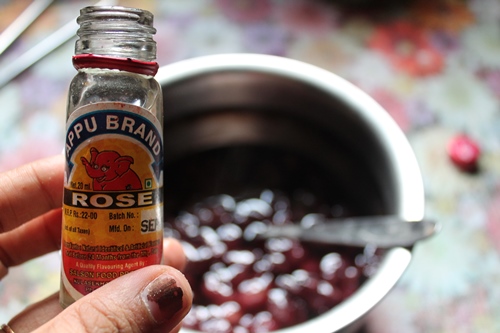 and few drops of rose essence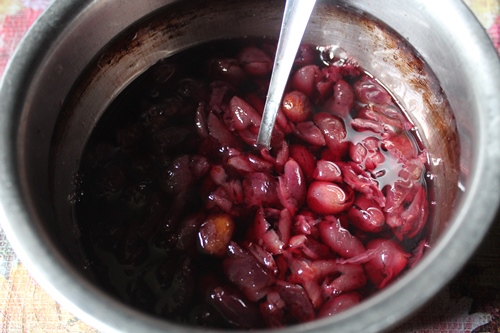 you can dilute it with some water as well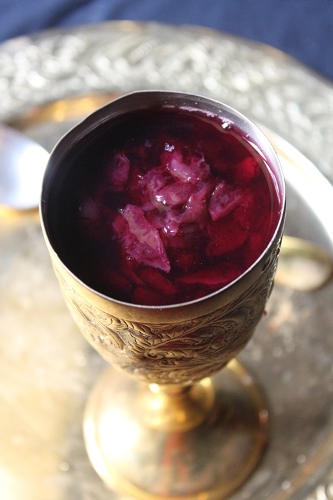 Serve cold