Chicken keema dosa with step by step pictures. Crispy dosa stuffed with spicy chicken keema filling.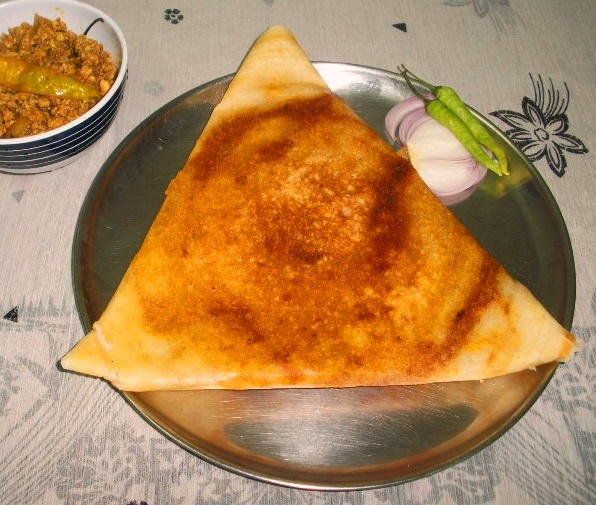 One of my collegue used to tell me about this dosa which he had in one of the local street shop. The way he explained made me to do it so badly. Infact I got so many ideas of my recipes from him and my friends.  Some of the recipes are Popcorn Chicken, Poricha Parota and many more. My wish is "what people like to eat all day have to in my blog".  He also told me so many recipes too which I am yet to make like bread omlette, ghee idli sambar, set dosai and vada curry, kulambu omlette and many more. Most of the recipes are street food favour recipes..You know right street foods are the best ones..
About this Recipe
Keema is a traditional meat dish that is popular throughout the Indian subcontinent. The term Keema; is thought to be derived from the Turkish word Kyma, which means minced meat. During mediaeval India, keema was a popular breakfast staple in Awadhi
cuisine.
The Chicken Keema Dosa Recipe consists of a light crispy dosa topped with a layer of fluffy egg and filled with spicy chicken keema. Its ideal for a weekend breakfast.
Dosas are a popular dish in South Indian cuisine, but they are now popular throughout the Indian subcontinent. Dosas are traditionally served hot with chutney and, more recently, sambar. Chutney is an additional accompaniment
Traditionally the filling is made with minced lamb, but I used minced chicken and made it. Still it tasted great. My perippa came to my house that day and had this dosai, he absolutely loved it. I am liking a lot to cook with minced chicken because they take so less time to cook. Nowadays I am having a packet of chicken mince always in my freezer.
Ingredients for Chicken Keema Dosa
Chicken Mince :
Chicken mince, also known as minced chicken, is a type of ground chicken. Its a finely chopped chicken cut that's a leaner alternative to beef mince. Skinless boneless chicken thighs or breasts, or a combination of the two, are commonly used in its preparation.
Garam Masala Powder:
The whole spices in the Garam Masala blend have already been toasted before being ground. As a result, it is not necessary to cook it. If the garam masala is added too soon, it will become overcooked and lose its flavour. Garam masala aromatics require only a small amount of heat to release their aroma and flavours.
I am also planning to do some other recipes with chicken mince like keema matar, mince curry and many other..So keep checking my recipes and tell me how it turned out for you..
📖 Recipe
Chicken Keema Dosa Recipe
Ingredients
Dosa batter - as needed

Click here for recipe

Oil for dosa

Onion - 1 finely chopped for sprinkling over the dosa

For Chicken Filling:

Chicken Mince - 500 gms

Fennel Seeds / Sombu / Saunf - 1 tblspn

Onions - 1 large chopped

Tomatoes - 3 chopped

Green Chilli - 2

Ginger Garlic Paste - 1 tblspn

Chilli powder - 1 tsp

Coriander powder / Malli podi - 1 tblspn

Turmeric powder / Manjal podi - 1 tsp

Garam Masala powder - 1 tsp + 1 tsp

Salt to taste

Oil - 2 tblspn
Instructions
Heat a kadai with some oil and add in fennel seeds. Let them sizzle for 30 seconds.

Add in onions. green chilli and curry leaves and saute for a min.

Add in all the spice powders along with some salt and mix well.

Add in tomatoes and cook everything till mushy.

Now add in the minced chicken and stir it till everything is cooked.

Now cover the pan and let it simmer for 15 mins.

Sprinkle some garam masala in the end and mix well.Filling done.

Now lets make the dosa. Heat your tawa and spread your dosa batter thinly. Drizzle some oil over it and using a spatula smoothen the top. Let it cook till it turn light golden.

Now spoon some filling in the center along with some onions. Fold from all sides so that it forms a triangle.

Serve hot..
If you have any questions not covered in this post and if you need help, leave me a comment or mail me @[email protected] and I'll help as soon as I can.
Follow me on Instagram, Facebook,Pinterest ,Youtube and Twitter for more Yummy Tummy inspiration.
IF YOU MAKE THIS RECIPE OR ANYTHING FROM YUMMY TUMMY, MAKE SURE TO POST IT AND TAG ME SO I CAN SEE ALL OF YOUR CREATIONS!! #YUMMYTUMMYAARTHI AND @YUMMYTUMMYAARTHI ON INSTAGRAM!
Step by Step
Take all your ingredients
Saute some fennel seeds in oil
add onions, ginger garlic paste and green chilli
add some salt, so that the onions cook faster
throw in the spice powders
and some lovely ripe tomatoes
cook till everything turn mushy
add the chicken mince to this
and mix well...
Cover and cook for 15 mins
Finish the whole dish with a sprinkle of extra garam masala powder
filling done..
Now lets make the dosa...I took out my trusty big'ol nonstick tawa
cook till turn golden brown...I smoothen the top of the dosa using a spatula
add a generous amount of filling
Sprinkle some onions for crunch
fold in three..So that it forms a triangle..
Serve hot..