Chicken Manchow Soup Recipe with step by step pictures. Delicious chicken soup with fried noodles on top taste amazing.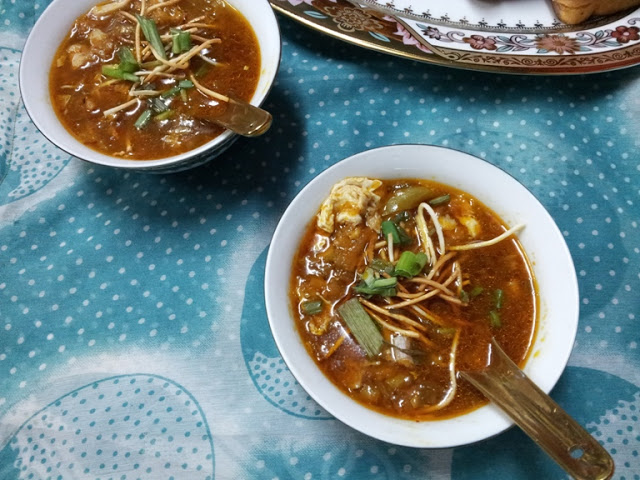 This soup was in my mind ever since I had it one of the restaurant which we went recently. That was the first time I heard and tasted this yummy goodness. It was spicy at the same time it has lots of flavours in it. The whole soup was finished with a crispy
noodle topping which really made it. I wanted to recreate this soup and post it
here.So I made this one night and had it with grilled chicken sandwich and baked chicken nuggets. They were delicious.
Manchow soup is a popular soup in Indian Chinese cuisine because of its ease of preparation and hot spicy flavour. Its available in a variety of restaurants and street food carts. Although the soup is named after Manchuria, it bears no resemblance to the cuisine of the region. Manchow soup originated in Meghalaya.
Its a dark brown soup made with a variety of vegetables, scallions, and chicken, thickened with broth and corn flour, and seasoned with soy sauce, salt, garlic, chilli peppers, and, most notably, ginger. It could be vegetarian or non-vegetarian. It comes with crispy fried noodles and is topped with chopped spring onions.
One of the most popular chicken soups in Chinese cuisine is Chicken Manchow soup. Stir-fried vegetables, broth, sauces, shredded chicken, and eggs are used to make this dish.
Who invented Manchow soup?
No one knows the full origin story, and the manchow soup remains a delicious mystery. For all we know, it could have been made by someone who accidentally fried noodles while preparing a steaming bowl of it and decided to drink the mixture of spiced vegetables in water as soup rather than discarding it.
Ingredients for Chicken Manchow Soup
Ginger:
Fresh ginger has a slightly peppery and sweet flavour, as well as a pungent and spicy aroma. Fresh ginger, like garlic, softens with cooking. Its a common flavouring in Asian dishes. Salad dressings, baked goods, soups, curries, meats, and desserts like
gingerbread and gingersnaps are all flavoured with ground ginger.
Garlic :
Garlic has a distinct, pungent flavour that, when raw, borders on spicy and, when cooked, borders on nutty. Sulfur compounds, such as diallyl disulfide, contribute to the mustard-like flavour profile. It loses its acrid raw flavour when dried and crushed into garlic powder, making it ideal for seasoning dishes.
Spring Onion :
Spring onions are very young onions that have been harvested before the bulb has had a chance to swell. The long, slender green tops and small white bulb are both edible and can be eaten raw or cooked.
📖 Recipe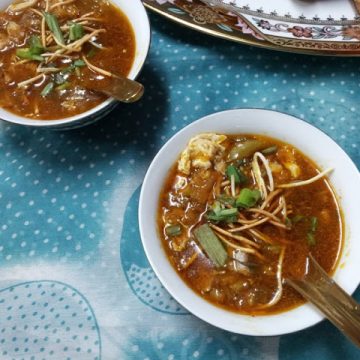 Ingredients
Oil - 1 tblspn

Ginger - 1 tblspn minced

Garlic - 3 cloves minced

Spring onion - 2 chopped finely

Carrot - 1 shredded

Cabbage - 1 cup shredded

Celery - 1 stick shredded

Green Bell Pepper / Capsicum - 1 shredded

Soy Sauce - to taste

Red Chilli Paste - to taste

I took some dry red chillies and ground it with some water

Vinegar - to taste

Salt

Sugar, Pepper to taste

Chicken - ¾ kg

Turmeric Powder - 1 tsp

Corn Starch / Corn Flour - 2 tblspn

Egg - 2

For Garnishing:

Raw Noodles fried

Spring Onion - green part chopped finely
Instructions
First make  the chicken stock. Take a pressure cooker add chicken along with some turmeric powder and salt. Add lots of water and pressure cook it for 5-6 whistle. Now let the pressure go all by itself. Open the pressure cooker and filter the stock. Now remove the flesh from the chicken and set aside. Throw away the bones and reserve it for your dog.

Now heat oil in a deep pot. Add in ginger, garlic, spring onion and saute for couple of mins.

Add in the shredded veggies and cook for 5-10 mins till the raw smell goes away.

Now add in red chilli paste, soy sauce, vinegar, salt, sugar, pepper and mix well.

Pour the chicken stock in this and mix well. Bring this to a boil.

Now add in the cooked chicken and mix well.

Now mix cornflour with some cold water and pour that into the soup. Now the soup must have

thickened.

Now beat eggs and pour it over the soup while mixing constantly. This will make the egg form into threads.

Switch off the flame and ladle the soup into some bowls.

Sprinkle some fried noodles over it with some spring onion.

Serve hot.
Video
Join us on Facebook
Follow us on Facebook
Share by Email
Share on Facebook
Chicken Manchow Soup Recipe Step by Step Pictures
Take all your ingredients..
You need some shredded cabbage, carrot, celery and capsicum
This is homemade chicken stock
Heat oil in a stock pot
add ginger, garlic, spring onions
saute for couple of mins
add in the prepared vegetables
add in soy sauce
vinegar
red chilli paste
salt and sugar
pepper
and mix well
add in the stock
and cooked shredded chicken
mix well
add the cornstarch slurry
and mix well
now pour the eggs and mix at the same time..THAT'S HUBBY MIXING FOR ME..
all done..time to ladle up
fill your soup bowls
sprinkle some fried noodles
add scallions
and serve