Paal Kozhukattai Recipe with step by step pictures. Rice flour balls cooked in a coconut milk sauce and sweetened with sugar or jaggery. For Healthy version of this recipe, check ragi paal kozhukattai recipe.
Version 2: Paal Kozhukattai Recipe (with Jaggery)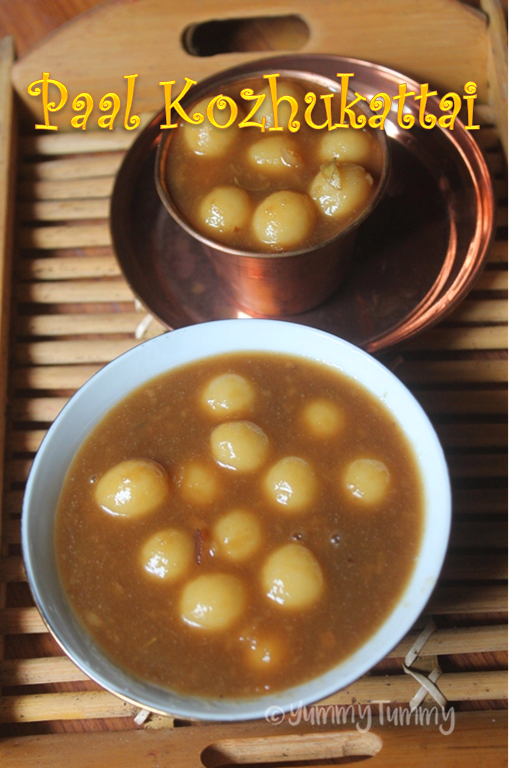 Pin
Paal Kozhukattai (using Jaggery) with Step wise pictures. This version uses jaggery in place of sugar. 
Ingredients for Paal Kozhukattai with Jaggery
Rice flour - 1 cup + 3 tblsp
Water - 1 ¼ cup + 2.5 cups
Salt to taste
Coconut - ¼ cup + ½ cup
Jaggery - 1 cup
Thick Coconut Milk - 1 cup
Cardamom Powder - 1 tsp
Oil / Ghee - 2 tsp
How to Make Paal Kozhukattai with Jaggery
Take 1 ¼ cup water in a sauce pan. Sprinkle salt, oil and mix well. Add rice flour and mix well to a smooth dough. Add coconut and knead well. Take small portion and roll it into a smooth ball. Set aside.
3 tblsp rice flour in a bowl and mix well with some water to a paste.
Take 2.5 cups of water in a pan and bring it to a boil. Now Add in the kozhukattai and cook for 10 mins.
Add in jaggery and coconut and mix well. Cook everything for 10 more mins.
Add in rice flour mix and cook till thickens. Now take off the heat and add in cardamom and thick coconut milk.
Serve.
How to Make Paal Kozhukattai Dough
1)Take water in a pan. let it come to a rolling boil
2)Boil water in a pot
3)Add in salt
4)some oil
5)Add in rice flour. This is store bought rice flour.
6)mix well
7)it has absorbed all the water
8)cover it and let it cool
9)now take the dough in a bowl
10)add in coconut
11)make it into a soft dough
12)take small portion
13)roll it into a ball
14)all rolled
Making Paal Kozhukattai (Traditional Method)
15)Lets make the rice flour paste. mix rice flour with water to form a thin liquid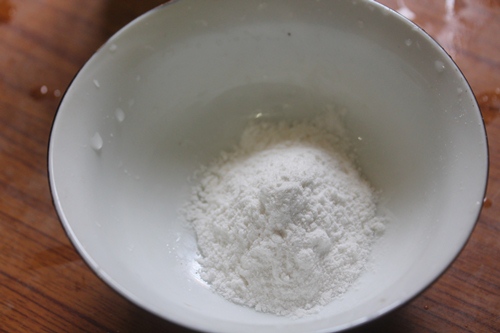 Pin
16)Set aside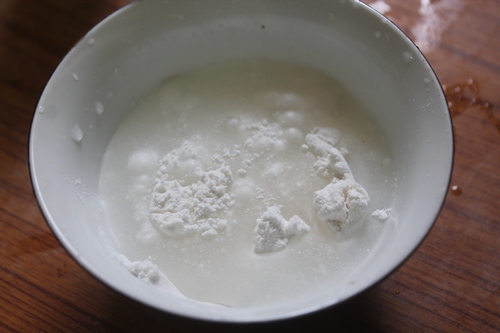 Pin
17)Now bring water to a boil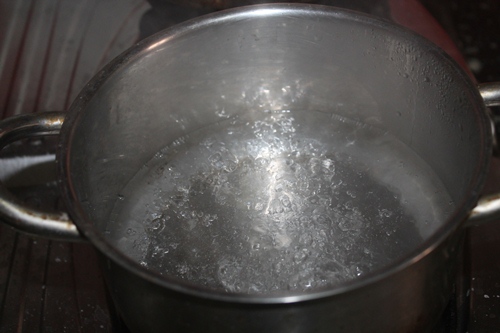 Pin
18)Add the rolled kozhukattai into the water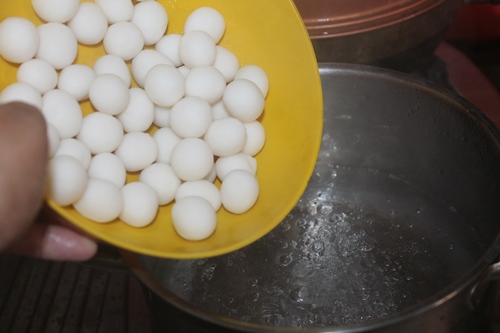 Pin
19)Let it cook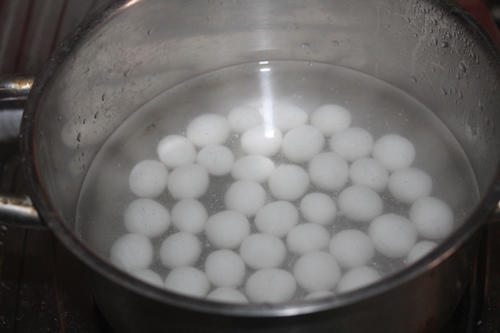 Pin
20)It will start floating on top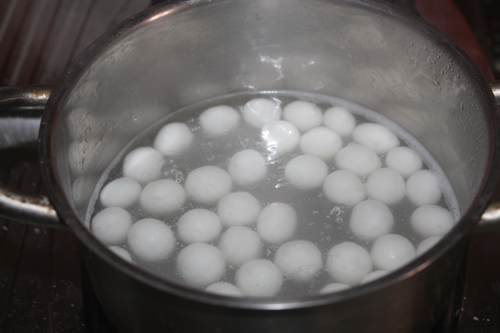 Pin
21)Keep cooking for 5 mins.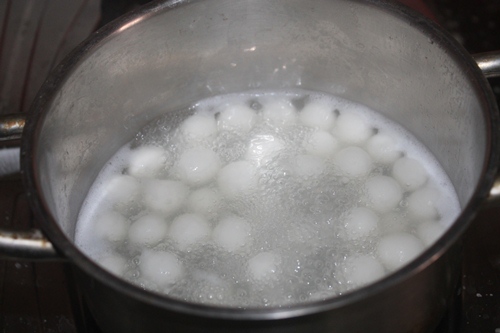 Pin
22)Now it is done.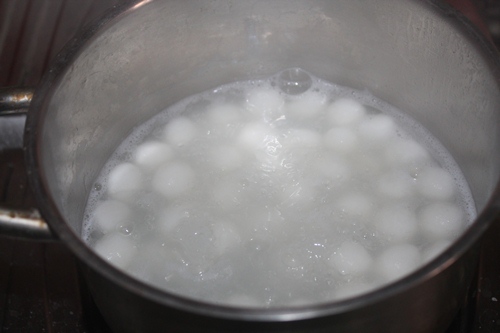 Pin
23)Add in cane sugar or jaggery water. If you have pure jaggery add it straight to the pan. If not, dissolve it in water and strain it. Then add the strained liquid.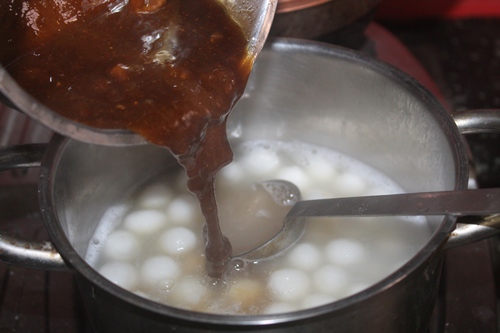 Pin
24)Add coconut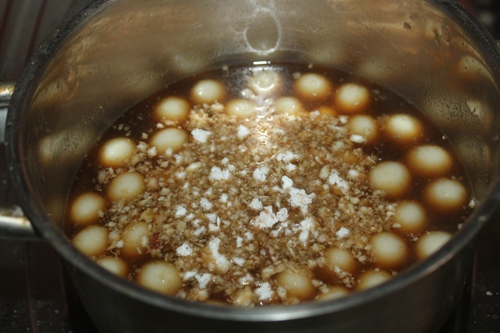 Pin
25)Mix well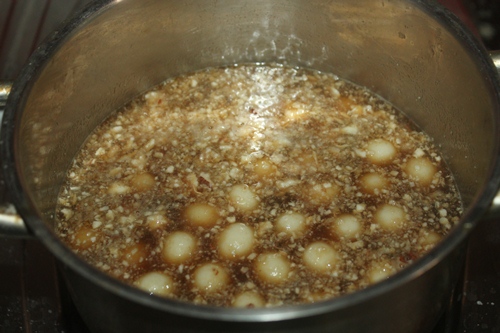 Pin
26)Cook on high flame for 5 mins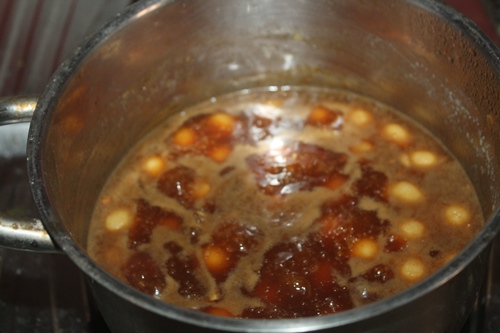 Pin
27)Add rice flour paste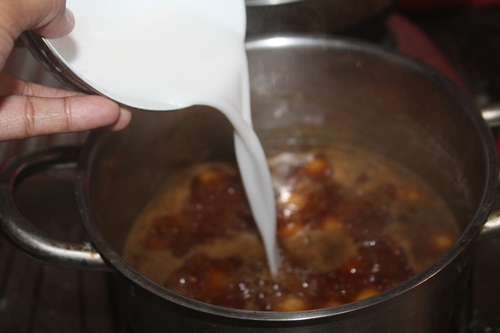 Pin
28)Cook till thickens. Around 10 mins. Now take it off the heat.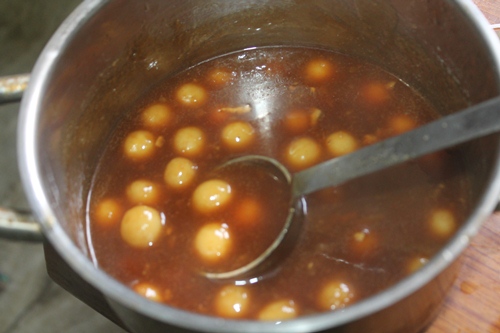 Pin
29)Add in coconut milk.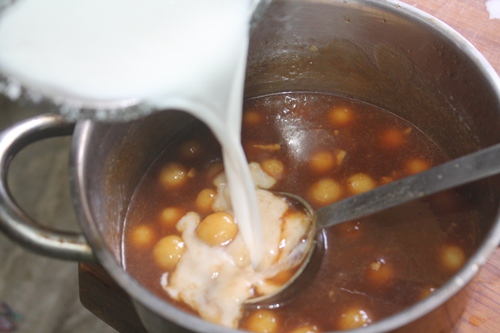 Pin
30)Add in cardamom powder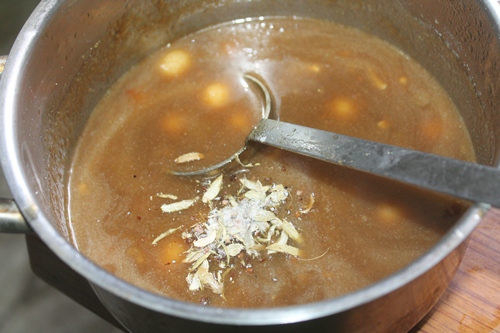 Pin
31)Mix well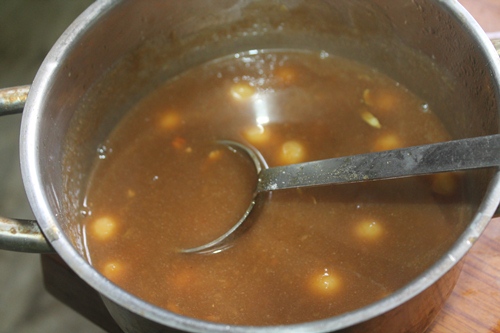 Pin
32)Serve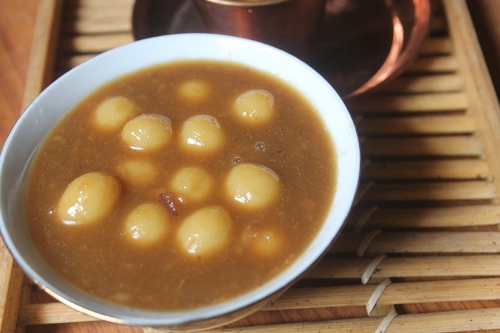 Pin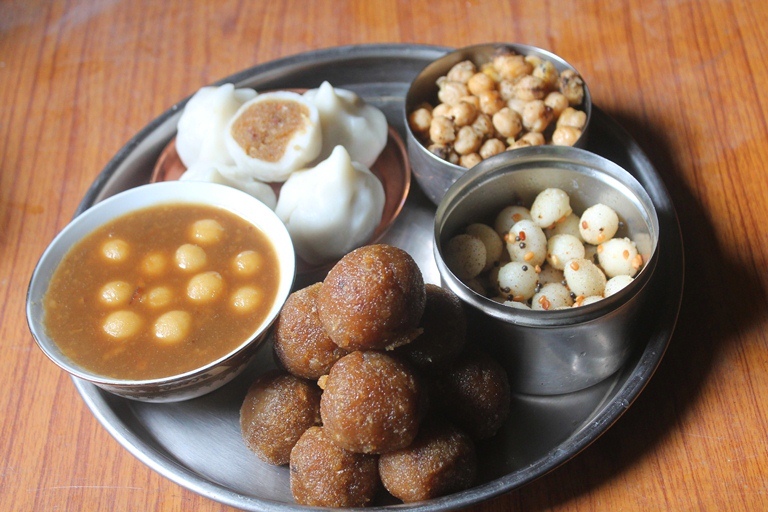 Pin
Tips & Tricks
When you are using jaggery in this recipe. Never add it directly to milk or coconut milk and boil. Because it may curdle.
When adding jaggery dissolve in water and make it into a syrup and then add it to the mixture. Also never boil jaggery once you add it in the dish.
Make the dough with hot water or cook the dough so it stays soft.
You can serve paal kozhukattai hot or cold.
Paal kozhukattai dough can be made in advance and stored covered for few hours.
Always add the shaped balls once the milk or water starts to boil.
You can use cardamom powder or dry ginger powder.
Serving Suggestions
You can serve paal kozhukattai hot or cold. But I like it to be served warm.
Ganesh chaturthi is the perfect occasion to serve paal kozhukattai. Since it is loved by lord ganesha.
You can serve this on any occasions like tamil new year or even for parties and gatherings.
If you have any questions not covered in this post and if you need help, leave me a comment or mail me @[email protected] and I'll help as soon as I can.
Follow me on Instagram, Facebook,Pinterest ,Youtube and Twitter for more Yummy Tummy inspiration.
IF YOU MAKE THIS RECIPE OR ANYTHING FROM YUMMY TUMMY, MAKE SURE TO POST IT AND TAG ME SO I CAN SEE ALL OF YOUR CREATIONS!! #YUMMYTUMMYAARTHI AND @YUMMYTUMMYAARTHI ON INSTAGRAM!