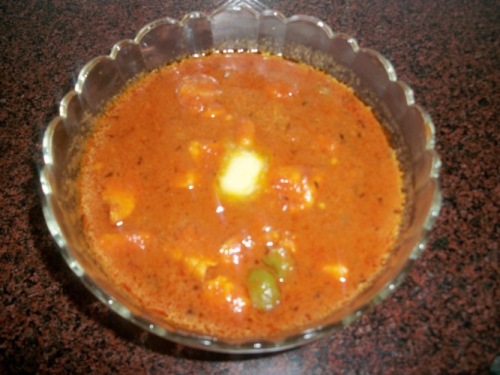 Butter Chicken
Butter Chicken is my Favorite dish.Each one have their way to make Butter Chicken,The main thing is this recipe don't need any onion in it,I know some people who use tons of onion and frying it …..for 30 min….till it gets brown….blah blah blah….No need for that…NO ONIONS…Only Tomatoes…Quick and Simple.The final result is DELICIOUS..and Please don't forget to add Kasuri methi,It is the main flavoring of this dish.I made this dish in 15 mins…….That Quick…So please Try it and leave comments.
Ingrediants:
Chicken-1/2 kg(Boneless)
Tomato Puree-2 cup
Ginger Garlic paste- 1tblspn
Green chilli-2 finely chopped
Red chilli powder-2 tsp
Garam Masala-1 tsp
Kasuri methi -2 tsp
Fresh cream-1/2 cup
Corn Flour-1 tblspn
Oil-1 tblspn
Butter-3 tblspn
Salt-to taste
Sugar-1 tsp
Corinander leaves-for garnishing
Method:
Marinate the cut chicken pieces in corn starch,1 tsp chilli powder and some salt.
In a Kadai add oil and put in the chicken pieces and just sear the chicken pieces till it is no longer pink.Remove it and set aside.
Now melt some butter in the same kadai and add chilli and ginger garlic paste.
Pour in the tomato puree and mix well,Put in the chilli powder and cook untill oil separates from it.
Add salt and sugar to taste,Add in the chicken pieces with some water and cover and cook till the chicken is completely done.
Now Just crush in the Kasuri methi leaves in and mix.
Add in the fresh cream and mix well and switch off the flame.
Add in the rest of the Butter and Garnish with Coriander leaves.
Hint:
1)Adding Fresh cream cut down the sourness of the Tomatoes and brings a silkyness to this dish,if you cant find Fresh cream you can use Some Thick milk.