This is a sandwich which i made yesterday for lunch and it was delicious. I put the whole thing together in under 10 mins and i enjoyed it so much. If you have frozen chicken nuggets you can use those else you can use my homemade chicken nuggets recipe as well.
Similar Recipes,
Chicken Nuggets
Aloo Tikki Burger
Patty Peas Burger
Potato Latkes Burger
Crusted Tofu Burger
Veggie Cheese Burger
Onion Burger
Vada Pav
Lamb Burger
Classic Barbeque Chicken Sliders
Many More

Hope you will give this a try and let me know how it turns out for you.


Preparation Time : 5 mins
Cooking Time : 5 to 10 mins


Ingredients:
Chicken Nuggets - Readymade Frozen Ons Recipe here
Oil for deep frying
Burger Buns as needed
Mayonnaise as needed
Tomato Ketchup as needed
Cabbage or Lettuce shredded as needed
Tomato - sliced as needed
Method:
Deep fry chicken nuggets till crispy and golden, drain and set aside.
Now take your burger buns, slit open and toast them in a pan.
Spread ketchup and mayo, Top with cabbage, nuggets and tomato. Serve immediately
Pictorial:
You can make my homemade chicken nuggets, check recipe here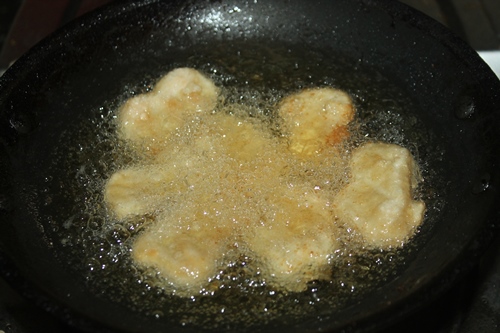 Pin
Heat oil for deep frying, drop nuggets in and fry till golden
Take your other ingredients
spread ketchup on one side and mayo on other side
top with shredded cabbage or lettuce
place tomatoes on other side