Lemon pudding which is a light sponge cake batter steamed in a heat safe bowl. The pudding is then soaked in a lemon sauce and served.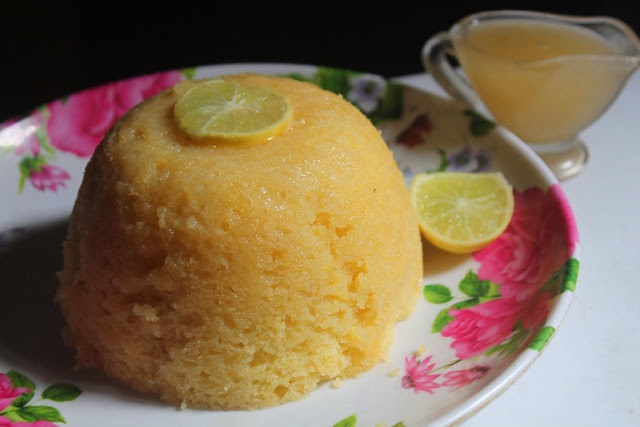 Pin
Pudding cake with step by step pictures. Delicious lemon flavoured pudding which is steamed and served with a lemon sauce. The sponge is very light and is soaked in lemon sauce.
This is one of the classic pudding recipe. It is so good, when i say it is good then it is wonderful. I am not a big cake eater, but this one is total different it is delicious very lemony and tasty.. This pudding is just so moist and decadent.
Similar Recipes,
Steamed Chocolate Cake
Steamed Idli Cake
Orange Jelly
Strawberry Jelly
Mango Pudding
Sago Pudding
Check out my Treacle Sponge Pudding as well.
How to Steam a Pudding
Take a heat safe glass bowl or pudding bowl.
Line the bottom with a circle of parchment paper and grease it well with oil or butter. Set aside.
Pour pudding batter in the bowl.
Take a parchment paper and grease it with oil or butter.
Place it over the pudding bowl and place a sheet of foil over it and press it well.
Now seal with an elastic band.
Now take a large pot, fill with water ½ way, place a plate in the bottom.
Place the bowl on top and cover with a lid.
Bring it to a boil and simmer for 1 hour and 30 mins.
How to Make Lemon Pudding Cake
Related Recipes