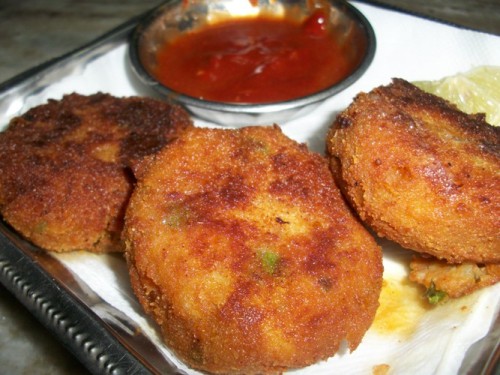 Vegetable cutlet
Ok I have two recipes today as i promised.I am gonna start the new summer special recipes with an
Antioxidant salad
,check that out.Ok todays recipe is Vegetable Cutlet.Cutlet is everyone's favorite dish.Cutlet can be made with Chicken,Mutton even with fish.But this vegetable cutlet is so simple but it takes a little bit of time to prepare everything.If everything is done you can easily make it.Infact you could make the cutlet as mentioned before and freeze it and you can use it whenever you want,It stays good upto 2 weeks in the freezer.The main thing about this cutlet is you want the vegetables to be very finely chopped.Steam the vegetables first and squeeze of any extra water from it.This cutlet mixture should be dry so that you can get a perfect cutlet.So make vegetable cutlet this weekend and tell me how it came.
Ingrediants:
Potato-3 boiled and mashed
Onion-1 chopped finely
Mixed Vegetables(Carrot,Beans,Peas,Cabbage)-2 cups chopped finely and boiled
Red chilli powder-1 tblspn
Coriander pdr)malli podi)-1 tblspn
Cumin pdr(jeeraka podi)-1 tsp
Garam masala pdr-1 tsp
Green chilli-2 chopped
Ginger garlic paste-1tblpsn
Coriander leaves-1 cup
Egg-2
Bread crumbs-1 cup
Oil-1 tblspn+for frying
Salt-to taste
Lemon juice-1 tblspn
Method:
In a kadai add oil,Ginger garlic paste and green chilli and mix well.Now add in the onions and cook for 2 min.
Add in all the spice powder and mix well.Season with salt and mix well.Now throw in the boiled vegetables and mix well.Cook for 2 min.Tip this into a bowl.
Add in the mashed potatoes,coriander leaves and stir well.Squeeze a little bit of lemon juice and combine everything well.
Form small pattice from this and arrange it in a plate and set it aside.
In a shallow bowl beat eggs with little salt,and in another one plate spread the breadcrumbs and keep this aside.
Now take a pattice and first dip this in beaten egg and then in breadcrumbs and keep this in a plate.
Refrigerate this for 30 min,so that the breadcrumbs stick to the pattice.
Heat oil for shallow frying in a pan.When it is hot place the pattice carefully in the oil and fry till golden brown on both sides.
Drain this in a paper towel and serve hot with Tomato Ketchup
Note:
1)If the mixture is too wet add a little bit of breadcrumbs to it and mix well.
2)For complete vegetarian option,Mix a little maida with some water to form a thin paste.and then dip the cutlets in this instead of eggs.
Pictorial: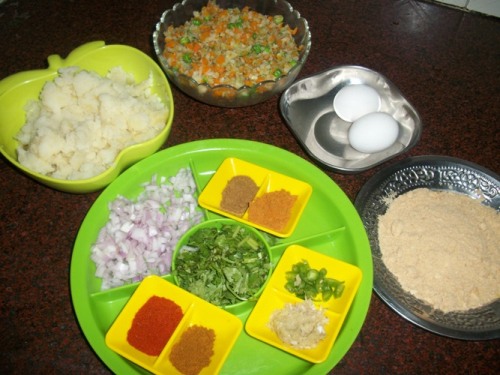 Ur ingrediants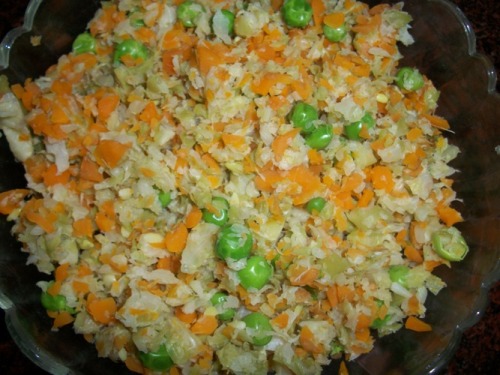 Veggies cooked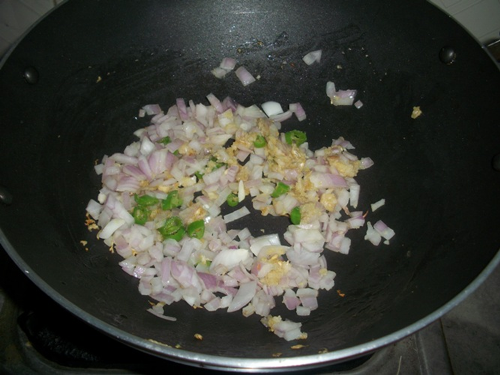 Saute onions,chilli and ginger garlic paste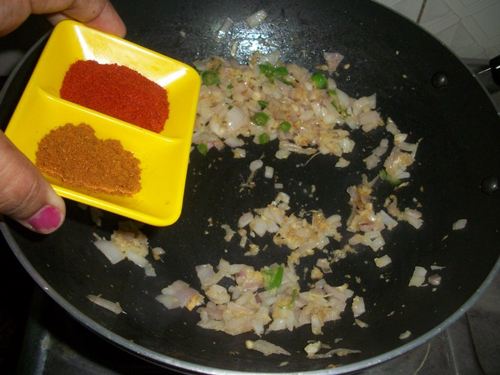 add spice powders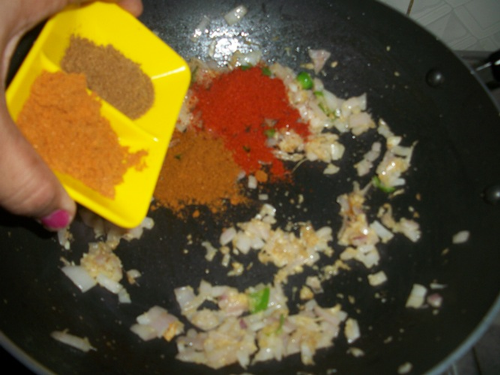 More spice powders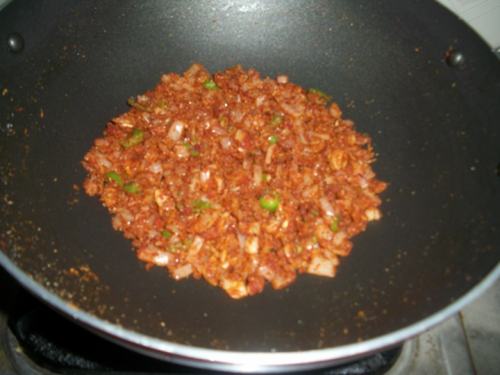 mix well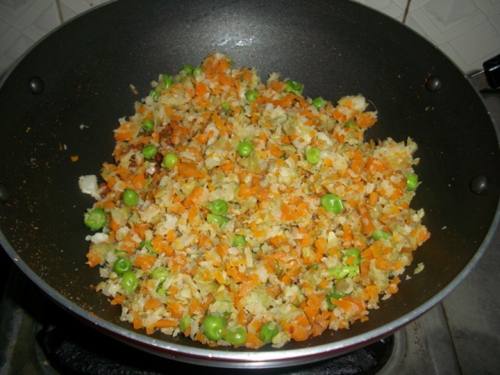 add the cooked veggies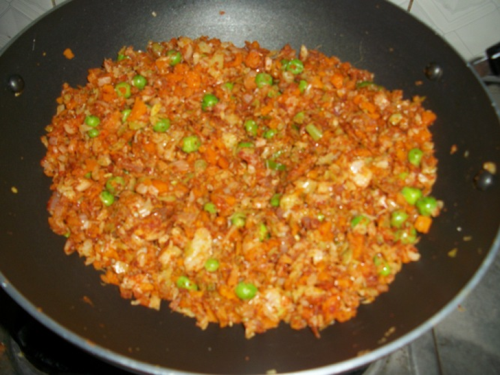 mix well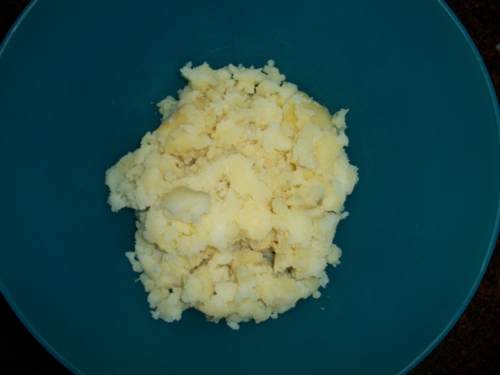 Take mashed potatoes in a bowl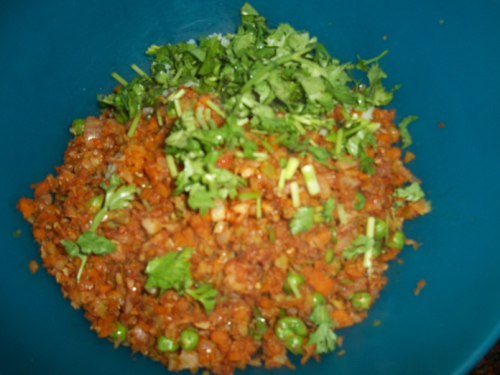 add the veggie mixture and cilantro in this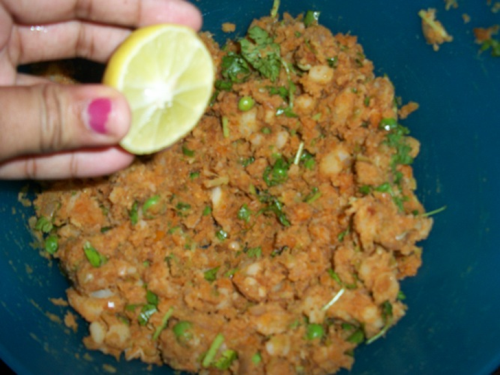 squeeze some lemon juice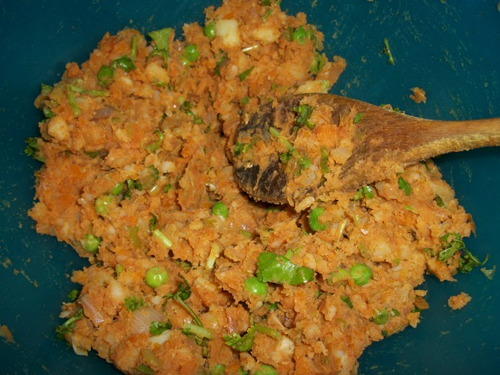 mix well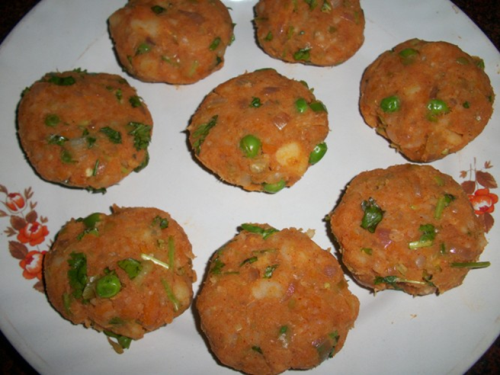 form pattice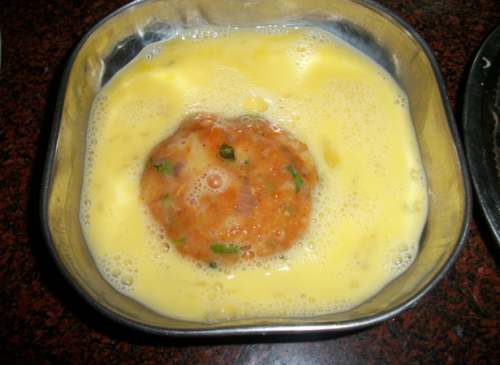 dip in egg first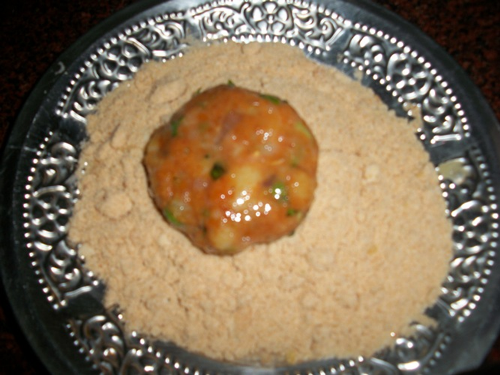 then in breadcrumbs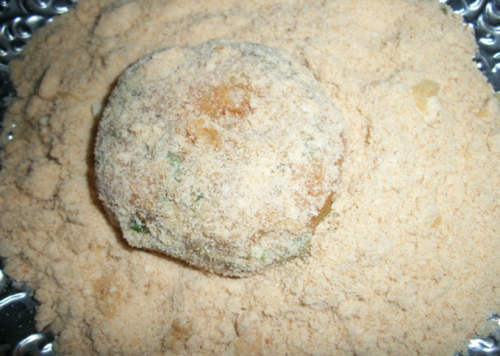 coat evenly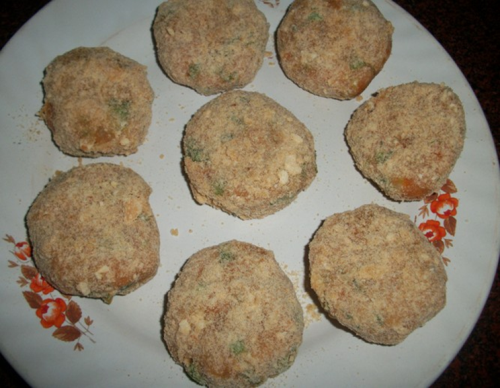 all coated…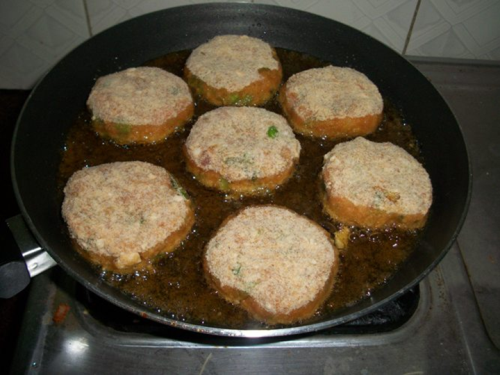 fry them in oil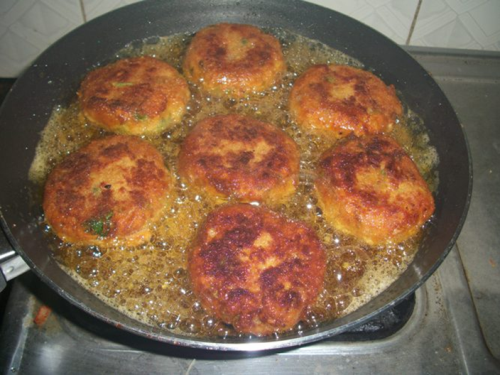 till golden on both sides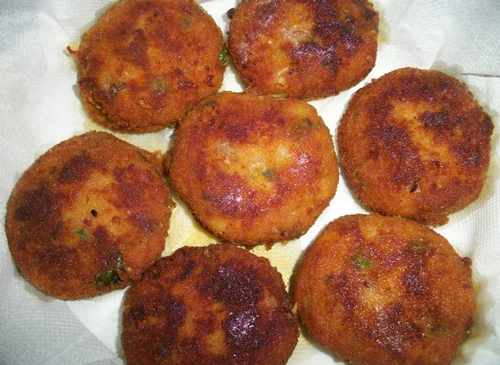 all fried…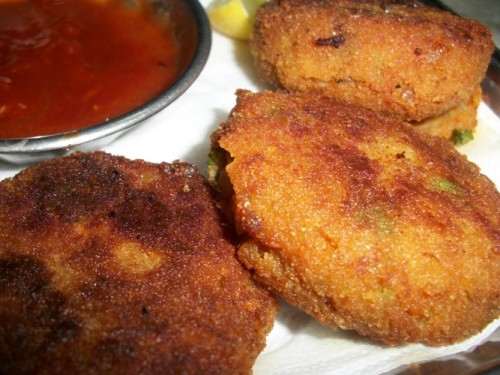 Serve hot with ketchup