Mung Bean Sprouts with Step by step pictures. Learn how to make Mung Bean Sprouts at home easily. I have shared two methods of making bean sprouts. Chinese bean sprouts also included.
Method 1: Mung Bean Sprouts Step by Step
Find the best quality moong bean..
take a cup of bean in a bowl
wash it throughly
now cover them with fresh water
cover them with a lid and let it soak
till they double in size
now drain them
Add them to a hot case or any container
cover with a lid
leave it overnight to sprout
Enjoy..
How to Grow Bean Sprouts at Home (Chinese Sprouts)
I have already shared a recipe for how to sprouts beans. Few days back i decided to make some international dishes and many of them called for this bean sprouts which are long. I wanted to try it at home and i made it. It was so good, they were crunchy and really tasty too..it is pretty easy and healthy to make at home.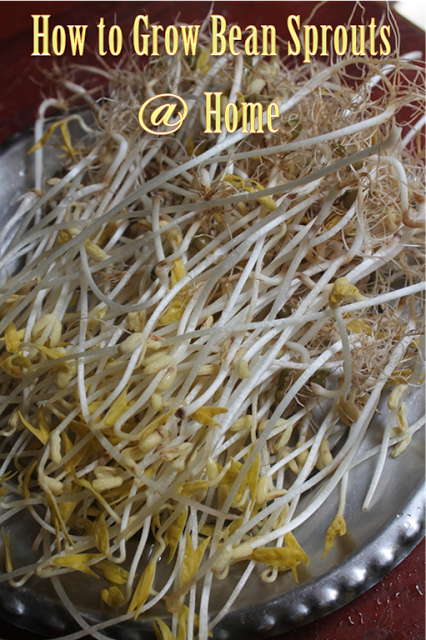 Pin
📖 Recipe Card
Tips & Tricks
If you don't have a hot case. You can put them in a clean cloth and tie them. Now keep them in side a clean bowl and leave them overnight,
if you want longer sprouts leave them out for a more time.
Always store them in an air tight container in fridge.
Drain the soaked bean completely before putting them in the hot case.
You can follow this method to make sprouts with any bean like channa, mochai, peanuts, urad dal..But the soaking time with vary.
For Long Bean Sprouts
Washing moong bean daily is much. If you can wash in the morning and evening.
You can harvest the moong sprouts from 5th day onwards.
Remove the roots, but you can keep the leaves.