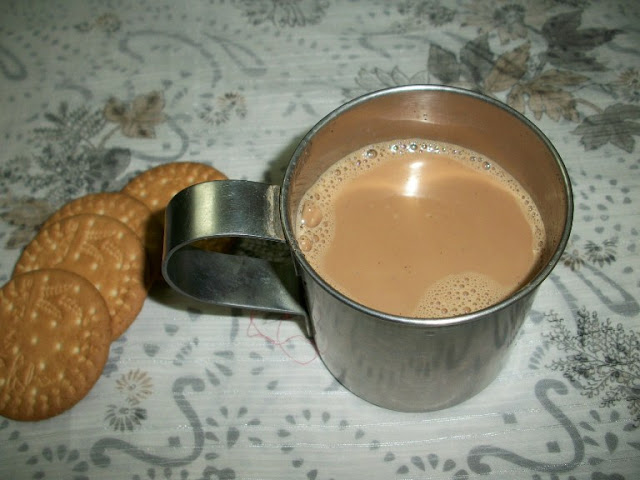 In our house evening must have tea, yes it is compulsary..I don't drink tea daily, but my mother and sister do that. Actually speaking my mum cannot live without tea. What she drink is normal tea flavoured with some ginger or some cardamom and mostly plain. They were great for her..
But if I feel like having a cup of chai , it should be this masala chai..Yes I love it a lot..There is something in that spicy aroma and taste coming from all the spices and ginger which makes me so refreshing.. And the cool thing is, this is great for digestion, since all the spices added in this is so good for you..Have this tea with some tea biscuit, in my case it should be marie biscuits..I dip the biscuits in the tea and have it sip by sip and it will be like heaven.
You can make this powder in bulk and store them in air tight container for up to a month. I would suggest you not to make too much of this powder, because it tends to loose its fresh flavour when stored for a long time.. So if you are making tea tomorrow I hope you will try this and let me know what you think..
Ingrediants:
Milk – 3 cups
Tea powder – 2 tblspn
Sugar – to taste
For Masala Powder:
Cardamom / Yelakai – 5 Pods
Cinnamon / Pattai – 2 short stick
Cloves / Krambu – 6 pieces
Ginger – 2 tblspn minced
Pepper – 1 tsp
Method:
In a dry pan add all the masala powder ingrediants and start roasting. Roast till you get nice aroma from it. Now trasfer this to a bowl and let it cool down completely. Add this to a blender or in a mortar or pestle and grind it to a fine powder. Tranfer it to a air tight container and store for more than a month.
Now to make masala tea. Heat milk in a sauce pan. When it comes to a boil, add your tea powder and simmer it.
Now add in ginger, sugar, and a tablespoon of your masala tea powder and simmer for 5 mins untill all flavours infuse together.
Strain this mixture in a tea strainer and press it with a spoon to get all flavours from it.
Pour this chai into individual glasses and serve with any cookies.
Pictorial:
Take all your ingrediants
Use ur favorite tea powder…In our house we use three roses brand
These are the spices which you need for the masala powder
Add them to a dry pan and start roasting them
Roast till they smells great and changes a little colour
Then you can powder them in a blender…I used my mortar and pestle
Crush them till they reach into a powder
all powdered
You can store them in a air tight container
Now start making the tea
Bring milk to a boil
add tea powder into this
let it simmer for a while
Now grate some ginger and add it in
add some sugar
now add in the ground masala
and mix well
let it steap for a while
masala tea done
strain it
Use a spoon to press it..This will take all the flavours from the tea
Now you are left with a flavourless tea mixture..Throw this away…
Tea Done
Serve
Have it piping hot with some tea biscuits
I am Aarthi, a happy homemaker, mom of two beautiful girls, married to my high school sweet heart. My goal is to teach people that cooking can be way more easier and joyful than they think. Yummy Tummy features recipes all over the world with step wise pictures which surely shows the ease of cooking.