"Homemade Potato Rolls is a soft dinner rolls which has addition of mashed potatoes in it. Mashed potatoes add so much softness to the rolls."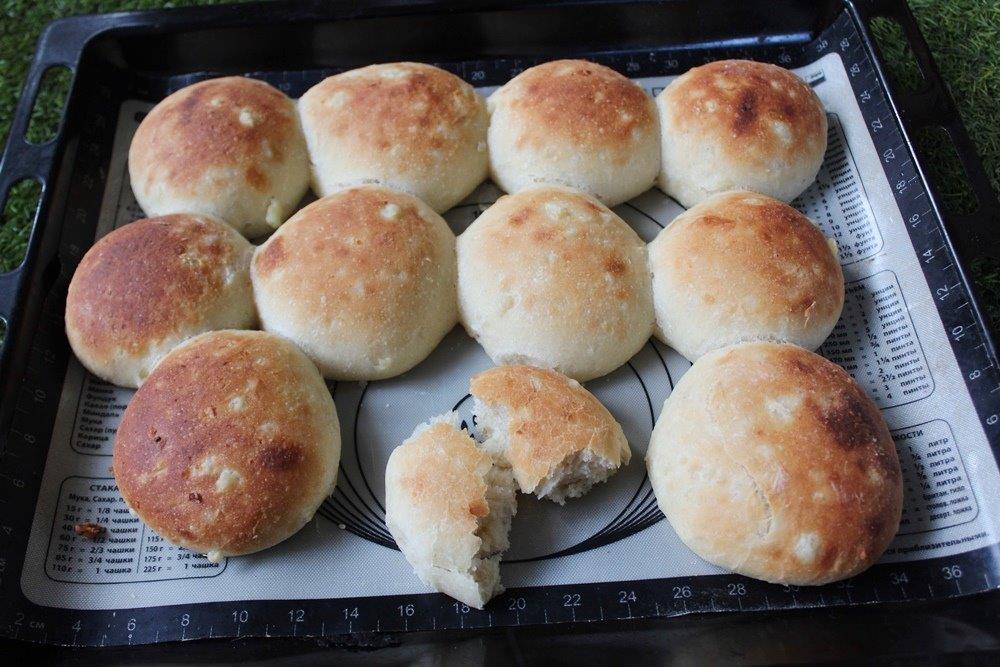 Pin
Potato bread is a form of bread in which potato flour or potato replaces a portion of the regular wheat flour. It is cooked in a variety of ways, including baking it on a hot griddle or pan, or in an oven. It may be leavened or unleavened, and may have a variety of other ingredients baked into it.
Addition of potato in this recipe made it super soft and fluffy. The bread itself is light and soft. This taste delicious with some soups.
After I discovered this recipe, it became a mainstay for me. I make the dough ahead of time when company is coming, and I try to keep some in the refrigerator to bake later. Leftover mashed potatoes are almost sure to go into these rolls.
Other fabulous dinner rolls and bread recipes: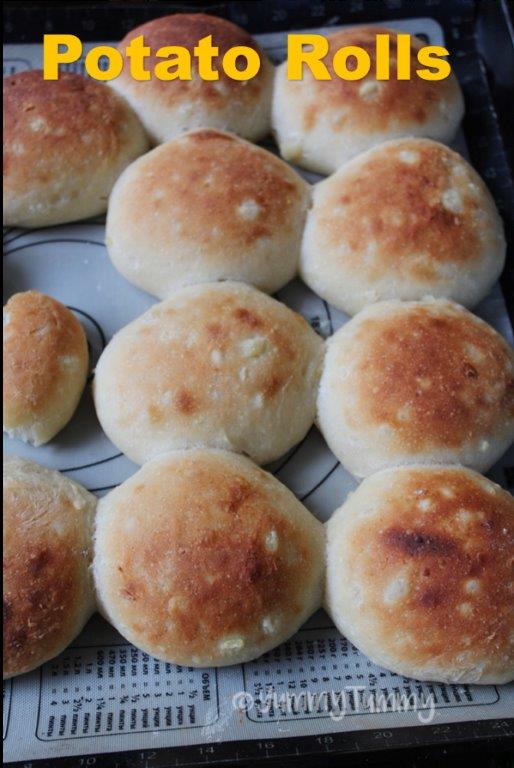 Pin
Instead of fresh potatoes you can use instant mashed potato powder.
Also Check out Focaccia Breadsticks
I served it with my cream of chicken veg soup
Which yeast is best for dinner rolls?
You can use dry yeast or instant yeast for making this rolls. Instant yeast don't need pre-activation. If you are using dry yeast, you need to activate it first.
How long do fluffy rolls need to rise?
The rising will take about an hour on the counter. You can speed up the rising process by:
Placing the pan in a warm oven (about 200°F).
Set the pan on the oven while it's preheating.
Place the pan on a rack set over a large roasting pan full of boiling water.
Those three will shorten your rising time up to about half.
How long do potato rolls last?
Potato rolls can be stored in fridge for over a week.
Potato rolls can be stored in freezer for over a month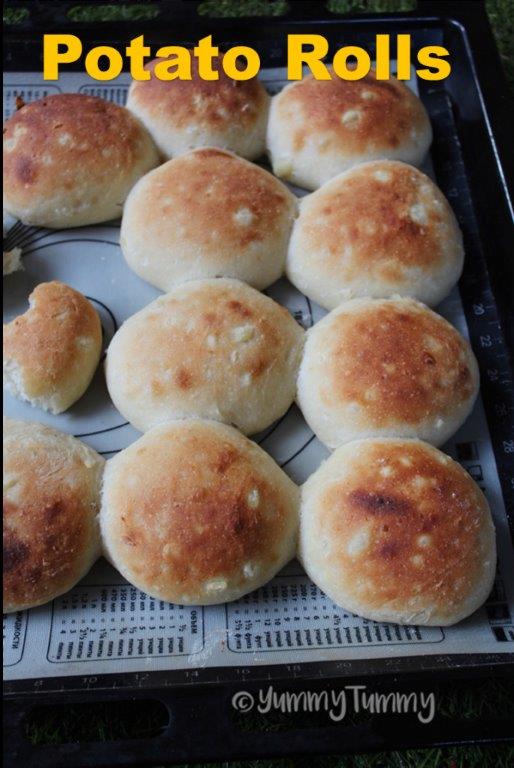 Pin
You will love my Hamburger Rolls, 2 Hour Burger Buns
If you are into sweet stuffs, then check Pecan Sticky Buns or Monkey Bread
Can i make bread and buns without oven?
Yes you can. check my recipe for "How to make buns without oven"
Frequently Asked Questions.
Why are my rolls hard?
Here are some of the reasons rolls can come out hard and flat. if your yeast is not activated, then dough wont rise and the bread will be hard. Over baking can make your rolls hard. Also not letting the dough rise enough also makes it hard.
Can you over knead dough?
If you think you've over-kneaded the dough, try letting it rise a little longer before shaping it.
What happens if I don't knead my dough enough?
If you don't knead your dough enough by hand or if you don't allow it enough time in your mixer, the dough will lack strength. Once baked, an under-kneaded bread loaf will be flat and dense in texture
Why is my bread rolls so heavy and dense?
you did not knead it or leave it to prove for long enough or you could have killed the yeast by leaving the dough to rise in a place that was too hot.
Can you let bread rolls rise too long?
Letting the dough rise for too long makes the structure of the bread weak, so it can't support itself.
What can I eat with potato rolls?
You can serve it with just soups. You can even serve it with sabzi, kheema, bhurji, omelette or any curries to soak the rolls in.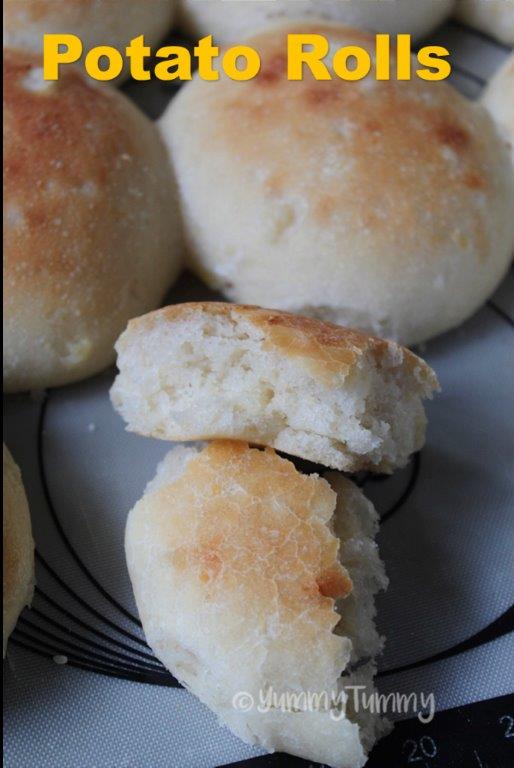 Pin
If you have any questions not covered in this post and if you need help, leave me a comment or mail me @[email protected] and I'll help as soon as I can.
Follow me on Instagram, Facebook, Pinterest ,Youtube and Twitter for more Yummy Tummy inspiration.
IF YOU MAKE THIS RECIPE OR ANYTHING FROM YUMMY TUMMY, MAKE SURE TO POST IT AND TAG ME SO I CAN SEE ALL OF YOUR CREATIONS!! #YUMMYTUMMYAARTHI AND @YUMMYTUMMYAARTHI ON INSTAGRAM!
📖 Recipe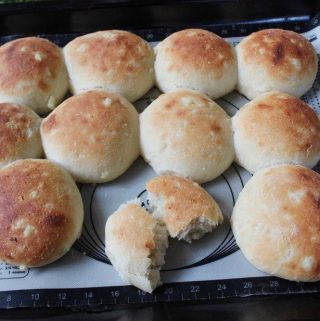 Potato Rolls | Potato Buns Recipe
Homemade Potato Rolls is super soft and fluffy buns which taste so delicious when served hot or warm with some soup.
Ingredients
All Purpose Flour / Maida - 3 to 4 cups

Salt to taste

Warm Water - 1 cup

Dry yeast - 1 tblspn

Sugar - 1 tblspn

Olive oil - 3 tblspn

Boiled mashed potato - 2 medium size
Instructions
Take warm water in a bowl, add sugar and yeast and set aside for 5 mins to activate.

Now Take flour, salt in a large bowl and mix well.

Add in yeast water and knead well.

Add olive oil and knead well.

Set aside for 1 to 2 hours.

Now take small portion of dough. Roll it into a smooth ball.

Place it in a baking tray and leave to rise for 30 mins.

Preheat oven to 200 degree C for 10 mins.

Now place the rolls into the oven and bake for 10 to 12 mins.

Remove and cool for a bit.

Serve warm.
Video
Notes
1)Let the dough rise for 1 to 2 hours till it doubles in size.
2)Bake the rolls and cool it. Store it in air tight container in fridge for over a week.
3)You can freeze the rolls for over a month.
Nutrition Facts
Potato Rolls | Potato Buns Recipe
Amount Per Serving (1 g)
Calories 106
Calories from Fat 27
% Daily Value*
Fat 3g5%
Cholesterol 8mg3%
Sodium 136mg6%
Carbohydrates 17g6%
Protein 2g4%
* Percent Daily Values are based on a 2000 calorie diet.
Serve these with:
Potato Rolls Step by Step Pictures
1)Take warm water in a bowl.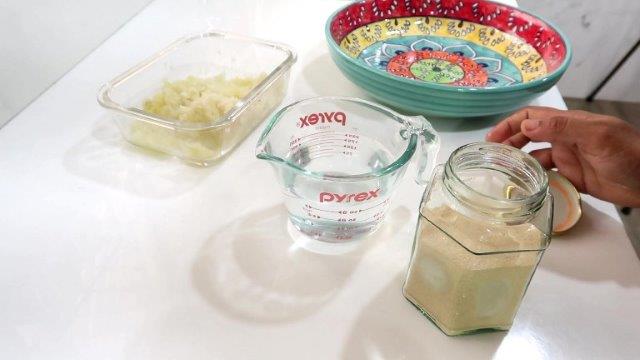 Pin
2)Add sugar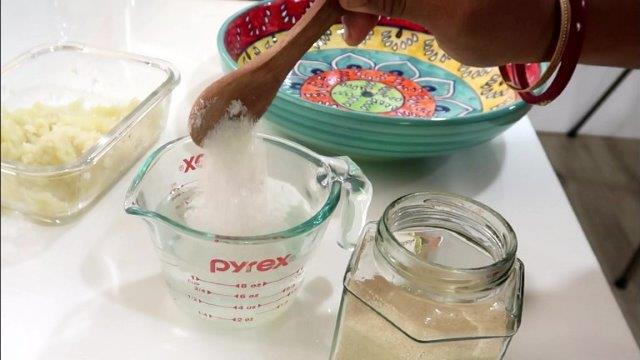 Pin
3)Add dry yeast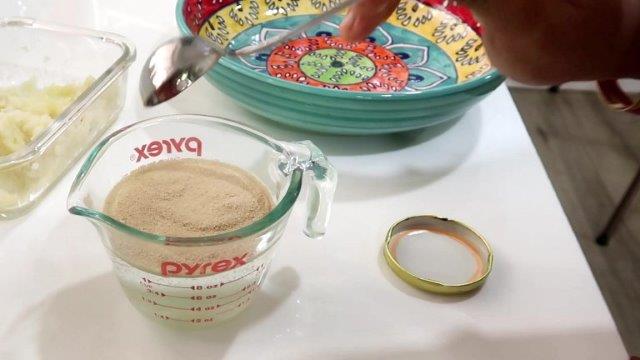 Pin
4)Mix well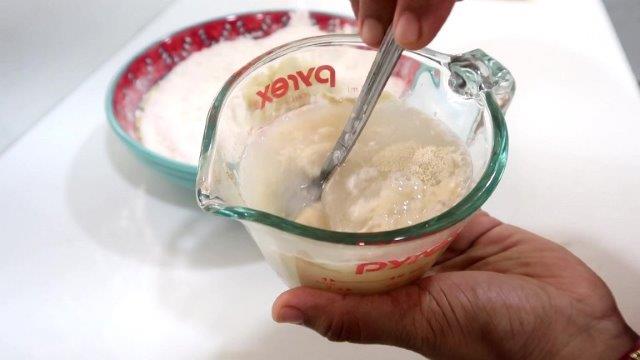 Pin
5)Take flour in a bowl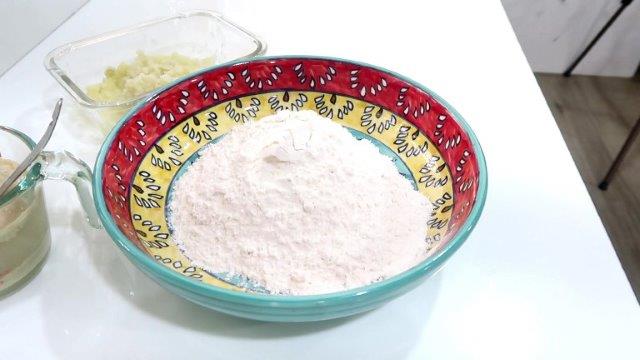 Pin
6)Add in salt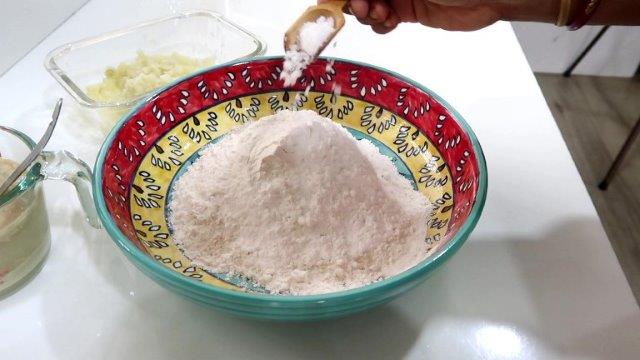 Pin
7)Mix well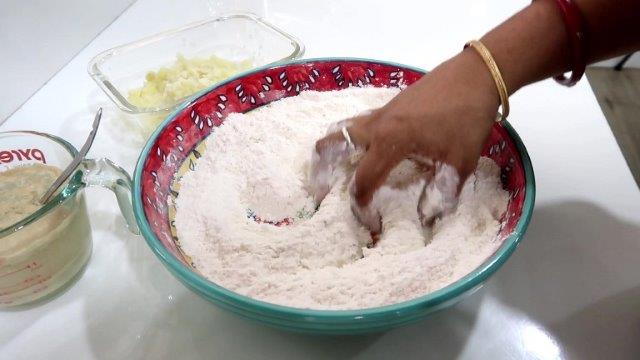 Pin
8)Add in mashed potatoes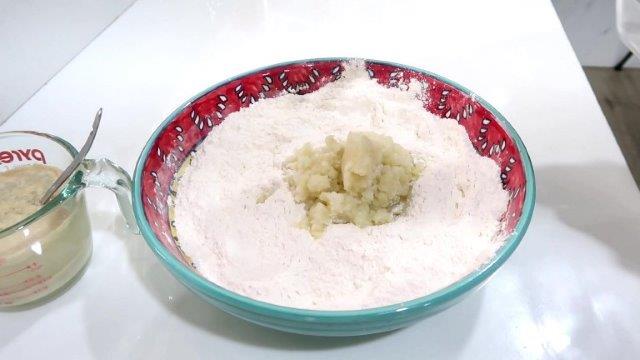 Pin
9)Add yeast water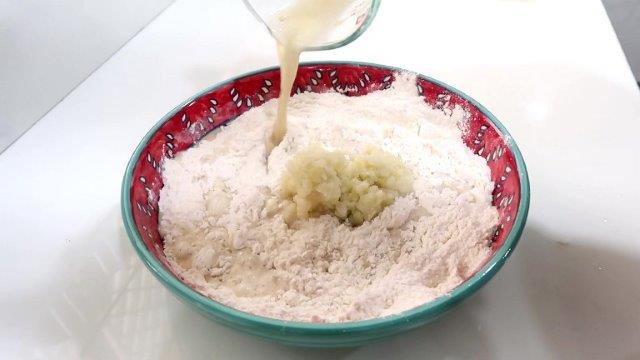 Pin
10)Mix well to form a dough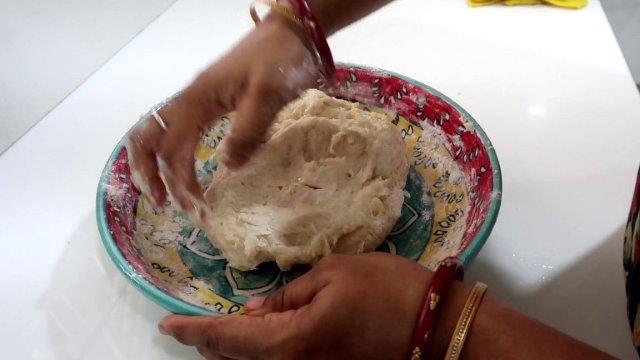 Pin
11)Add in olive oil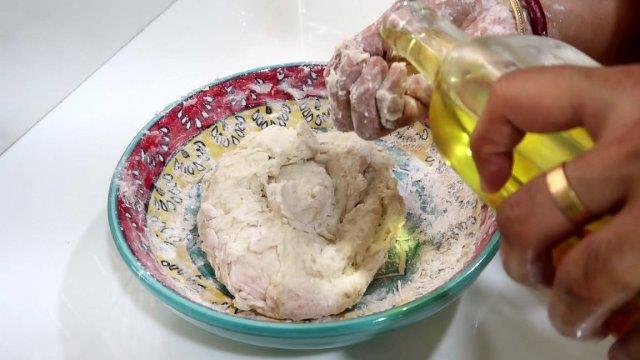 Pin
12)Knead well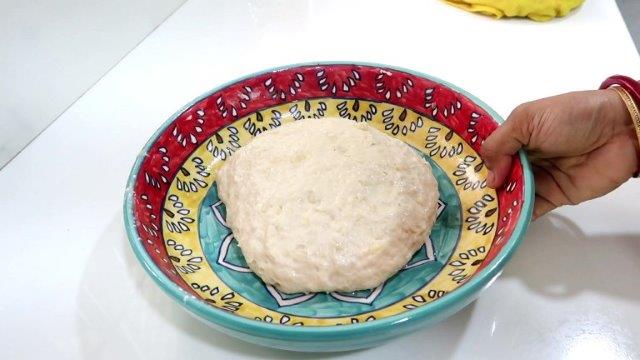 Pin
13)Cover and leave to rise for 1 to 2 hours.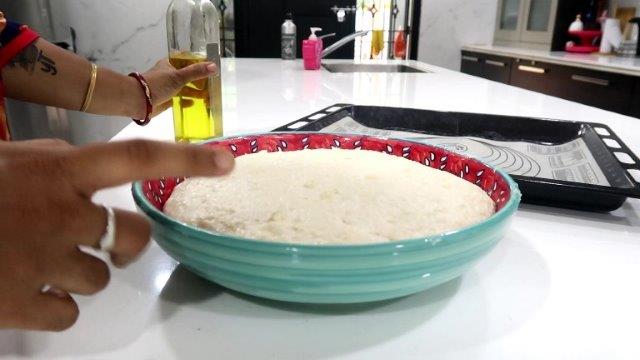 Pin
14)Take small portion from it and roll it into a smooth ball.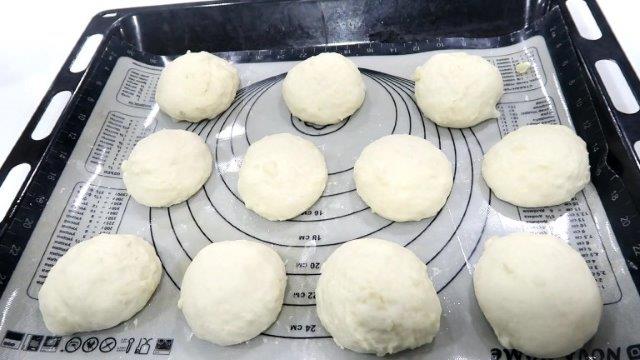 Pin
15)Leave it to rise for 30 mins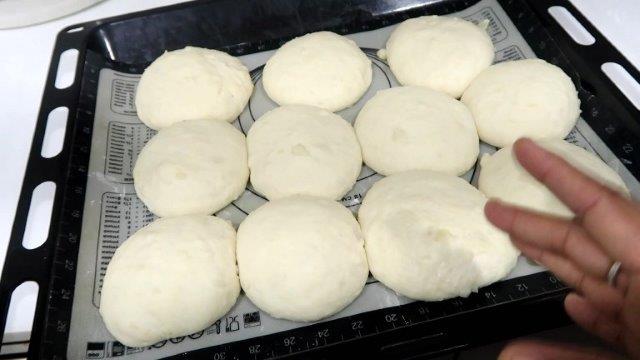 Pin
16)Bake till done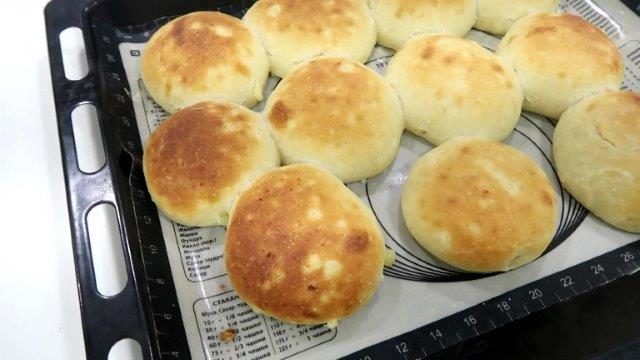 Pin
17)Serve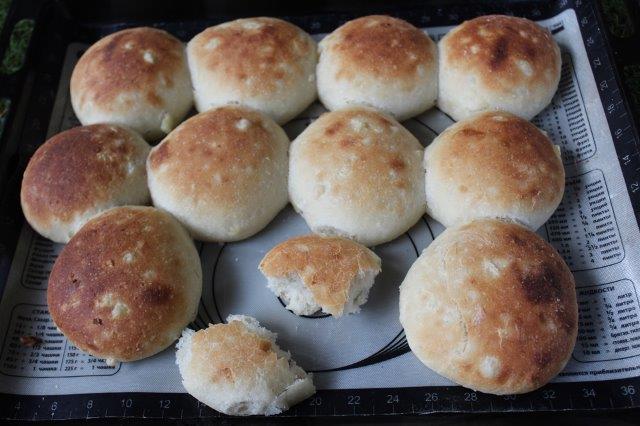 Pin
18)Enjoy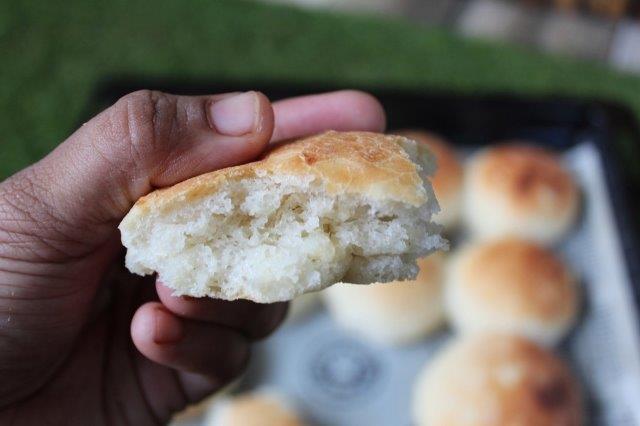 Pin
Related Recipes