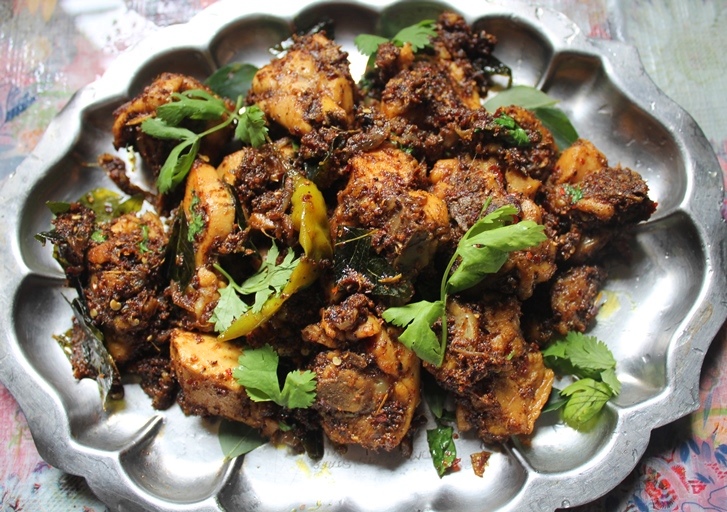 I love chettinad cooking, it is spicy and addictive. I have a chettinad mutton curry, chettinad potato roast, chettinad mushroom, chettinad chicken curry, chettinad egg curry, chettinad fish curry..Check out all my chettinad dishes too..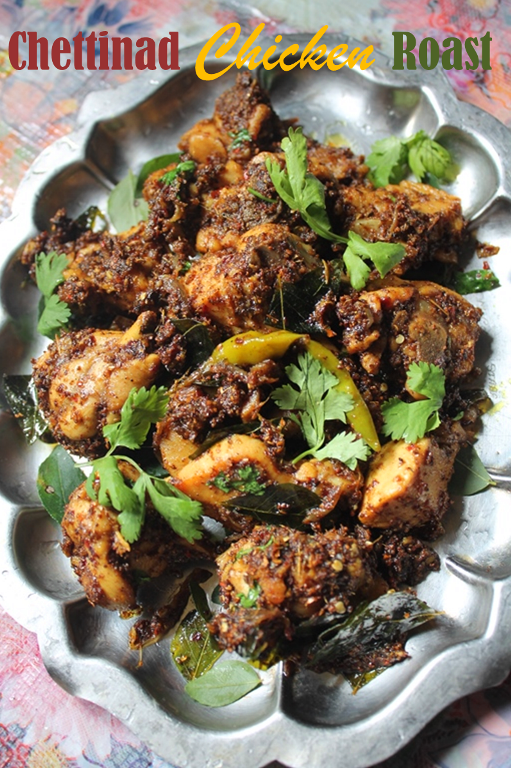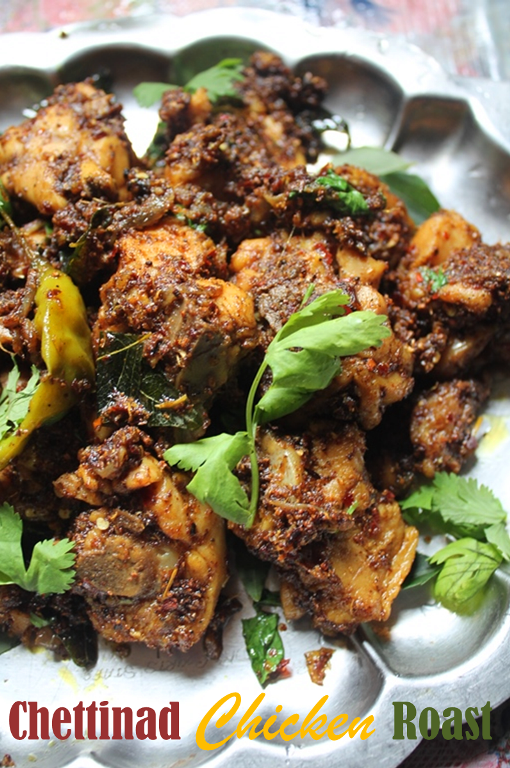 Preparation Time : 10 mins
Cooking Time : 45 mins to 1 hour
Serves : 4


Ingredients:
Oil – 3 tblspn
Onions – 1 large sliced thinly
Green Chillies – 3 slit
Curry Leaves a handful
Ginger Garlic Paste – 1 tblspn
Salt to taste
Turmeric Powder / Manjal Podi – 1 tsp
Chicken – 500 grams with bone
Coriander Leaves – 3 tblspn finely chopped


For Chettinad Masala:
Coriander Seeds / Malli – 3 tblspn
Cumin Seeds / Jeerakam – 1 tsp
Dry Red Chilli – 5 to 6
Fennel Seeds / Saunf / Sombu – 1 tblspn
Cinnamon / Pattai – 3 cm piece
Kal paasi / Black Stone Flower – 2 piece
Cardamom / Yelakai – 4
Cloves / Krambu – 4
Whole Pepper / Nala Milagu – 1 tsp
Star Anise – 1
Method:
Take all the chettinad spices in a dry heavy bottom kadai and roast till aromatic. Take it in a blender and make it into a fine powder.
Now in the same kadai. Add in oil and heat it up.
Add in onions, curry leaves and chillies and saute till it turns light golden.
Now add in ginger garlic paste and saute for a min.
Add in salt and turmeric powder and mix well.
Add in chicken and toss well in the oil. Cover the pan and cook on low heat for 20 mins.
Now the water will come out from the chicken. Mix it and cover again and cook for 15 mins till the chicken is completely cooked.
Now open the lid and increase the heat. Add in masala powder and roast it on high flame for 5 mins or so till the chicken is well coloured.
Add in coriander leaves and toss.
Serve with rice.
Pictorial: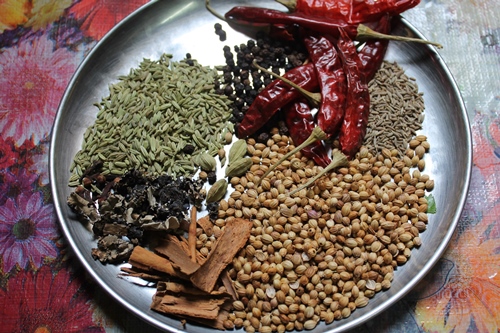 Take your chettinad spices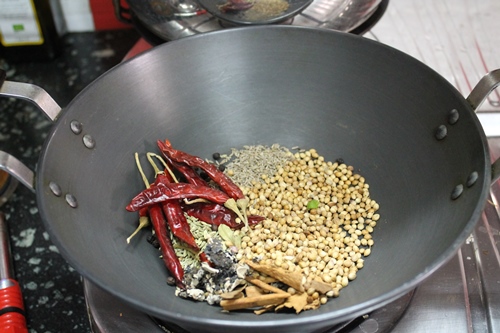 add them to a dry pan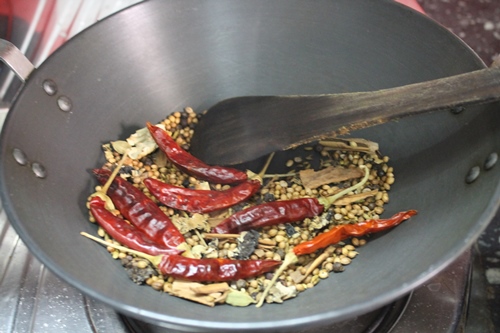 roast till golden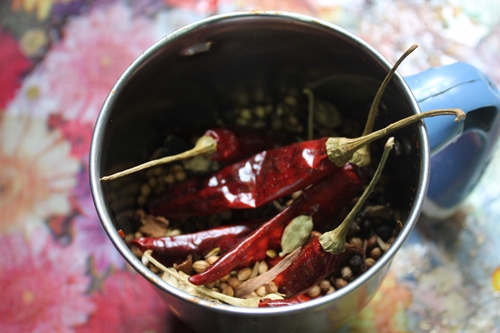 take them in a blender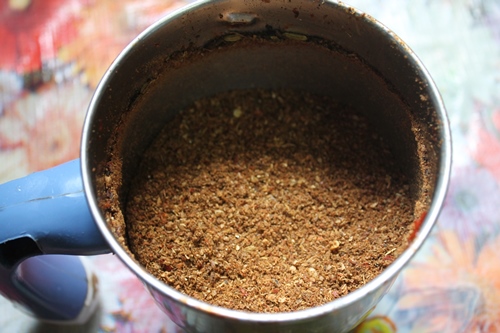 powder them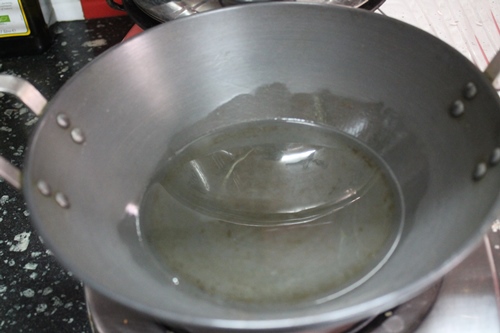 Heat oil in the same kadai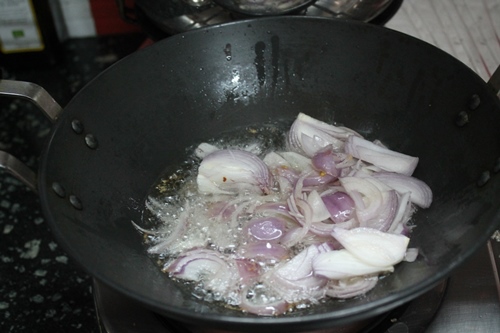 add in onions
saute till it turn translucent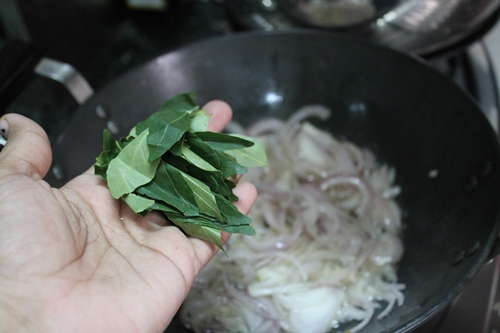 add in curry leaves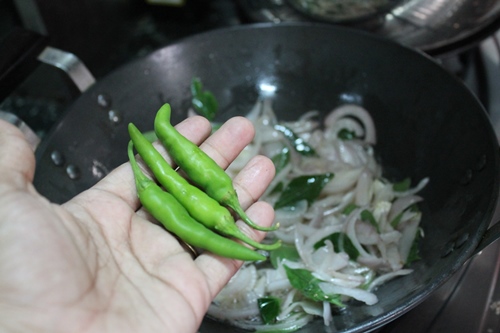 and some slit green chillies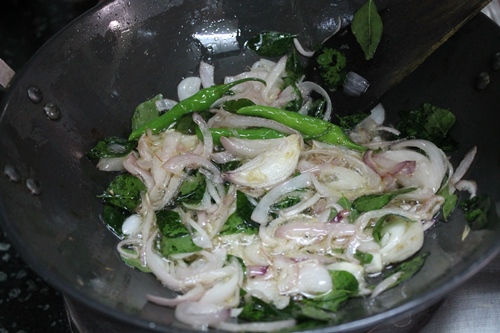 saute well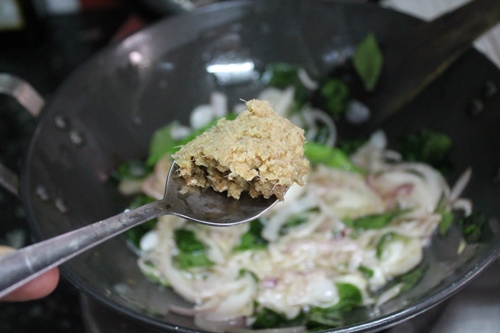 add in ginger garlic paste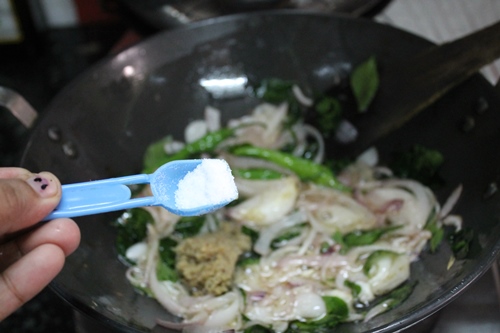 some salt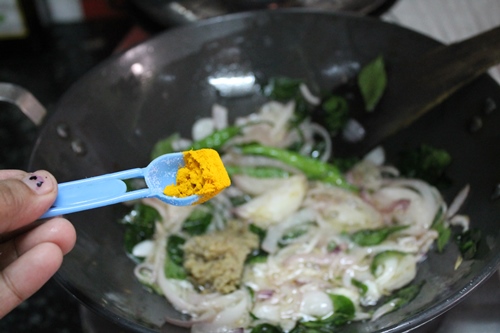 and some turmeric powder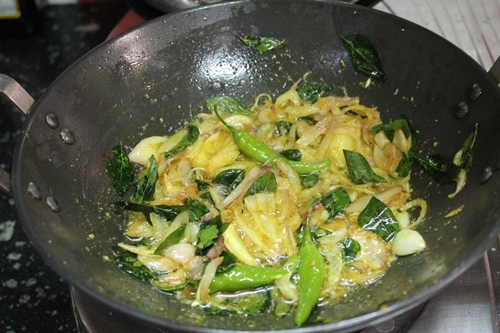 saute till it turn golden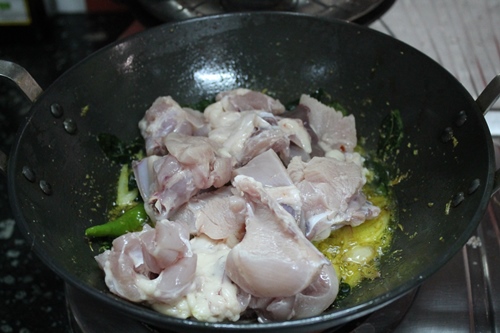 add in chicken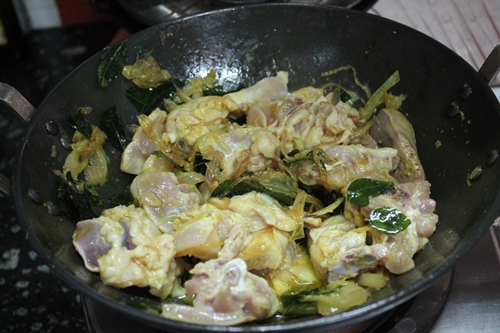 toss well in the oil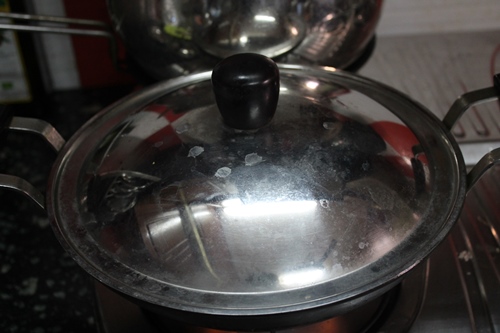 cover the pan and cook on low heat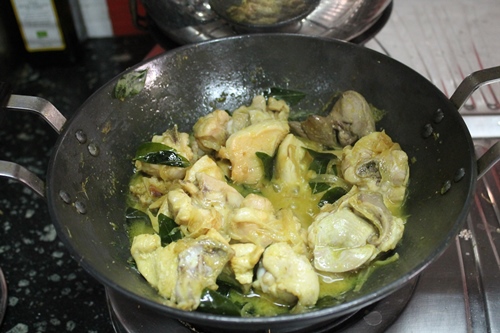 now the chicken is half cooked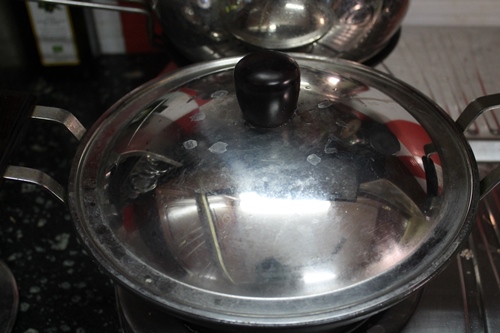 cover again and cook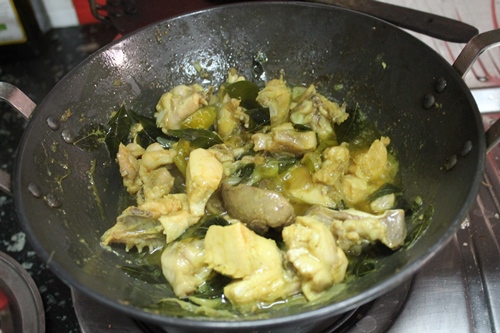 now it is completely cooked and water has evaporated little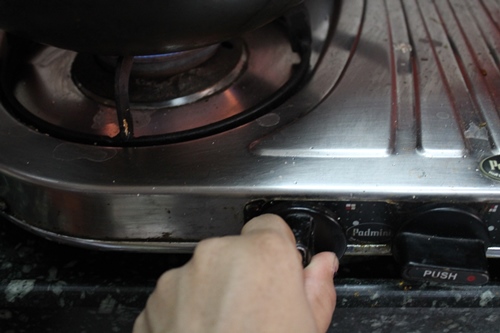 Increase the heat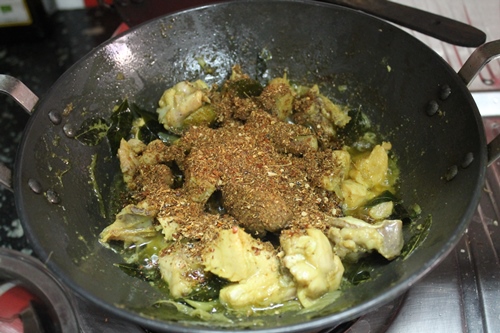 add in powdered spice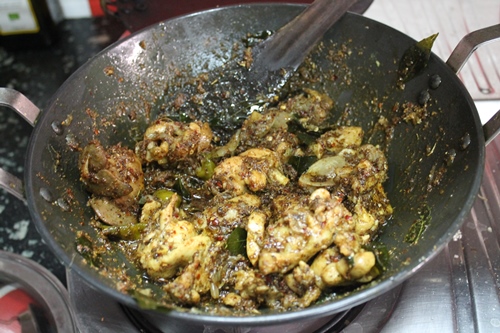 toss well in the oil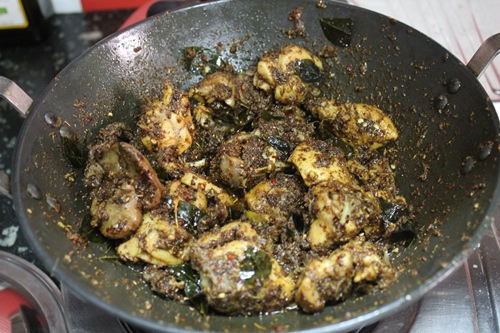 roast it for few mins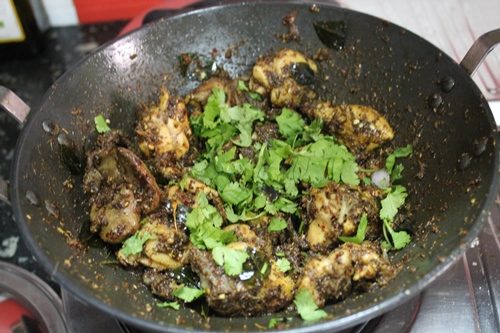 add in coriander leaves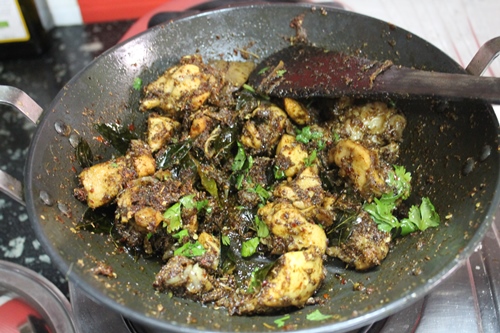 mix well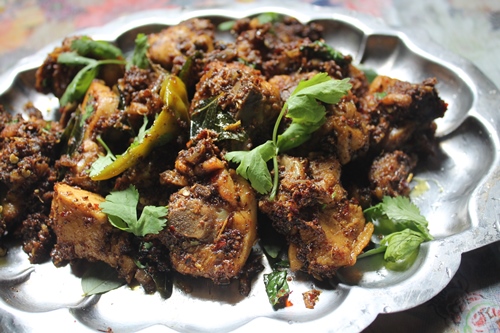 serve