Simple Fruit Salad with honey, lemon & ginger dressing. This is a perfect dish for a summer party.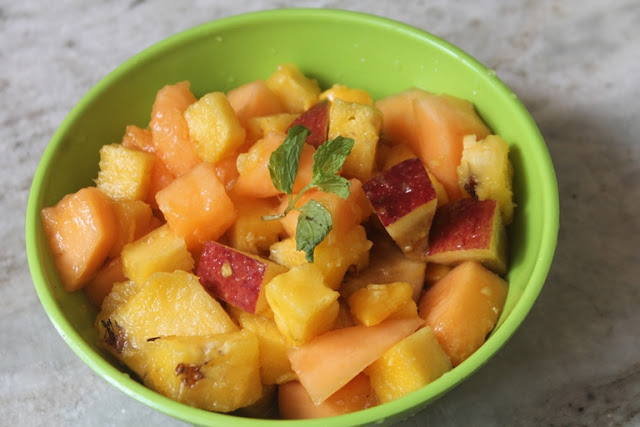 This is one quick and healthy salad which i made few days back. It was very cooling and refreshing, i loved it so much. If you are on diet, you can have a bowl of this for lunch, it keeps you filling for a long time. This is a cooling and tasty salad. This salad can be made and kept in fridge for upto 4 to 5 days.
About this Recipe
Fruit salad is a dish made up of various types of fruit that are sometimes served in a liquid, such as their own juices or syrup. Fruit salad can be served as an appetiser or as a side salad in various forms. A fruit salad is also known as a fruit cocktail or fruit cup when served as an appetiser.
Similar Recipes,
Italian Salad Dressing
Sprouts Fruits Salad
Sprouts Veggie Salad
Cold Pasta Salad
Mango Salad
Pineapple Salad
Lettuce Salad
Soba Noodles Chicken Salad
Greek Salad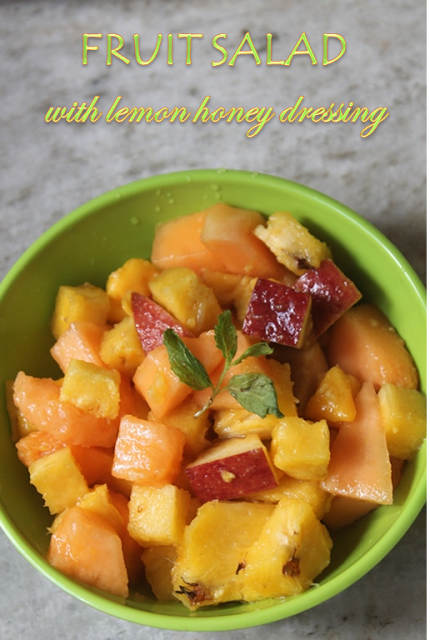 What is the importance of fruit salad?
A fruit salad can work wonders for you if you use the right amount and type of fruits, as it will provide you with a power-packed dose of fibre, vitamins, and antioxidants. At the same time, you will reap numerous health benefits, ranging from lower blood pressure to weight management.
Ingredients for Fruit Salad With Honey, Lemon & Ginger Dressing
Apple :
Apples are a great fruit to eat at any time of year because they help with nutrient balance. Their skin can be green, yellow, or reddish, and the meat tastes bitter to sweet. It is one of the worlds most popular fruits.
Pineapple :
Pineapple has a distinct tropical fruit flavour that is both sweet and tart. Because the base of the fruit contains more sugar, pieces from that area will be sweeter and more tender.
Lemon Juice :
Lemon juice is a common cooking and baking ingredient. It imparts a bright, citrusy flavour to both savoury and sweet dishes. With a low pH, it is one of the most acidic natural ingredients available, providing structure to jams and jellies and aiding in the proper rise of baked goods.
Hope you will give this a try and let me know how it turns out for you.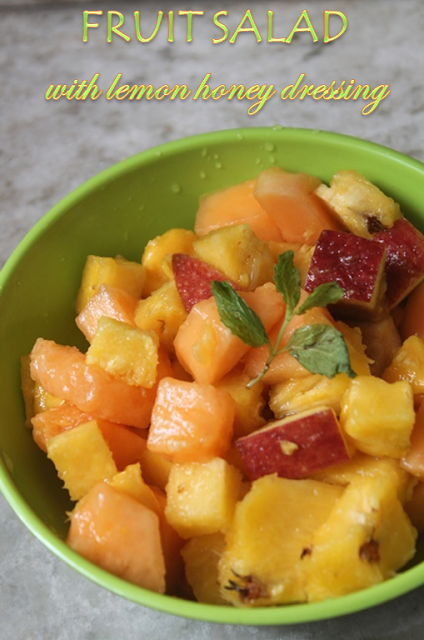 If you have any questions not covered in this post and if you need help, leave me a comment or mail me @[email protected] and I'll help as soon as I can.
Follow me on Instagram, Facebook,Pinterest ,Youtube and Twitter for more Yummy Tummy inspiration.
IF YOU MAKE THIS RECIPE OR ANYTHING FROM YUMMY TUMMY, MAKE SURE TO POST IT AND TAG ME SO I CAN SEE ALL OF YOUR CREATIONS!! #YUMMYTUMMYAARTHI AND @YUMMYTUMMYAARTHI ON INSTAGRAM!
📖 Recipe Card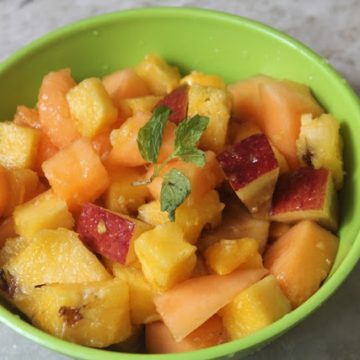 Ingredients
Apple - 1 chopped

Ripe Mango - 1 peeled and cubed

Pineapple - 2 cup peeled and cubed

Cantaloupe / Muskmelon - 2 cup cubed

For Dressing:

Lemon Juice - 1.5 tblspn

Honey - 3 tblspn

Lemon Zest- from 1 lemon

Ginger - 2 tsp grated
Instructions
Mix all ingredients for dressing in a bowl.

Take chopped fruits in a bowl, pour over dressing and toss well.

Serve.
Join us on Facebook
Follow us on Facebook
Share by Email
Share on Facebook
Fruit Salad Step by Step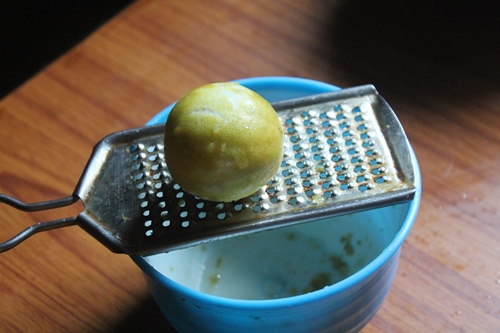 first lets make the dressing, grate in some lemon zest