Soya Chunks Manchurian Recipe with step by step pictures. Delicious Indo-chinese taste amazing with fried rice, noodles.
This recipe was in the draft for over 4 months. I don't know why I kept it so long to post. Most probably I forgot about this. Now time for the big reveal. Usually Manchurians are pretty much fatty. They are deep fried and then tossed in a spicy sauce which is so good, but since it is deep fried you can't dig into it more often..But this one you can eat pretty much daily. It is a low fat version of the fatty Manchurian, but you don't need to sacrifice taste to eat healthy. 
What is a Manchurian
Manchurian is a class of Indian Chinese dishes made by roughly chopping and deep-frying ingredients such as chicken, cauliflower (gobi), prawns, fish, mutton, and paneer, and then sautéeing it in a sauce flavored with soy sauce. Manchurian is the result of the adaptation of Chinese cooking and seasoning techniques to suit
Indian tastes. It has become a staple of Indian Chinese cuisine.
About Soya Chunks Manchurian Recipe
Soya chunks are made from defatted soy flour, which has had the oil removed. They are byproducts of the extraction of soybean oil and have a rough texture when dry. When submerged in warm water or added to gravy, the texture quickly changes to soft and spongy. They are referred to as vegetarian meat because their nutritional profile is comparable to that of several non-vegetarian foods.
Soya chunks are also very versatile and can be cooked to mimic the flavour of
non-veg curries. The term Manchurian  refers to someone who is a native or
inhabitant of Manchuria, a region in northeast China. However, the dish was primarily developed by Chinese eateries in India and has little in common with either traditional Manchu or Northeastern Chinese cuisine. Nelson Wang, a cook at the Cricket Club of India in Mumbai, is credited with creating it in 1975 after a customer asked
him to come up with a dish that wasn't on the menu.
The foundational components of an Indian dish, such as minced garlic, ginger, and green chilies, were the starting point for Wangs invention process. He then substituted soy sauce for garam masala and added cornstarch and the actual chicken after that.
Ingredients for Low Fat Soya Chunks Manchurian 
Soya Chunks / Meal Maker:
By themselves, they have no flavour or smell, providing every cook with a clean slate. The boiled nuggets are a delight to cook with because of their spongy texture, which is ready to absorb any flavours you dunk them in.
Corn flour / Corn Starch :
It functions as a thickening agent. Corn starch is also combined with flour in baking formulas to increase crumb strength while also increasing grain tenderness.
Soy Sauce :
Soy sauce is a traditional Chinese condiment that is widely used in East Asia to add flavour to a variety of cooked foods as well as to aid digestion. This sauce is made from fermented soybean paste, roasted grain, brine, and the mould Aspergillus oryzae or Aspergillus sojae.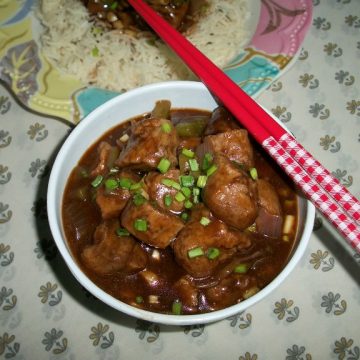 Soya Chunks Manchurian Recipe
Soya Chunks Manchurian Recipe with step by step pictures. Delicious Indo-chinese taste amazing with fried rice, noodles.
Ingredients
For Soya Chunks:

Soya Chunks / Meal Maker – 3 cups cooked

Click here to see how to cook soya chunks

Corn flour / Corn Starch – 3 tblspn

Salt to taste

Sugar – 1 tsp

Ajinomoto a pinch

optional

Soya Sauce – 1 tsp

Oil- 2 tblspn

For Manchurian Sauce:

Onion – 1 chopped

Ginger – 1 tblspn minced

Garlic – 1 tblspn minced

Green Chilli – 1 chopped

Soya Sauce – 1 tblspn

Tomato Ketchup – 1 tblspn

Vinegar – 1 tsp or to taste

Capsicum / Bell Pepper – 1 small chopped

Cornflour Slurry – 3 tblspn

1 tblspn cornflour mixed with 2 tblspn of water

Sugar – 1 tsp

Ajinomoto – 1 tsp

Salt to taste

Spring Onion for garnishing
Instructions
Take cooked soya chunks in a bowl. Add everything given in the list except oil. Mix well. Heat oil in a non stick kadai. Add the soya chunks mixture and toss well to coat.Cook on high heat for 5 mins till it gets nicely coloured and golden. Remove to a bowl.

Now in the same pan. Add onions, ginger, garlic and green chilli and mix well.

Add in soya sauce, vinegar, tomato ketchup and water and mix well.Bring it to a boil.

Add in the cooked seared soya chunks and mix well.

Add in chopped capsicum too and mix well. Slowly mix in the cornflour slurry and mix well till it gets thick.

Garnish with spring onions and serve.
If you have any questions not covered in this post and if you need help, leave me a comment or mail me @[email protected] and I'll help as soon as I can.
Follow me on Instagram, Facebook,Pinterest ,Youtube and Twitter for more Yummy Tummy inspiration.
IF YOU MAKE THIS RECIPE OR ANYTHING FROM YUMMY TUMMY, MAKE SURE TO POST IT AND TAG ME SO I CAN SEE ALL OF YOUR CREATIONS!! #YUMMYTUMMYAARTHI AND @YUMMYTUMMYAARTHI ON INSTAGRAM!
Soya Chunks Manchurian Recipe Step by Step pictures
Take all your ingredients
Soya Chunks are cooked..Click here to see how to cook soya chunks..
add corn flour, salt, sugar and ajinomoto
add soy sauce
mix well
Heat oil and add soya chunks in it
sear well
remove to a bowl
add onions to the pan
along with ginger and garlic
green chillies
salt, sugar and ajinomoto
soy sauce
tomato ketchup
vinegar
add water and boil it
add in soya chunks
capsicum
and corn flour slurry
mix well
add in lots of spring onion
mix well
Serve
Frequently Asked Questions
Is soya chunks better than paneer?
A great vegetarian source of protein is soya (in the form of chunks or granules). Additionally, it is typically used as a lower-calorie alternative to paneer. Did you know, however, that 100 g of soy contains more calories than 100 g of paneer.