Modak Recipe with step by step pictures. This sweet is a flour dumpling stuffed with coconut, jaggery, cardamom powder and ghee. This modak recipe is consumed highly during the festival of Ganesh Chaturthi.
Video for Modak Recipe
📖 Recipe
Modak Recipe Step by Step Pictures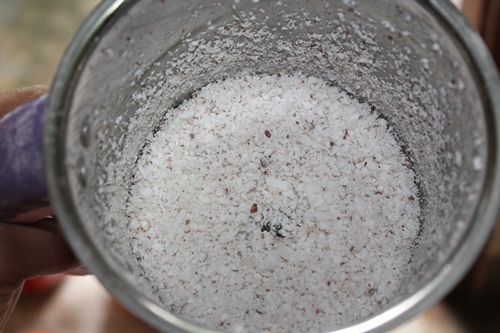 Take coconut in a blender and pulse it few times..
Dough for Modak (Pictures)
Shaping Modak (with Mould)
Now take modak mould and grease it lightly. Take small portion of dough and spread it evenly in mould.
Place the filling in and cover it with more dough.Now release the mould, you will have a modak.
Take a small portion of dough and flatten it thinly. Place a small ball of filling in it and cover it. Roll it between your hands to Smoothen it.
Shaping Modak Recipe (without Mould)
Frequently Asked Questions (FAQ)
How many calories does one Modak have?
One Modaks have 85 calories per serving. 32 calories come from carbohydrates, 12 from proteins, and the remaining 40 calories, or 40 calories, are from fat.
What is real modak made of?
A modaks sweet filling is made of freshly grated coconut and jaggery, while the outer soft shell is made of rice flour or wheat flour mixed
with khava or maida flour.
Which rice flour is best for modak?
Store bought rice flour or homemade rice flour can be used in making modak.
How many modaks are offered to Lord Ganesha?
This is why we offer 21 Modaks to Lord Ganesha
Tips & Tricks for Perfect Modak Recipe
It is recommended to use homemade rice flour in making modak for best results. But store bought can be used as well.
Dark coloured jaggery has intense sweet flavour.
Always make sure the dough | kozhukattai maavu is made soft and pliable. If you make it tough, then it will be hard to roll.
When rolling the dough, make sure there is no cracks.
Steam for the mentioned time and not more than that.
Instead of jaggery you can use sugar as well.
Nuts can be added in filling but it is not traditional.
If you have any questions not covered in this post and if you need help, leave me a comment or mail me @[email protected] and I'll help as soon as I can.
Follow me on Instagram, Facebook,Pinterest ,Youtube and Twitter for more Yummy Tummy inspiration.
IF YOU MAKE THIS RECIPE OR ANYTHING FROM YUMMY TUMMY, MAKE SURE TO POST IT AND TAG ME SO I CAN SEE ALL OF YOUR CREATIONS!! #YUMMYTUMMYAARTHI AND @YUMMYTUMMYAARTHI ON INSTAGRAM!