Gajar Ka Halwa with step by step pictures. Indian carrot pudding made using carrots, sugar, ghee and fried nuts. This halwa taste amazing when served with a scoop of vanilla ice cream.
Carrot Halwa Recipe Video
Similar Recipes,
Wheat Halwa
Custard Powder Halwa
Badam Halwa
Kasi Halwa
Cornflour Halwa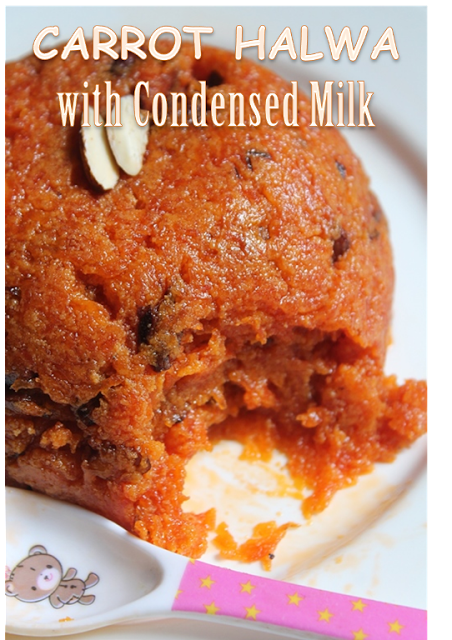 Pin
In this blog post, I have shared two versions of making carrot halwa. I have posted a traditional carrot halwa and a mawa carrot halwa made using mawa (khoya) and condensed milk. 
Carrot Halwa Recipe & Ingredients
The main ingredients for halwa are
Carrots - you can use desi carrot or regular carrot. what ever you use grate it finely. somedays I grate it using large grater as well.
Milk - use full fat milk for richer and tasty carrot halwa. 
Ghee - always when making indian sweets try to get the pure desi ghee for best tasting halwa.
Nuts - use mixture of nuts as you prefer. I usually use cashews, almonds, pistachios.
Khoya - if you are using khoya then it is fine. you can use store bought khoya or hoemmade. check my khoya recipe.
Condensed milk - this is entirely optional but adding milk maid makes it super rich and yummy.
Sugar - of course you need a hefty amount of sugar to make this sweet. but you can adjust it totally to your taste.
Carrot Halwa Making Step by Step
Cooking Carrots
Heat ghee in a kadai. Now Add in grated carrot and saute. Pour in milk and mix well Simmer the flame and cover it with a lid. Let this cook for 15 mins until the carrot is cooked completely.
Mixing in sweetener
Add in sugar and mix well. Cook this whole thing for 10 mins till the mix leaves the sides. Add in cardamom powder as well. Let this cook until the halwa gets thickened.
Preparing garnish
Now heat some ghee. Fry mixed nuts till golden. Add in the nuts and mix well. Serve hot, warm or cold.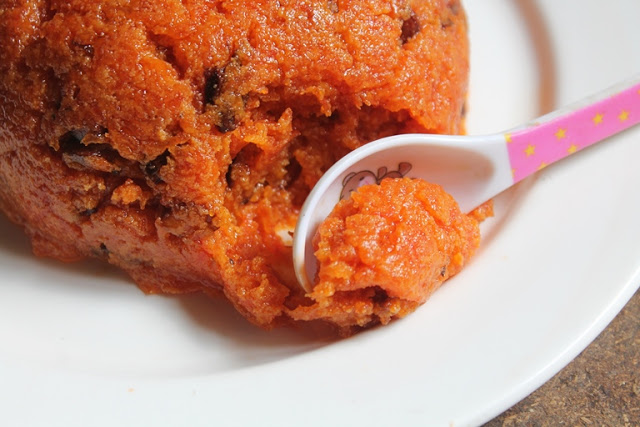 PinPin
📖 Recipe
Pressure Cooker Carrot Halwa Recipe
Making carrot halwa in pressure cooker is very healthy. Cooking in pressure cooker consumes very less ghee when compared to other method. Follow same recipe measurements as mentioned in the recipe card.
heat 1 tbsp ghee in a pressure cooker. add in grated carrots and mix for 2 mins.
add in milk and sugar to the pressure cooker. mix well till sugar is mixed completely.
cover the pressure cooker and let it cook for 3 whistle.
let the pressure escape by itself.
open the cooker, mix well.
add in fried nuts and more ghee if using.
mix once and serve.
Instant Pot Gajar Ka Halwa Recipe
Instant pot is widely used in the recent days. And making carrot halwa in instant pot is possible. It is pretty easy as well. This is how you make a tasty healthy carrot halwa in instant pot. Follow same recipe measurements as mentioned in the recipe card.
Set your instant pot to saute mode.
Add ghee and let it heat. Once the ghee is hot add carrots and saute for 5 mins.
Add milk and mix well.
Now cover the instant pot with a lid. cook for 15 mins.
Once the carrot is cooked, add in sugar, khoya and condensed milk if using.
Saute this for at least 10 mins so it gets thick.
Slowly add little ghee and fried nuts and mix well.
Once the mixture gets in halwa consistency, serve.
Frequently asked questions
Is Gajar Ka Halwa Healthy?
When compared to other indian sweets gajar has much more nutrients and less fat. It totally depends on how much ghee or sugar you are using in your halwa. Be conscious and adjust it accordingly to make carrot halwa a healthy dessert.
When is Carrot halwa served?
At festival time many people prefer vegetarian dishes as well as desserts in their Thali. Gajar ka halwa is a popular dessert all over India and often served at most festivals. The dish is popular among adults as well as children. 
When was carrot halwa invented?
The gajar ka halwa was first introduced during the Mughal period. Gajar ka halwa (meaning pudding of carrot or Halwa of carrot). It is very popular across the world, but it is more of a punjabi dessert.
How is carrot halwa made?
Gajar ka halwa originally contained carrots, milk and ghee but nowadays includes many other ingredients like khoya and condensed milk. Combination of cream, condensed milk and khoya i carrot halwa gives the pudding a milky mava flavor.
Related Recipes