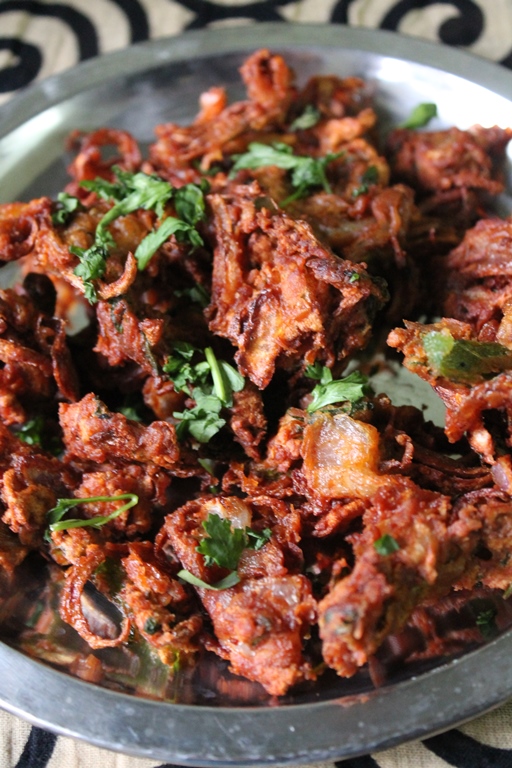 Pakoras are one of the popular indian snacks. We make pakoras with absolutely many of the veggies. One of the most popular ones are with onions. These morsels of heaven are hot, crispy and spicy. YUMMY Indeed. You can check out my other pakora recipes here..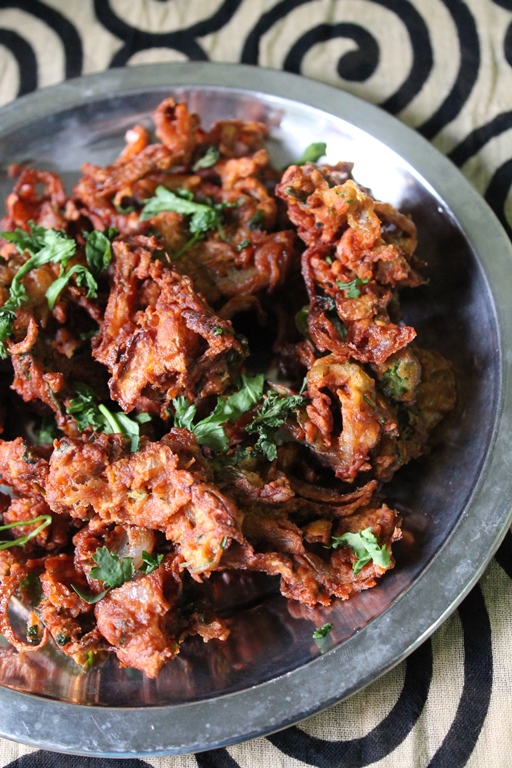 Preparation Time : 15 mins
Cooking Time : 2 to 3 mins per batch
Serves : 5 to 6


Ingredients:
Onion – 3 large peeled and sliced very thinly (around 5 cups of onions)
Green Chillies – 3 slit
Curry leaves – 1 sprig
Coriander leaves – 3 tblspn finely chopped
Salt to taste
Chilli powder – 1 tblspn
Gram Flour / Kadalai Mavu / Chickpea flour / Besan – 1/2 cup to 3/4 cup
Rice Flour – 1/4 cup
Oil for deep frying


Method:
Take sliced onions in a bowl, add in chillies, curry leaves, coriander leaves, salt, chilli powder and mix well with your hands.
Now add in gram flour and rice flour and mix well till it gets into a kind of thick crumbly dough.
Heat oil for deep frying. Take the pakora mix and drop them breaking them into small pieces.
Fry till they are golden and crispy.
Drain into paper towels and serve hot
Pictorial: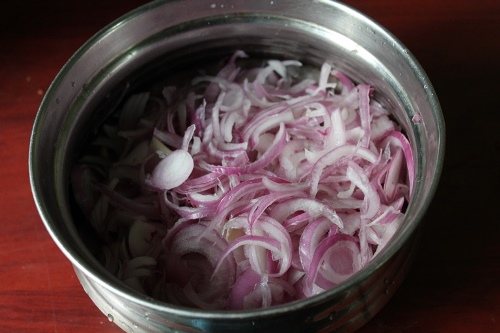 Slice up loads of onions thinly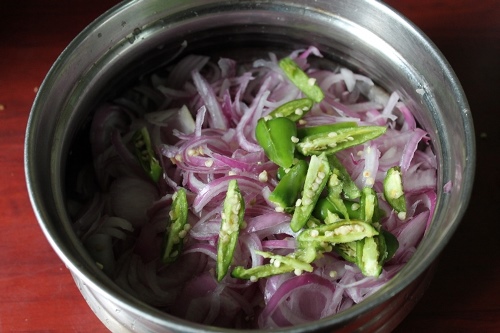 Add in slit chillies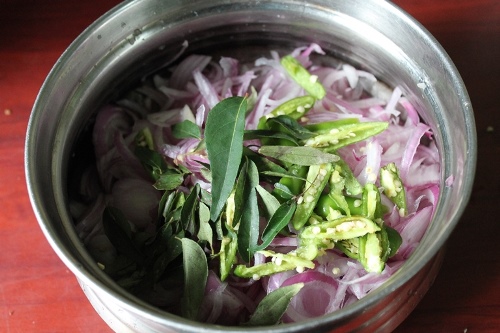 throw in some curry leaves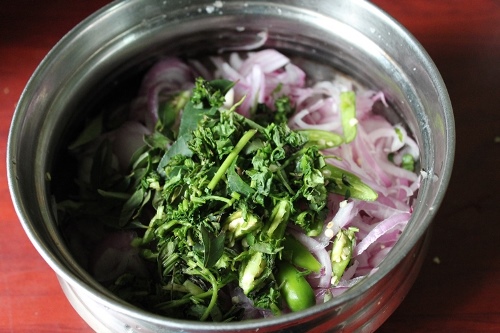 and some chopped coriander leaves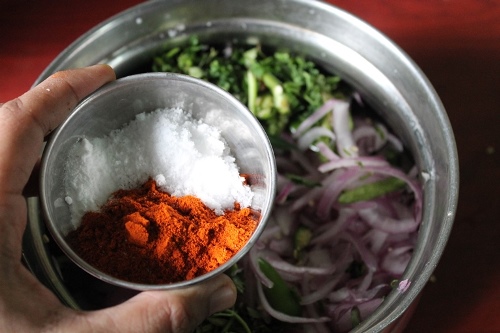 add in some salt and some chilli powder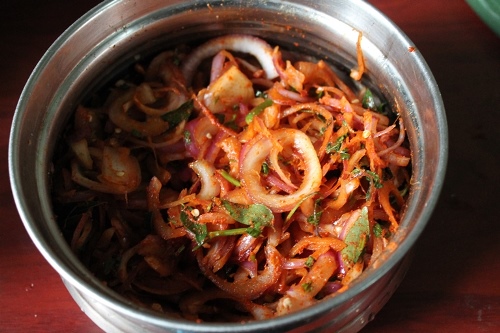 mix it all up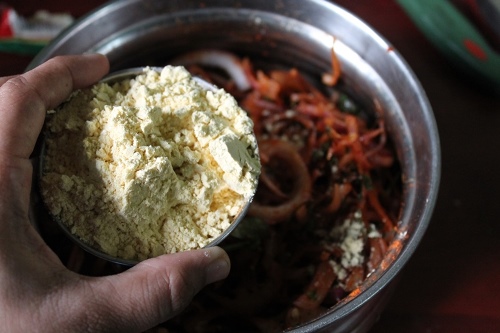 Add in gram flour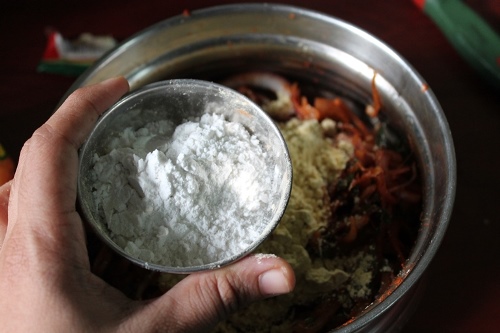 and rice flour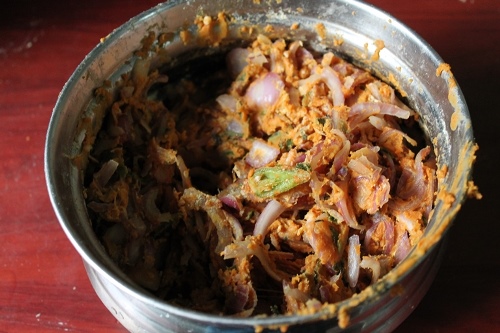 mix it up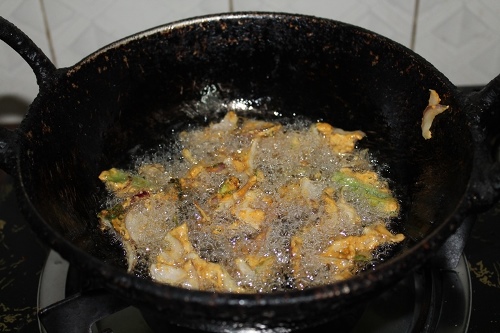 fry in hot oil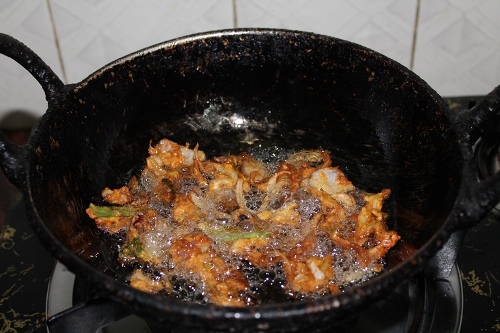 fry till golden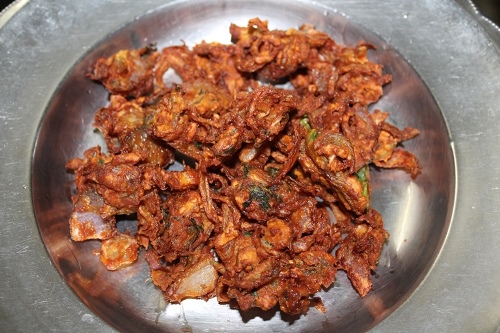 Drain it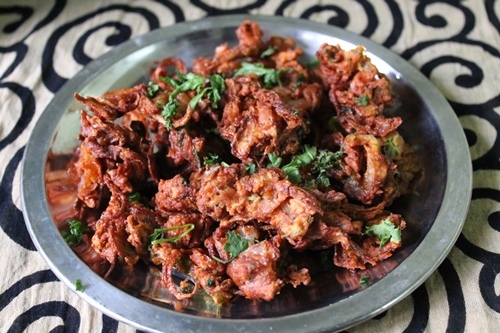 Serve
I am Aarthi, a happy homemaker, mom of two beautiful girls, married to my high school sweet heart. My goal is to teach people that cooking can be way more easier and joyful than they think. Yummy Tummy features recipes all over the world with step wise pictures which surely shows the ease of cooking.