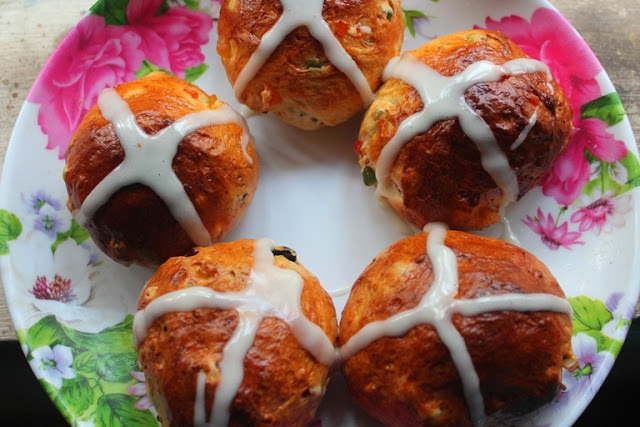 This bun was on my mind for quite a long time. And to be frank i often forget this recipe completely but each time i remember when maha watches the rhymes "HOT CROSS BUNS, HOT CROSS BUNS, ONE A PENNY, TWO A PENNY, HOT CROSS BUNS" . Finally today i decided to give this a try whatever happens and here i am with the post.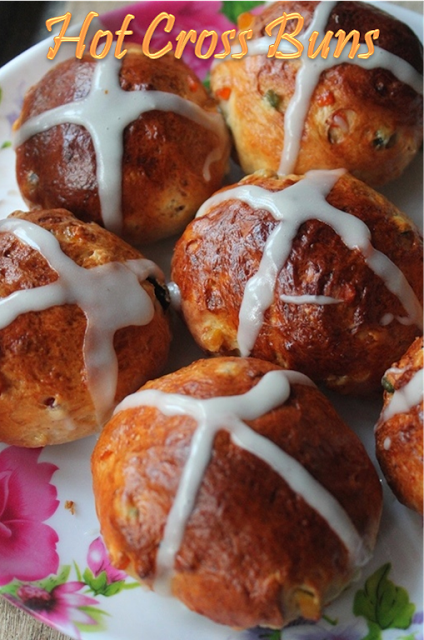 The buns as usual turned out fluffy soft and delicious. I loved the buttery texture of the buns with all those dried fruits in them Such a treat. The glaze over the buns was like cherry on top a icecream. So perfect. You have to give this a try. I made a bigger batch of the dough because i am going to use that to make a delicious cinnamon rolls recipe. Will be sharing it in couple of days..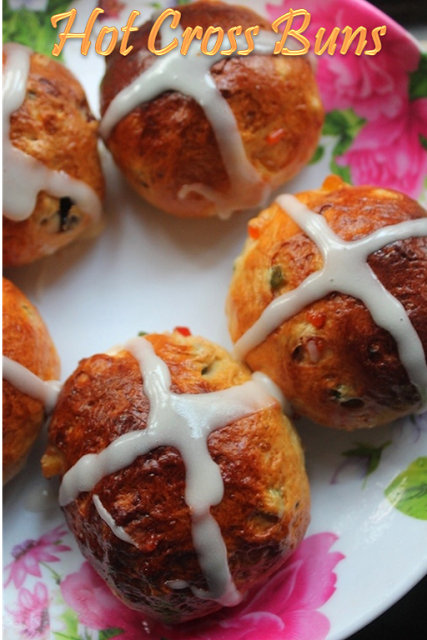 Hope you will give this a try and let me know how it turns out for you..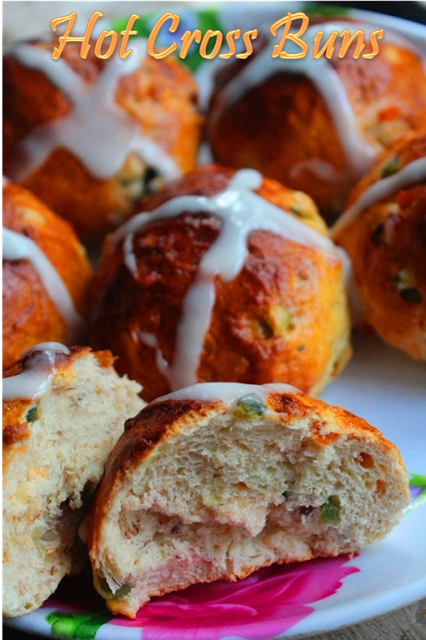 Preparation Time : 15 mins
Rising Time : 2 hour
Makes : 12 to 15 buns


Ingredients:
All Purpose Flour / Maida – 3 cups + more
Sugar – 1/2 cup
Milk – 1 1/4 cup or as needed
Dry Yeast – 1 tblspn
Egg – 1
Cinnamon Powder – 1 tsp
Unsalted Butter – 1/2 cup
Salt – 1/2 tsp
Raisans – 1/4 cup
Tutti Fruity – 1/2 cup
For Egg Wash:
Egg – 1
Milk – 1/4 cup
For Icing:
Royal Icing – 1 batch (RECIPE HERE)


(MY 1 CUP MEASURES 240 ML)


Method:
Take flour, salt and cinnamon in a bowl and mix well. Set aside.
Melt butter in a pan, add in milk, sugar and whisk well. Touch and see whether the temp of the milk is luke warm. It has to be very warm, if it is hot then the yeast will die.
Once the mix is warm, sprinkle over the yeast and set aside for 5 mins. Now it will be all activated.
Now whisk it well and add in egg and whisk well.
Now add in flour and mix to a sticky dough. Add in raisans and tutti fruity and mix well.
Now cover the dough with a plate and let it rise on a warm spot for 1 hour or till it is doubled in size.
Now add more flour and knead well. Now divide it into equal portions. take one ball and roll it into a smooth ball.
Arrange this in a parchment lined baking sheet and cover it again and let it rise for 1 hour or so.
In the last 10 min of rising, preheat oven to 190 degree C…
Make egg wash by mixing egg with some milk and set aside.
Brush the egg wash over the buns and bake this for 20 to 25 mins till golden.
Remove it and let it cool for 5 mins, remove it to a wire rack and cool it completely.
When the buns are cooling prepare glaze as shown here.
Fill a piping bag or ziploc bag with icing, snip the end off and make criss cross pattern over the buns.
Let it set for an hour and serve.
Pictorial: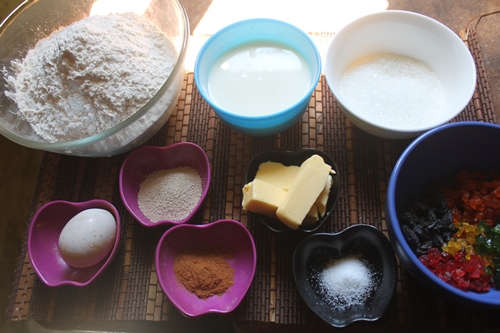 Take your ingredients for dough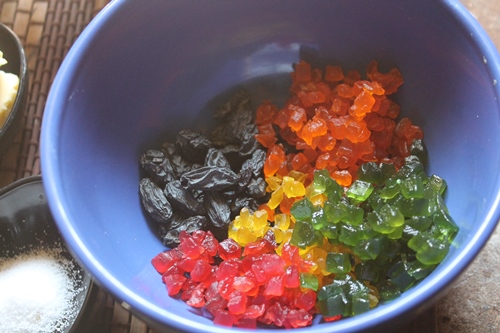 I used tutti fruity and raisans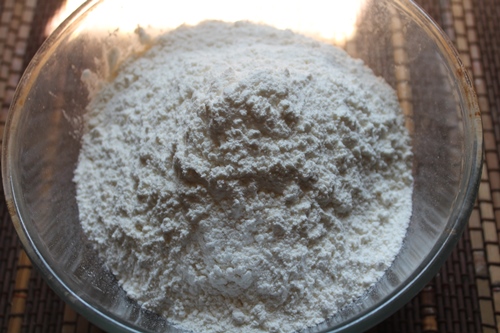 Take flour in a bowl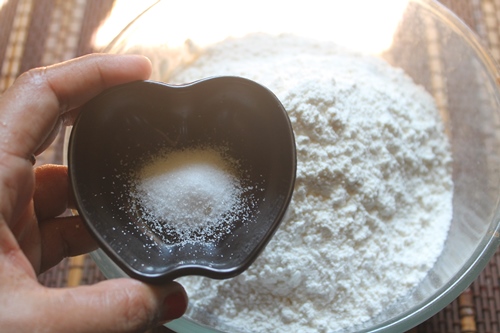 add in some salt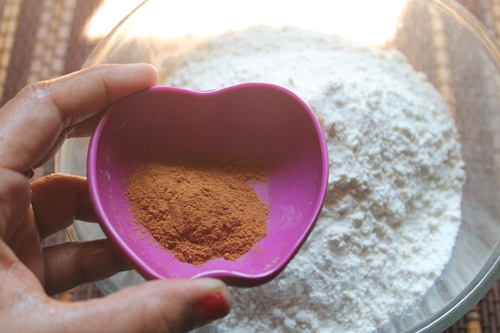 add in cinnamon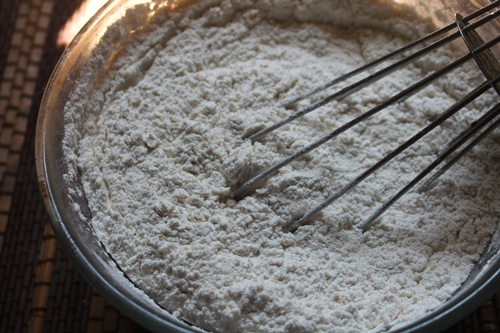 mix well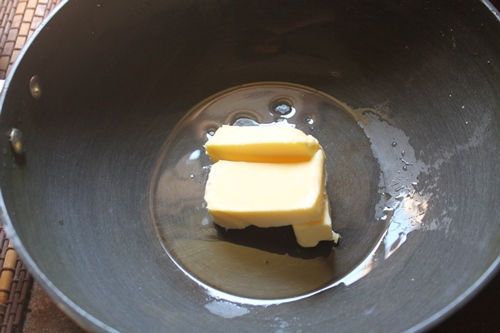 take butter in a pan, i am going to make the dough in this so i used a big pan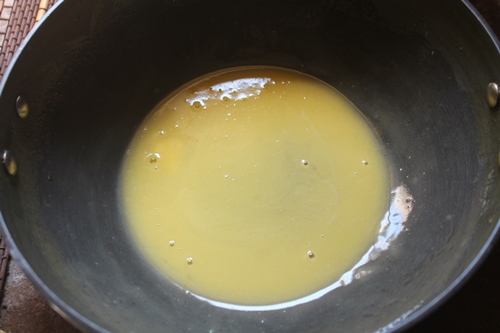 melt it down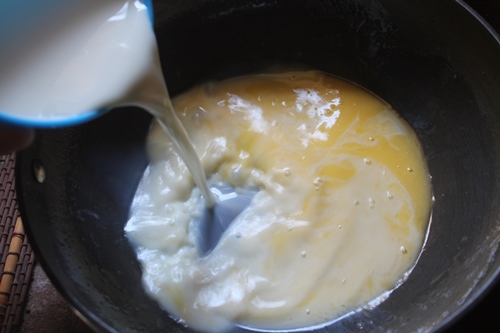 add in milk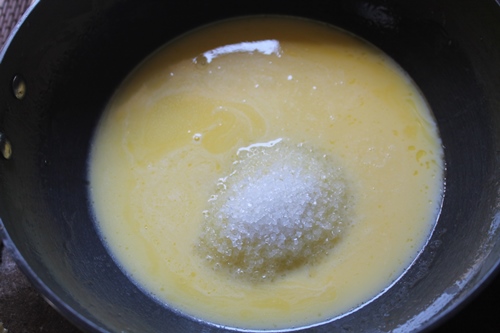 add in sugar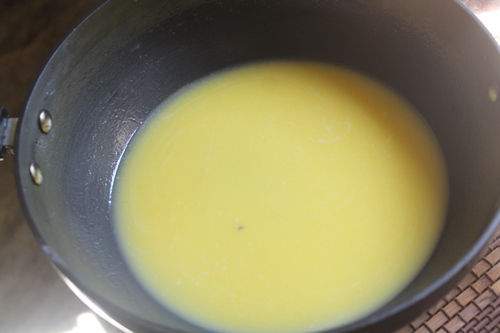 whisk till sugar is melted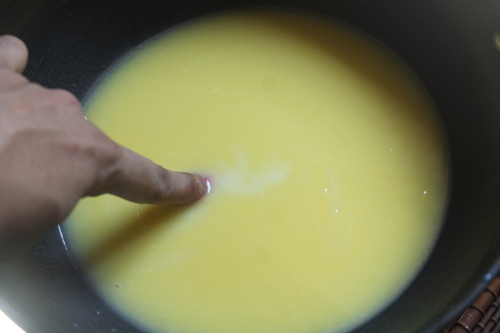 now this is the important stage, touch the milk to check the temparature..The milk has to be luke warm.
If it is hot then it will kill the yeast..so make sure the milk is very very warm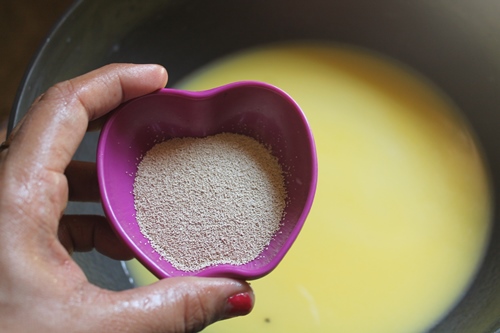 Now sprinkle over yeast..this is dry yeast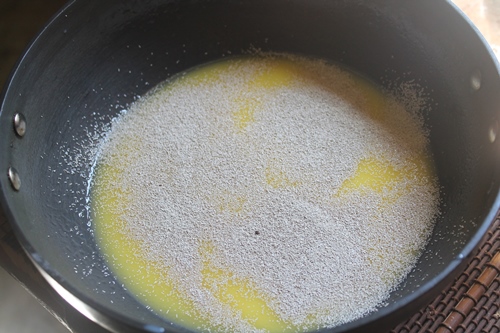 now set this aside for 5 mins so the yeast is activated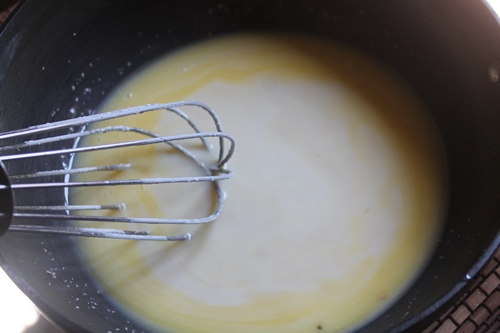 now whisk this well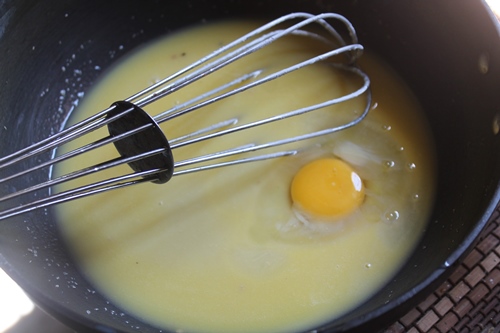 add in 1 egg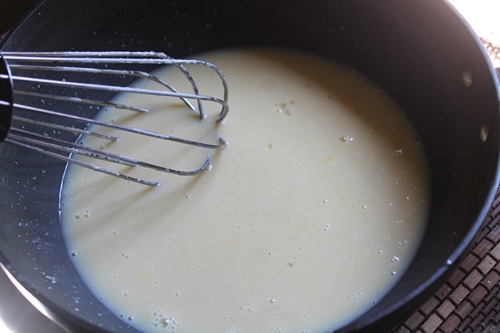 whisk again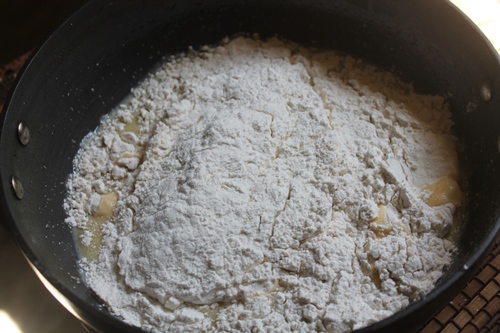 now add in flour mix in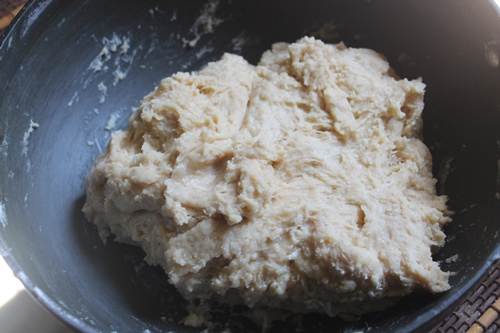 the dough has to be sticky..The more stickier the dough the more soft the buns will become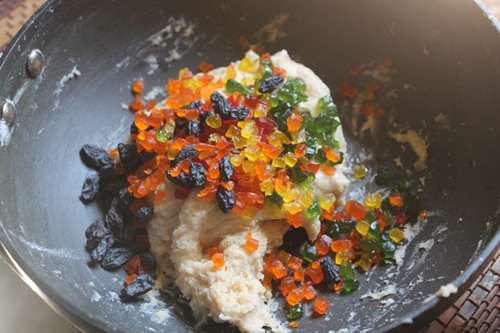 add in the tutti fruity and raisans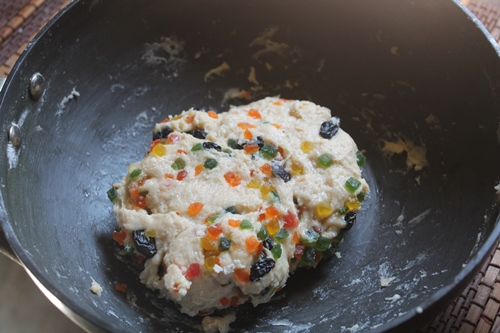 mix well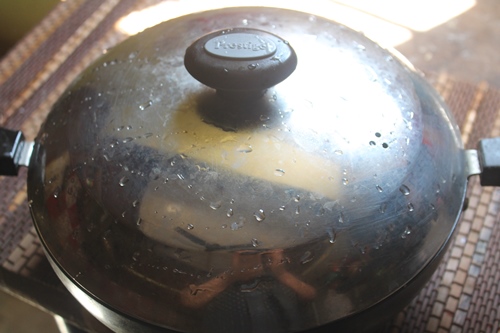 cover and let it rise for 1 to 2 hours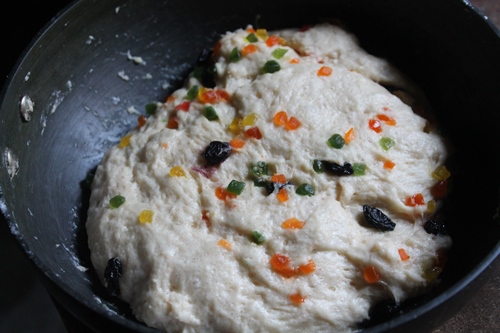 now the dough is well risen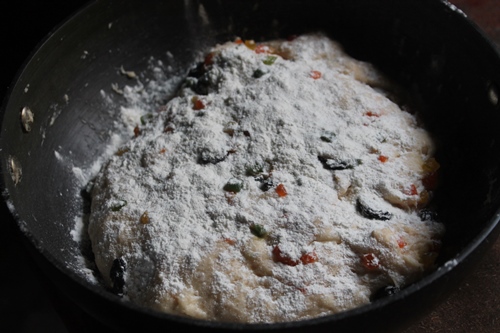 sprinkle more flour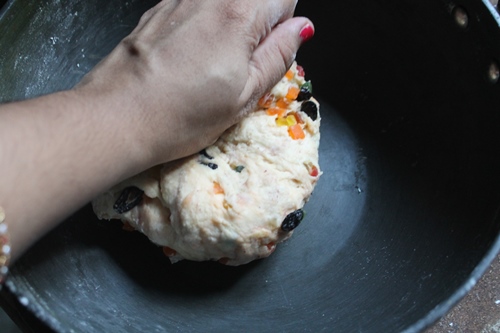 knead for 5 mins or so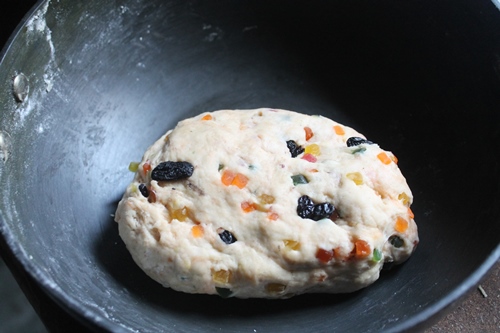 now the dough is soft and supple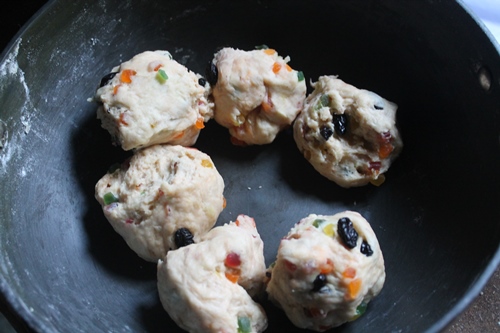 divide it into equal portions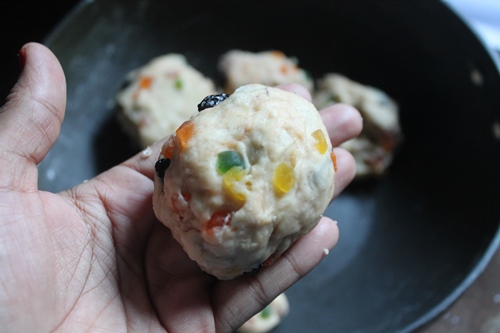 take a ball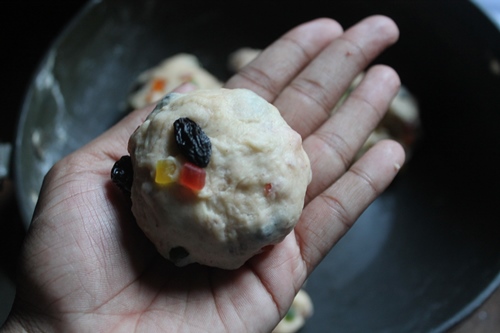 shape it into a smooth ball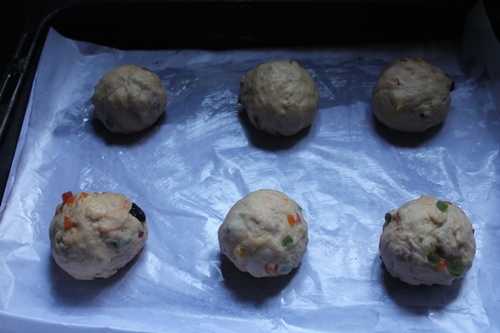 arrange it in a greased baking pan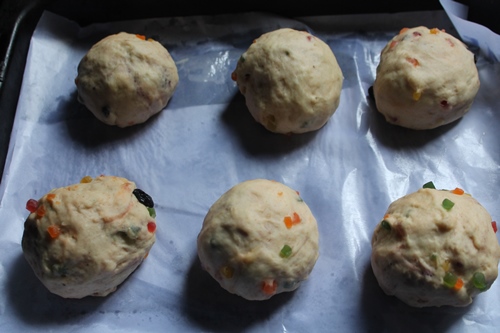 let this rise again for 1 hour or so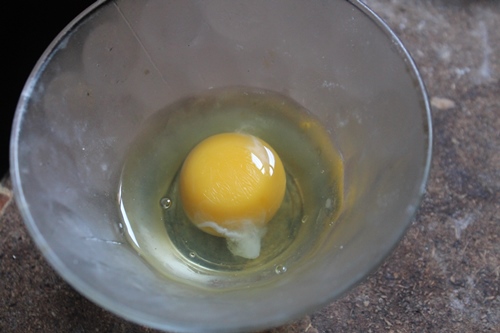 Now make egg wash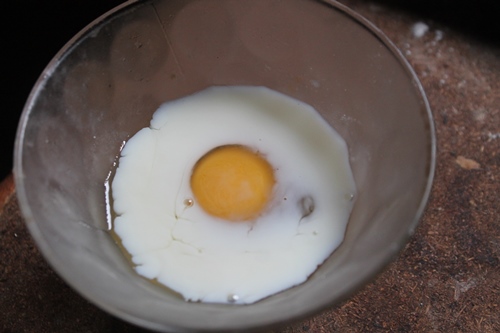 add some milk to egg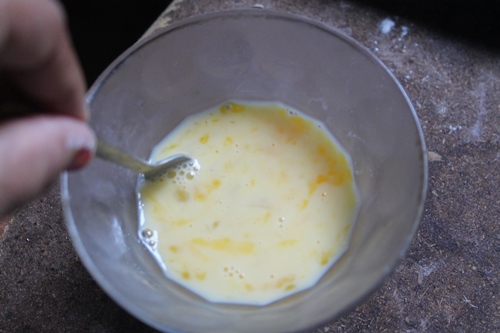 whisk well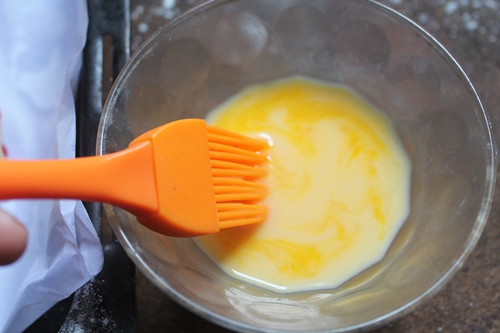 use a pastry brush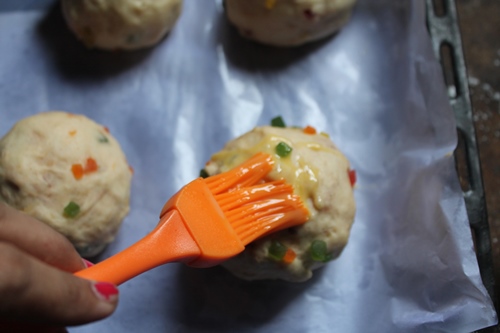 brush over the buns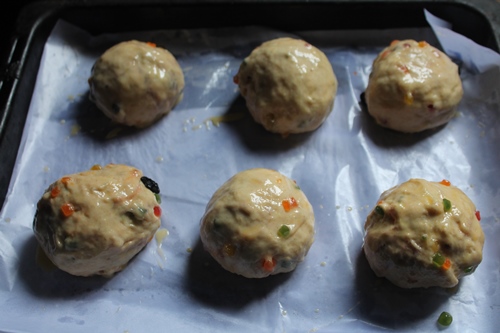 time to bake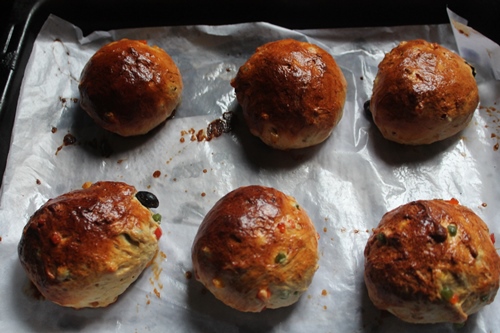 bake till golden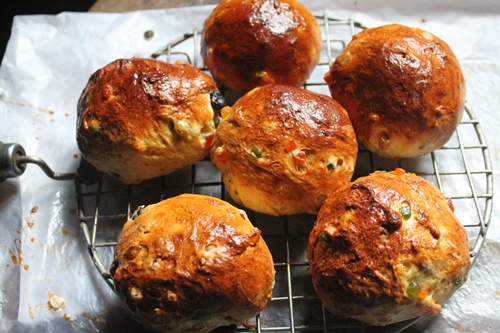 remove it on a cooling rack and cool completely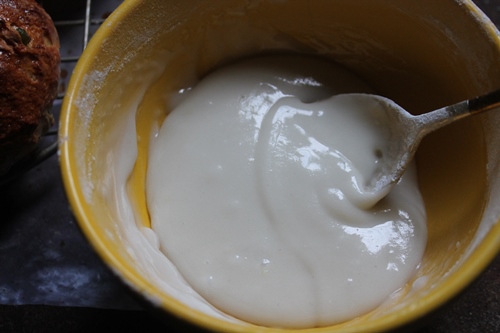 i made a batch of my eggless royal icing..RECIPE HERE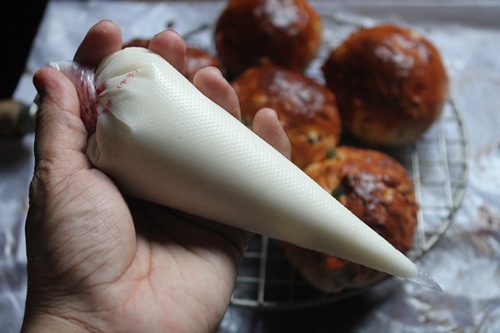 i filled a piping bag with it and snipped of the end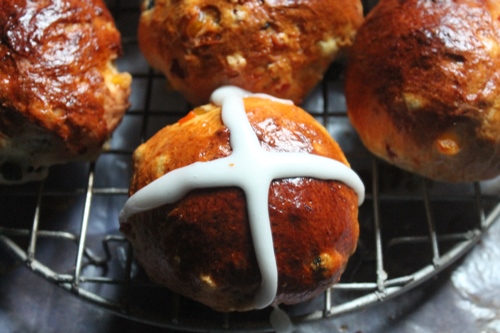 make a criss cross pattern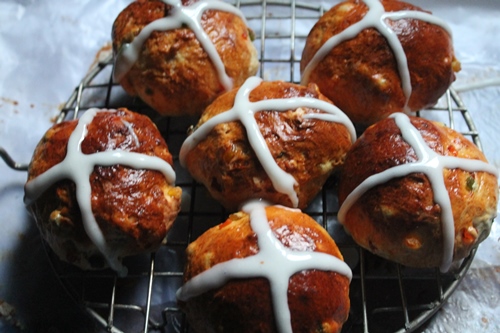 done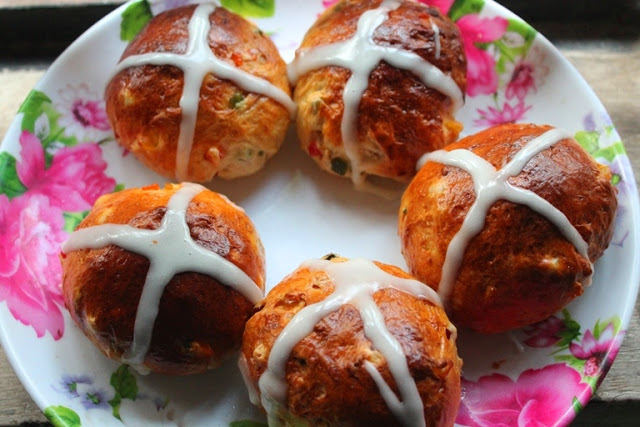 enjoy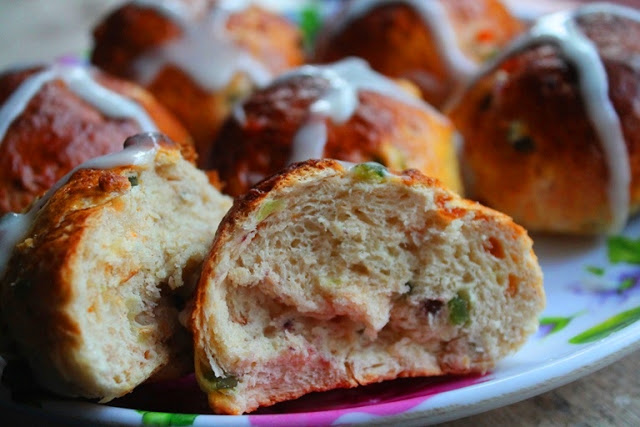 I am Aarthi, a happy homemaker, mom of two beautiful girls, married to my high school sweet heart. My goal is to teach people that cooking can be way more easier and joyful than they think. Yummy Tummy features recipes all over the world with step wise pictures which surely shows the ease of cooking.