Chilli Lemon Chutney Recipe with step by step pictures. Spicy and tangy chilli chutney which taste so delicious with idli, dosa.
If you are in a hurry and need any quick side dish for dosa or idli then this is the answer. Currently I am a kind of addicted to this chutney, I have it all day.. And you won't believe it, I am having a jar of this in my fridge always..Because Amma liked it and she told me to make In a large quantity to store in fridge so that she can have it any time with no effort.
In Indian subcontinent cuisines, chutney is a spread. Chutneys come in a variety of flavours and textures, including tomato relish, ground peanut garnish, yoghurt or curd, cucumber, spicy coconut, spicy onion, or mint dipping sauce. Ginger, cinnamon, cloves, nutmeg, allspice, cardamom, raisin, mango, tamarind, citrus fruit, apricot,
peach, coriander, mint, onion, and garlic are the most common flavours in chutney.
Chutney is derived from the Hindi word Chatna, which means to lick or to eat with appetite. In India, chutney refers to both fresh and pickled preparations; however, several Indian languages only use the word for fresh preparations.
Thogayal or thuvayal (Tamil) are preparations similar to chutney but with a pasty consistency in Tamil Nadu. Pacchadi is another name for it in Andhra Pradesh. It is also known as chammanthi in Kerala and tokku or pacchadi in Telangana. When the word chutney is used alone, it refers to thengai chutney, a coconut-based chutney.
About Chilli Lemon Chutney Recipe
I made this and served it with Ragi Adai which I will post soon..Actually it was so good because the adai was so mild and it needed some kick to it..This chutney satisfied that. This goes well with idli and dosa as well.
Garlic chutney, also known as lahsun chutney, lahsun ki chutney, lehsun chutney, and bellulli chutney, is an Indian subcontinent chutney made with fresh garlic, dry or fresh coconut, groundnuts, and green or red chilli peppers. Cumin and tamarind are occasionally used as ingredients.
Similar Recipes,
Green Capsicum Chutney
Red Capsicum Chutney
Onion Chutney
Beetroot Chutney
Chilli Garlic Chutney
Onion Tomato Chutney
Pin
Ingredients for Spicy & Tangy Red Chilli Garlic Chutney
Dry Red Chilli :
Dry red chilli is a condiment that enhances the flavour and colour of food. It contains medicinal and homoeopathic properties. We provide red chillies that are uniform in shape and size. It is mostly used to season foods. The chillies have a strong flavour.
Garlic :
Garlic has a distinct, pungent flavour that, when raw, borders on spicy and, when cooked, borders on nutty. Sulfur compounds, such as diallyl disulfide, contribute to the mustard-like flavour profile. It loses its acrid raw flavour when dried and crushed into garlic powder, making it ideal for seasoning dishes.
Mustard Seeds :
They are used as a seasoning rather than a base flavour in many Indian dishes, and they really perk up a lentil or rice dish when fried in a little oil with curry leaves . As a result, mustard seeds are excellent for adding flavour without adding fat to your diet.
If you have any questions not covered in this post and if you need help, leave me a comment or mail me @[email protected] and I'll help as soon as I can.
Follow me on Instagram, Facebook,Pinterest ,Youtube and Twitter for more Yummy Tummy inspiration.
IF YOU MAKE THIS RECIPE OR ANYTHING FROM YUMMY TUMMY, MAKE SURE TO POST IT AND TAG ME SO I CAN SEE ALL OF YOUR CREATIONS!! #YUMMYTUMMYAARTHI AND @YUMMYTUMMYAARTHI ON INSTAGRAM!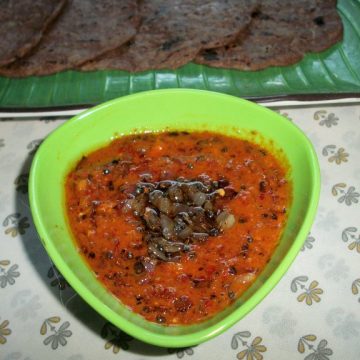 Chilli Lemon Chutney Recipe
Chilli Lemon Chutney Recipe with step by step pictures. Spicy and tangy chilli chutney which taste so delicious with idli, dosa.
Ingredients
5

Dry Red Chilli

6

cloves

Garlic

if using small garlic use 12

1

Onion

finely chopped

3

tbsp

Lemon Juice

1

tsp

Mustard Seeds

Salt to taste

5

tbsp

Oil

try to use Indian Gingelly oil / Nala Ennai
Instructions
Heat 1 tblspn oil in a kadai. Add red chilli and garlic and fry till light golden.

Remove this to a blender and add salt and lemon juice and make into a fine puree. Add some water if needed. Put this into a bowl.

Heat 5 tblspn of oil in a pan.  Add mustard seeds and allow them to pop.

Now add in finely chopped onions and fry them till they turn golden. Pour this oil over the chutney and mix well.

Serve with dosa or idli.
Nutrition Facts
Chilli Lemon Chutney Recipe
Amount Per Serving (1 servings)
Calories 201
Calories from Fat 162
% Daily Value*
Fat 18g28%
Sodium 7mg0%
Potassium 256mg7%
Carbohydrates 10g3%
Protein 2g4%
Vitamin A 537IU11%
Vitamin C 89mg108%
Calcium 25mg3%
Iron 1mg6%
* Percent Daily Values are based on a 2000 calorie diet.
Chilli Lemon Chutney Recipe Step by Step Pictures
Take all your ingredients
Heat a tblspn of oil
add red chilli and garlic to it
and fry for few minutes
take it in a blender
add salt
and lemon juice
and make into a puree
Transfer to a bowl
heat oil in a frying
add mustard seeds
add onions
and fry for few minutes
and fry till light golden
now it getting darker
pour it over the chutney
and mix well
Serve
Frequently Asked Questions? FAQ?
What is the difference between salsa and chutney?
Chutney is a condiment or side dish that is similar to salsa or a sweet relish. Chutneys are typically made with fruits, herbs, vegetables, or a combination of these ingredients. Most chutneys require a delicate balance of sweet, sour, and spicy flavours.