Soft and Healthy Whole Wheat Bread Recipe with Step by Step Pictures. 100% Wholemeal bread made with wheat flour, yeast and water. This Perfect brown bread made in less than 2 hours.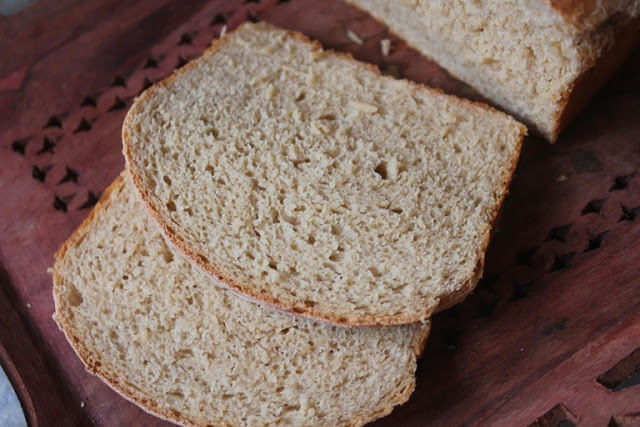 Pin
Whole Wheat Bread Recipe - 100% Wheat Bread with step wise pictures. Healthy whole wheat bread which turned out super soft. This bread is perfect for making sandwiches. The bread gets a perfect texture with the addition of eggs.
About Whole Wheat Bread Recipe
Whole wheat bread is made using wholemeal flour, yeast, honey and water. Sometimes eggs or other ingredients are used. I am sharing three version of whole wheat bread in this post.
You all know my love for baking bread at home from my array of bread post in my blog. So far i have tried 100% Whole Wheat Bread, White Bread, Multi Grain Bread. And i went a little fancy and made a Homemade Panettone & Focaccia Bread. So far everything turned out so beautiful and they all been my favorite ones.
100% Wheat Bread with no Maida
Whole Wheat Bread are my absolute favourite. But store bought breads have maida in them and they are never made with whole wheat flour. I already have a wheat bread recipe, but this is another version which is more fluffier than that..
I have tried so many bread recipes so far. This is a wheat bread which i made few weeks back, i used eggs in them. The texture of the bread was so perfect. It was soft inside and has a perfect crust.
Don't have much time, check out my 1.30 hour brown bread recipe.
Similar Recipes,
White Bread
Multi Grain Bread
Vegan White Bread
Oats Honey Bread
Milk Honey Bread
📖 Recipe
Pin
This version of whole wheat bread has eggs added in them. Eggs gives perfect crumb to the bread and also hold its better. It makes the bread even more soft and fluffy. The bread taste amazing when made into sandwich.
Similar Recipes,
Christmas Sweet Bread, Semolina Bread, Cheese Bread, Wheat Bread with Gluten, Wheat Bran Bread, Oats Bread, White Sandwich Bread, Soda Bread Rolls.
Pin
Pictorial:
1)Take water in a sauce pan and heat till it gets warm
Pin
2) Add honey
Pin
3)Add in dry yeast
Pin
4)Let it sit and bloom
Pin
5)Add in one egg
Pin
6)Whisk till mixed
Pin
7)Take flour in a bowl.
Pin
8)Add in salt.
Pin
10)Add in oil
Pin
12)yeast water
Pin
13)Knead to a dough
Pin
15)Take the dough out. Knead well for 5 to 7 mins
Pin
17)Keep kneading till the dough is smooth.
Pin
19)Place the dough in a greased bowl. Brush top with some oil. Cover and leave to rise for 1 to 2 hours

Pin
20)Now the dough is doubled in size
Pin
21)Punch out the air
Pin
25)Place it in a greased mould.
Pin
26)Cover and leave to rise for 45 mins to 1 hour. Now time to bake
Pin
28)Bake till done
Pin
29)Cool completely and slice.
Pin
Version 3: Whole Wheat Bread with Milk
How to Make Healthy Wholemeal Bread
Now coming to the recipe of the day. It is a healthy one which many of you must have never thought of making this at home. Yes it is a very very healthy whole wheat bread with no addition of maida (all purpose flour) to it. You might think that now we can find so many wheat breads out in the markets, why would spend time making it at home. But let me tell you a secret.
The  bread which you find in store have some maida added to it. I am not talking about the specially made bread which you find in big supermarkets. But most of them have maida added to it. So if you want a healthier option and need a good whole wheat bread them try this out..
Pictorial
Tips & Tricks
Activating yeast before adding is important. The yeast should turn foamy. Then add it to the flour. If the yeast didn't foam up then dont add it to flour. The dough wont rise.
If you use instant yeast, then you can add it straight to the wheat flour. Dont need to activate it separately.
Don't over bake it, if you do then the bread will get hard.
You can add honey instead of sugar.
Frequently Asked Questions
One of the questions which I often get is Why my bread is not rising. Why my dough is not doubling up. Why my bread is dense.
How to Activate Yeast?
Take warm water in a bowl. Use Luke warm water. Dip your finger in the water and it should be very warm. Just like a warm bath water.
sprinkle little sweetness like sugar, honey. Because yeast loves warm and sweet environment.
now sprinkle yeast over it. I use dry yeast.
leave aside for 5 mins to activate. The yeast mix should be bubbly and foamy. This means yeast is activated.
If your mixture doesn't look foamy.
1)Then you must have added yeast to too hot water so the yeast has died.
2)You have used cold water so yeast didn't activated.
3)Your yeast is expired. Always store yeast in freezer in an air right container.
If you have any questions not covered in this post and if you need help, leave me a comment or mail me @[email protected] and I'll help as soon as I can.
Follow me on Instagram, Facebook, Pinterest ,Youtube and Twitter for more Yummy Tummy inspiration.
IF YOU MAKE THIS RECIPE OR ANYTHING FROM YUMMY TUMMY, MAKE SURE TO POST IT AND TAG ME SO I CAN SEE ALL OF YOUR CREATIONS!! #YUMMYTUMMYAARTHI AND @YUMMYTUMMYAARTHI ON INSTAGRAM!