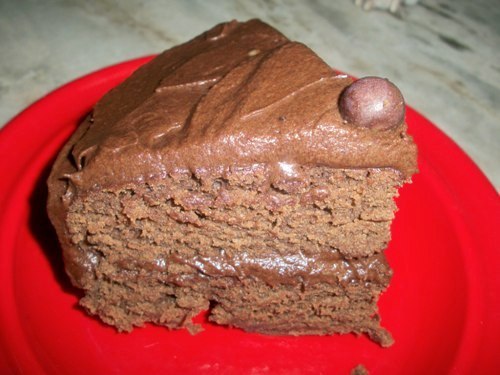 Chocolate cake with Chocolate Frosting
You all know that I love chocolate…This cake is the proof of how much I love chocolate,This one is completely chocolaty..The frosting I made is one of the best frosting ever.It is rich and creamy and yummy..The cake itself is a very moist cake,because of the amount of liquid that goes into this..The batter of the cake should be watery,that what makes the cake very moist..And also I made a cake stand to display all my cakes,I will post those pictures soon…
So I hope you all will give this a try and let me know what you think..
Flour-1 ¾ cup / 200 gms
Sugar- 1 cup / 200 gms (Powdered)
Cocoa-3/4 cup / 100 gms
Baking powder-1 ½ tsp
Baking Soda-1 ½ tsp
Salt- ½ tsp
Eggs- 2
Milk- 2/3 cup / 160 ml
Oil- 3/4 cup / 180 ml / 6 fluid ounces
Vanilla Essence-2 tsp
Boiling water- 2/3 cup / 160 ml
For Frosting:
Unsalted Butter-2 cup / 200 gms
Chocolate-100 gms
Cocoa-1/2 cup / 50 gms
Icing Sugar-1 cup / 100 gms
Boiling water- ½ cup / 120 ml
Vanilla essence-1 tsp
Method:
Preheat the oven to 180° C(350 F)…
In a mixing bowl sift in flour,sugar,cocoa,baking powder,baking soda,salt together.
In a separate bowl mix eggs,milk,oil together.
Pour wet ingrediants in the dry one and mix well.Add in vanilla essence…Pour in boiling water and mix well.
Divide this mixture in two prepared tins(Tins that are buttered on the bottom as well as sides and floured on all sides) and bake in the oven for 30-35 min or until the cakes are cooked.To check insert a skewer in the cake,the skewer should come out clean.
After the cake has been cooled,remove onto a wire rack and let it cool completely..
For Frosting:
Melt chocolate in a double boiler until completely melted.
Add hot water into cocoa and mix that well.let both the chocolate and the cocoa mixture cool completely…
In a mixing bowl beat together butter and icing sugar till creamy..Add in vanilla essence and beat well..
Now add in the cooled chocolate and cocoa mixture to the butter mixture and beat well…This icing will be glossy and very chocolaty..
Now take the cooled cake and add a good amount of icing in the middle and cover it with other cake…Add some more icing on the top and cover the entire cake with this icing.
If you wish you could decorate the cake with chocolate shards or sprinkles..Slice and serve..
Pictorial: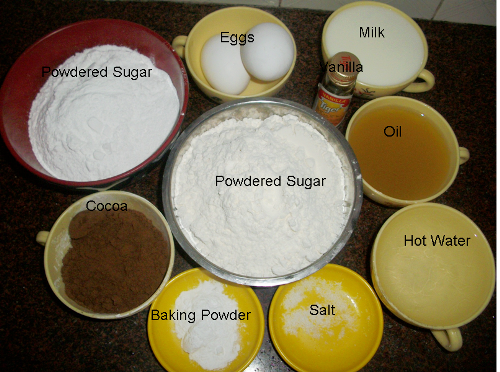 Ur ingrediants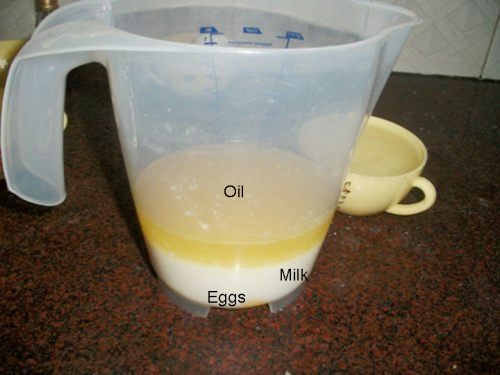 Mix wet ingrediants

Mix the dry ingrediants…

Pour the wet ingrediant on to the dry ingrediants

Add your hot water…

Mix all together

Let the cake cool down…

Take all your ingrediants for the frosting

Mix them up…

Your frosting is done..

Take one of your cake..

Spread the frosting

Sandwich it with the other cake and add a dollop of the frosting..

Cover the entire cake..

Decorate it as your wish