Simple bread upma recipe which makes a great breakfast on busy days. Tasty and quick upma made using bread and vegetables. 2 Version of bread upma is included.
Pin
Easy Bread Upma Recipe - Quick Breakfast Recipe with step wise pictures.
Bread upma taste amazing when served hot with a cup of chai. This upma is easy to make and delicious to eat. You can serve it with some raita as well. Delicious and easy bread upma which taste amazing and is quick to make. It is perfect to put in lunch box or for breakfast.
They are quick bread upma which can be made in minutes..This verison is lot more healthier since there is lots of vegetables going in..It is great for kids to put in lunch box. Try to add lots of vegetables in this if you are making it for kids..If your kid hates any veggies, sneak them in..they are never going to find out..
You can add some tomato ketchup too which gives a nice taste..This make a pretty filling meal, it can be served for breakfast or lunch or any time of the day.
Similar Recipes,
Pin
Hope you will give this a try and let me know how it turns out for you.
Version 1: Simple Bread Upma Recipe
1)Toast bread in some oil till golden
Pin
2)Cook till golden on both sides
Pin
3)Tear the bread into small pieces
Pin
4)Heat oil in a pan, add in mustard and fennel seeds and let them sizzle. Add in onions and green chillies
Pin
5)Saute for a min
Pin
6)Add in tomatoes
Pin
7)Saute for 2 to 3 mins.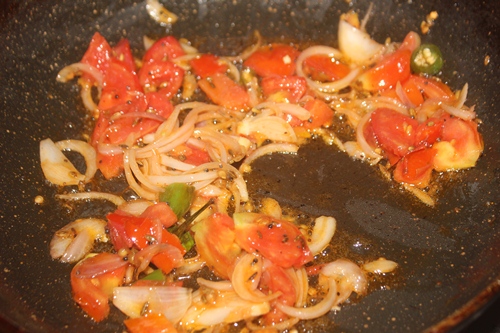 Pin
8)Add salt and turmeric powder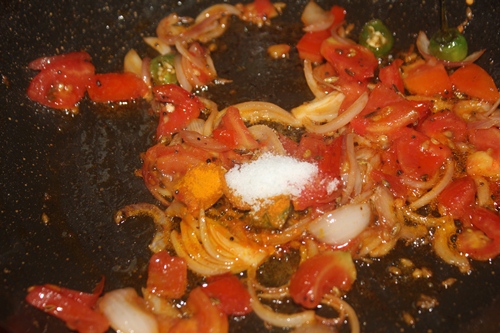 Pin
9)Add in garam masala powder
Pin
10)Mix well
Pin
11)Add water
Pin
12)Bring it to a boil.
Pin
13)Add in bread pieces
Pin
14)Mix well
Pin
15)Serve
Pin
📖 Recipe
Version 2: Bread Upma with Vegetables (Veg Bread Upma)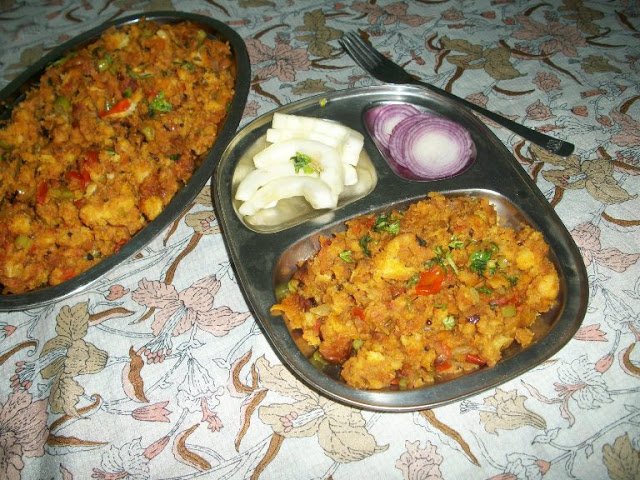 Pin
Ingredients for veg bread upma
Bread – 15 slices
Onion-1 chopped finely
Tomatoes – 3 chopped finely
Carrot – 1 large grated
Beans – 10 chopped finely
Potatoes – 1 large boiled and mashed
Mustard Seeds / Kaduku-1 tsp
Fennel Seeds / Saunf / Sombu -1 tsp
Coriander Powder / Malli Podi / Thaniya Podi -1 tblspn
Chilli Powder -1 tsp
Turmeric Powder / Manjal podi -1 tsp
Garam Masala Powder -2  tsp
Salt to taste
Oil-2 tblspn
Coriander Leaves / Cilantro for garnishing
Veg Bread upma preparation
First take the bread slices and dip them in water not more than 5 seconds. Squeeze out all the water and just scramble them with your hands.  Set this aside till use.
Chop  all your vegetables. Boil the potatoes and mash them. Set this aside till use.
Heat oil in a large sauté pan. Add in fennel seeds and mustard seeds.
Throw in the onions and mix well. Let it cook for 3 mins or untill light golden brown.
Add carrots, beans and mix well..Cook them for 5 mins.
Add in tomatoes and mix them till they turn mushy.
Add all turmeric, chilli, coriander, garam masala powder and salt in this. Mix well.
Now add in mashed potatoes and bread and mix well.
Saute them for 5 mins and mix inbetween.
Garnish with cilantro and mix well.Serve hot or put in lunch box for kids.