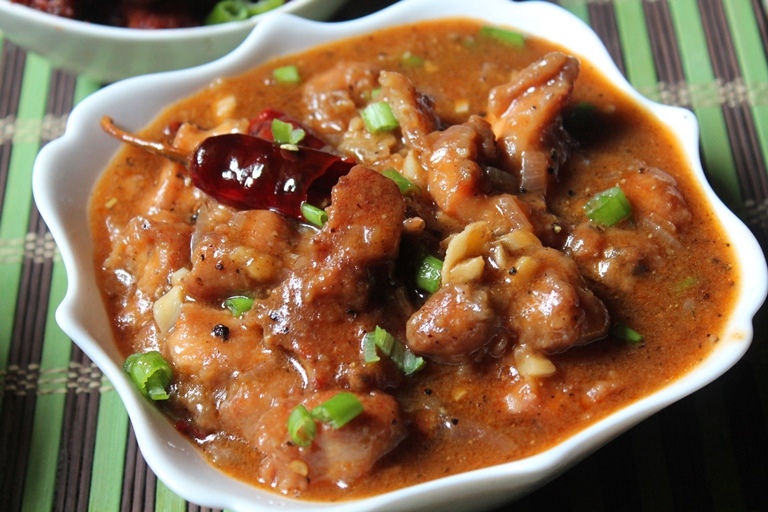 I have a addiction to Indo chinese foods. Specially non veg dishes. They are so delicious. I try to cook a indo chinese feast at home atleast once in a week or two. Today is that day, I made veg noodles, garlic chicken and chilli chicken..It was so yum..
Similar Recipes,
Spicy Cashew Chicken Stir Fry
Chilli Prawns
Chinese Style Eggs
Chinese Paneer
Chicken Lollipop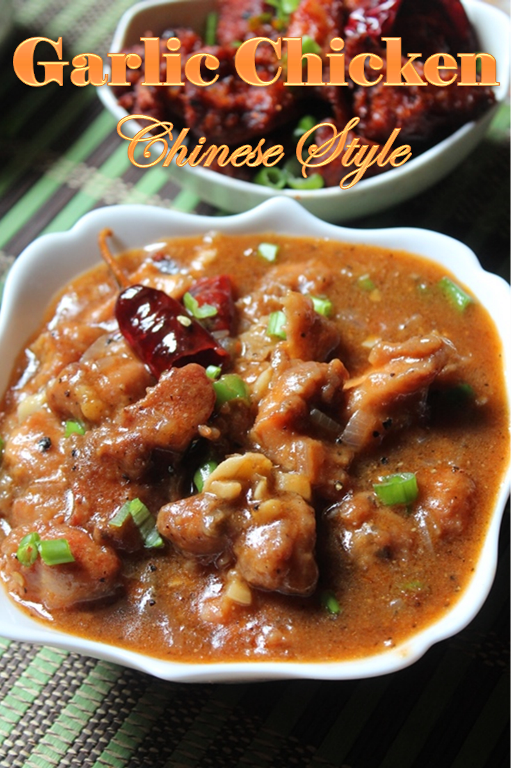 If you are a garlic lover like me, you will love it for sure..It has a lovely aroma of garlic but not at all over powering..I am sure you need to have some mints after this meal to freshen up your breath..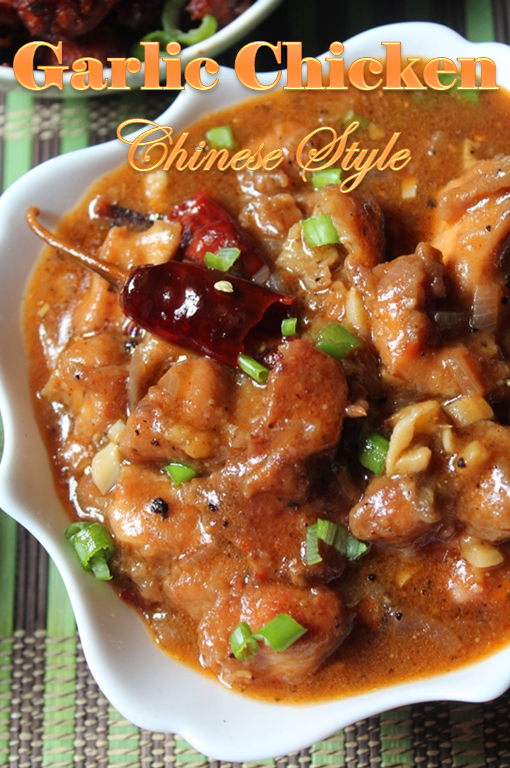 Hope you will give this a try and let me know how it turns out for you..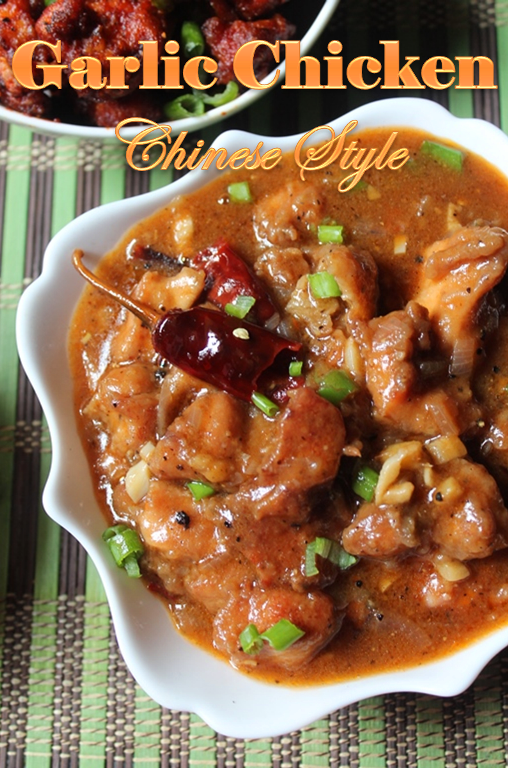 Preparation Time : 10 mins
Cooking Time : 25 to 30 mins
Serves : 4 to 5
Ingredients:
For Chicken:
Boneless Chicken – 1/2 kg
All Purpose Flour / Maida – 4 tblspn
Cornflour / Cornstarch – 4 tblspn
Salt to taste
Black Pepper Powder – 1 tsp
Soy Sauce – 1 tsp
Ginger Garlic Paste – 1 tblspn
Water as needed
Oil for Deep Frying
For Gravy:
Oil – 2 tblspn
Butter – 1 tblspn
Dry Red Chillies – 3 broken
Ginger – 1 tsp chopped finely
Garlic – 1 tblspn Chopped Finely
Onion – 1 medium size chopped finely
Garlic – 10 cloves pureed
Tomato Ketchup – 2 tblspn
Soy Sauce – 1.5 tsp
Green Chilli Sauce – 2 tblspn
Vinegar – 1 tsp
Salt to taste
Sugar – 1 tsp
Ajinomoto – a pinch (optional, i didn't use)
Black Pepper Powder – 2 tsp
Cornflour / Cornstarch – 1 tsp
Spring Onion a handful finely chopped
Water as needed for gravy
Method:
Start by frying chicken, take chicken and other ingredients except oil in a bowl and mix really well.
Heat oil for deep frying, fry chicken in hot oil till golden brown, drain and set aside.
Now heat oil and butter in a pan. Add in chillies and fry till light brown.
Add in chopped ginger and garlic. Saute for a min.
Add in onions, garlic puree and fry till raw smell leaves.
Add in all the sauces and mix well.Add in salt and sugar as well.
Add in water and bring this to a boil.
Now add in fried chicken pieces and simmer for 3 to 4 mins.
Mix cornflour with some water and pour that in to thicken the gravy.
Add in pepper and spring onion, give one final stir.
Serve with fried rice, noodles or pulav.
Pictorial: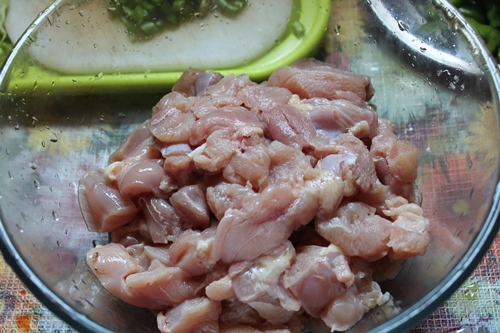 Take chicken in a bowl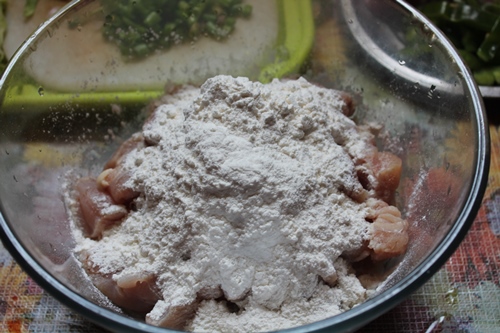 Add in all purpose flour / maida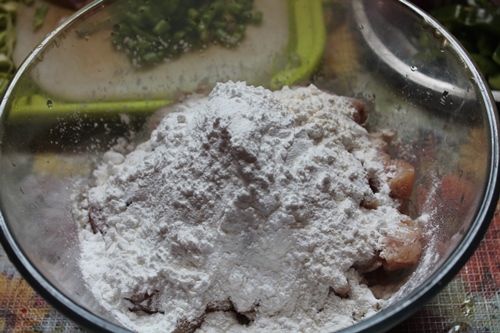 Add in cornflour / cornstarch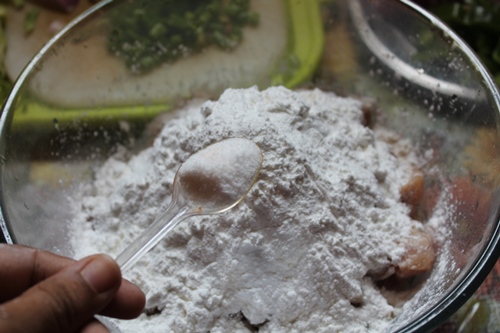 add some salt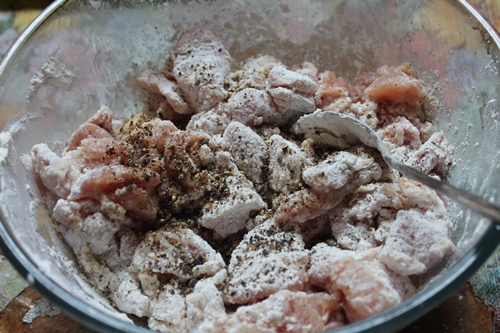 some pepper powder..i used freshly crushed pepper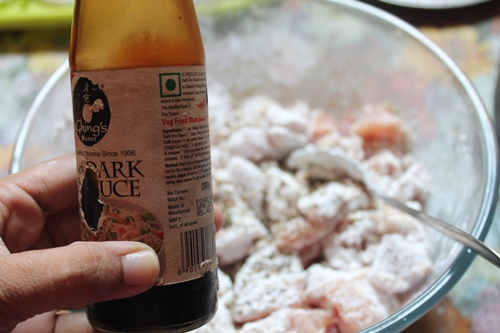 add in some soy sauce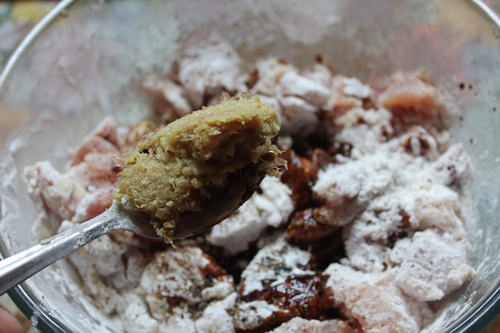 and some ginger garlic paste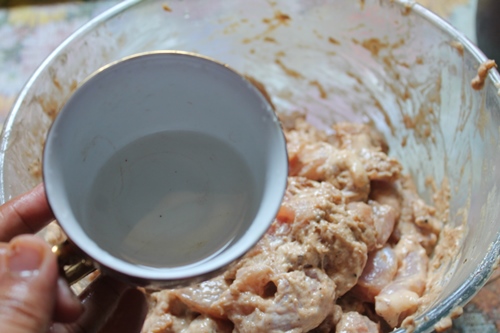 pour a little water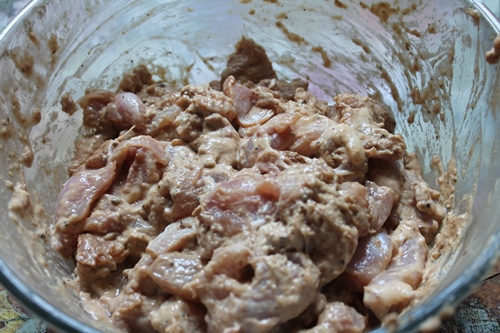 mix well using your hands till it is all combined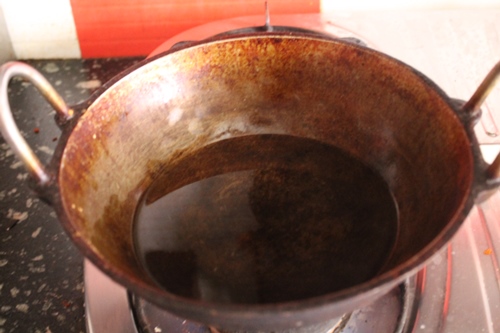 heat oil for deep frying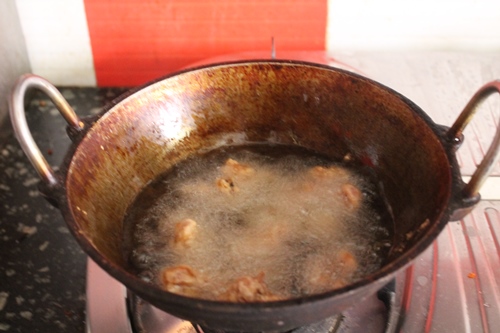 drop chicken in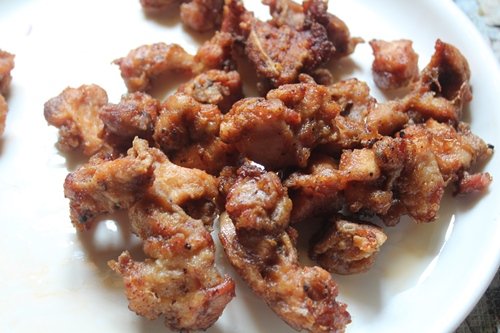 fry till golden, drain and set aside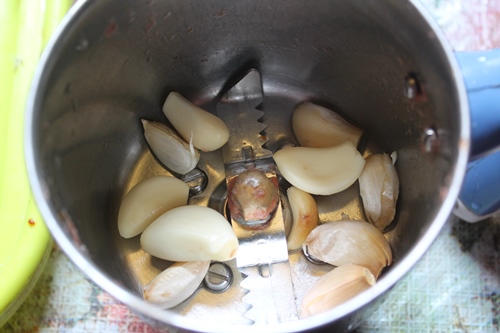 Take garlic cloves in a blender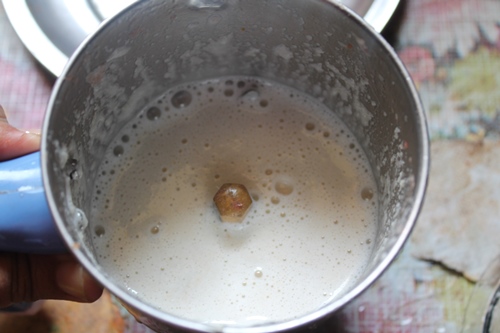 add little water and puree it smoothly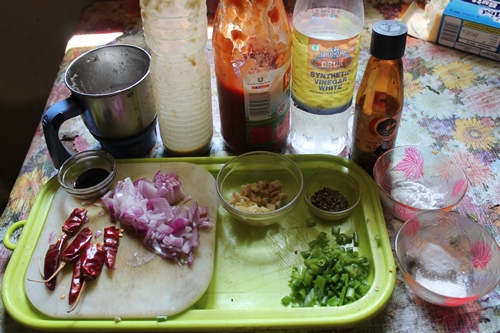 Now take your ingredients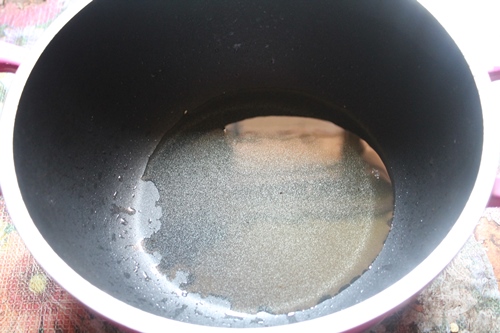 Heat little oil in a pan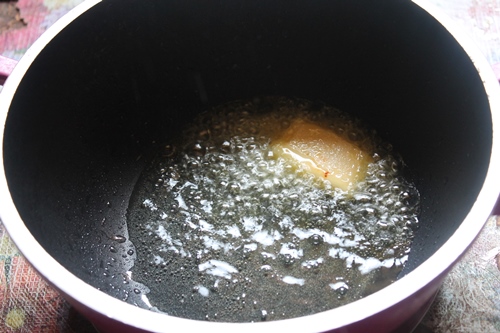 add a small knob of butter for flavour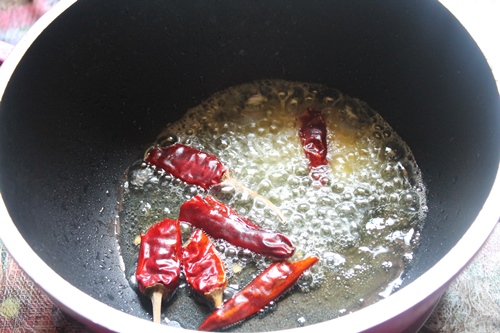 add in some broken dry red chillies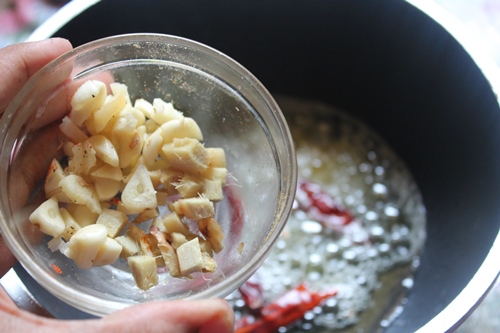 now add in some chopped ginger and garlic..
Chop it pretty finely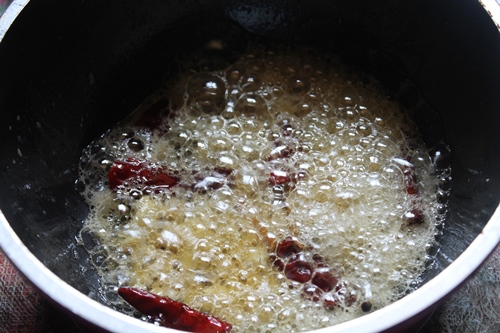 cook till it gets browned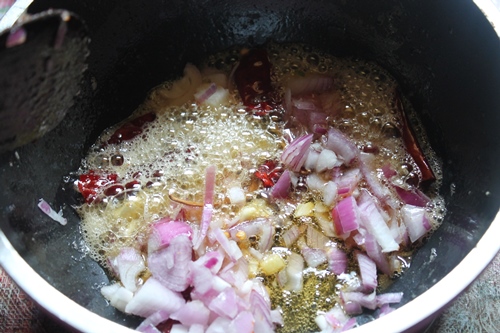 add in finely chopped onions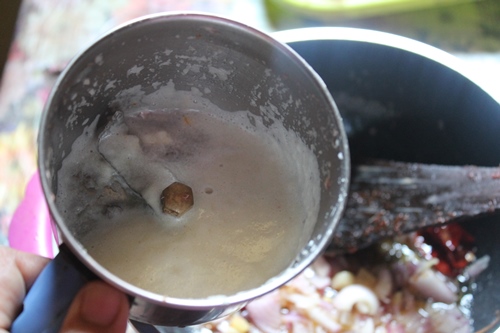 pour in the garlic puree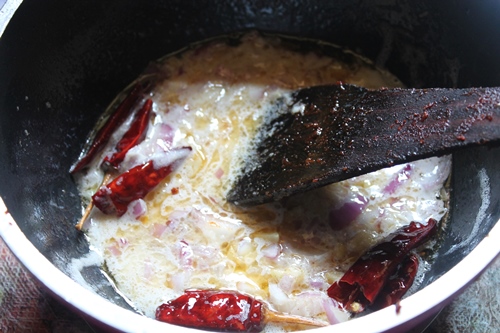 mix well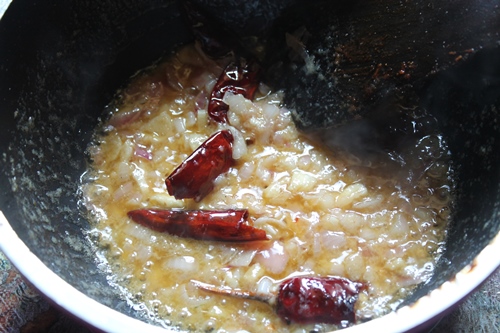 cook till the raw smell leaves from the garlic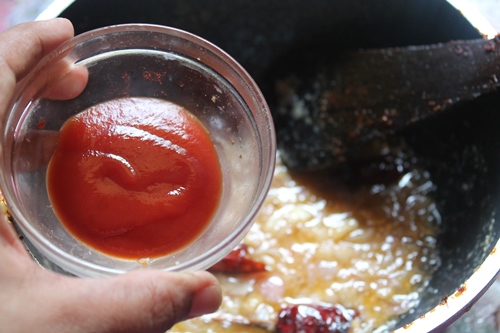 add some ketchup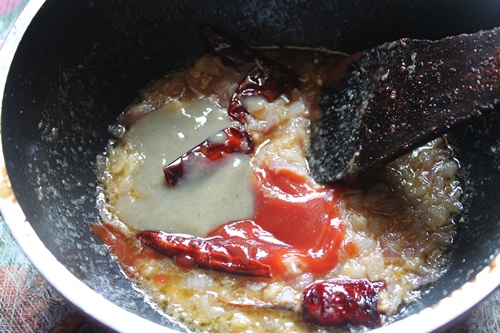 and green chilli sauce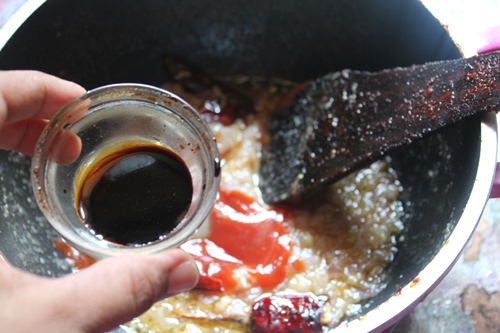 and some soy sauce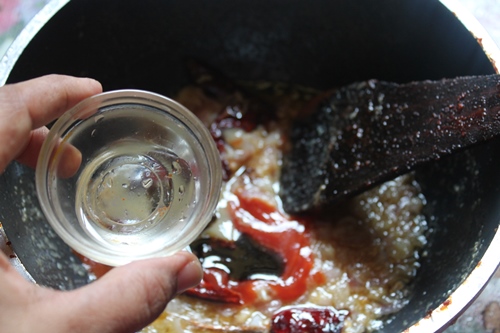 add in some vinegar..dont add too much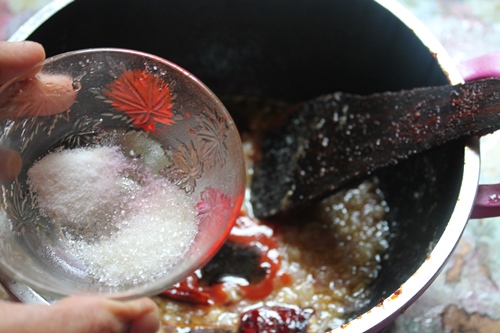 now add in a touch of salt and sugar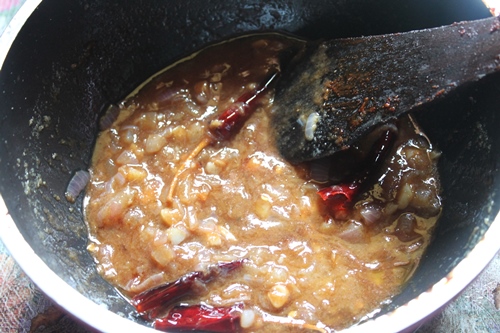 mix really well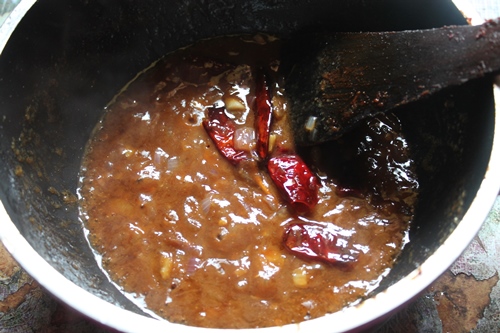 now u can see oil separating from the mix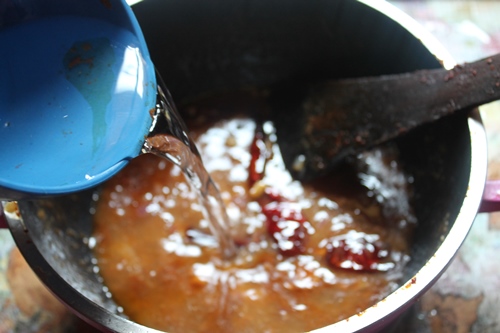 pour in enough water to form a gravy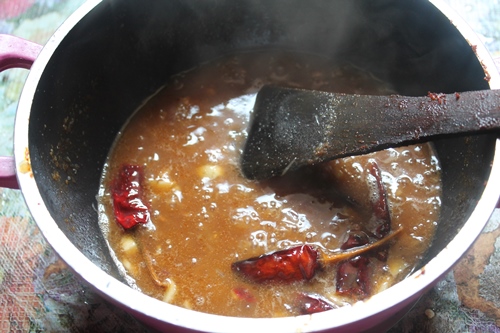 you can taste to see whether salt is perfect..
if not add more salt, vinegar as u like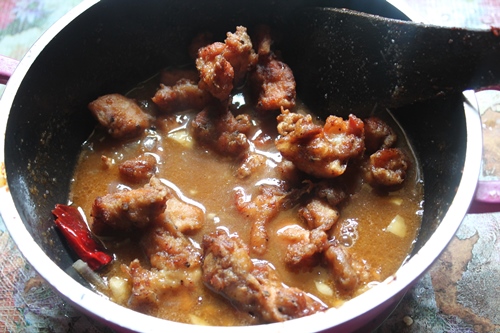 add in the fried chicken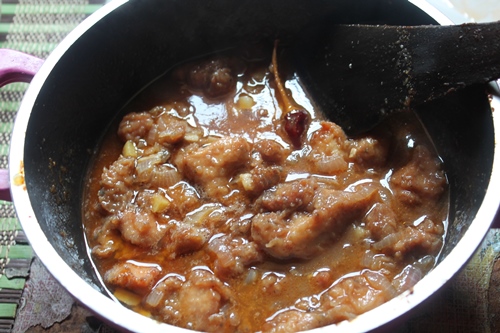 simmer for 3 to 4 mins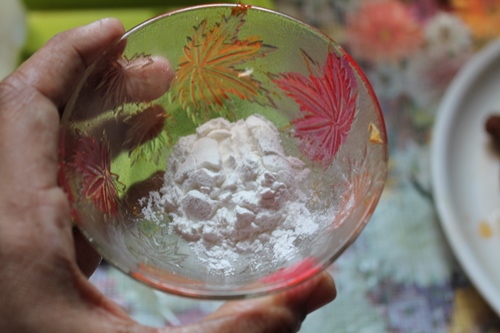 now take some cornflour in a bowl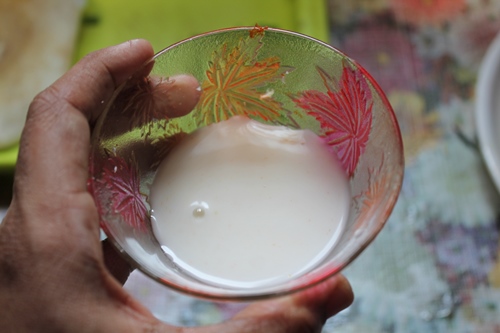 add some cold water and mix well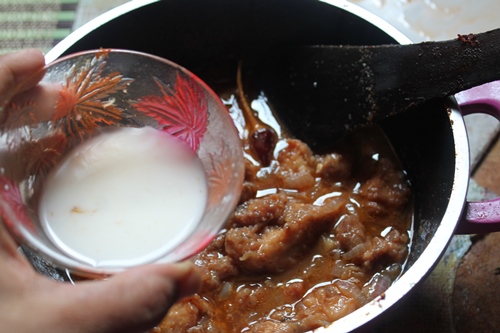 pour that in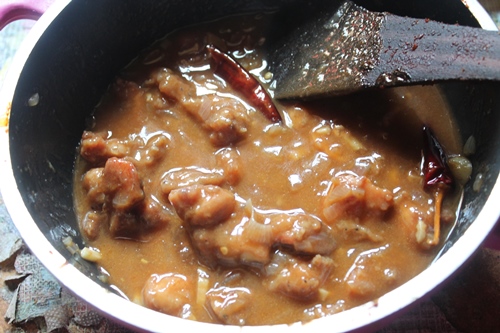 it will thicken the gravy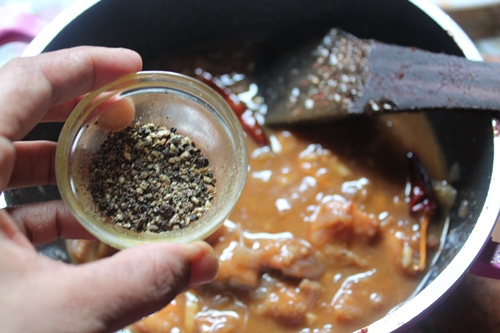 finally add some crushed pepper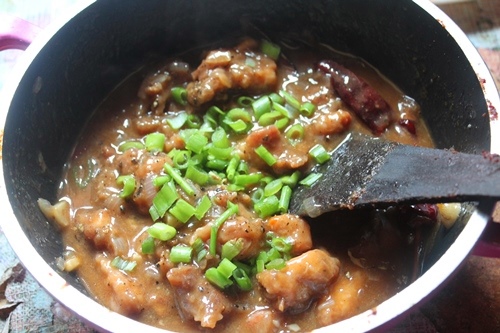 and lots of chopped spring onion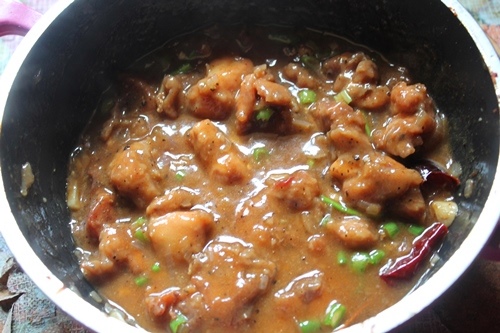 give one stir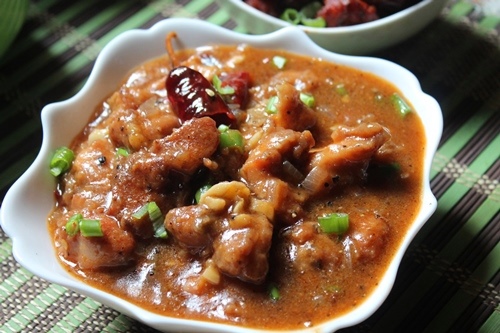 done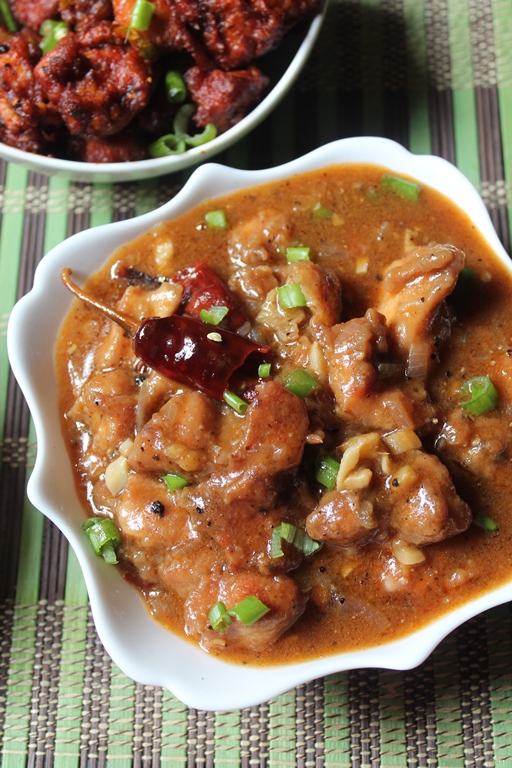 Enjoy with pulav, fried rice or noodles
I am Aarthi, a happy homemaker, mom of two beautiful girls, married to my high school sweet heart. My goal is to teach people that cooking can be way more easier and joyful than they think. Yummy Tummy features recipes all over the world with step wise pictures which surely shows the ease of cooking.