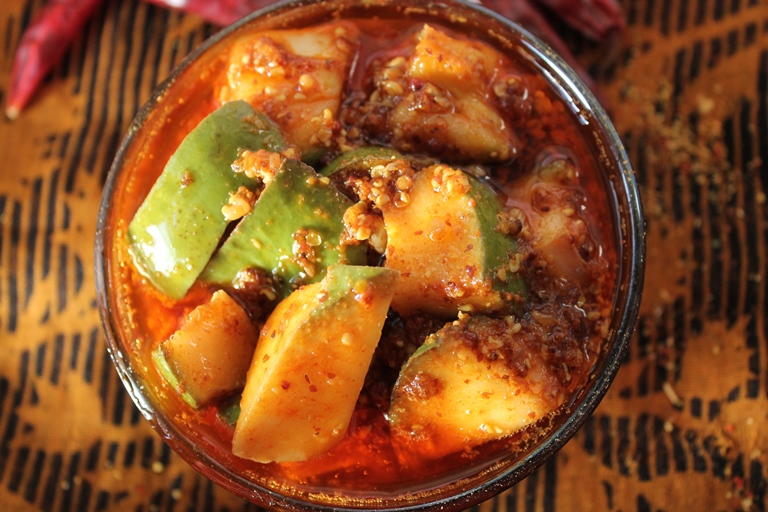 I love making pickles, you can see the list of pickle recipes which i have made..I have already made a punjabi mango pickle recipe. But this one is even more special and tasty one..
Similar Recipes,
Spicy Mango Thokku
Punjabi Raw Mango Pickle
Sweet Mango Pickle
Andhra Mango Pickle
Instant Mango Pickle
Dried Mango Pickle
Mango Chunda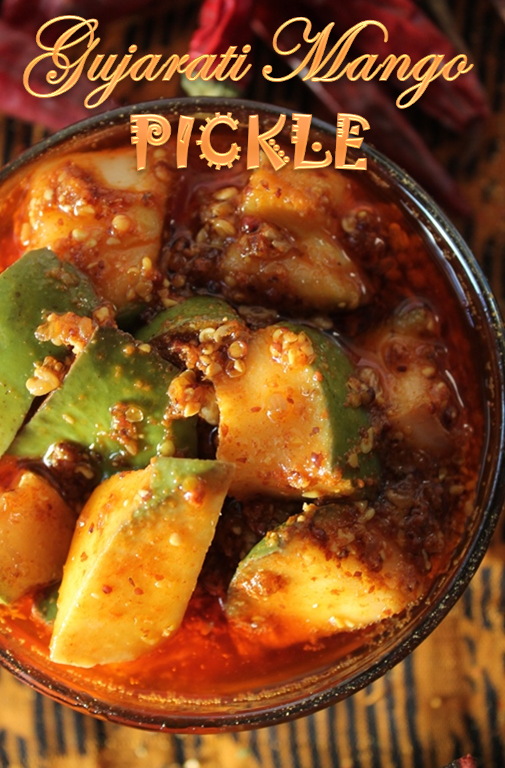 This pickle can be made in a jiffy, but it can be stored for almost a year. How cool is that..So when you find mangoes on season, just pick a bunch of them and make this pickle.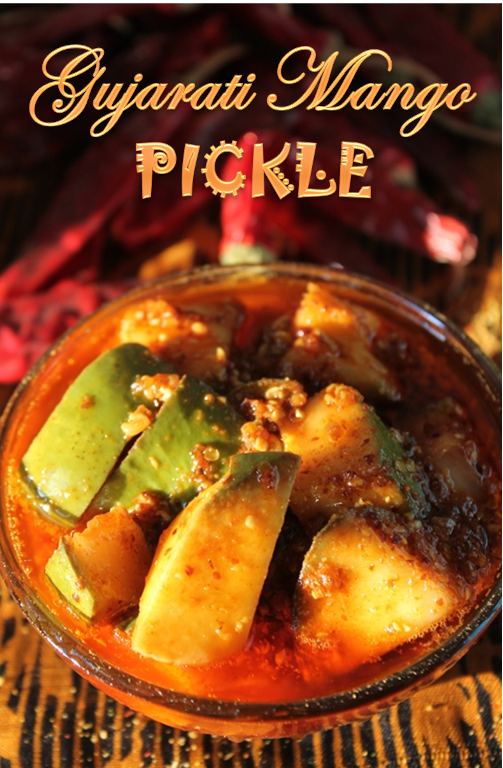 I will be sharing another version of pickle very soon, so stay tuned..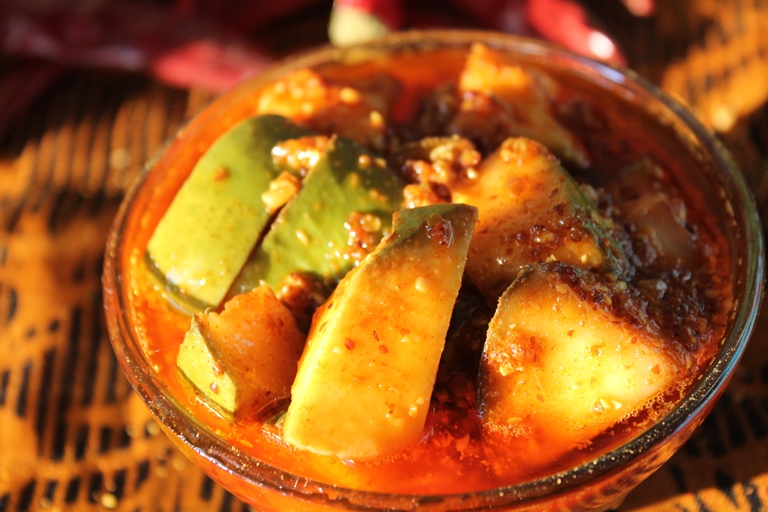 Preparation Time : 15 to 20 mins
Steeping Time : 15 days to 20 days
Recipe Source: Veg Recipes of India


Ingredients:
Raw Mangoes – 1 kg
Fenugreek Seeds / Methi / Vendayam – 3/4 cup
Mustard Seeds / Kaduku – 1/4 cup
Red Chilli Powder – 3/4 cup
Salt – 1/2 cup (Rock Salt is best)
Asafoetida / Hing / Kaya Podi – 2 tsp
Turmeric Powder / Manjal Podi – 2 tblspn
Indian Sesame Oil / Gingelly Oil – 3 cup or more


Method:
Wash and wipe dry the mangoes. There shouldn't be any moisture in them. Now slice the stem and cu it into cubes.
Now take this in a large bowl.
Take fenugreek in a blender and crush them lightly. Add them to mangoes. take mustard seeds in a blender and crush them lightly. Add this as well to mangoes.
Now add in all the other ingredients except oil and mix well.
Now dill some clean dry jars with the spiced mangoes.
Now pour oil all over it and let the oil cover the mangoes completely.
Let this sit for 15 to 20 days before serving.


Notes:
1)There shouldn't be any water in the mangoes. So wipe them dry.
2)The oil should float over top of the mangoes, this prevents the mangoes from getting spoiled and moulds forming.
3)The jar you use should be really clean without any moisture.
4)Use dry spoons when serving the mangoes.
5)This pickle stays good for a year at room temp.
6)Oil should always float on top of the pickle, whenever you see oil reduced, add more oil and cover the mangoes.


Pictorial: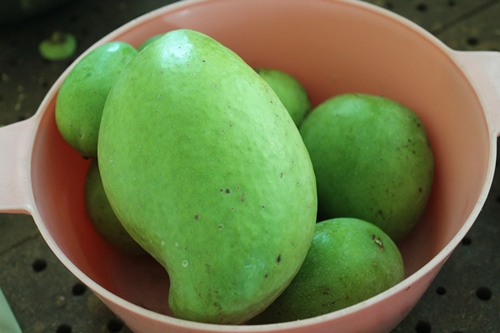 Take raw mangoes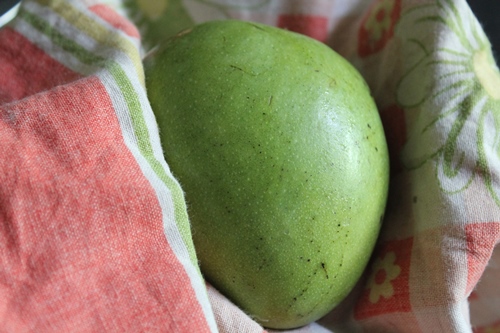 Wash them well and wipe them dry..There shouldn't
be any moisture in the mangoes,
if there is any water then the pickle will be spoiled.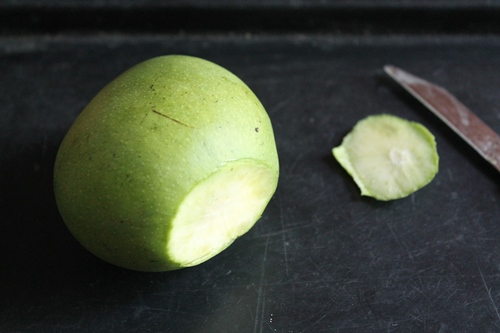 cut the stem off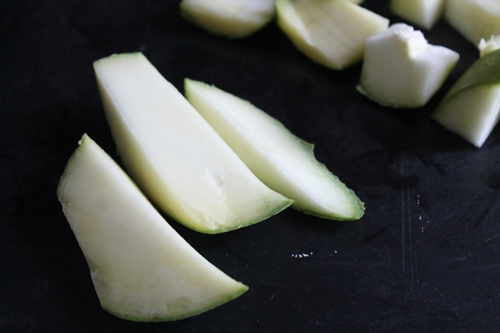 slice them like this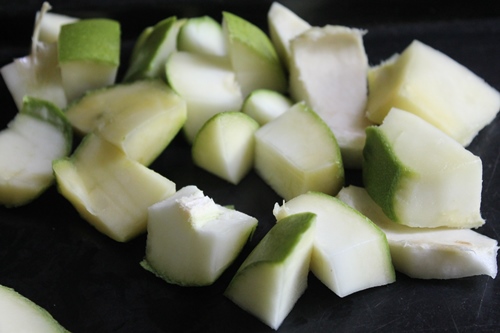 cube them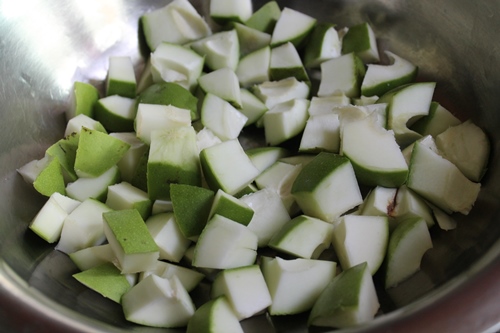 take it in a large bowl and set aside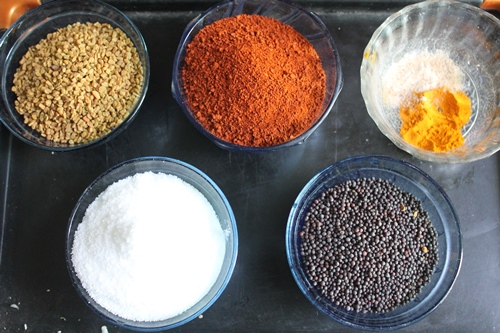 Now take your other ingredients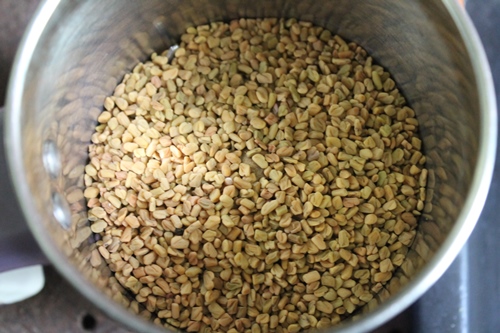 first take fenugreek seeds in a blender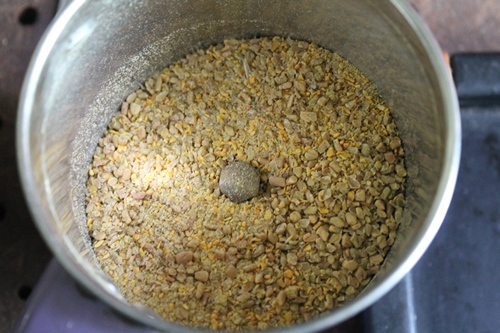 crush them lightly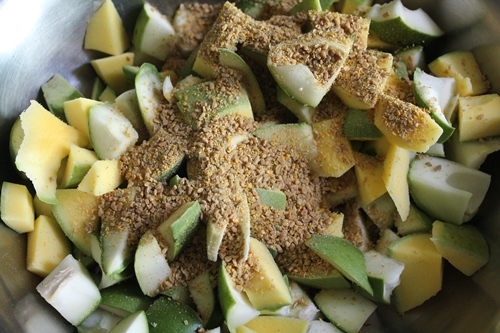 add them over mangoes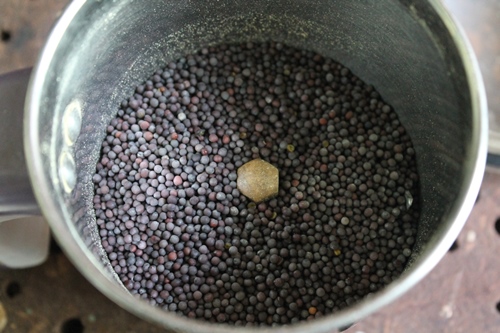 now take mustard seeds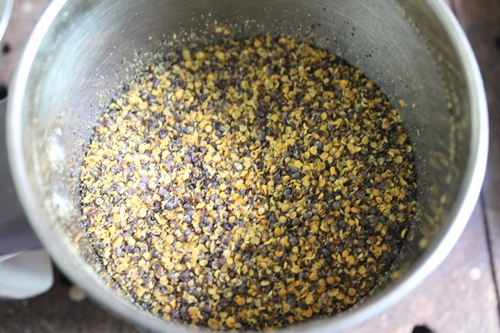 roughly crush them again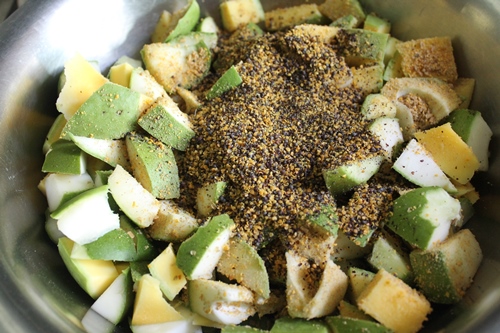 add it over mangoes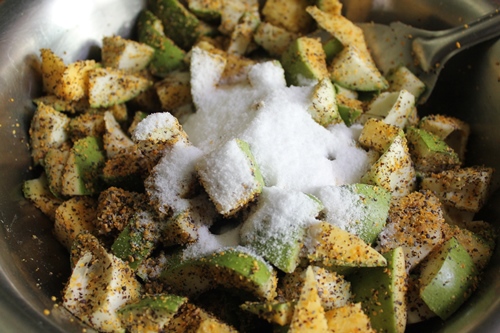 add in salt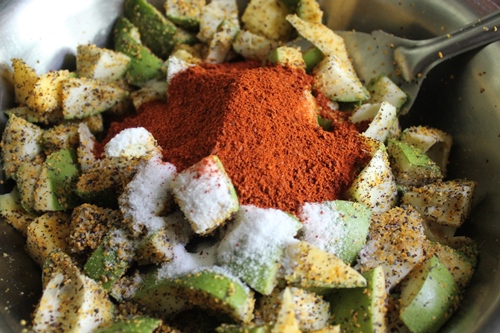 and chilli powder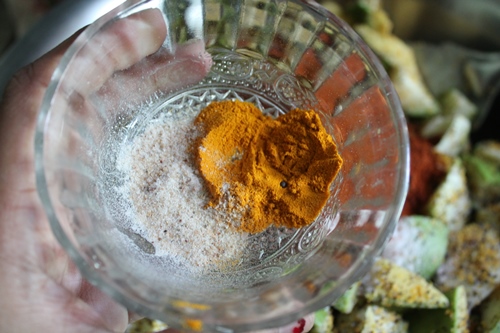 add in asafoetida and turmeric powder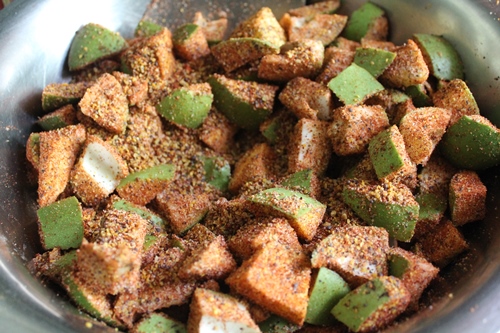 toss well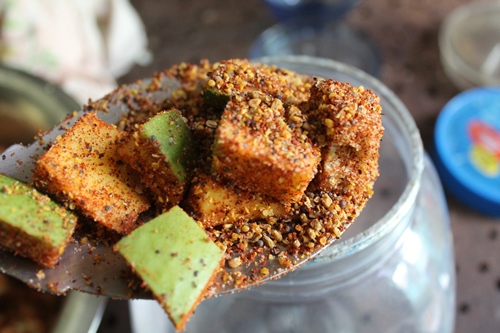 now spoon this into a jar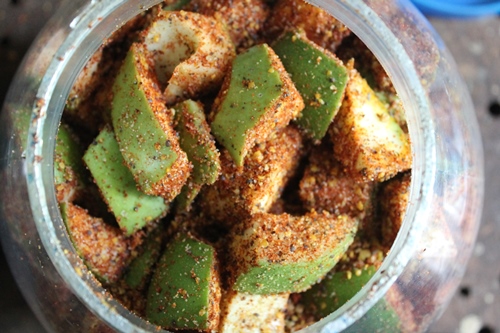 once everything is added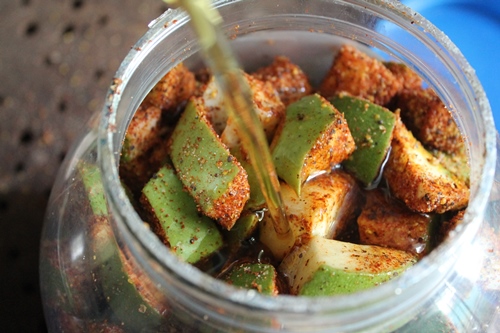 pour over some gingelly oil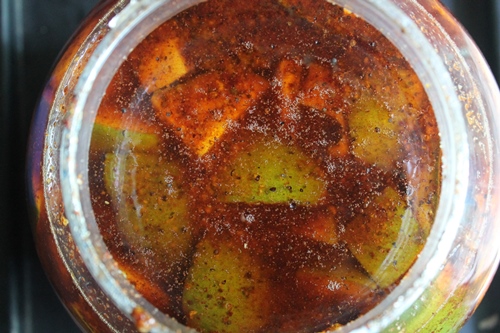 fill till you cover the mangoes..The oil should always
float on top covering the entire mangoes,
this prevent mould forming on top of mangoes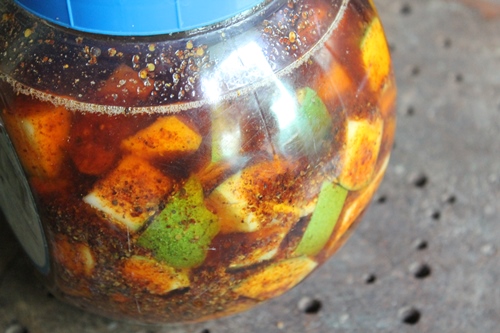 let this sit for 10 to 15 days before enjoying..
Stir daily using a dry spoon..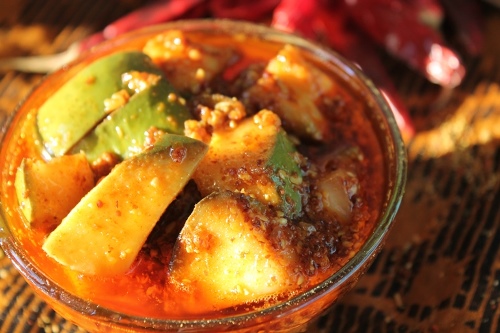 enjoy with chapati or curd rice