This lunch menu series is posted to give ideas for you all that what all combo of dishes goes well together. We eat this kind of combo all days for lunch but somedays we reduce to sidedishes to one because of lazyness, but most of the day it is had like this. This menu consist of steamed rice, vendaikai pulikari, kovaikai poriyal, papali thoran, green gram thogayal, kilangu kootu, vathal and curd.
Check out my other lunch menu too.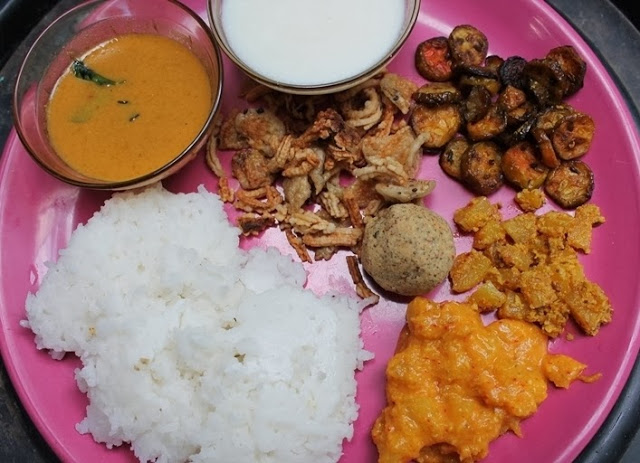 Pin
This is how i did it, i used a two burner stove to make this recipe. i start by chopping and cutting the veggies. I chopped ladysfinger, peeled and cubed marchini kilangu, peeled and chopped raw papaya, sliced kovaikai. Then i soaked roasted green gram too.
1)Grind ingredients for kootu, pulikari and thoran. Set aside in separate bowls.
2)I start with papali thoran. Heat a kadai, Add the seasoning and saute chopped papali for 5 mins. Add some water and let it cook. Now in other kadai, boil kilangu.
3)The papaya will take around 10 mins. Once it is cooked add the ground masala and mix well. Papali thoran is done. Transfer it to serving dish.
4)Now in the same kadai. Add oil and toss in the ladys finger. Let it saute for 5 mins. Add in the ground masala and water. bring everything to boil. Season with salt and tamarind. Make temepering and pour it over the gravy. Pulikari is done. Transfer it to serving dish.
5) By this time, kilangu will be cooked. Drain it add in the ground masala and mix well. Make seasoning and pour over the kootu. Mix well and transfer it to serving dish.
5)Now in same kadai which you did pulikari, wash it little with water. Heat it with oil add in the kovakkai and toss well. Season with salt.Cook it on a low to medium heat till it gets crispy.
6)When kovakkai is crisping up, cook the rice in pressure cooker on the other stove.
7)Toss the kovakkai poriyal often. It will gets cooked in 15 mins. By which time the rice will be cooked. Open the pressure cooker and fluff the rice up and transfer it to serving dish. Add salt and chilli powder to poriyal and toss well. Now Transfer the kovakai poriyal to serving dish too
8)Now take the soaked roasted green gram to a blender, add remaining ingredients and grind it to a thick thogayl. Transfer this to serving dish..
9)Lastly fry vathal and take the curd out of fridge.
10)Enjoy your meal.
Instead of adding ladysfinger to pulikari, you could add any vegetables from drumstick, cucumber, etc..Carrot poriyal, Beans poriyal also go well with this dish. You could make thoran with snakegourd, pumpkin too or try other thorans.The kootu can be made with bottle gourd, snakegourd and papaya too.
Here are the link for the recipes in this menu
Vendaikai Pulikari
Kilangu kootu (Recipe soon, Check my papali kootu recipe, substitute papali with marchini kilangu and leave the dal alone) )
Papali Thoran (Check my cabbage thoran recipe, substitute cabbage with papaya)
Kovakkai Poriyal (Recipe soon)
Green Gram Thogayal (Recipe soon)
Homemade Curd

For other Poriyal recipes, Click here
For other Thoran recipes, Click here
For other Kootu recipes, Click here
Technorati Tags:
Southindianmeals,
LunchMenuIdeas,
LunchMenu,
EasyLunchMenu,
SouthIndianLunchMenu,
SouthIndianLunchThali
,ThaliMeals, SouthIndianThaliMenu, SimpleLunchMenu,
Tamilnadu Meals