Karthigai deepam is a south indian festival celebrated on the month of november. This is the festival of lights and celebrated all over tamilnadu, kerala, karnataka, andhra pradesh. Karthigai Deepam, Karthika Deepam, Thirukarthigai or karthigai vilaku is a festival of lights of hindus of tamilnadu, kerala and srilanka. Popular Karthigai deepam recipes includes nei appam, pori urundai, karthigai adai and karthigai pori.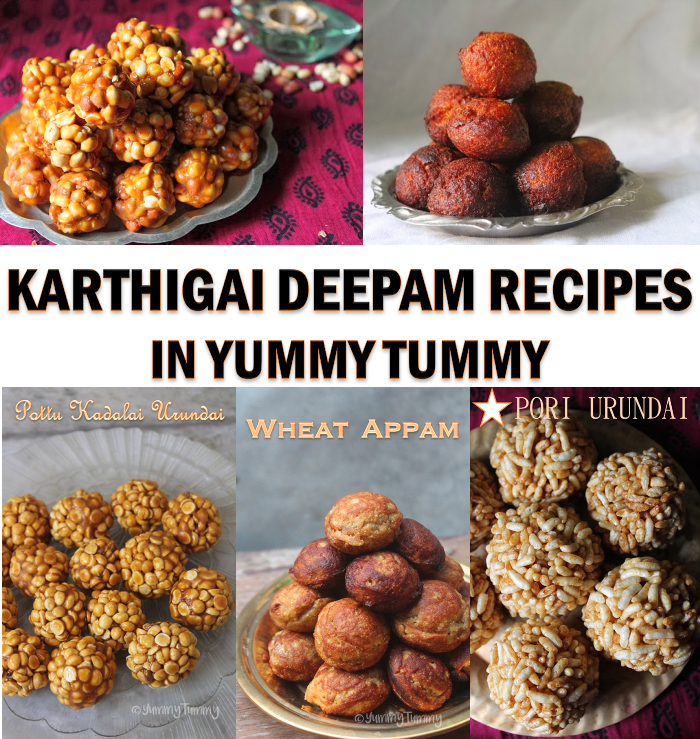 Pin
History of Karthigai Deepam
Karthigai Deepam is celebrated all over tamilnadu. It is the festival of lights. Deepam is also known as Kartikeya, or Muruga's birthday. It is one of the important festival celebrated in tamilnadu, kerala, karnataka and andhra pradesh. Karthigai deepam is celebrated in srilanka as well.
Karthigai Deepam is very old tamil festival and it is celebrated auspicious from long back. The actual history may not be clearly stated in the scriptures but it is mentioned in many tamil literature, a collection of poems. Avaiyyar, renowned poet also mentions about karthigai Deepam in her poems.
The month is also highly auspicious for Lord Muruga devotees as the month is named after the six Krithika stars. Son of Lord Shiva, Muruga was born as different babies – Shanmugha and was looked after by the Six Kritika stars. Later Goddess Parvati joined the six babies to give birth to Kartik or Muruga.
Karthigai Deepam Festival at Sabarimalai
Sabarimalai devotees are gathered to see Makara Jyothi. It is a star which is worshiped by pilgrims in huge numbers at Sabarimala Temple in Kerala.
Karthigai Popular Recipes
Karthigai Deepam Recipes
FAQ (Frequently Asked Questions)
Why Karthigai is celebrated?
Karthigai deepam is festival of lights. It is celebrated to The full moon day of this Karthigai month is called Karthigai pournami. In Kerala, this festival is known as Thrikkarthika, celebrate to welcome Goddess Karthiyayeni (Chottanikkara Amma)Bhagavathi.
Is deepam for lord muruga?
Karthigai Deepam or Karthika Deepam is a festival of lights, same as Deepavali, which is celebrated on the Purnima Tithi of the Tamil month of Karthigai. The occasion is dedicated to the worship of Lord Murugan.
How is karthigai deepam celebrated?
The Kartigai month starts on the day of Deepavali. From that day till the end of the month, oil lamps are lit every day in front of the house. On Karthika Puranam (full moon of Kartheeka month) we celebrate the karthigai deepam occasion. The entire house is lit with small clay pot lamps which has gingelly oil (indian sesame oil) and wicker known as (thiri).
What are the dishes made during karthigai deepam?
Popular recipes made during karthigai deepam are pori urundai, kadalai urundai, karthigai pori and karthika adai.
When is Karthigai Deepam 2021?
Karthigai deepam falls on the month november 19 2021.
If you have any questions not covered in this post and if you need help, leave me a comment or mail me @[email protected] and I'll help as soon as I can.
Follow me on Instagram, Facebook,Pinterest ,Youtube and Twitter for more Yummy Tummy inspiration.
IF YOU MAKE THIS RECIPE OR ANYTHING FROM YUMMY TUMMY, MAKE SURE TO POST IT AND TAG ME SO I CAN SEE ALL OF YOUR CREATIONS!! #YUMMYTUMMYAARTHI AND @YUMMYTUMMYAARTHI ON INSTAGRAM!