Egg in a Basket - Egg in a Hole with Step wise pictures. Kids friendly egg in a hold recipe which is fun to make and delicious to eat. Cook egg as per your liking and enjoy.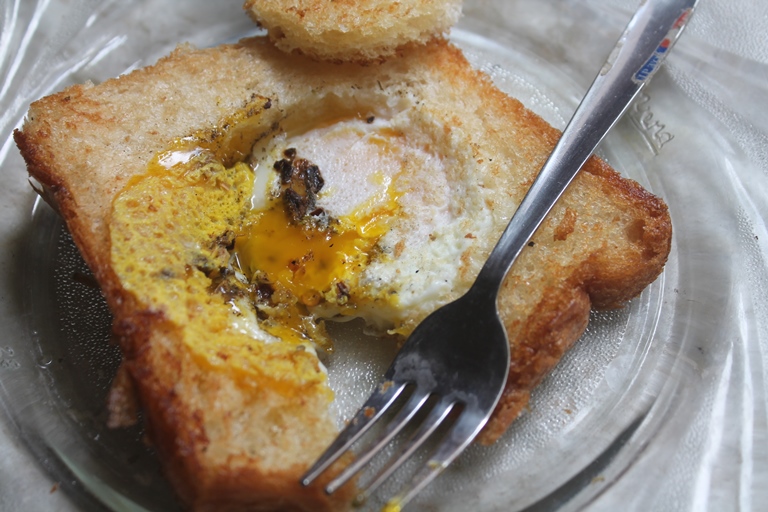 Pin
This is a popular kids recipe which is called as egg in a basket or egg in a hole. It is also known as toad in a hole. My kids love this one and i make it often for her.
About Egg in a Hole Recipe
Egg in the basket, also known by a variety of other names, is a fried egg in a hole in a slice of bread. The dish consists of a slice of bread with an egg in the centre that has been fried in butter or oil. It is typically made by cutting a circular or square hole in the centre of a buttered piece of bread. In a pan with butter, margarine, cooking oil,
or other fat, the bread is fried.
An egg is cracked into the hole in the bread at some point. When the egg is added to the bread, it determines how well-done the egg and bread are in the final product. To ensure even cooking, cover the pan and flip the bread halfway through. A slice of bread can also be replaced with a waffle or bagel (with a large enough hole).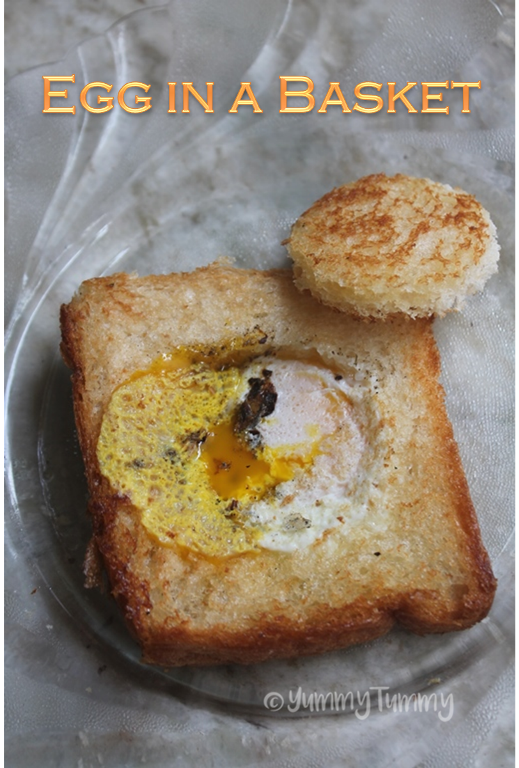 Pin
Ingredients for Egg In A Basket 
Egg 
Raw eggs have a fairly bland flavour, but those who are more sensitive to them may find them overpowering. Because egg yolks are mostly fats, they have a buttery flavour, are very creamy, and have a smooth mouthfeel.
Bread Slices
According to history, the first bread was made in the Middle East, specifically Egypt, around 8000 BC. The first known grinding tool was the quern. Grain was crushed, and bakers created what we now know as chapatis (Indian flatbread).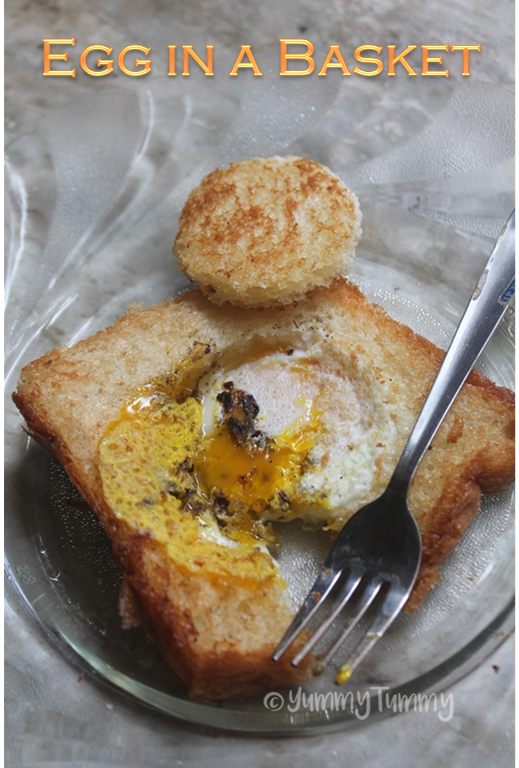 Pin
If you have any questions not covered in this post and if you need help, leave me a comment or mail me @[email protected] and I'll help as soon as I can.
Follow me on Instagram, Facebook,Pinterest ,Youtube and Twitter for more Yummy Tummy inspiration.
IF YOU MAKE THIS RECIPE OR ANYTHING FROM YUMMY TUMMY, MAKE SURE TO POST IT AND TAG ME SO I CAN SEE ALL OF YOUR CREATIONS!! #YUMMYTUMMYAARTHI AND @YUMMYTUMMYAARTHI ON INSTAGRAM!
📖 Recipe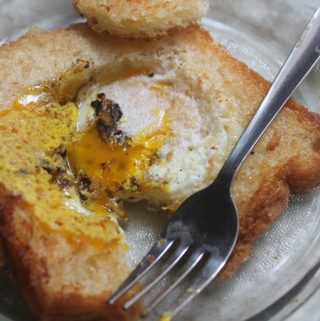 Egg in a Basket | Egg in a Hole
Kids friendly egg in a hold recipe which is fun to make and delicious to eat. Cook egg as per your liking and enjoy.
Ingredients
Egg - as needed

Bread Slices as needed

Butter as needed

Salt to taste

Pepper to taste
Instructions
Take a bread, use a small cookie cutter or a lid cut out hole in the center.

Melt butter in a pan, place bread and cook till golden on one side, flip over. Now reduce the flame and crack an egg in the hole. Cook for few mins. Season with salt and pepper.

Now flip over and cook other side too.

Remove and serve.
Egg in a Hole Recipe Step by Step Pictures
1)Take a bread slice.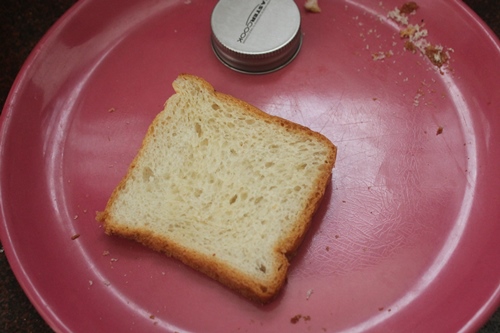 Pin
2)Use a round lid to cut out a circle in the middle of bread.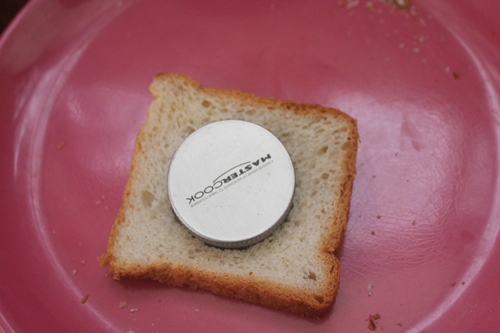 Pin
3)Done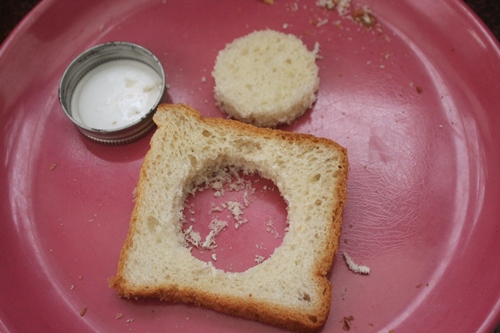 Pin
4)Melt butter in a tawa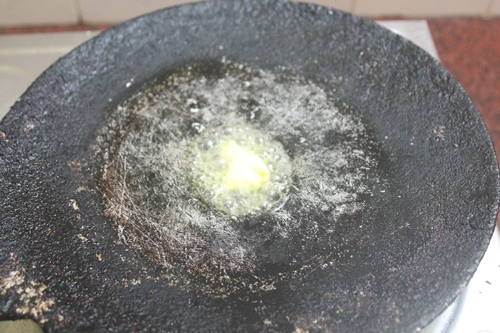 Pin
5)Place the bread and the lid in the pan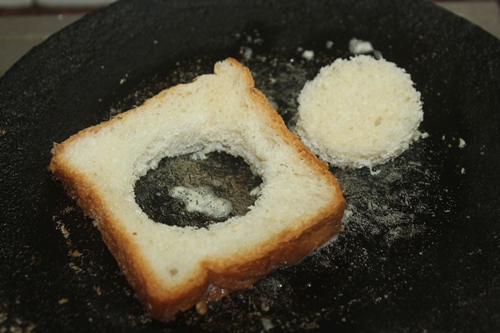 Pin
6)Flip over and cook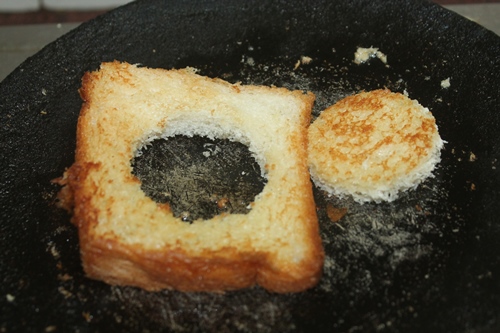 Pin
7)Crack an egg in the center of the bread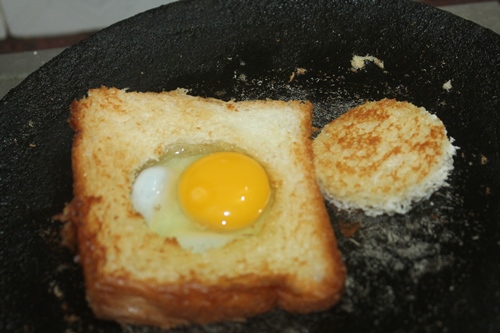 Pin
8)Season with salt and pepper. I added some italian seasoning too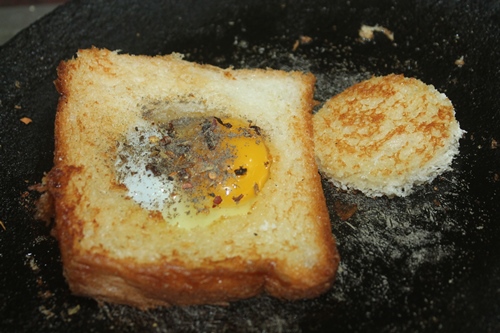 Pin
9)Flip over and cook as per your liking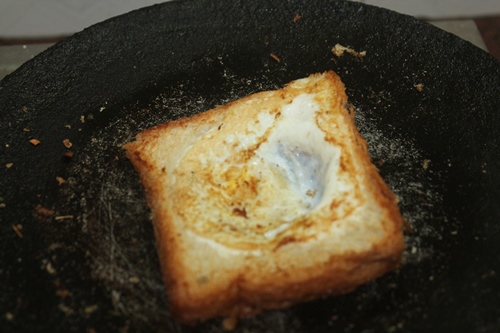 Pin
10)Serve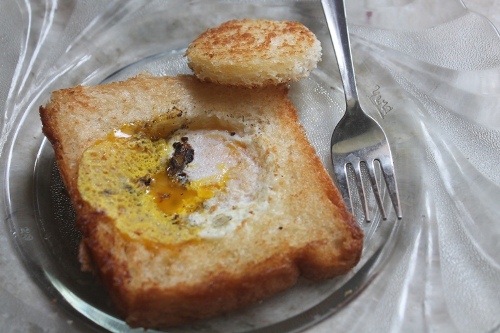 Pin
Frequently Asked Questions
Where did egg in a basket originate?
Fannie Farmer first included it in the Boston Cooking School Cookbook in the 1890s. It was called Eggs with a Hat in this recipe because the centre piece of bread was served on top of the egg.