Hash Browns Recipe with step by step pictures. Crispy hash brown recipe taste great as breakfast.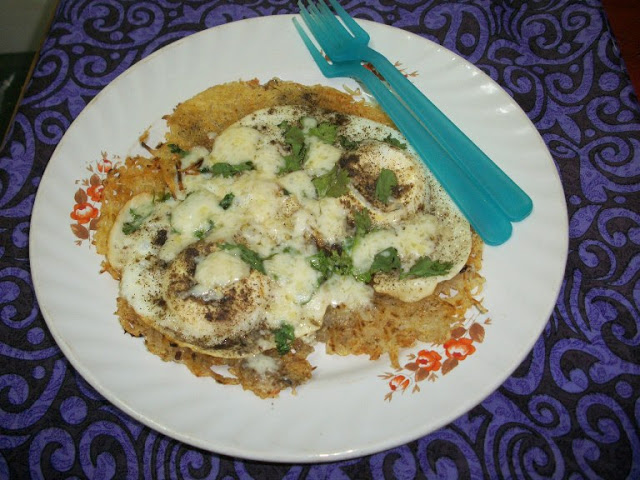 I love potatoes along with eggs and cheese..They are the perfect combination on earth. Now think how about starting your day with this yummy meal. Awesome right. BTW this is not only for breakfast, it can had all year around. They are so simple to make and this will be your kids favourite, I can assure that.
A common American and British breakfast dish known as hash browns, also spelled as hashed browns, is made of finely chopped potatoes that are fried until browned. In the 1890s, hash browns first appeared on breakfast menus in New York City. In North America, hash browns are a standard breakfast item at diners. They are
frequently fried on a sizeable, communal cooktop or grill. Popular mass-produced hash browns are available in frozen, dehydrated, and chilled forms.
Ingredients for Hash browns recipe
Potatoes :
It was introduced to India by Portuguese sailors in the early 17th century, and British colonists spread its cultivation to North India. The potato is one of the most important commercial crops grown in the country.
Potatoes are high in fibre, which can help you lose weight by keeping you fuller for longer. Fiber can help prevent heart disease by maintaining healthy cholesterol and blood sugar levels. Potatoes are also high in antioxidants, which help to prevent disease, as well as vitamins, which help your body function properly.
Egg :
Raw eggs have a fairly bland flavour, but those who are more sensitive to them may find them overpowering. Because egg yolks are mostly fats, they have a buttery flavour, are very creamy, and have a smooth mouthfeel.
Coriander leaves:
The flavour of the coriander leaves should be crisp, tart, and citrusy. The dried fruit of the plant, which can be used whole or ground, is coriander seeds. It has an earthy, tart, and sweet flavour with a toasted floral aroma.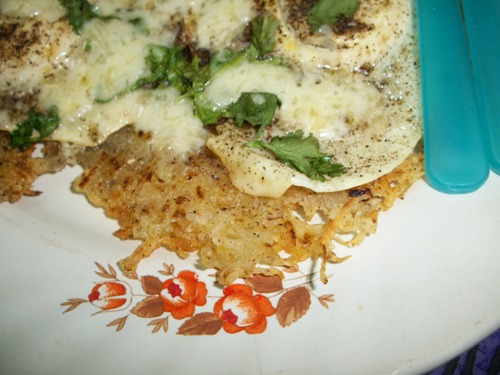 If you have any questions not covered in this post and if you need help, leave me a comment or mail me @[email protected] and I'll help as soon as I can.
Follow me on Instagram, Facebook,Pinterest ,Youtube and Twitter for more Yummy Tummy inspiration.
IF YOU MAKE THIS RECIPE OR ANYTHING FROM YUMMY TUMMY, MAKE SURE TO POST IT AND TAG ME SO I CAN SEE ALL OF YOUR CREATIONS!! #YUMMYTUMMYAARTHI AND @YUMMYTUMMYAARTHI ON INSTAGRAM!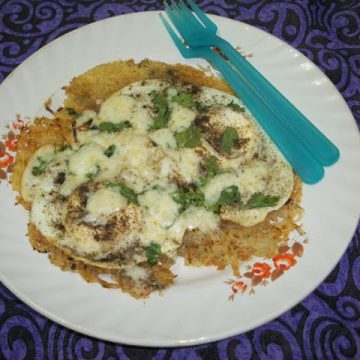 Hash Brown Recipe | Crispy Hash Browns Recipe
Hash Browns Recipe with step by step pictures. Crispy hash brown recipe taste great as breakfast.
Ingredients
Potatoes – 2 large peeled and grated

Cheese – ½ cup

any brand

Eggs – 2

Olive Oil- 3 tblspn

Salt to taste

Pepper to taste

Coriander leaves few springs
Instructions
Peel and grate your potatoes. I use the large grater, because I want some texture in my potatoes. Wash them well and drain them in a colander, Sqeeze as much water as possible with your hands. Set them aside till use.

Start by making your eggs. Heat a tblspn of oil in a frying pan. Add eggs in it and cover with a plate. Cook it as per your liking. Remove this and set aside.

Now heat the remaining oil and spread the grated potatoes in it. Season them with some salt and pepper.

Cook it on high heat till the potatoes are crisp at the bottom. It will take 5 mins. Flip them over and cook on other side too. The potatoes will be crispy and cooked through. You can add some more oil if needed.

Now place the eggs on top of the potatoes and sprinkle with some salt and pepper.

Add coriander and cheese and cover it with a plate. Let it steam for 1 mins till the cheese is melted.

Serve immediately.
Hash Brown Recipe Step by step pictures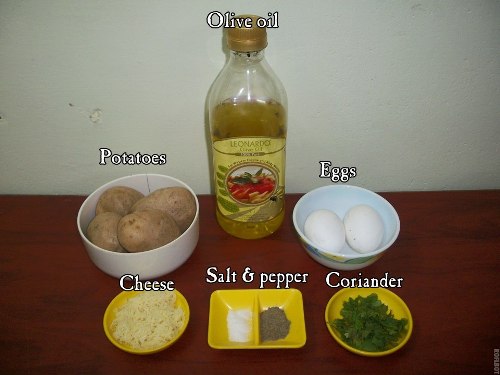 Take all your ingredients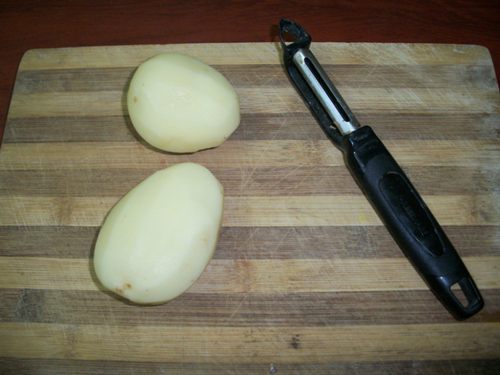 Peel some potatoes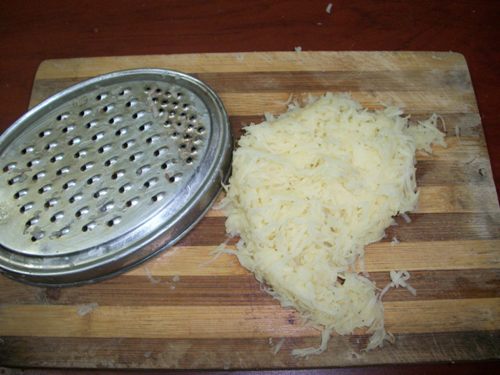 Grate them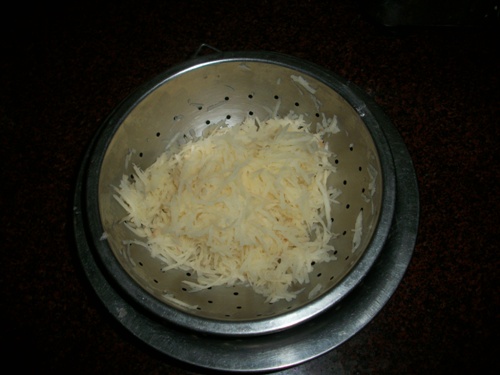 Wash and squeeze all water out of it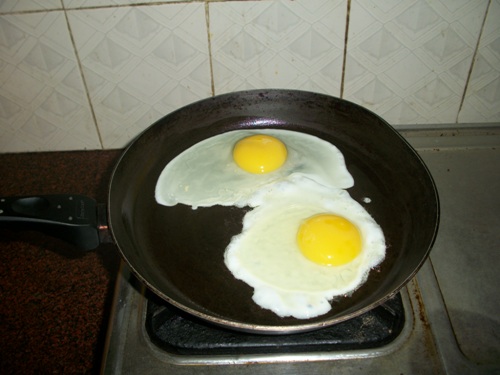 Cook some eggs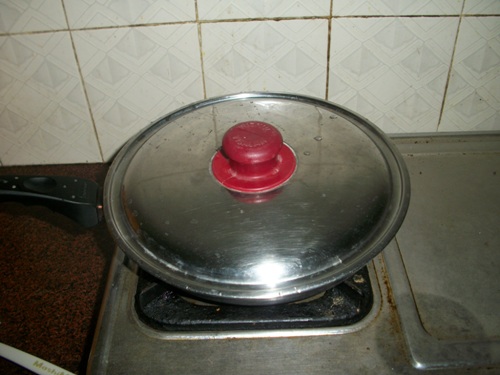 I love to cover the pan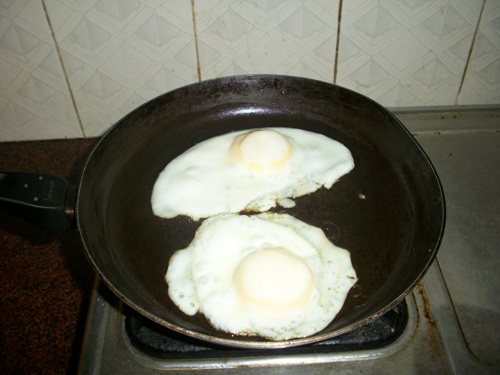 eggs are beautifully set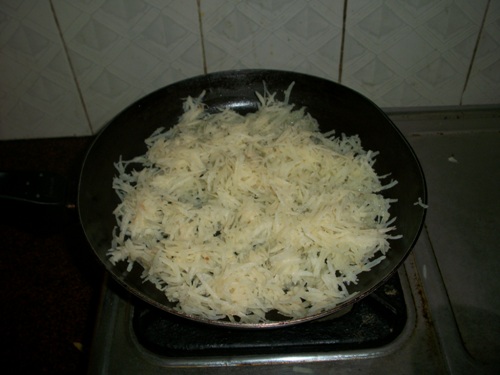 Now cook potatoes...Spread them like this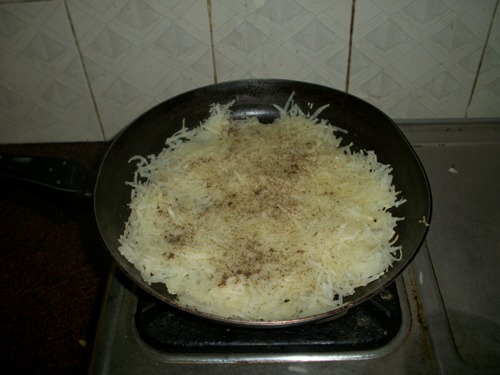 sprinkle with salt and pepper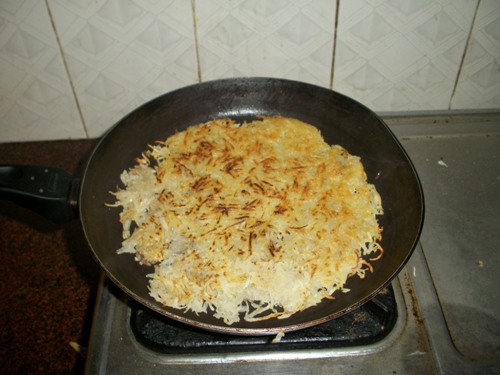 Flip over and cook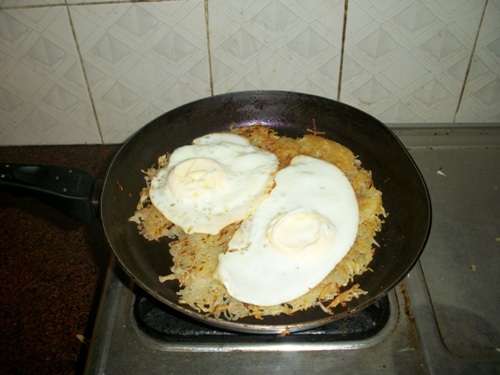 Place egg on top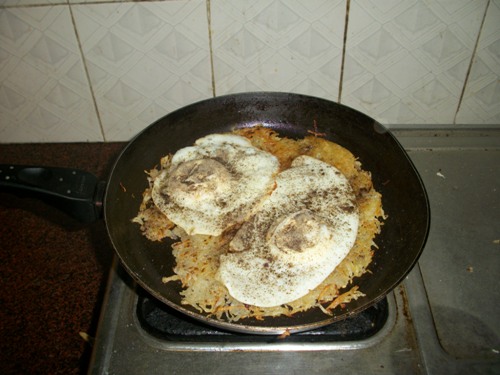 Sprinkle with more salt and pepper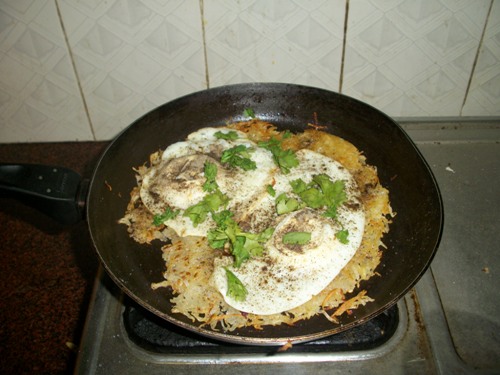 add coriander leaves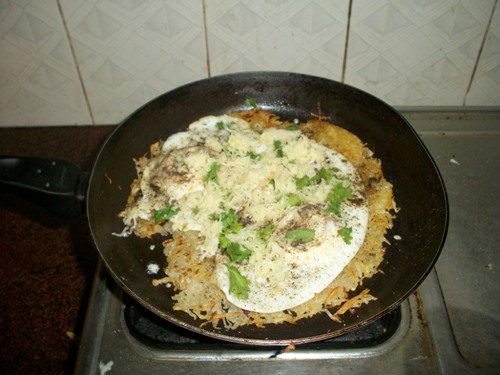 and cheese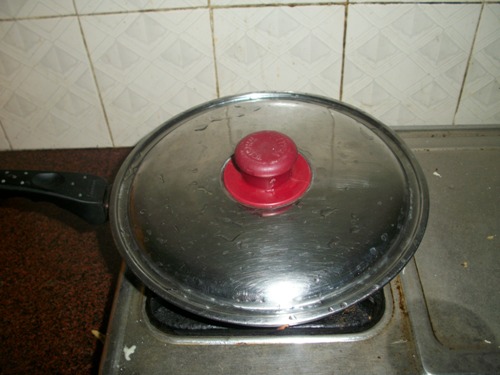 cover and cook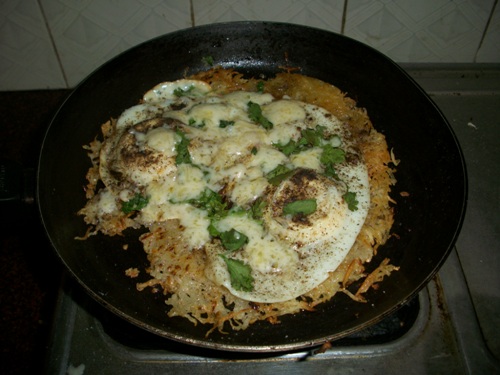 till cheese is molten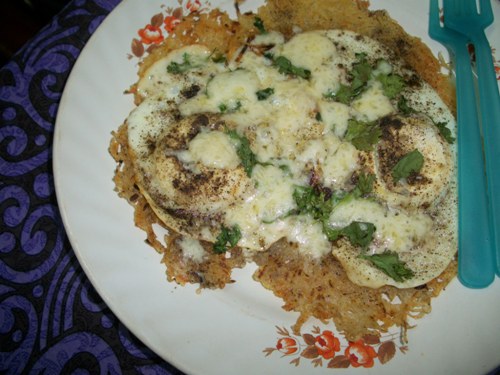 Serve
Frequently Asked Questions
Are hash browns just french fries?

Nothing more than a cluster of breakfast French fries, hash browns are nothing more than that. They cater to your most primal cravings for fast food. On the other hand, home fries offer a variety of potato textures: Golden-brown, brittle slabs with a tender, floury interior.
Are hash browns good for you?

Hash browns are a good source of protein, iron, zinc, fibre, vitamins A and C, vitamins, and other minerals. The hash browns' carbohydrates can give your body a lot of energy that is simple to burn off and can help you get through the day.