Kashmiri Paneer Barfi Recipe - Easy Diwali Sweets Recipe with step wise pictures.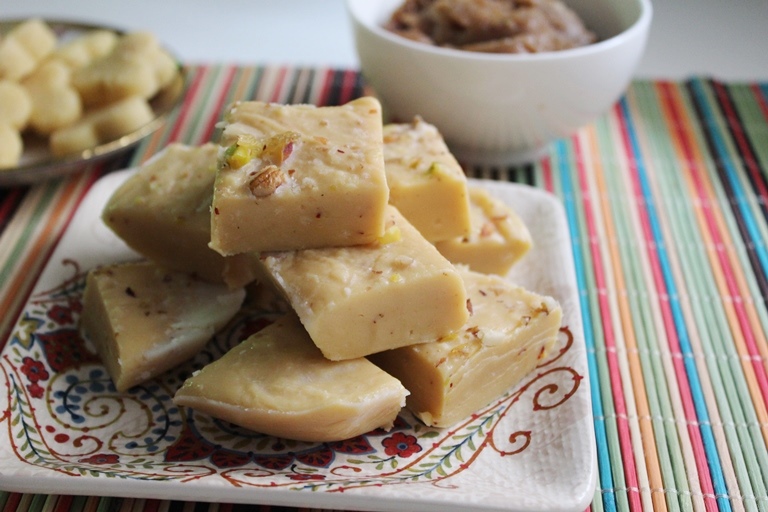 Pin
Kashmiri paneer barfi is not only easy to make but taste simply delicious. It needs just few ingredients and makes the perfect burfi all the time.
Diwali is around the corner.  So it is time to think of all the dessert and snacks which we are planning to make for diwali. This is the time to celebrate and indulge. I have already noted down all the recipes which i have to try for this diwali.
About Paneer Barfi Recipe
Barfi or burfi is a traditional Indian fudge made with full fat milk, sugar, and ghee. Traditionally, it was made by condensing milk for several hours, then sweetening and cooking it until it reached a thick consistency.
Paneer is the most common type of cheese found in Indian subcontinental cuisine. It is occasionally wrapped in dough and deep- fried, or it is served with spinach (palak paneer) or peas (mattar paneer). Paneer can be either sweet, as in shahi paneer, or spicy, as in chilli paneer.
Similar Recipes,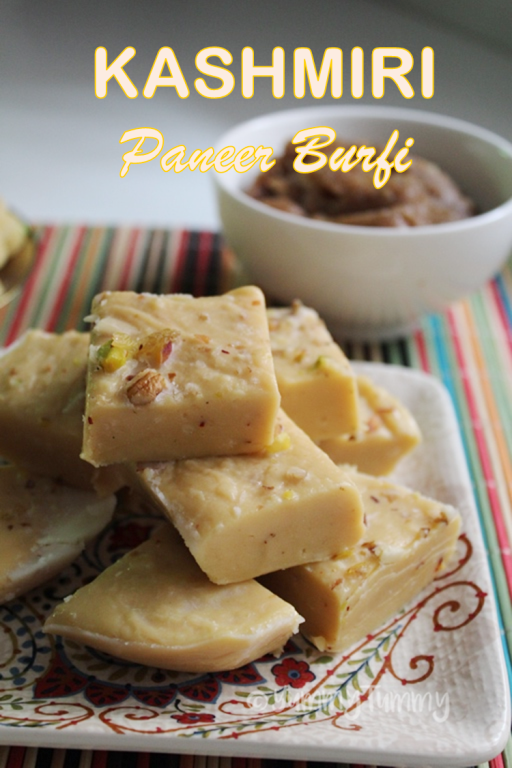 Pin
Hope you will give this a try and let me know how it turns out for you.
Ingredients for Kashmiri Paneer Barfi Recipe
Paneer
Paneer has a mild, milky flavour and a dense crumbly texture that complements the strong spicy flavours found in many traditional Indian dishes. Because it does not melt like other cheeses, chunks of it can be stirred into soups or curries and stay whole.
Sweetened Condensed Milk 
Sweetened condensed milk is cooked until it thickens and becomes a creamy caramel-like pudding that can be used in a variety of dessert recipes. Its delicious on its own, with ice cream, in coffee, or spread on apple slices.
Cardamom Powder 
Cardamom Powder is an all-natural spice that can be used to sweeten dishes as well as flavour coffee and tea. It is also used in traditional Indian and Middle Eastern cooking, as well as Scandinavian baking.
Pin
If you have any questions not covered in this post and if you need help, leave me a comment or mail me @[email protected] and I'll help as soon as I can.
Follow me on Instagram, Facebook,Pinterest ,Youtube and Twitter for more Yummy Tummy inspiration.
IF YOU MAKE THIS RECIPE OR ANYTHING FROM YUMMY TUMMY, MAKE SURE TO POST IT AND TAG ME SO I CAN SEE ALL OF YOUR CREATIONS!! #YUMMYTUMMYAARTHI AND @YUMMYTUMMYAARTHI ON INSTAGRAM!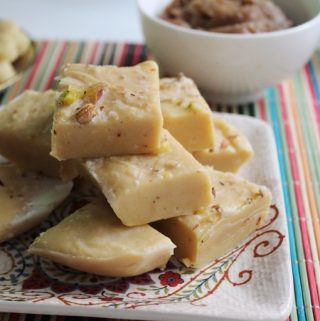 Paneer Barfi Recipe | Paneer Burfi Recipe
Kashmiri paneer burfi is not only easy to make but taste simply delicious. It needs just few ingredients and makes the perfect burfi all the time.
Ingredients
Paneer - 100 grams

Sweetened Condensed Milk - ½ cup

Milk powder - ½ cup

Saffron - a pinch

Warm milk - 1 tblsp

Cardamom Powder - ½ tsp

Chopped nuts - 2 tblsp finely chopped
Instructions
Mix saffron with warm milk and set aside.

Take paneer and condensed milk in a blender and blend till creamy.

Add it in a nonstick kadai. Add in milk powder and mix well.

Cook till it thickens and starts to leave the sides of the pan.

Add saffron milk and mix well.

Cook till it is thick.

Pour this in a parchment lined pan and spread evenly.

Top with choppped nuts.

Let it cool down. Leave to set.

Slice and serve.
Video
Paneer Barfi Recipe Step by Step Pictures
1)Take paneer in a blender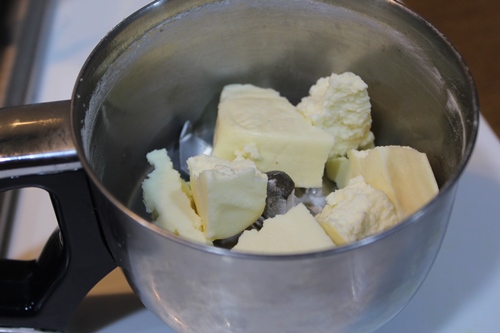 Pin
2)Add in sweetened condensed milk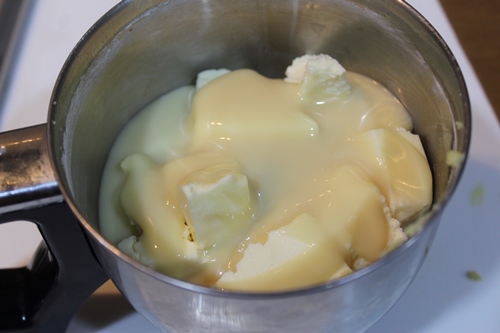 Pin
3)Blend till smooth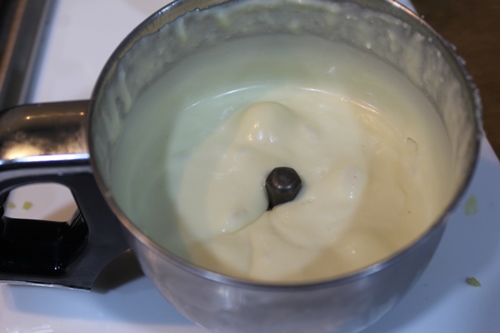 Pin
4)Pour it in a nonstick kadai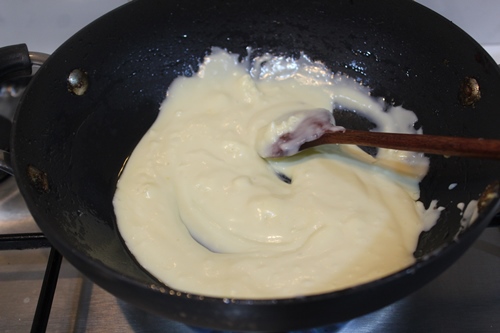 Pin
5)Add milk powder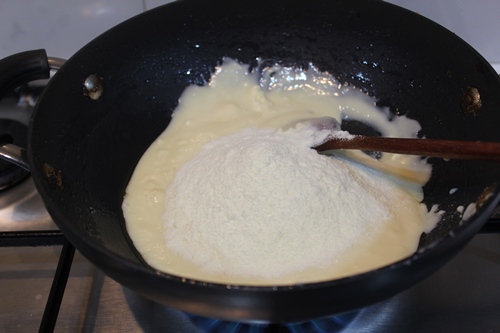 Pin
6)Cook till it starts to thicken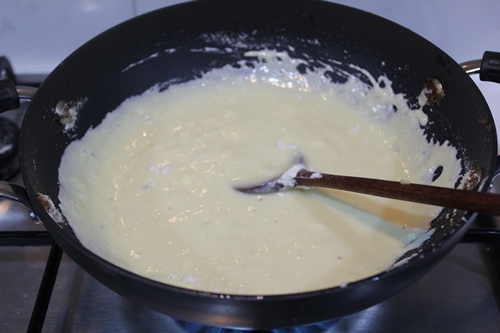 Pin
7)Keep cooking on medium heat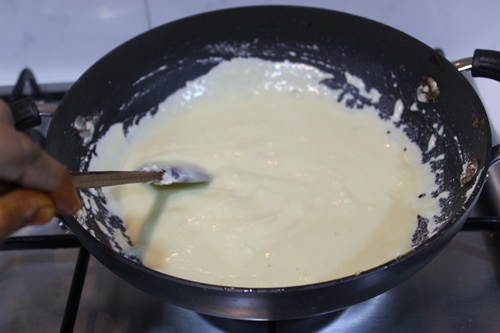 Pin
8)Now it has thickened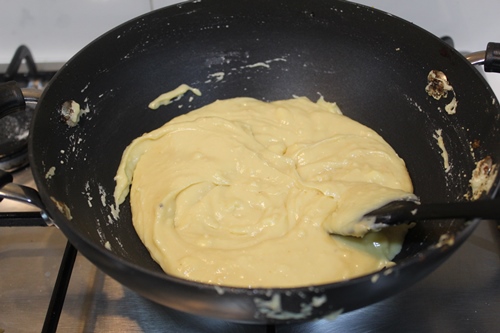 Pin
9)Add saffron milk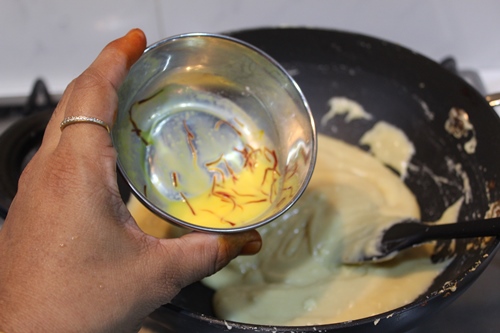 Pin
10)Mix well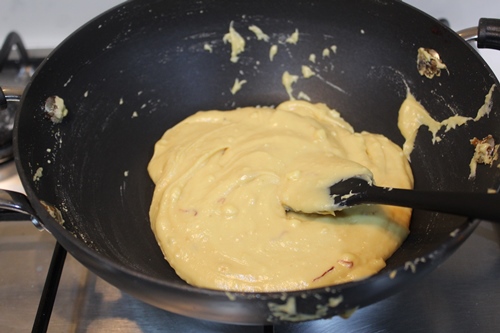 Pin
11)Now it is done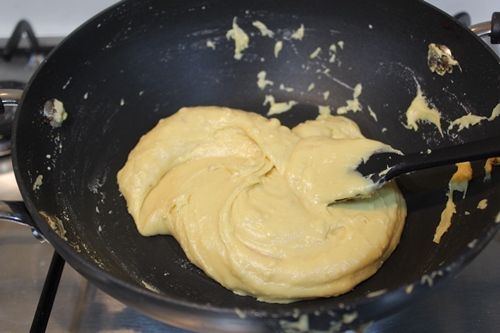 Pin
12)Add cardamom powder and mix well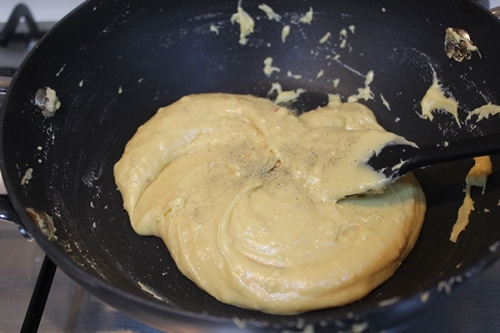 Pin
13)Spoon this in a parchment paper or cling wrap lined tray and spread evenly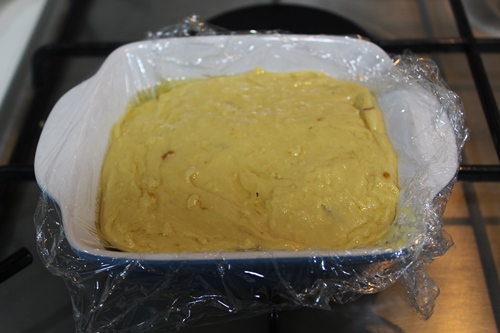 Pin
14)Top with chopped nuts and press evenly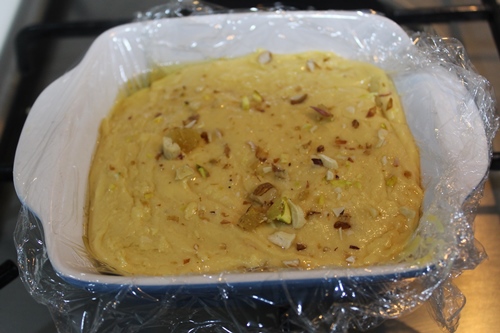 Pin
15)Slice into bars and serve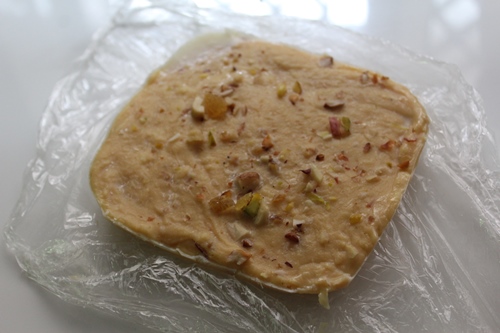 Pin
16)Serve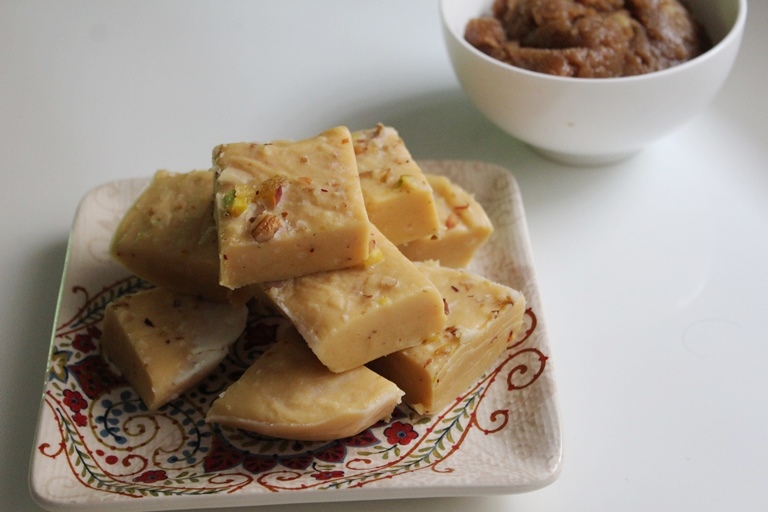 Pin
Frequently Asked Questions
Who is the founder of barfi?
A Punjabi wrestler invented a barfi that is now popular all over the world 100 years ago. In 1912, Punjabi wrestler Harbans Vig experimented with a new barfi recipe that we now know and love. This is how it came to be.