Wheat Bran Hot Cereal Recipe - Fiber Rich Breakfast Recipe with step by step pictures.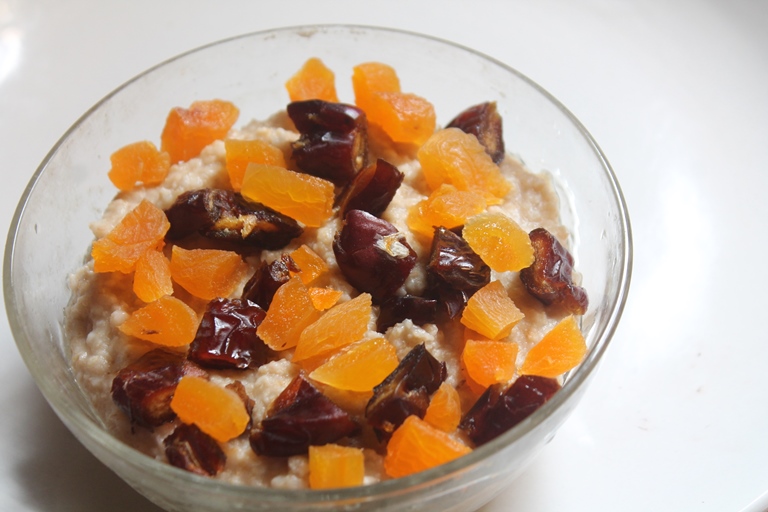 Pin
Bran is a healthy fiber rich ingredient to include in your diet. This cereal is a great way to start your day. It has oats, dried fruits in them which will make it super healthy.
I have been addicted to oatmeal recently and most of the time it is my breakfast of choice. Since I am breast feeding oatmeal makes a great meal for me, since it helps in increasing the breast milk supply without adding extra weight on my tummy.
About Wheat Bran Hot Cereal Recipe
One of the three layers of the wheat kernel is the bran. It is removed during the milling process, and some may regard it as nothing more than a byproduct. Despite this, it is high in plant compounds and minerals and an excellent source of fibre.
Bran can be found in rice, corn (maize), wheat, oats, barley, rye, and millet, among other cereal grains. Bran is not the same as chaff, which is a coarser scaly material that surrounds the grain but does not form part of it and is indigestible to humans.
It is used to make a variety of cereals, as well as bread and flour. It is important to note, however, that many commercial oat bran and wheat bran products (muffins, chips, and waffles) contain very little bran.
Similar Recipes,
Mango Overnight Oats
Orange Oatmeal
Apple Oatmeal
Banana Oatmeal
Strawberry Oatmeal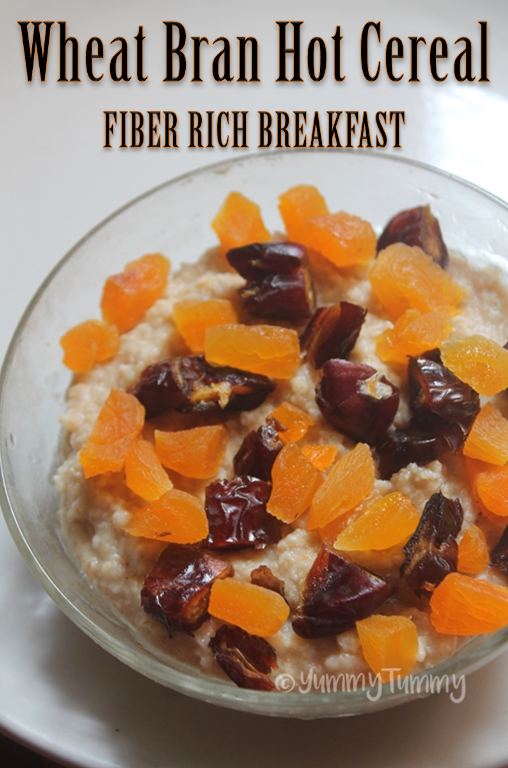 Pin
Hope you will give this a try and let me know how it turns out for you.
Ingredients for Wheat Bran Hot Cereal Recipe
Wheat Bran 
Wheat bran tastes sweet and nutty. It can be used to give bread, muffins, and other baked goods texture and flavour. bran is the protective outer shell of the wheat kernel that is removed during milling.
Instant Oats 
Instant oatmeal provides a hearty and quick-cooking breakfast option for you, which can be a lifesaver on busy mornings. Fortunately, instant oatmeal has the same nutritional value as traditional oatmeal, such as rolled and steel-cut oats, which take much longer to cook.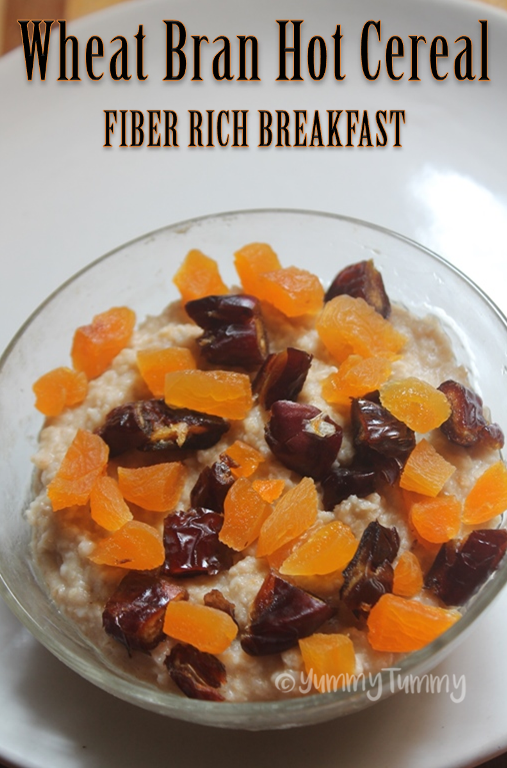 Pin
If you have any questions not covered in this post and if you need help, leave me a comment or mail me @[email protected] and I'll help as soon as I can.
Follow me on Instagram, Facebook,Pinterest ,Youtube and Twitter for more Yummy Tummy inspiration.
IF YOU MAKE THIS RECIPE OR ANYTHING FROM YUMMY TUMMY, MAKE SURE TO POST IT AND TAG ME SO I CAN SEE ALL OF YOUR CREATIONS!! #YUMMYTUMMYAARTHI AND @YUMMYTUMMYAARTHI ON INSTAGRAM!
📖 Recipe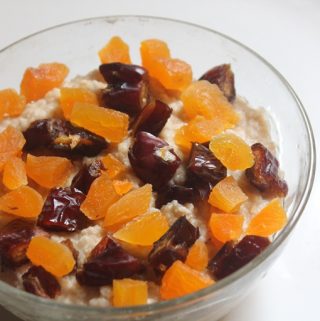 Wheat Bran Hot Cereal Recipe
Healthy and nutritious breakfast made with oats and wheat bran. It is rich in fiber and makes a great way to start a day.
Ingredients
Instant Oats - ½ cup

Wheat Bran - ¼ cup

Water or Milk - 1.5 cup

Sugar or Honey to taste

Apricots and Dates as needed
Instructions
Take everything except honey and fruits in a sauce pan.

Cook on medium heat till it is done.

Spoon it into a bowl, top with apricots and dates. Add honey if needed.

Serve.
Wheat Bran Hot Cereal Recipe Step by Step pictures
1)Take instant oats in a sauce pan.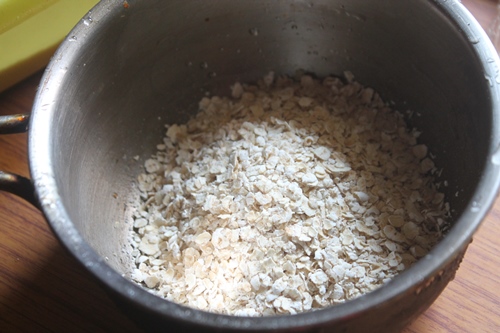 Pin
2)Add in wheat bran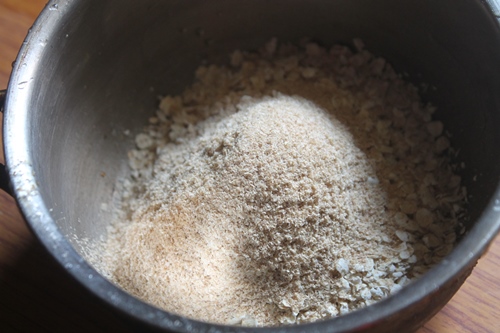 Pin
3)Add water or milk. I prefer water for a healthier choice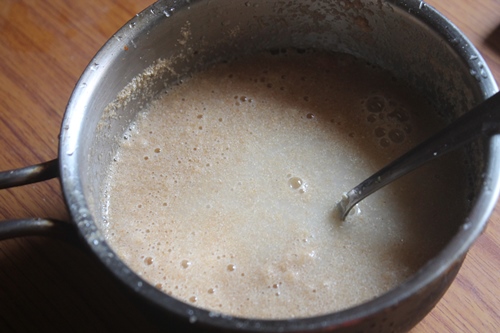 Pin
4)Cook till it is done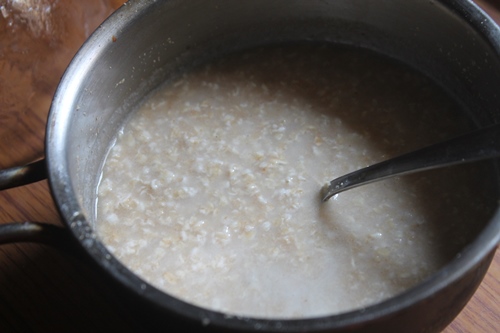 Pin
5)Now it is cooked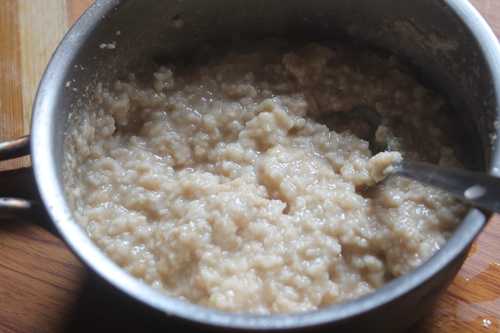 Pin
6)Chop up some apricots and dates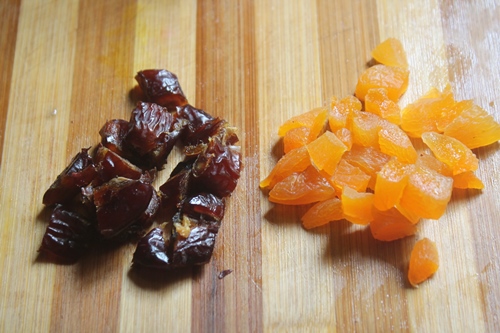 Pin
7)Spoon oats in a bowl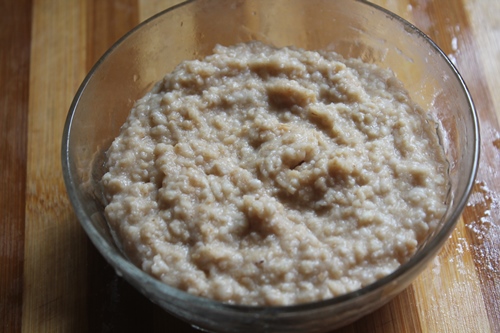 Pin
8)top with dried fruits, drizzle on some honey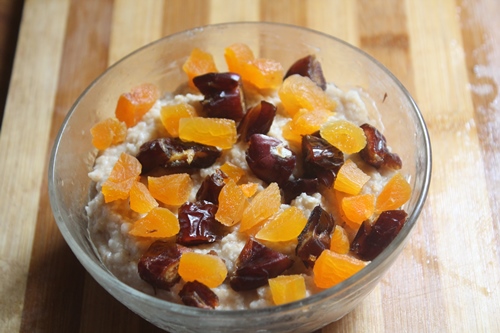 Pin
9)Serve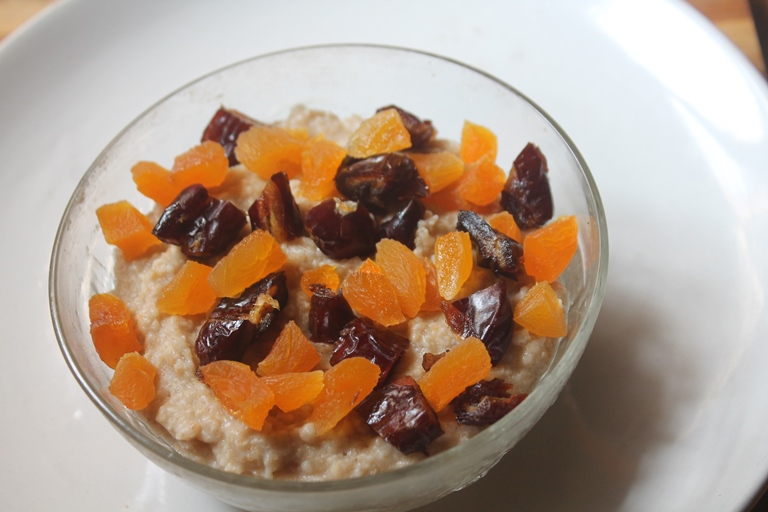 Pin